Spring on Long Island brings a wondrous wave of flower-filled activities that will soothe your senses, cure the worst of your winter blues, and have you being the envy of your Instagram followers.  Throughout April and May, dozens of locations transform into a picturesque pink maze of delicate cherry blossoms trees – the star of the region's spring season splendor.
Head to the island's north shore, known as the "Gold Coast," where you'll find Gatsby-era mansions with elaborate, pristine public gardens and landscapes, many of which become a pink paradise as their cherry blossoms bloom, along with a host of other springtime flora.
As you travel east on the north shore, the island transforms into farm country filled with public parks, flower fields and historic downtowns where you can also spot rows of the signature springtime tree. Below, you'll find the top locations for seeing and celebrating Cherry Blossoms across Long Island including a couple of annual festivals dedicated to showing off the seasonal treasure.
End of April-Mid-June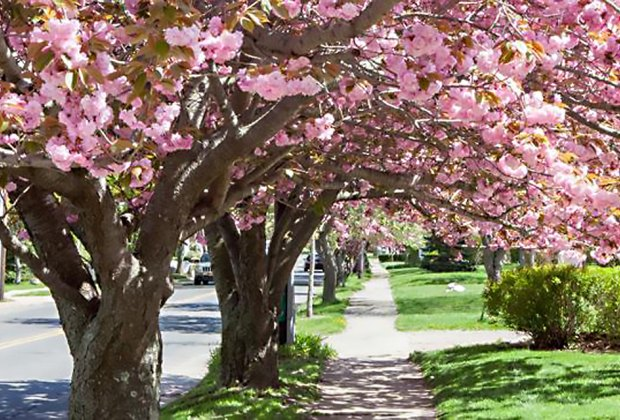 Named by Forbes Magazine as one of the 11 prettiest towns and villages in America, Greenport, NY is a charming waterfront community on the tip of the island's "North Fork Wine Country" and home to more than 300+ cherry blossom trees, many of which line the main streets and downtown community.  Each year, the village,  designated an official Tree City by the National Arbor Day Foundation, hosts the Cherry Blossom Festival Petal Tour from mid-April through the end of May.
Visitors can also immerse themselves in Greenport's cherry blossom splendor with a self-guided walking tour of the area's 300+ cherry blossom trees and indulge in blossom-themed refreshments and gifts offered by participating local businesses.  Free maps will be available at all participating businesses as well as the AgroCouncil information center in the lobby of the Greenporter Hotel at 326 Front Street.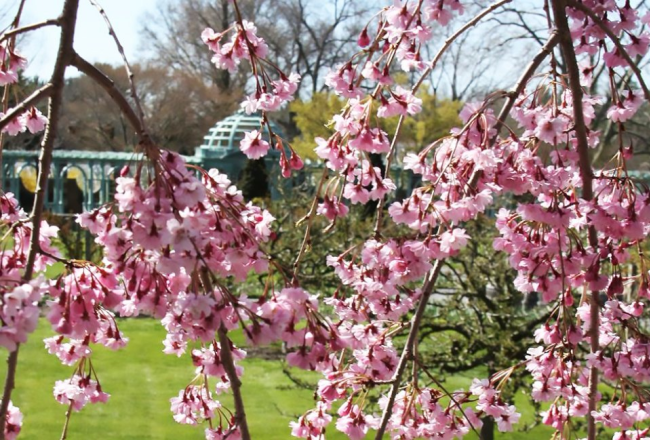 When you're on the grounds of Old Westbury Gardens, it's hard to believe you're still on Long Island. Walking through the many acres of formal and informal landscaped gardens, open fields, and quiet woodlands, it feels as though you are on an English country estate, upon which the grand estate was designed to reflect.  If the historic mansion or its immaculate greenery look familiar to you, perhaps you've spotted the property in a famous film as it's often the backdrop for major Hollywood productions from the Cruel Intentions to Hitch to American Gangster and more.
Mid-April through mid-May is one of the prettiest times of the year at Old Westbury Gardens. The cherry blossoms are in full bloom along with fruit trees and other trees and shrubs that will bloom in an array of delicate colors. Visitors can enjoy it all by themselves or on a guided tour when Old Westbury Gardens reopens for the season on April 1.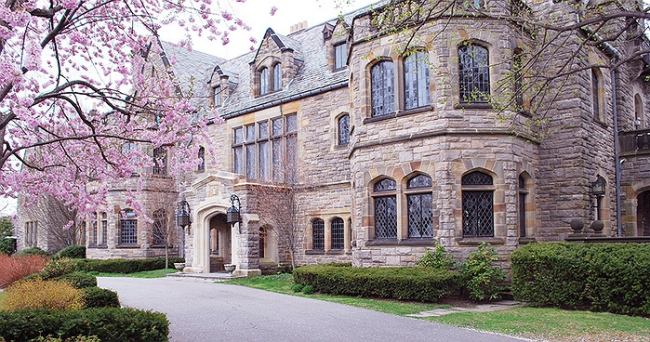 If a walk through lusciously landscaped vistas and bountiful Cherry Blossoms aren't romantic enough for you, the historic charm of the Mill Neck Manor surely will be. Mill Neck Manor boasts 500-year-old doors, gorgeous stained glass depicting Shakespearean plays and beautiful ceilings and woodwork. The grounds of Mill Neck Manor are so gorgeous, it's become a popular spot for wedding photography, so if you haven't visited yet, mark your calendar this spring when the Cherry Blossoms are in full bloom in mid-late April.
An original Gold Coast estate, Planting Fields sits on more than 400 acres, boasting formal gardens, hiking trails, and beautiful plantings. The Camellia Greenhouse displays the largest collection of camellias in the northeast, and the Main Greenhouse has extensive collections of hibiscus, orchids, succulents, and seasonal displays.  Across the property visitors can immerse themselves in a wide variety of gardens and charming outbuildings.  See the property's many Cherry Blossom's in full Bloom in mid-April stop by during their annual Arbor Day Festival on April 29-30 which features activities for the entire family, including a petting zoo, live entertainment, and a visit from Smokey the Bear.
Saturday, May 7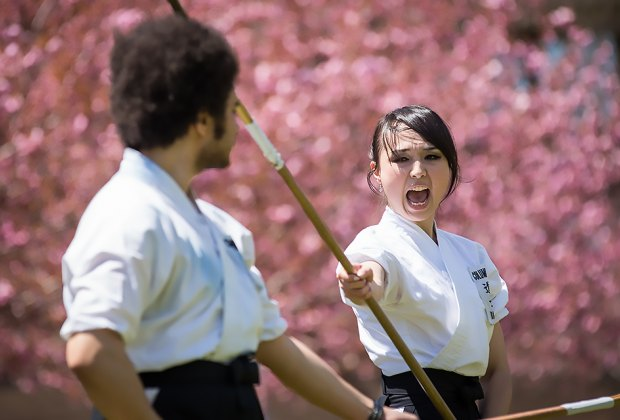 Celebrating all things Japanese, this daylong festival takes place rain or shine at Stony Brook University's Charles B. Wang Center. Cultural exhibits, children's activities, and live events are planned, including Japanese dance and music performances, origami workshops, manga drawing, and more. Admission includes all workshops and theater performances. Advance registration is required: $30 for adults, $20 for seniors and students, and $10 for children 6-12. Children 5 and younger are FREE.
Argyle Park (Babylon)
Mid-April – Mid-May
Argyle Park in Babylon is named after the perch-filled lake in the heart of Babylon Village and is known for its beauty and serenity year-round, but it truly peaks in the spring when all the flowers are in bloom. Spring walks around the lake surrounded by cherry blossoms provides a peaceful and serene environment. Aside from the allurement of its vibrant landscaping, Argyle Park is conveniently located walking distance from the strip of quaint shops and restaurants that line Babylon's Main Street.
Caumsett State Historic Park Preserve (Lloyd Neck)
Mid-April – Mid-May
Caumsett State Historic Park, the former estate of Marshall Field III, is situated on a scenic peninsula extending into Long Island Sound and remains essentially undeveloped. The park offers miles of bridle paths, hiking, biking, cross-country skiing, and nature trails over acres of woodland, meadows, rocky shoreline and salt marshes. The park has excellent surf fishing as well and if you're licensed, offers ideal scuba diving conditions for undersea explorers (including a sunken ship offshore).
Caumsett's garden is like walking into a floral oasis with cherry blossoms and other flowering trees. The perfect spot for engagement or sweet sixteen pictures, the garden comes to life in the spring during the floral awakening of the North Shore region.