Pride
Long Island is the official kick-off destination for New York's 2019 WorldPride celebrations. Head to New York City's Beachfront Backyard this June for beyond the typical sun, sand and sea experience.
Seven bridges and two tunnels connect the city of New York to its beachfront backyard, Long Island. A year-round destination, the 120-mile-long fish-shaped island is abuzz attracting visitors around the globe with its sparkling beaches, iconic sites, vibrant downtowns, world-renowned wine country and luxurious properties. From Fire Island, the Hamptons and beyond, Long Island plays host to some of the most premier LGBTQ-friendly destinations.
World-class resorts, spas and golf are easily accessible, but innovative restaurants, scenic landscapes and historic roots differentiate Long Island from any other destination.
In June 2019, Long Island will kick-off New York's World Pride celebrations with the 29th annual Pride on the Beach celebration welcoming over 30,000 people from across the nation. The three-day destination weekend will be held in Long Beach June 21-23 including numerous events such as the Pet Parade and Animal Adoption in collaboration with Animal Planet, Twilight Beach Party, a concert on the beach, and the 29th annual pride parade.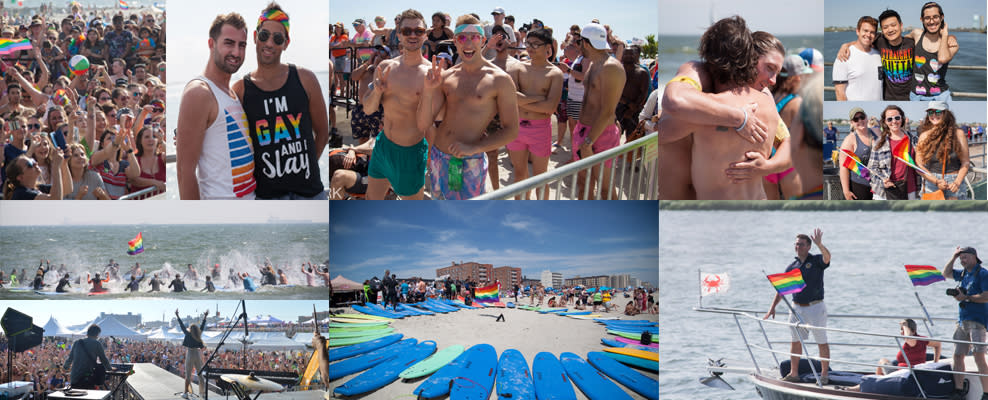 The famed LBGTQ destination of the East Coast is found right here on Long Island!
Fire Island, Long Island's celebrated LGBTQ destination, is a 32-mile-long barrier island that offers the ultimate car-free beach haven during the summer months. Cherry Grove has been a bohemian sanctuary for decades, becoming a beachside sanctuary for New York's LGBT community who has created their own unique free-wheeling community here. Its array of restaurants and nightlife venues prove to be popular stomping grounds throughout the summer months.  Fire Island Pines is known for its signature zigzag boardwalks that lead to Fire Island's most sought-after real estate.  Weekenders flock to The Pines for its markets, boutiques, restaurants, and, of course, beaches. ,
Where to Stay: The Palms Hotel and Belvedere Guest House for Men
Where to Dine: CJ's Restaurant & Bar, home of the Rocket Fuel
As a car-free destination, take the Fire Island Ferry or Sayville Ferry Service for a quick trip to the LBGTQ paradise.

The Long Island Rail Road provides car-free travel direct from the heart of Manhattan to 124 stations. With the LIRR, travel direct for easy and quick  transportation to all Pride activities. Fly direct with Long Island's international airports, JFK and LGA and with Long Island's MacArthur Airport (ISP) with regular domestic flights. In addition, Long Island provides easy access to the ferry, ride share services, private taxi, rental cars and limousine services.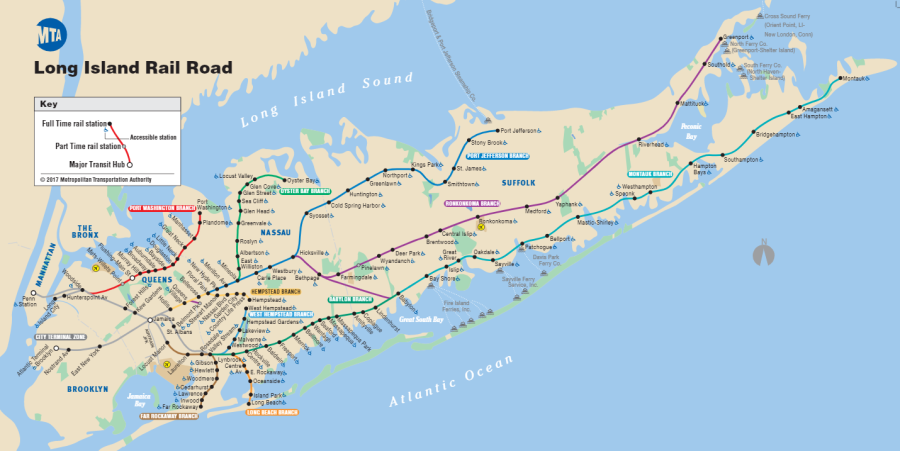 Travelers looking to stay and play on Long Island during Pride can choose from a wide variety of accommodations that meet every need and budget. From hotels with rich history to beachside bed and breakfasts, luxury rentals to family-friendly finds, your ideal getaway is only moments away.
Thrill seeker or spa goer, wine connoisseur or the epic foodie – either way, we've got you covered! Choose your travel style and the ultimate itinerary will be created.
Beach parties, celeb-style day trips, rich history, sips at the vineyards, top-tier shopping, and more at these Long Island hot spots.
North Fork: Known for its craft beverage culture boasting over 60 wineries, breweries and distilleries that are utilizing locally-grown ingredients to create the perfect sip. Stay overnight at a waterfront property or quaint bed and breakfast.
The Hamptons: Known as the celebrity paradise with boutique shops and beautiful beaches. Keep your eyes open and you might catch a glimpse of your favorite star shopping, beaching or dining around town.
North Shore: Known for its deep rooted history and famed Gold Coast mansions. History buffs can travel back in time visiting homes of past presidents, poets, and artists, including President Theodore Roosevelt and Poet Walt Whitman. Our world-class museums and "Great Gatsby" style mansions highlight an era bygone featuring masterpieces by legendary artists.
White Sand Adventure and Oceanfront Views
The 120-mile-long fish-shaped island is a coastline playground. Take part in a fishing charter, surfing lesson, sunset kayak, whale watching, and lighthouse tour on these sunny shores.
Relax, Rejuvenate and Unwind 
Long Island's spa resorts offer ultimate getaway packages to leave you feeling refreshed. Pamper yourself with an array of spa choices including invigorating sea mud wraps, Arom-assage and Reike to balance the body's energy and promote deep relaxation.
Hit the Green
Tee off on award-winning courses and follow in the footsteps of your favorite golf legends. You don't have to be a pro to play like the pros. Home of the 118th US Open Golf Championships in Southampton and the 101st PGA Championship at Bethpage Black, Long Island boasts many top rated golf courses.
Long Island's bountiful farmlands and rich surrounding waters lend to the ultimate farm-to-table and fresh-catch journey. The celebrity-chef driven destination is a true foodie paradise. Whether grabbing a bite at one of our famed lobster shacks or dining al fresco beachside, experience Long Island's epicurean mecca with tastes you will savor.
World Pride New York City Information
The biggest pride event is coming to New York City this June. Celebrate in NYC as the city transforms to welcome WorldPride. Click here for the 2019 Pride events schedule and for travel tips when visiting the city. When traveling to New York City from Long Island, take the Long Island Rail Road or jump on the Hampton Jitney when traveling from Long Island's North and South forks.