There are so many great things to look forward to in the spring. Among them are warmer weather and more daylight hours, tulips and cherry blossoms blooming, and delicious dining during Spring Long Island Restaurant Week, taking place April 24th to May 1st. From Sunday to Sunday, each participating restaurant has the option to offer its own unique two-course lunch menu for $20, three-course dinner prix fixe for $25/$35 and/or $42 every day it is open, except Saturday when it is offered only until 7 p.m. The first spring restaurant week was launched in April 2011, and it's been a roaring success for diners and restauranteurs alike. Keep scrolling to read about thirteen fantastic eateries that are participating in Spring Long Island Restaurant Week!
Eateries to try this spring during Long Island Restaurant Week
Eric's Italian Bistro (Mineola)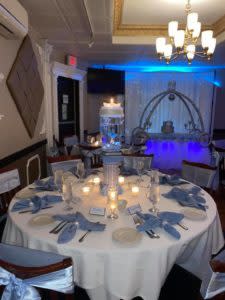 Although the food is the main attraction at Eric's Italian Bistro in Mineola, chef/owner George Echeverria comes in a close second. Even first-time diners will feel like lifelong friends after chatting with the warmhearted owner. This familial atmosphere is something that has been consciously cultivated at Eric's, and is why on any given night you'll find a handful of regulars inside the bistro. For their Spring Long Island Restaurant Week menu, Eric's will be serving delectable dishes such as penne a la vodka, wild Pacific coho salmon, sirloin steak au poivre, and the delectable braised New Zealand lamb chops.
Website: https://www.ericsbistro.com/
City Cellar (Westbury)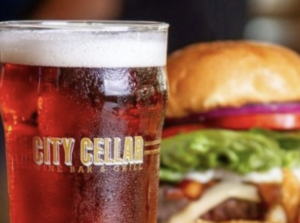 City Cellar Wine Bar & Grill's exposed bricks, stark lighting and floor-to-ceiling wine storage contribute to its aesthetically pleasing interior. The upscale yet casual bar area is perfect for catching up with friends or watching the game. Meanwhile, the elegant dining room can host business lunches or special occasions. We suggest ordering one of the p's: pizza or pasta. The black truffle and prosciutto pies and the roasted cauliflower ravioli or gnocchi al forno are all delicious.
Website: https://www.citycellarny.com/
5 De Mayo (Westbury)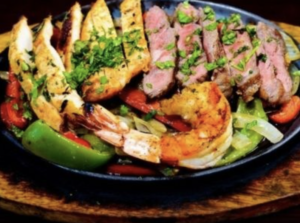 5 De Mayo Mexican Restaurant in Westbury will be offering a three-course dinner prix fixe menu for $35 during Spring Long Island Restaurant Week. The menu has been carefully chosen to offer authentic cuisine from El Salvador, Honduras, Columbia, Argentina and Peru. Many dishes include Central American vegetables such as chayote, flor de azute, loroco, palmettos and pacaya. Make sure to pair your meal with a cold beer on tap, margarita or mojito from the bar!
Website: https://qmenu.us/#/5-de-mayo-mexican
George Martin's Strip Steak (Great River)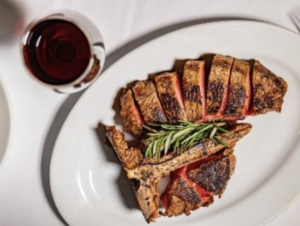 George Martin Strip Streak's name undersells what the upscale steakhouse is capable of. Yes, the main draw is the savory dry-aged steaks (such as the cut of tomahawk pictured above), but the seafood selection and house specialties are excellent as well. The art deco design and 1920s-inspired artwork will have you feeling like Jay Gatsby when dining at this turn-of-the-century home in Great River, only a short walking distance away from the Great South Bay.
Website: https://www.georgemartinsstripsteak.com/
Red Salt Room by David Burke (Garden City)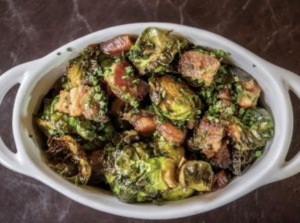 Located in the Garden City Hotel (which is also home to the always lively King Bar), acclaimed Chef David Burke uses the Himalayan dry-aging beef technique on the Red Salt Room's creative, seasonally-driven menu. Scrumptious entrees include the fiery lamb ragout with sacchetti, squid ink linguine, miso-glazed salmon, and of course, Burke's signature salt-brick beef entrees (using Himalayan pink salt). Don't miss the crispy Brussels sprouts side dish either!
Website: https://www.gardencityhotel.com/dining/red-salt-room
Revel Restaurant (Garden City)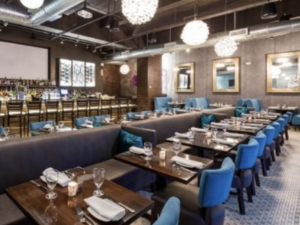 Inspired by the Manhattan food scene, the idea for Revel was to create an upscale restaurant experience that offers a cosmopolitan vibe, right in Garden City. Its open-air space, mosaic-tiled floor, and expansive bar provide a slick, futuristic feel. Great dishes include the burrata ravioli, avgolemono chicken soup and tagliatelle al la scampi. Come for the food, but be wowed by the atmosphere!
Website: https://www.revelrestaurant.com/
Thom Thom Seafood & Steak (Wantagh)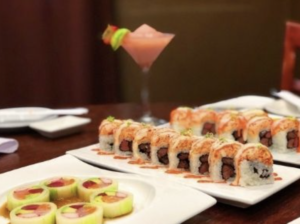 Thom Thom Steak & Seafood's menu is sizzling with so many delicious, grilled delights that you won't know where to begin! All steaks are Black Angus or better, the shrimps are wild (not farm-raised) and the tuna tastes heavenly. The kani salad, spicy tuna, or appropriately named volcano rolls are not for the faint of heart; they will scorch your tongue.
Website: https://www.thomthomrestaurant.com/
Babylon Carriage House (Babylon)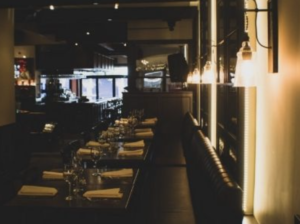 Babylon Carriage House is housed in an actual carriage house that was built shortly after the Civil War. Diners congregate from all over Long Island to experience the carriage's fascinating history, stunning renovations and terrific cuisine. Favorites include the linguine fra diavolo, marinated skirt steak and chicken paillard.
Website: https://www.thebabyloncarriagehouse.com/
The Club: A Public Steakhouse (Port Jefferson)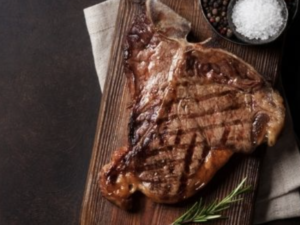 The Club: A Public Steakhouse holds the distinct honor of being the only steakhouse in Port Jefferson, and it does not disappoint. Its open-air deck offers some of the most stunning views of the Long Island Sound. The menu has something for everyone, including fine cuts of meat, fish, and plant-based options. At the bar, enjoy handcrafted specialty drinks, over twenty whiskeys and bourbons, dessert wines or stroll over to the humidor for an evening-ending cigar.
Website: https://www.waterviewportjeff.com/the-club/
Chop Shop Bar and Grill (Smithtown)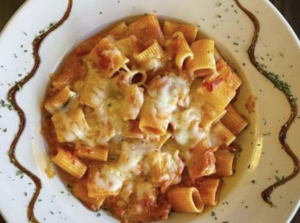 Located on Main Street in the heart of Smithtown, Chop Shop is one of the best restaurants on the North Shore. The restaurant's stylish furnishing, accented with bricks, hardwood flooring, large retro lamp fixtures and a unique hand-painted mural, has made it the go-to spot for casual dining and special occasions. Both the wine and martini lists are superb and are nicely complemented with steak, seafood, pasta, or a seasonal dish.
Website: https://chopshopbarandgrill.com/
H20 Seafood & Sushi (Smithtown)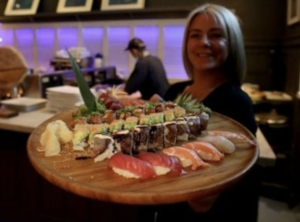 At H2O Seafood & Sushi in Smithtown, the ocean determines the menu. The chefs source local fish and support Long Island farmers by conceiving creative dishes in the kitchen. Grab a seat at the expansive, gray marble bar and be amazed by the startlingly fresh sushi, bluefin tuna, and Scottish salmon.
Website: https://smithtown.h2oseafoodsushi.com/
Maria's Mexican & Latin Cuisine (Nesconset)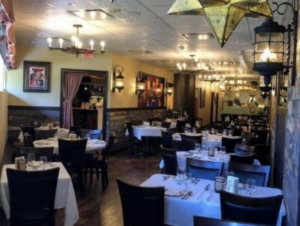 Maria's in Nesconset wants to challenge your palate, and in doing so introduce your new favorite dishes. Superb entrees include the chicken enchilada, pollo al champinon ajillo, and the classic Cuban dish ropa vieja. You can't leave without treating yourself to the sweet plantain sundae, topped in vanilla ice cream, caramel sauce, whipped cream and toasted coconut! The perfect nightcap to a delicious meal.
Website: https://marias211.com/
Mirabelle (Stony Brook)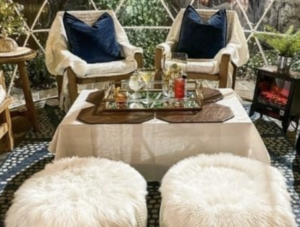 Chef Guy Reuge of Mirabelle at Three Village Inn in Stony Brook was born in Normandy, France and his culinary career began at 14 with an apprenticeship in Orleans. For Long Island Restaurant Week, Mirabelle will be serving delicious entrees such as cauliflower steak, herb-crusted rack of lamb, and flatiron steak sandwich, Mirabelle also has three snug igloos with cushioned wooden chairs a coffee table, and pillows
Website: https://www.lessings.com/corporate/restaurants/venue/mirabelle-restaurant-and-tavern
For even more dining recommendations, click here