Long Islanders are banding together to celebrate Juneteenth—a holiday commemorating the day in 1863, nearly two years after the Emancipation Proclamation was signed, that the last enslaved populations in the United States learned slavery had been abolished. Today, people all over the country gather with their communities to celebrate freedom, Black excellence, and reflect on the history that shaped and continues to influence life today. And here on Long Island, there is no shortage of festivals, community gatherings, and family-friendly educational events that celebrate Juneteenth.
Check out our guide to Juneteenth Celebrations on Long Island—including lively street festivals, one-of-a-kind pop-ups, and so many opportunities to catch live performances and all sorts of other entertainment.
Juneteenth celebrations, festivals, and special events on Long Island 
Long Island Children's Museum AdvoKids: Juneteenth (Garden City) 

For the month of June, the Long Island Children Museum's AdvoKids series will be focusing on fostering awareness about Juneteenth. During this program visitors will gain a better understanding of the federal holiday and create the Juneteenth Flag to commemorate the emancipation of slavery in the United States. This is a drop-in program, free with admission.
Event date: June 12th from 2 p.m. to 4 p.m. 
Southampton African American Museum's Annual Juneteenth Celebration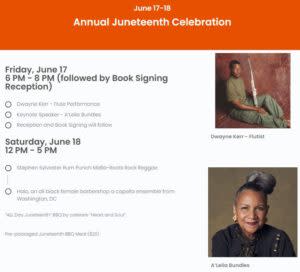 The Southampton African American Museum's Annual Juneteenth Celebration is back this year for a two-day festival that includes a live flute performance, an address from Keynote Speaker A'Lelia Bundles followed by a book signing reception on Friday. As well as live performances by the rock reggae group Stephen Sylvester Rum Punch Mafia and Halo—an all Black female barbershop acapella ensemble reigning from Washington, DC on Saturday. BBQ by Heart and Soul Food Truck will be available for purchase both days.
Event dates: June 17th and 18th
Nassau County Juneteenth Celebrations (Various locations)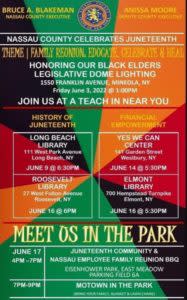 Throughout the month of June, various locations in Nassau County will be hosting family-friendly festivals, movie nights in the park, and teach-ins in commemoration of the holiday. The full schedule of upcoming events is as follows:
Juneteenth Brunch, Day Party & Pop-Up Shop at SOHO in Suffolk (Coram)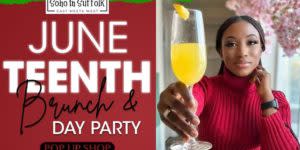 Join Soho in Suffolk as it celebrates Juneteenth with its first-ever brunch-meets-day-party-meets-pop-up-shop! Support Black entrepreneurs as they showcase their brands: jewelry, apparel, skin and hair care, health and wellness, and more! The prix-fixe brunch menu includes your choice of entrée and bottomless drinks, as well as entertainment from a live DJ.
Event date: June 19th from 12 p.m. to 3 p.m. 
2nd Annual Juneteenth Cultural Festival (Hicksville) 
On June 19th, Black Legacy Partners in partnership with TD Bank, Mattress Firm, National Grid, and Fidelis Care, will host the 2nd Annual Juneteenth Cultural Festival in Hicksville, NY—one of Long Island's largest outdoor events dedicated to commemorating African American history, achievement, and accomplishments. The annual Juneteenth cultural festival is set to take place at the Hicksville LIRR outdoor parking lots H16 & H17 and will feature a line-up of various food vendor exhibitions, local Black vendors, live DJs and performances.
Event date: June 19th from 12:00 p.m. to 5:00 p.m.
Juneteenth: An Oral History Performance with Atiba Wilson (Long Beach)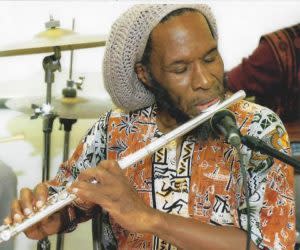 Atiba Wilson is a poet, flutist, and performing artist. He is also the founder and director of Songhai Djeli and the Befo' Quartet. He was also a featured presenter at the National Association of Black Storytellers Festival. In this special performance, Atiba Wilson will be performing the story of Juneteenth through song, music, and the spoken word using both flute and percussion at the Long Beach Library. Space is limited and advance registration is required, see the site linked below for further details.
Event date: June 18th from 2 p.m. to 3:30 p.m.
Juneteenth Festival Pop Up Shop (Amityville)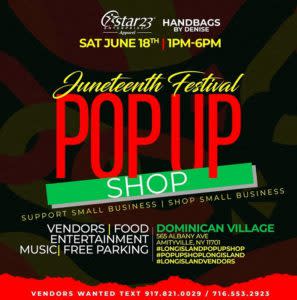 In need of a last minute Father's Day gift? Head to Amityville for the Juneteenth Festival Pop Up Shop at Dominican Village. Featuring dozens of local vendors, live music, delicious food, and entertainment, this is the perfect opportunity to mingle with the community, shop small, and support local Black-owned businesses.
Event date: June 18th from 1 p.m. to 6 p.m. 
Elmont's 2nd Annual Juneteenth Festival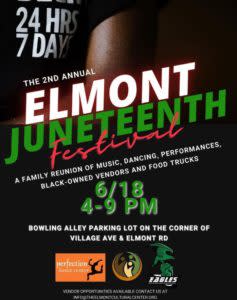 The 2nd annual Elmont Juneteenth Celebration Festival will be a multi-arts experience showcasing Elmont's talent and unity through a student art show, live music and performances, and so much more. Guests can expect a lot of dancing, excitement, and an assortment of mouth-watering treats from popular food trucks and local vendors.
Event date: June 18th from 4 p.m. to 9 p.m.
Juneteenth Sunday Sounds Concert Series (Sayville)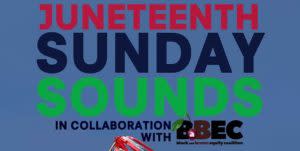 On Juneteenth, join BOFFO Residency Fire Island for a special edition of the weekly Sunday Sounds afternoon party on the beach at Carrington House. In collaboration with artist-in-residence Robert Andy Coombs, BOFFO is excited to welcome DJ GARE to mix for the Pines community. We can't wait to celebrate Juneteenth with the weekend's vibrant crowd, uplifting our queer, Black community members through sound, sun, and relaxation.
Event date: June 19th from 3 p.m. to 6 p.m.