Long Island summers are iconic.  All year long, locals and those who have been lucky enough to visit dream of the season filled with spectacular boat days, the best lobster rolls in the world, outdoor concerts at the iconic Jones Beach, lawn parties where the rosé is flowing and so much more. From wine tasting among a sea of flower fields to diving with sharks, there is no shortage of epic outdoor experiences across the region. 
That's why our team gathered 23 of the most bucket-list worthy adventures for living your best #LongIslandLife this summer.  While some include iconic destinations and events proudly home to our region, our list offers many incredible off-beat experiences and hidden gems that will help make summer 2023 the best one yet.
1. Discover the Sunken Forest on Fire Island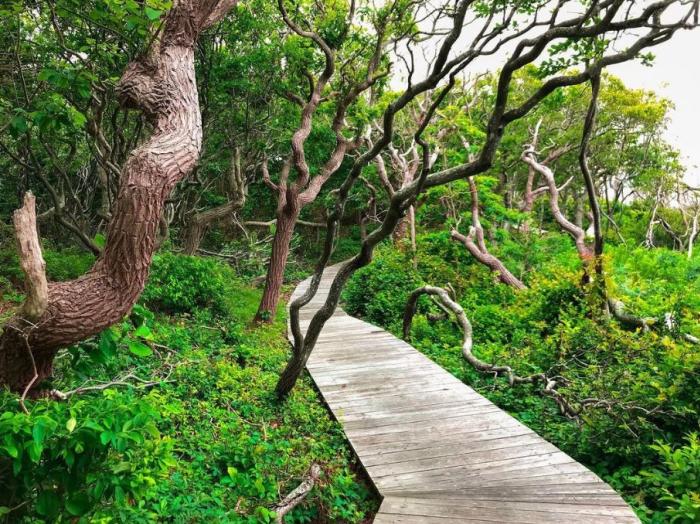 Off Long Island's South Shore, you'll find the iconic, car-free beach haven Fire Island. While the island itself might be known across the globe, it's home to a hidden treasure – a rare natural wonder missed by many.  That's why the Sunken Forrest in Sailor's Haven, one of the last remaining maritime forests on the eastern seaboard, is at the top of our 2023 bucket list.
When you traverse this peaceful forest and its meandering boardwalks, you'll feel like you're below sea level.  This unique 40-acre nature oasis is home to a globally rare collection of plants which can be seen with a walk along the Sunken Forest Nature Trail, a thin strip of forest about a ¼ mile wide and 1.5 miles long.  On the trail, you'll likely encounter deer, foxes and other wildlife.
2. Kickstart Summer with Fighter Jets at the Bethpage Air Show at Jones Beach State Park
Soar into Memorial Day Weekend at Jones Beach State Park with the annual Bethpage Air Show, a spectacular and symbolic start to the summer season.  The annual aeronautic spectacle over the world-famous beach is arguably the most popular and one of the largest air shows in the country.  Now in its 20th year, this year's show is welcoming back the United States Air Force Thunderbirds as headliners. Joining the Thunderbirds will be the United States Army Golden Knights, the world-famous Skytypers and more.
 3. Have an Epic Shark Encounter at the Long Island Aquarium
Calling all daredevils! The Long Island Aquarium in Riverhead has a once in a lifetime adventure for you. Experience the Shark Dive, where you'll be placed inside a cage in the depths of the 120,000-gallon Lost City of Atlantis Shark Habitat as sharks and schools of fish swirl and swim around you! Learn all about these magnificent creatures as you are guided through their habitat alongside a professional diver.  While you're there, catch the marvelous Sea Lion Show or hang out with penguins, sea lions, coati and other interactive animal encounters at the aquarium.
4. Celebrate the 50th Anniversary of Long Island Wine Country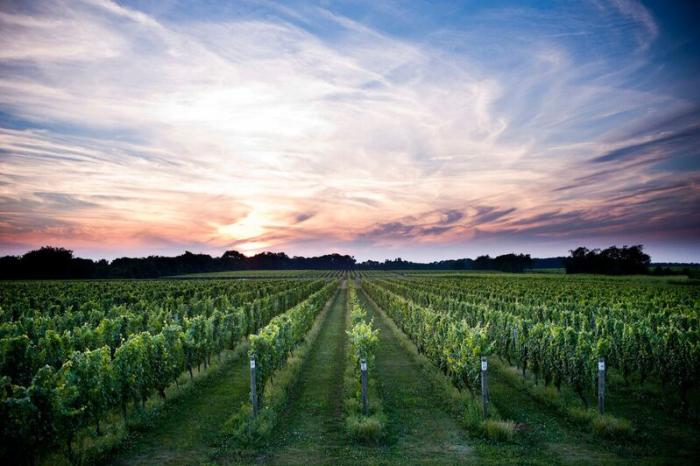 This summer marks 50 years since the first grape vines were planted in the vast farmlands of Long Island's North Fork. Today, the region is home to 57 vineyards and rated one of the 'Top 10 Wine Regions' in the world. To celebrate the milestone, 30+ local winemakers are coming together to host a grand tasting event at the height of the summer season on Saturday, August 19.
The event will take place across the sweeping lawn of Peconic Bay Vineyards, one of the oldest operating vineyards in the region.  Experience the diversity and style of the region's most refined wines which will be presented in eight categories, from robust red to maritime minerality to pretty in pink, as well as Long Island's freshest catch and farm-to-table fare. Tickets are available on liwines.com.  Don't miss the series of VIP experiences and events leading up to the August celebration.
5. Experience the East Coast's ultimate LGBTQ+ Pride Celebration: The Fire Island Invasion
Fire Island is a famed beach haven only accessible by ferry and best known for its pristine beaches, laid-back vibe by day, vibrant scene by night, and its two wildly popular LGBTQ+ communities, Cherry Grove and The Fire Island Pines. Fire Island brims with LGBTQ Pride all summer long and hosts an annual celebration, largely known only by word of mouth for decades: The Fire Island Invasion, a bucket list item for all!
Since the summer of 1976, visitors and seasonal residents of Fire Island's Cherry Grove put on their best drag and gather at the Ice Palace 23 nightclub at the Grove Hotel for the Fire Island Invasion every 4th of July.  After parading through the streets of Cherry Grove, they board a chartered ferry boat and sail to the Fire Island Pines Harbor where they are greeted by thousands of cheering visitors and kick off a parade that spills out into a community-wide party. As each drag queen leaves the ferry and marches onto the dock, she is announced by Panzi, the original 1976 invasion leader now serving as mistress of ceremonies. The festivities have come to be celebrated as "The Invasion of the Pines," commemorating a turning point in LGBTQ+ history.
6. Stargaze with the Custer Institute on Beachfronts and Fields of Wildflowers
Astrology enthusiasts should add Long Island's oldest public observatory, the Custer Institute, to the top of their summer bucket lists.  Visitors will be in awe of our local celestial neighborhood as they observe above Long Island through an intergalactic lens.
Every Saturday evening, the Custer Institute opens for free observation from 7PM until midnight. Located in Southold, the observatory is great for a quiet & romantic evening getaway out of the city light. Weather permitting, you'll have a chance to see breathtaking sights from planets to meteor showers! Pro tip: Arrive early to take in the beauty and sweet fragrant air, as the Custer Institute is located on the grounds of the town's arboretum and wildflower fields.
7. Break Out the Fedoras & Feathered Hats and Head to the Belmont Stakes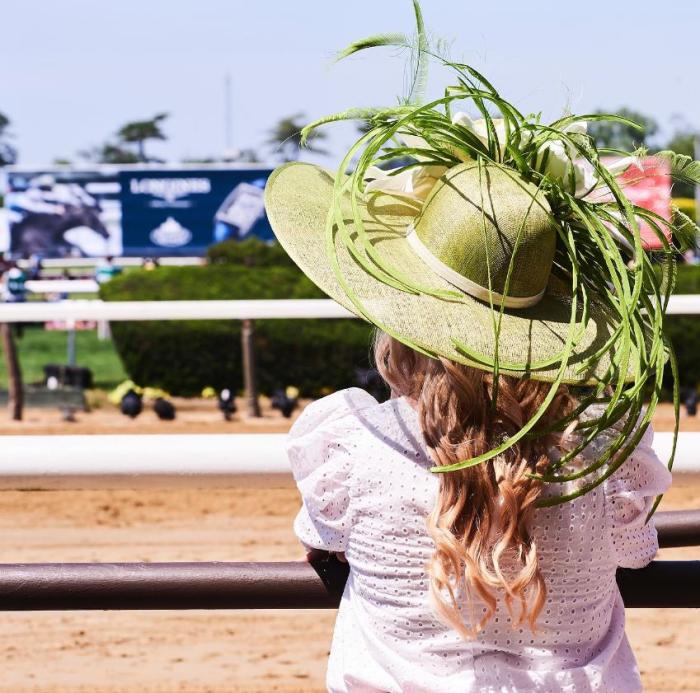 Put on your best fedoras and fascinators and kickoff your summer at the Belmont Stakes! The final and longest leg of the Triple Crown takes place at Long Island's own Belmont Park. Dubbed the 'Test of the Champion,' spectators gather from across the globe to see which horse will be crowned the winner. This year, the 155th running of the Belmont Stakes is on Saturday, June 10 and will feature Diplo as the pre-race performer. Get your tickets now and witness one of the most exciting events in horse racing!
Insider tip: Check out the GA+ Ticket Package sponsored by Montauk Brewing Company, including a general admission ticket, three-hour craft beer tasting, four 12 oz. beers, and a souvenir tasting cup – all for only $150 per person!
8. Test Your Limits at WildPlay, iFly.Trapeze and Long Island Adventure Park
If it's adventure you seek, Long Island has bucket-list worthy activities for you! Visit WildPlay at Jones Beach and put your endurance to the test with its many rope courses, 700-ft. long zipline, and 40-ft. bungee jump while overlooking miles of white sand and crashing waves. With three levels of obstacles to choose from, the park is the perfect place for kids and adults alike.
At iFly.Trapeze in Eisenhower Park, soar to new heights as you learn from experienced circus artists and immerse yourself in this exhilarating aerial activity. Don't miss out on Long Island Adventure Park in Wheatley Heights, a thrilling outdoor adventure featuring 203 treetop platforms connected by bridges, ladders, 49 ziplines and other crossings.
9. Tee Off like a Pro at a Legendary Long Island Golf Course
As the host destination of 23 major golf championships, Long Island has long been a golfer's paradise for those "in the know." Most recently, Bethpage Black Course hosted the 2019 PGA Championship and is set to be the site of the 2025 Ryder Cup, the biggest international golf event in the world. The best part is it's a municipal course, so it's open to the public and you can even swing on the same course as some of the best pro golfers to ever have lived.
Golfers will also want to experience the famed courses at Eisenhower Park's along with Shinnecock Hills Golf Club, the oldest incorporated golf club in the U.S. and one of the five founding member clubs of the USGA.
10. Experience an Iconic Long Island Lobster Roll
Lobster rolls are synonymous with a Long Island summer, and it goes without saying no bucket list is complete without one (or a dozen). Try one at a famed spot on the East End like Shinnecock Lobster Factory in Southampton or The Lobster Roll (LUNCH) in Amagansett where everyone from Bill Clinton to Jerry Seinfeld has pulled over and dined at the roadside retro shack. 
Claudio's Waterfront is a North Fork institution that has been serving seafood on Greenport's waterfront for 150 years, and the quality of their iconic lobster rolls have remained the same.  At Duryea's Lobster Deck & Seafood Market, dine on the deck overlooking Fort Pond Bay at sunset and taste only the freshest lobster on a warm buttered roll. And it should be no surprise that a beloved landmark restaurant like Mattituck's Love Lane Kitchen has a lobster roll to match its reputation.
Other top picks include The Restaurant at Baron's Cove, The Clam Bar in Amagansett, The Lobster Roll Restaurant in Southampton, Jordan Lobster Farms in Island Park, Porter's on the Lane in Bellport and The Halyard in Greenport.
11. Climb to the Top of a Legendary Lighthouse
Lighthouses have been guiding ships at sea to, from, and around Long Island for centuries with the oldest being Montauk Lighthouse commissioned by President George Washington himself in 1792! Celebrated as the oldest lighthouse in New York, the Montauk Point Lighthouse is still in operation and its flashes can be seen every five seconds from up to 19 nautical miles away. Prepare for a scenic climb up the lighthouse as glorious crashing waves and rocky shorelines that can be seen for miles await you at the top. At Fire Island Lighthouse, experience the island's natural beauty and maritime history when you take the 182-step climb up the landmark building! See the magnificent, panoramic view of the ocean, Fire Island, the bays and Long Island to the north and on a clear day, the NYC skyline.
12. Immerse Yourself in Larger-Than-Life Outdoor Art
Long Island's outdoor sculpture gardens, alfresco art installations and activities cannot be missed.  Spend the day strolling through floral oases and art-studded parks, gazing at larger-than-life sculptures under the summer sun.  Pack a picnic for a perfect day trip.  From world-class art collections to local artist exhibitions to hidden, eccentric destinations, to meditative experiences, Long Island is a mecca for arts and culture with a diverse array of outdoor exhibits to experience this summer.
Celebrating their 125th anniversary this year, Parrish Art Museum has been showcasing the artistic legacy of Long Island's East End since the 1950s and has become one of America's most significant creative centers. The museum offers a range of outdoor and indoor art exhibitions across its 14 acres, totaling over 3,500 works of contemporary art!
13. Attend a Summer Concert Under the Stars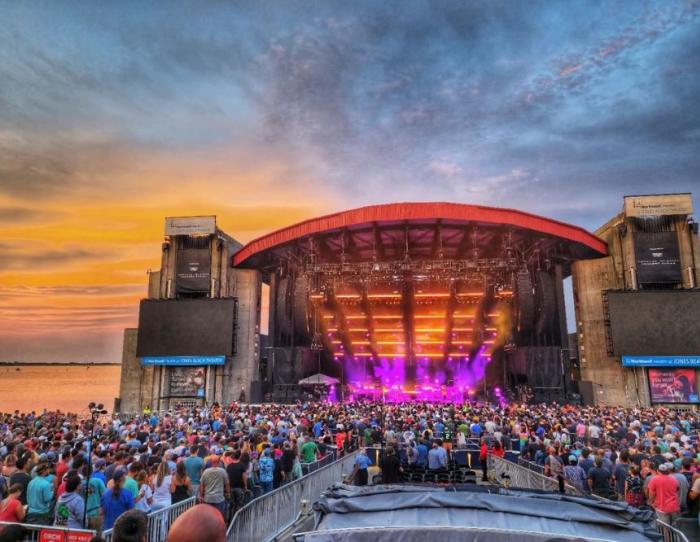 Rocking out to a legendary band, a cover band or even a local band in the open air on a sun-soaked day or under the stars on a hot summer night is a Long Island summer staple and vibe that cannot be matched.  The Northwell Health at Jones Beach Theater is a local landmark and the holy grail of open-air entertainment with highlights of this year's a-list lineup including Luke Bryan, Zac Brown Band and The Goo Goo Dolls.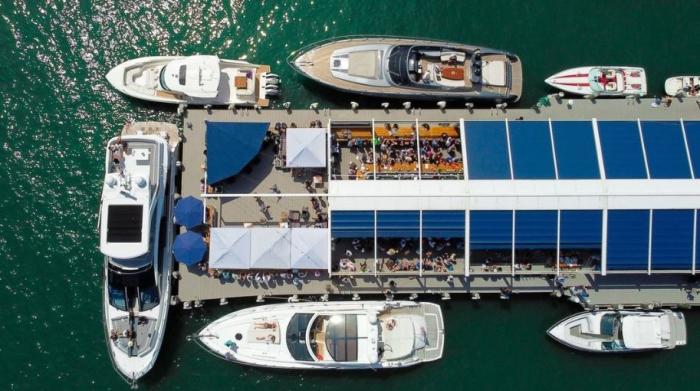 Dance the night away at other iconic live music spots including Claudio's, The Surf Lodge, Flynn's Fire Island or Bodhi's Beach Shack.
14. Live Out your Great Gatsby Fantasies
Live out your Great Gatsby fantasies with a trip to Long Island's Gold Coast, home to stunning grand estates set against pristine gardens and shimmering coastlines. Tour the mansions of the Roaring Twenties where industry tycoons (including the Vanderbilts and Guggenheims) reigned supreme and served as the inspiration behind The Great Gatsby.  Stay overnight at the luxurious Oheka Castle, often serving as a set for major Hollywood productions.  Experience exquisite fine dining at the OHK Bar and Restaurant, or party like it's the 1920's when you attend their exclusive Garden Party this June! A few additional must-see mansions for the ultimate Gilded Age experience include Old Westbury Gardens (Westbury), Sands Point Preserve (Sands Point), Coe Hall at Planting Fields Arboretum (Oyster Bay), The Mansion at Glen Cove (Glen Cove), Chelsea Mansion (East Norwich), Marshall Field Estate at Caumsett State Historic Park Preserve (Huntington) and Vanderbilt Museum (Centerport).
15. Take a Goat Yoga Class – No Kidding
Take your flow to an adorable new level when you try goat yoga on Long Island. End your day in downward dog with an alpaca by your side while having some laughs at the Suffolk County Farm and Education Center where evening classes are hosted every Saturday during the summer months. At the Smithtown Historical Society, join locals for yoga just outside the Brush Barn for a relaxing night accompanied by friendly goats.
16. Bike Long Island's Longest Bike Trail
At 13 miles, the Bethpage Bikeway is Long Island's longest traffic-free paved bike path.  Bike along this peaceful winding trail that passes through beautiful nature reserves such as the Massapequa Preserve, Bethpage State Park and Trail View State Park. As you bike, you'll pass through two wetland preserves where you can spot a variety of wildlife. Stop for lunch when you reach Bethpage State Park and enjoy the scenery as you relax at one of their outdoor picnic tables. 
Insider's tip: Pack a fishing rod for the Massapequa Reservoir, a local fishing spot only those in the know will find largemouth bass, trout, sunnies, carp, catfish, and pickerel!
17. Experience Long Island Salt Life with Water Sport Lessons from the Best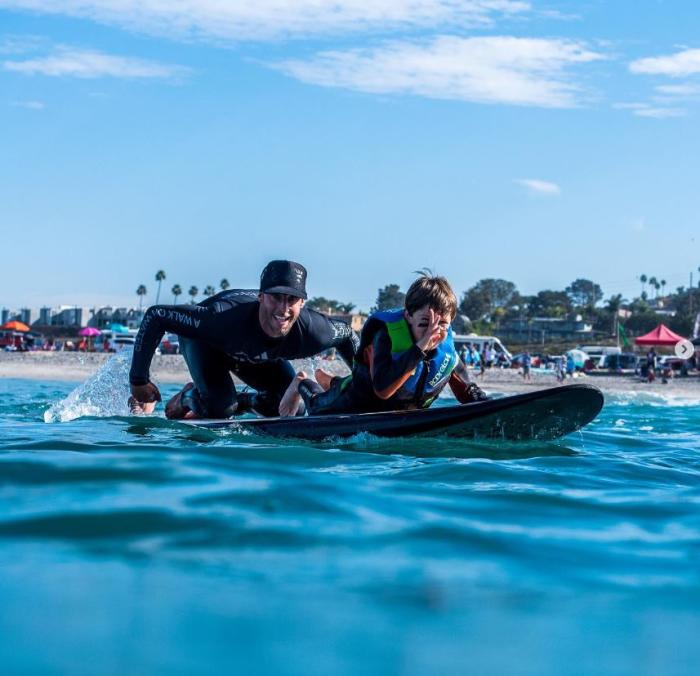 It wouldn't be a summer on Long Island without experiencing the #SaltLife.  With hundreds of miles of captivating coastlines from the calm waters of the rocky North Shore to the crashing waves and white sand on the South Shore, there are endless opportunities for water sport adventures.
Head to Montauk or Long Beach to experience world-renowned surfing destinations and learn from the best with a private lesson from CoreysWave or Skudin Surf.  You can also have a blast at Gold Coast Water Sports where you can choose from a variety of water activities such as wakeboarding, wake surfing, waterskiing, tubing and much more. For a day in the North Shore, visit Over the Top Water Sports for wakesurfing, waterskiing, instructional lessons, and tubing, or enjoy one of their sunrise, sunset, and dinner cruises to experience golden hour on the water!
18. Close Out Summer at the Hamptons Classic Horse Show
For a luxurious end to the perfect Long Island summer, visit the Hamptons Classic Horse Show in Bridgehampton. As one of the largest outdoor horse shows in the United States, the show is a premier destination noted for its high-end boutiques and beautiful 60-acre show grounds. See top equestrians from around the world compete for more than one million dollars in prize money, and you might even spot a celebrity or two at this classic East End summer closer!
19. Soothe Your Senses in an Endless Sea of Lavender & Sunflowers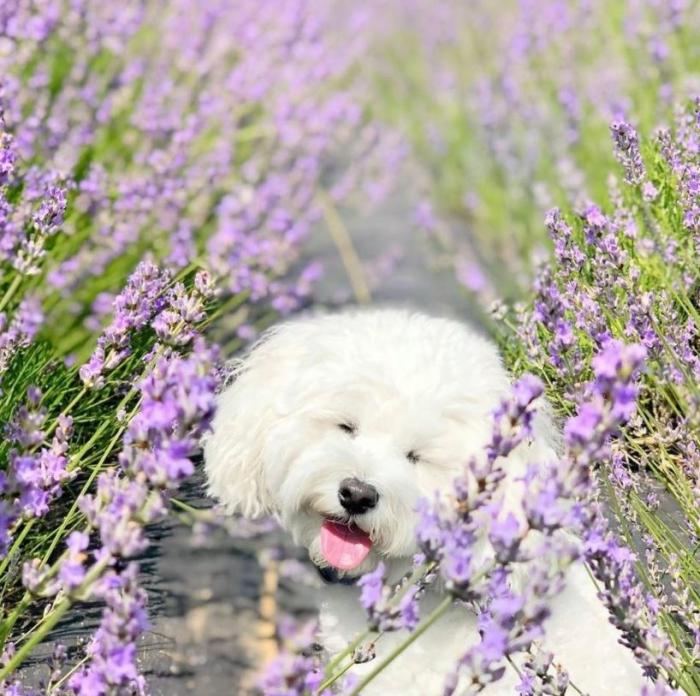 Soothe your senses and be the envy of your Instagram followers with a stop at Lavender by the Bay this summer. Visitors can wander through a purple paradise of 80,000+ lavender plants in full bloom at two sprawling farms located in Long Island's North Fork Wine Country. Relax in an Adirondack chair and observe honeybees at work or check out the farm stands onsite selling fresh lavender bunches, lavender honey, and other seasonal items grown onsite.
Don't miss the captivating flower fields at Waterdrinker Family Farm in Manorville, known for its famed Tulip Festival in the spring and u-pick sunflower fields in the summer. Visitors to the farm can spend the afternoon frolicking through a sea of yellow, checking out the collection of farm animals and enjoying the sunflower fields at sunset. It's a summer vibe unlike any other!
20. Celebrate the 50th Anniversary of Hip Hop with Live Performances by Industry Icons
It's the 50th anniversary of hip hop music and while the Bronx often receives the most credit for its origins and has a slate of celebrations this summer, Long Island played a prominent role in its development. Many early hip hop icons are native Long Islanders who rose to prominence performing at local venues, some of which include LL COOL J, Run-DMC, Public Enemy, Eric B. & Rakim, Big Daddy Kane, Kurtis Blow, Whodini, Salt-N-Pepa, and EPMD.
So to mark the milestone and pay tribute to Long Island's hip hop history, the Long Island Music and Entertainment Hall Of Fame will host a special concert and panel discussion event on Sunday, June 11th at 2 p.m. at the venue's home base in Stony Brook Village (97 Main Street, Stony Brook, NY). The event will feature legendary stars Son of Bazerk, Kool Rock-Ski (of The Fat Boys), A.J. Rock (of J.V.C. F.O.R.C.E.), DJ Jazzy Jay, DJ Johnny Juice (of Public Enemy), Dinco D and Milo in de Dance (both of Leaders of the New School), and special guest Ralph McDaniels (of Video Music Box), as well as other surprise hip-hop guest artists.  This is a once in a lifetime star-studded event you won't want to miss!
21. Try the New Boozy Ice Cream at Montauk Distilling Co.
Montauk Distilling Co. now serves boozy ice cream flights and pints, an epic frozen adult treat just in time for the summer. Their creamy root beer float is a take on classic nostalgia infused with their cinnamony Sunburn Rum and complete with a cherry on top. The second ice-cream-based creation is the apple pie which combines their Apple Tunney with vanilla and caramel and is topped with a dollop of whipped cream and a piece of apple pie. 
The tasting room also offers two boozy sorbet flavors. Their strawberry lemonade is intoxicatingly sweet and infused with the Distilling Co.'s Modico Vodka. Their tropical rum punch, a spin on a summertime favorite, infuses their Bellamy Spiced Rum with orange and pineapple. Those who visit the Riverhead tasting room can purchase the ice cream in various ways: flights, pints to go and more.
22. Charter a Yacht Gold Coast Style or Take a Dinner Cruise with Unrivalled  Views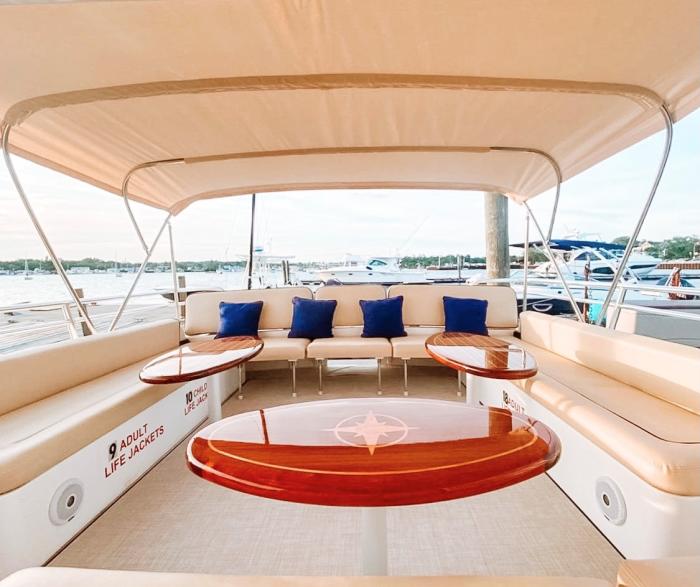 Indulge yourself and sail into the sunset in Gold Coast style aboard a Long Island Boat Rentals private yacht charter that offers views of waterfront mansions as well as the New York City Skyline. Standard yacht charters accommodate up to 6 passengers, or you can make it a party your crew will never forget with their new custom-designed party yacht for 24 guests to create an unmatched private luxury yachting experience.
For other top boating experiences, you can sail from Bay Shore Marina on relaxed sunset dinner cruises or cruise around our famed lighthouses aboard a turn-of-the-century style riverboat. Try the Moon Chaser Cruise that launches from Captree State Park or a day at anchor with Over the Top Water Sports in quaint Northport Harbor paradise.
23. Shuck Oysters at The Shoals with Little Ram Oyster Co.
The Shoals, a self-proclaimed "boatel," recently opened on the waterfront in wine country, offering sweeping views of the Peconic Bay and Shelter Island. 
Located to the west of the hotel, you'll find the refurbished Scallop Shack which houses Little Ram Oyster Company's kitchen area along with all of their oyster equipment.
Every Wednesday evening throughout the summer months, Little Ram Oyster Company will park their 'Shuck Truck' at the Shoals for a delectable oyster happy hour and provide educational shucking experiences.  Or you can take one of their guided tours through the Little Ram Oyster Co. on-land facility and a boat ride! You will learn how a hatchery works, have a hands-on experience with their floating nursery and learn what a day-in-the-life looks like. Following the 1-hour tour will be a 2-hour boat ride with our partners at Rideshore! Your captain will anchor at the farm and provide freshly shucked Little Ram Oysters and wine. Feel free to stop and swim or just enjoy the ride.