Long Island Tourism Reigns Supreme this Spring & Summer
Legendary Gold Coast and famed North Fork welcome slate of new hotels & attractions
Treasured wine region celebrates Golden Anniversary and Riverhead's renaissance continues with town crowned one of Forbes' top 50 destinations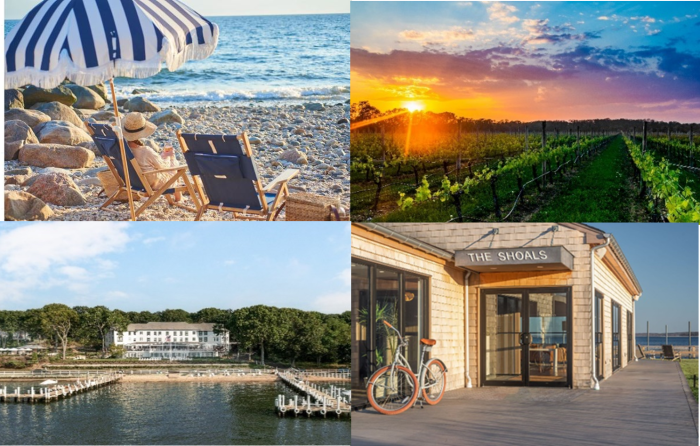 LONG ISLAND, NY (April 17, 2023) – Home to world-class attractions from the Hamptons to the Belmont Stakes, Long Island, New York comes alive each spring with nature and activity brimming in every corner. Travelers eager to shed their winter coats and head outdoors flock to Long Island for its unmatched seasonal splendors and open-air activities – from snapping selfies among millions of tulips, to sampling award-winning wines among the vines to traversing a nature preserve that leads to a majestic Gatsby-era mansion on Long Island's legendary North Shore.
The North Shore, often referred to as the "Gold Coast," is the star of the region this season with an array of NEW and expanded hotel properties, restaurants, event venues and major attractions opening up across the 118-mile coastline, including a brand new 9-hole golf course named for the area's revolutionary war history.  Known for its opulent gilded age mansions, which served as the inspiration behind the Great Gatsby, the North Shore is also lined with vibrant waterfront villages before it transforms into the farmlands of Long Island's famed "North Fork" wine country, which is celebrating a major milestone this year.
This summer marks 50 years since Long Island's first commercial vineyard was planted in what is now an award-winning wine region home 60+ wineries and 57 world-class tasting rooms.  The milestone is being marked with a series of sophisticated experiences, first time events and a grand celebration in August.
And as wine country celebrates its Golden Anniversary, Riverhead's renaissance continues with the revival of a 117-year-old homestead transformed into luxe hotel suites, along with several mom-and-pop shops taking root on or near its historic Main Street, including the downtown's first coffee shop in 15 years, an artisanal chocolate boutique, bookstore, authentic taco spot and more. Riverhead, long a hidden gem located enroute to wine country, has more to celebrate this year as it was just crowned one of Forbes' top 50 travel destinations in the world.
Read on to learn more about why Long Island reigns supreme this season.
High resolution photos and renderings of properties featured below are available HERE.
What's New in North Fork Wine Country
Wine Country to celebrate 50 years with series of first-time events:
2023 marks 50 years since the first grape vines were planted in the vast farmlands of Long Island's North Fork. To celebrate the milestone, growth and evolution of Long Island's award-winning wine region, 30+ local wineries and winemakers are coming together to host a grand tasting event at the height of the summer season on Saturday, August 19, 2023.  The event will take place across the sweeping lawn of Peconic Bay Vineyards, one of the oldest operating vineyards in the region.  Hundreds of attendees will be able to experience the diversity and style of the region's most refined wines which will be presented in eight categories, from robust red to maritime minerality to pretty in pink, as well as Long Island's freshest catch and farm-to-table fare. Ticket sales begin in a few weeks on liwines.com.  Check back for details on a series of VIP experiences and events leading up to the August celebration, from intimate "10-mile" wine dinners with renowned chefs to behind-the-scenes tours, intimate library wine tastings, and more!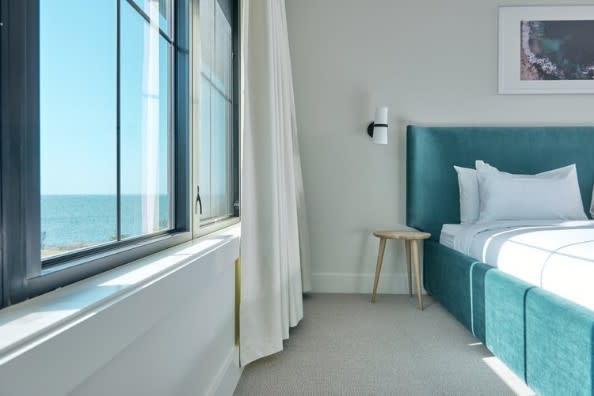 Charming seaside hotel to open in Greenport:
Perched upon a bluff on the tip of wine country, overlooking the calm waters of the Long Island Sound, you'll find Hotel Moraine, an intimate coastal escape nestled among farmlands with 20 charming guestrooms. The property, formerly known as The Sunset Motel, will reopen on May 25, 2023, following a multi-million-dollar renovation and feature a  private beach, heated pool, several fire pits, fitness center, lobby fireplace, café and a private cottage available for events.
Century-old Shelter Island hotel to make grand reopening:
Having softly launched in mid-summer 2022 following two years of extensive renovations, The Pridwin Hotel & Cottages, now fully revitalized, will make its official grand reopening on April 20, 2023. The reimagined property combines nostalgia with a modern sensibility, featuring 33 refreshed rooms, meeting spaces, and 16 private cottages, situated on seven acres of shoreline. The sprawling retreat evokes a camp-like atmosphere and provides a haven for outdoor enthusiasts with a swimming pool and private beach overlooking the property's 120-foot dock, bike rentals, paddleboards, kayaks, tennis, fishing, motorized water sports, complimentary yoga and more.  A game room, spa and a three-meal dining room helmed by Executive Chef Todd Ruiz, are just some of the new amenities of this treasured retreat.
Greenport to host inaugural North Fork Pride Parade:
The vibrant waterfront village of Greenport will host the North Fork's first Pride Parade this summer.  Presented by the LGBT Network, the inaugural North Fork Pride celebration will take place on Saturday, June 24, 2023, and include a parade, festival, and tea dance and much more.  For more information, visit northforkpride.org.
North Fork's first "boatel" offers oysters onsite:
The Shoals, a self-proclaimed "boatel," and first-in-kind property for Long Island's famed "East End,"recently opened on the waterfront in wine country, offering sweeping views of the Peconic Bay and Shelter Island.  The property features 20 nautical-chic, apartment-style hotel suites and 20 boat slips, making it accessible by land and sea, as well as a speedboat available for charter, fire pits, a food truck serving lobster rolls and an oyster company that shucks onsite and provides private group experiences.
Two new ocean-to-table eateries now open on North Fork:
Two more places for visitors to experience Long Island's local flavors just opened on the North Fork. Overlooking the Long Island Sound at Kenney's Beach in Southold, the Little Fish is serving up fish tacos and seasonal dishes tied to a sense of place and environment.  Down the road in Jamesport, Chef Chris Kar has transformed the former Jamesport Manor into The Dimon Estate, a stylish lounge and bar highlighting the North Fork's rich mariner history. The lush bounty of the property, including a newly-created heirloom garden, will be incorporated into its seasonal menus.
What's New in Riverhead, "the Gateway to the Forks"
Forbes Names Riverhead Top Travel Destination in the World:
Earlier this year, Riverhead was named on Forbes' prestigious annual list of the top 50 travel destinations in the WORLD among destinations like Bucharest, Romania, the Canary Islands of Spain and Qatar.  Located at the entrance of Long Island's famous "East End" where travelers can head south to the famed Hamptons or veer north to the farmlands of wine country, Riverhead is home to the region's most popular attractions from the iconic aquarium to the Tanger Outlets.  Its historic waterfront village boasts a thriving brewery scene, an art deco 1930s theater, and more.  Head a couple minutes north for vast farmlands with you-pick orchards and vineyards.
Preston House & Hotel Transforms Neighboring 117-Year-Old Homestead:
In the heart of downtown Riverhead, you'll find The Preston House & Hotel, a refurbished 1905 homestead featuring original floors, beams, fireplace, stonework, and barn doors. The hotel recently acquired the neighboring 117-year-old Howell House, now open for reservations following a robust revitalization.  The Howell House features five unique and fully equipped suites, a Parlor Room that beams with natural light and glamour, a wraparound porch and more. Don't miss the property's cellar lounge, home to a wine vault and velvet sofas or the onsite restaurant that offers weekly pig roasts, oyster happy hours, wine paired dinners throughout the summer.
Vineyard Event Venue Opens at The Inn & Spa at East Wind:
Located moments away from wine country and a short distance to The Hamptons, The Inn at The East Wind is a full-service resort destination offering ample event space and seamless access to iconic destinations. At the start of 2023, East Wind unveiled its newest venue, The Vineyard, a 6-acre onsite vineyard with space for up to 140 guests where couples can say "I do" under a picturesque arbor among the vines with farm to table cuisine. The Vineyard is just the latest addition to the property's array of world-class amenities including an onsite spa, Zagat-rated restaurant, shops and more.
What's New on the Gold Coast: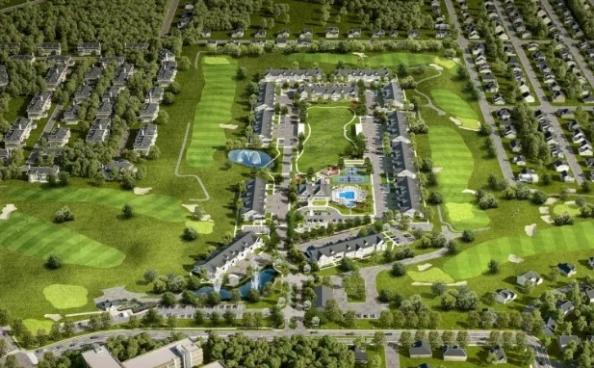 New 9-hole golf course named for area's Revolutionary War history
set for summer opening:
Designed by famed golf course architect Tyler Rae, the Heritage Spy Ring Golf Club is soon to be the newest public golf course on Long Island. Slated to open mid-summer 2023, this modern nine-hole destination featuring resort-style residences and amenities is located in the town of Setauket with its name a nod to George Washington's Culper Spy ring and the area's prominent role in covert operations during the American Revolution.
Boutique hotel to open in heart of historic Northport Village:
A 26-room luxury boutique hotel is slated to open late summer 2023 in the historic, harbor front village of Northport, which still bears the trolley tracks laid in the early 1900's along with dozens of mom-and-pop shops, fine dining establishments, Victorian-era homes and more. The property, appropriately named The Northport Hotel, will also feature a 175-seat upscale, authentic Italian steakhouse on the ground floor. Among the many nearby attractions, adjacent to the new boutique hotel, guests will find the John W. Engeman Theater which opened in 1912 and boasts Broadway-caliber performances year-round.
Danfords Hotel, Marina, and Spa unveils new restaurant:
This nautical waterfront sanctuary in the bustling village of Port Jefferson recently unveiled Ferryman's Grille, a new seafood-driven onsite restaurant with a refreshed bar area, dining room and dockside patios. The restaurant offers the region's freshest flavors in coastal-inspired cocktails crafted with locally made spirits including Danfords' custom blended vodka.  Its sophisticated, seasonal dished will feature ingredients sourced straight from Long Island farms and fisheries.
###
ABOUT DISCOVER LONG ISLAND:
Discover Long Island is the region's official destination marketing and leadership organization charged with furthering the destination's thriving visitor economy, which saw record-breaking highs in 2019 generating $6.3 billion in visitor spending. The organization ensures Long Island's coveted quality of life, thriving industries, and dynamic destination offerings are promoted on a global level, furthering economic development, and benefiting residents and businesses throughout the region. Awarded "Best Social Media" in the nation by the US Travel Association, the organization produces engaging content featuring local businesses and attractions for their 10 social media channels which garner upwards of 10 million views.  Additionally, the organization hosts a popular YouTube series, Long Island TV, as well as the Long Island Tea podcast. To learn more, please call 631-951-3900 or visit www.discoverlongisland.com/
Media Contact:
Justine DiGiglio
V.P. of Communications
jdigiglio@discoverlongisland.com
631-807-1088