Including the Partner of the Year, Tourism Trailblazer, Industry Advancement,
and Tourism Legacy Honorees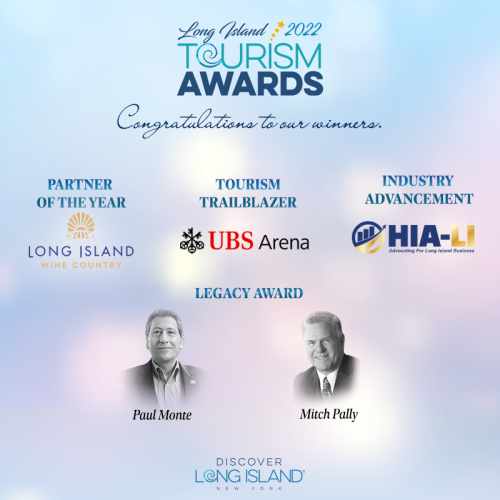 LONG ISLAND, NY (December 8, 2022) — Discover Long Island, the region's official and only accredited destination marketing organization, was proud to unveil the recipients of the 2022 Tourism Awards at the organization's 4th annual gala, held Tuesday night, at the Fox Hollow in Woodbury. The annual event is designed to recognize the diverse group of local leaders, organizations, and business owners who continue to shape and further Long Island's $6.3 billion tourism industry.  This year's award categories and the recipients included:
"I'm honored to bring together Long Island's hard-working and dedicated tourism and business community to shine the light on the individuals and organizations that play an integral role in our visitor economy," said Discover Long Island President and CEO, Kristen Reynolds, CDME. "It is thanks to these local leaders that tourism remains a powerful economic driver for our region and that Long Island is positioned as one of the most desirable places to live, work and visit in the nation."
 
More than 150 guests attended the sold-out celebration which marked the in-person return of the annual event following a two-year hiatus due to the pandemic.  The program kicked off with remarks from Discover Long Island's outgoing Chairman Bryan DeLuca, Executive Director of Atlantis Holdings, and a presentation by Discover Long Island President and CEO, Kristen Reynolds, CDME which highlighted the organization's work and achievements over this past year.  Newsday's Senior Lifestyle Correspondent, Elisa DiStefano served as the Master of Ceremonies for the awards portion of the program which included tributes to the two Tourism Legacy Award recipients Paul Monte and Mitch Pally. The esteemed Tourism Legacy Award is a lifetime achievement award dedicated to a Long Island icon whose efforts have made a lasting impact on the region's tourism economy.
"Long Island's tourism economy remains a key component of our region's economic success, generating over $700 million in state and local tax revenues annually and supporting upwards of 100,000 local jobs," said Discover Long Island outgoing Chairman Bryan DeLuca, Executive Director of Atlantis Holdings. "The growth and success of this thriving industry would not have been possible without the tremendous contributions of tonight's honorees.  The lasting impact Mitch Pally and Paul Monte have made on our industry will be felt for generations and we thank them for their dedication to making tourism, and more importantly, Long Island, the best it can be."
About the Tourism Legacy Award Winners
A consummate hospitality and tourism professional and a pillar of the Montauk community, Paul Monte continues to make a lasting impact on Long Island's tourism.  Paul began his career in hospitality at the age of 12 as a dishwasher at Gurney's Resorts, where his father was General Manager.   He worked every job on the property to climb the ladder and eventually take over for his father at Gurney's in 1990. 
In addition to his role at Gurney's, Monte is a successful entrepreneur involved with several East End ventures including local businesses, East End Getaways, and The Montauk Chamber of Commerce where he served as President for two decades.  Monte is also a dedicated family man and community leader, and has served as a sports coach, and religion teacher and on many local, Town, Regional, County and NYS committees – helping to shape the thriving east end tourism economy it is today.
Mitch Pally has served as CEO of the Long Island Builders Institute (LIBN) for the past 12 years, maintaining a reputation as a well-connected leader who serves with integrity. Under his leadership, LIBI has been an effective and powerful voice for housing, for sustainable economic growth, reliable mass transit, and for reducing the cost of living on Long Island. Over the past two decades, Pally has played a central role in every initiative or project of significance, from mass transportation to energy – shaping and furthering the region's economic development and prosperity. 
Prior to leading the region's largest homebuilders trade group, Pally served as Vice President of Government Relations for the Long Island Association and later as a land-use and zoning attorney.  He was also Suffolk County's representative on the board of the MTA and held a number of positions in the State Legislature, from chief council to serving on critical transportation committees.  Pally played a key role in drafting and passing historic transportation legislation including the nation's first seatbelt law and was also instrumental in drafting and passing sports and tourism legislation including Long Island's current funding model for tourism promotion.

2022 Tourism Award Finalists
During the awards ceremony, DiStefano also unveiled and recognized the finalists in each category in addition to the winners.  Partner of the Year Award honors a Discover Long Island partner that has exhibited strong engagement throughout the year and continued activation in the tourism industry. Finalists in this category included Marc of Elegance and the Scotto Brothers.
The Tourism Trailblazer Award is given to a new or renovated attraction or promotional campaign that enhances tourism by creating opportunities for destination development, visitor retention, or promotion that lends to tourism growth or enhanced visitor experiences. The finalists in this category were Adventureland and Wild Play at Jones Beach.
And finally, the Industry Advancement Award honors an educational institution, initiative, or effort that fosters a significant understanding of the value of tourism, promotes the industry as an economic driver and works to develop future talent for the industry. The 2022 finalists for this category included the Hospitality Academy of Hampton Bays and Minority Millennials.
###
ABOUT DISCOVER LONG ISLAND:
Discover Long Island is the region's official destination marketing and leadership organization charged with furthering the destination's thriving visitor economy, which saw record-breaking highs in 2019 generating $6.3 billion in visitor spending. The organization ensures Long Island's coveted quality of life, thriving industries, and dynamic destination offerings are promoted on a global level, furthering economic development, and benefiting residents and businesses throughout the region.  Awarded "Best Social Media" in the nation by the US Travel Association, the organization produces engaging content featuring local businesses and attractions for their 10 social media channels which garner upwards of 10 million views.  Additionally, the organization hosts a popular YouTube series, Long Island TV, as well as the Long Island Tea podcast.  To learn more, please call 631-951-3900 or visit www.DiscoverLongIsland.com.
Media Contact:
Justine DiGiglio, V.P. of Communications
jdigiglio@discoverlongisland.com
631-807-1088