Memorial Day Weekend signifies the start of summer on Long Island – a treasured time of year filled with endless beach days, boat days, boardwalks, barbeques, concerts, cocktails and more.  Our prized white sand beaches and parks that attract visitors from around the world are officially open, the sun is out, and everyone is ready to celebrate. And the lineup of unique festivities happening across the island this weekend does not disappoint!
Experience a breathtaking military air show at Jones Beach, observe 19th-century traditions and reenactments at Old Bethpage Village, join a lively parade happening in one of our many vibrant villages honoring our nation's heroes, enjoy live music under the night sky or catch an extravagant waterfront firework show. To find out more, continue reading!
Best Memorial Day Parades + Observances Happening on Long Island this Weekend
Soar into Memorial Day Weekend at the 18th Annual Bethpage Air Show at Jones Beach State Park (Wantagh)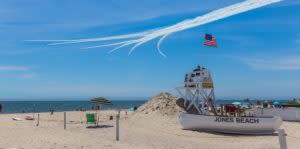 The white sandy beaches of the South Shore have been waiting for your return, and the folks at Jones Beach State Park provide a great reason to make that trip with the Bethpage Air Show!  This is the 18th year of the high-flying annual aeronautic spectacle over the world-famous beach, and it's arguably the most popular and one of the largest airshows in the country, attracting upwards of 289,000 people in 2018. The show is welcoming back the US Navy Blue Angels as headliners and will feature stunts by dozens of vintage aircrafts.  Joining the Blue Angels will be a long list of both military flight teams and civilian performers, including the US Army Golden Knights Parachute Team, the U.S. Coast Guard, the U.S. Navy F-35C Tac Demonstration Team, and the world-famous Skytypers a widely known female aerobatic pilot, and more. You can catch the show from 10 a.m. - 3 p.m. on both Saturday and Sunday.  There are no tickets to the show, just the park's $10 parking fee which is available on a first-come, first-serve basis.
Observe MDW 19th-century style at Old Bethpage Village Restoration's Decoration Day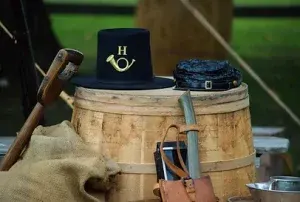 Credit: Old Bethpage Village Restoration
Come and experience how Memorial Day was observed in the 1870's at Old Bethpage Village Restoration on May 28th and 29th. The event features parades, volunteers in historic uniform and dress, museum tours, traditional 19th-century ceremonies for veterans of the Civil War as well as observances to the many brave men and women for whom we remember their sacrifice.
Join Oyster Bay's Memorial Day Parade or take a tour of the historic Raynham Hall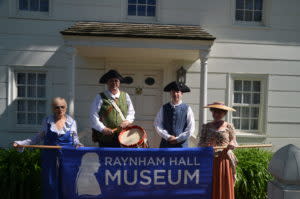 Credit: Raynham Hall Museum
The annual Oyster Bay Memorial Day parade is returning this year, followed by an open house at Raynham Hall Museum! Local veterans, youth organizations, and Raynham Hall educators dressed in Revolutionary clothing will remember the fallen, beginning at the Gulf station on South Street at 10:00 am. After the parade, rediscover the American Revolution at Raynham Hall with free Augmented Reality demonstrations in the museum's beautiful new education center, play historic games on the lawn, and enjoy space for picnicking in the garden.
Enjoy a fireworks extravaganza in Port Washington!
Credit: Great Neck Record
Head to Port Washington to experience a sensational Memorial Day Commemoration complete with a fireworks extravaganza. The exciting event will begin on Saturday, May 28th, at 6:30 p.m. and will be held at North Hempstead Beach Park (FYI there is a $10 parking fee). Some fun things you can expect to see at the parade are of course, an outrageous fireworks display, as well as Bon Jovi and Journey tribute bands. The gates will open at 3:30 p.m.
Can't Miss Memorial Day Weekend Activities 
Cruise right in to the weekend with Long Island Boat Rentals (Port Washington)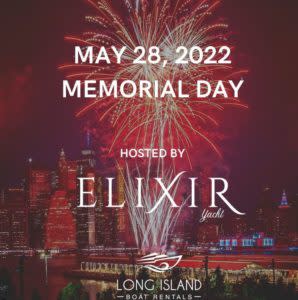 Join Long Island Boat Rentals on Saturday, May 28th for a Memorial Day Weekend Fireworks Cruise through Hempstead Harbor! Guests will board the world-class party yacht, the Elixir, at dusk to enjoy the sunset and a waterfront view of the Hempstead Harbor Fireworks Show. A champagne toast will also be included with your cruise, as well as snacks and beverages with the option to BYOB. Space is limited, so book now! 
Celebrate with a carnival-like affair at Harbes Memorial Day Weekend Celebration (Mattituck) 
For a picture-perfect weekend on the farm filled with roasted sweet corn, live music, and a field of family-friendly activities, head to Harbes Family Farm in Mattituck for its Memorial Day Festival. The celebration will be taking place all weekend long from May 27th to May 30th and features live performances from a variety of local musicians, mouthwatering farm-to-table concessions--including the farm's own wine, and of course, the option to explore Harbes' Backyard Barn Adventure--a children's adventure park filled with mazes, playgrounds, a sports zone, jumbo bouncers, and more.
Light up the night at The Adventure Park's Glow in the Park Night (Wheatley Heights)
For a true Memorial Day Weekend glow-up, head to The Adventure Park in Wheatley Heights. Experience this bright event as you soar through the air on numerous zip lines and conquer a variety of rope courses that you'll navigate using colorful and luminous LED lights. This action packed and lit up adventure is a great event for the whole family to enjoy!
Soak up the sun and bike Southampton!
Join members of Southampton History Museum for a 7-mile guided bike tour, visiting some of the area's critical cultural institutions. The bike tour will take place on Sunday, May 29th from 1 p.m. to 4 p.m. and leave from Southampton History Museum. Bikes will not be provided, guests are asked to bring their own.
Shop Long Island's most talented at the Maggie Burbank Arts & Crafts Show (Westhampton Beach)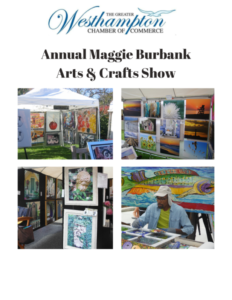 The Greater Westhampton Chamber of Commerce is pleased to announce that it will one again host the Annual Maggie Burbank Arts and Crafts Show on the Great Lawn (corner of Potunk Lane and Main Street in Westhampton Beach). The premier summer art show will feature more than 65 artists who have been chosen through a competitive selection process. The artists specialize in oils, acrylics, pastels, watercolors, mixed media, wood and metal sculpture, and photography. The show will be held rain or shine on Saturday, May 28th from 10 a.m. to 6 p.m. and Sunday, May 29th from 10 a.m. to 5 p.m.
Relax and restore your mind and body with an outdoor yoga class at Heckscher Park this Memorial Day Weekend (Huntington)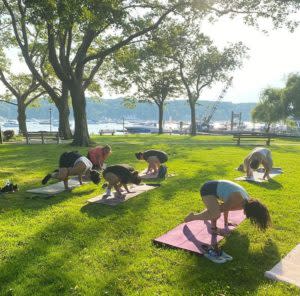 For a fun health and wellness opportunity, check out Heckscher Park's (in Huntington) outdoor yoga series offered every weekend, starting this weekend! From now until Sunday September 18th, you can enjoy the one-hour-long beginner-friendly yoga class on the beach and grassy greens of the park. 
Best Places to Catch Live Music this Memorial Day Weekend
Cheers to a picture-perfect Memorial Day Weekend at Flynn's Beach Bash + Dance Party  (Fire Island) 
If you're 21+ and looking for the ultimate weekend celebration, Flynn's in Ocean Bay Park is hosting two sensational beachside parties this MDW. On Saturday, join the Flynn's crew and DJs Lomo, Joey Stylez, and Daveed for an afternoon beach party, with live entertainment, lots of dancing, cold drinks, and an electrifying atmosphere! And on Sunday, DJs Fotsbeats, Michael Anthony and Bad will be stopping by to amplify the party atmosphere all day long. Tickets are required and on sale now, get them while you can!
Sing your heart out at Northwell Health's "Side by Side: A Celebration of Service 2022" music series at UBS Arena (Elmont)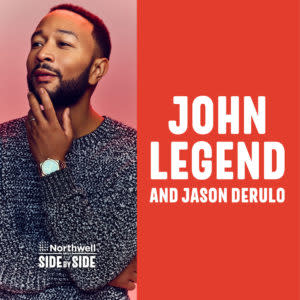 Join headliners John Legend and Jason Derulo for a one-of-a-kind performance at Elmont's state-of-the-art UBS Arena on Sunday, May 29th. The show starts at 7:30 but doors open at 6 p.m. sharp, we recommend getting there early so you can check out Belmont Hall, the venue's other eateries, outdoor terraces, and vendor markets.
Dockside dining is met with a legendary Memorial Day Weekend DJ Set at LaMotta's (Port Washington) 
If you've got the itch to dance but also want to score some fantastic MDW eats like lobster rolls and oysters head to LaMotta's. On May 28th, the iconic waterfront restaurant will be hosting KTU's Legendary DJ Tommy Nappi for his inaugural show of the season. Be prepared to dance the night away while you sip on brightly-colored cocktails and soak up the unbeatable harbor views.
Luxuriate in a lowkey vibe at the Ram's Head Inn (Shelter Island)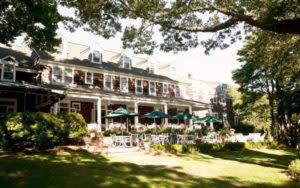 If you're looking to get away from the crowds this MDW, The Ram's Head Inn in Shelter Island is the place to be. Whether you're looking to stay overnight or just grab a bite to eat, this hotel meets restaurant is offering guests all the best views and food that you could want. And on May 27th and 29th, Shuck+Jive and David Kriegel's Jazz Quartet will be making special appearances performing live from 5:30 p.m. to 8:30 p.m.
Take part in the Annual Memorial Day BBQ at Claude's (Southampton)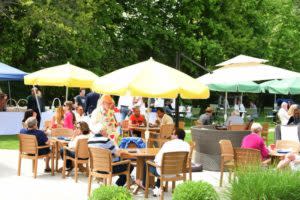 The pool is open and summer is here! Start your favorite season off right with all the traditional favorites like burgers, hot dogs, BBQ chicken, pasta salad, and watermelon and brownies, and a few other Chef specialties that welcome you to Claude's for the season.  The BBQ bash also features local live music and a cash bar.
Enjoy iconic seafood plates and live music all weekend long at Claudio's (Greenport)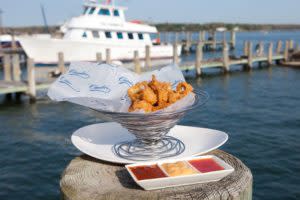 Claudio's Restaurants is one of the most historic eateries on all of Long Island. The restaurant serves legendary seafood cooked old school style, incredible cocktails, local craft beverages, and this MDW, a whole lot of live music! Starting Friday, Claudio's will be hosting back-to-back local musicians and DJs that are certain to amplify the atmosphere