Long Island is known for hundreds of miles of captivating coastlines - from the calm waters of the rocky North Shore to the crashing waves and white sand on the South Shore - providing endless opportunities for water sport activities and adventures.
Whether you're looking to just soak in some sun and scenery, surf, paddle board, kayak or canoe, every area of Long Island provides the gear, services, and lessons for your ideal experience.
Learn to wakeboard in the scenic setting of Northport Harbor, live your best Long Island life with a romantic sunset cruise, plunge down a slippery water slide at a top-rated waterpark, or explore the region's diverse natural landscapes with a guided kayak tour.
Start summer with a splash and dive into our list of water attractions and on-the-water fun!
Surfing
Carve up the same beach that professional surfers flock to with the help of CoreysWave Professional Surf Instruction (Montauk)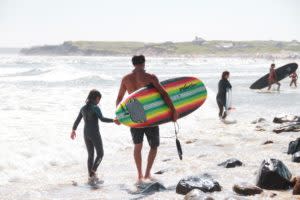 credit: @coreyswave/Instagram
Long Island's East End is a world-renowned surfing destination due to the deep waters that cause serious waves off the coast of Montauk. The certified pros at CoreysWave have grown up in the waters and know all the tricks to getting first-timers hooked on surfing.
Catch a wave in Long Beach with lessons or gear from Skudin' Surf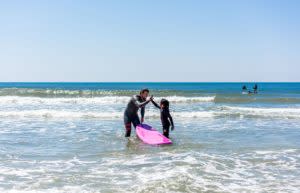 Conveniently located on the Long Beach Boardwalk, amateur surfers can get their fins wet with a personal or group surfing lesson offered by Skudin Surf School & Camp! The instructors will have you feelin' like a real Long Beach local as they teach you all the safety processes and skills to surf like a pro.
Paddleboarding, Kayaking & Canoeing
Strengthen your core with paddleboard yoga classes (East Hampton)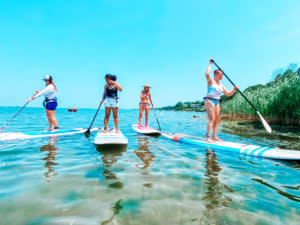 Originally founded with the purpose to empower young women through water sports, Paddle Diva has created a one-of-a-kind watersport experience. Paddle Diva's program is accredited by the Academy of Surfing Instructors. It also leverages founder, Gina Bradley's, 25 years of experience so anyone can transform their physical wellbeing and even improve their balance with a private paddleboard lesson (or an exclusive paddle tour through the waters of East Hampton).
Paddle through historic charm in the quaint village of Stony Brook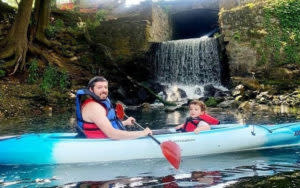 Family-owned and operated Stony Brook Harbor Kayak & Paddleboard Rentals offers the premier experience on the North Shore of Suffolk County. By extending only the best in high-end equipment rentals and service to its guests, Stony Brook Harbor Kayak & Paddleboard Rentals has quickly become a popular attraction here on the island. Choose to set your own pace on a scenic kayak tour of Stony Brook Harbor or get your heart rate climbing through a paddleboard fitness class!
Keep it fresh with a Moonlight Paddle tour on the Peconic River (Riverhead)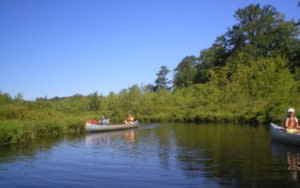 When in Riverhead, you'll want to stop at more than just the Long Island Aquarium. You can't forget to make a stop next door at Long Island Canoe Kayak Rentals for a unique experience on the Peconic River. If rigorous activity entices you, you'll want to take an Adventure Kayak Tour. But if you prefer to relax during your time on the water, you'll want to sign up for the Moonlight Paddleboard Tour.
Score a deal on kayak rentals at Atlantic Outfitters (Port Washington)
Sticking to the shoreline of the Northern Nassau? Head on over to Atlantic Outfitters located on The Wharf in Port Washington! Here you'll find paddleboard, kayak, and rowboat rentals in addition to a fully outfitted fishing shop. And when you present your FREE Downtown Deals Travel Pass, you'll score 20% off the rental of your choice.
Sailing & Boat Charters
Spend a day at anchor or a wakeboarding lesson from the professionals at Over The Top Watersports (Northport)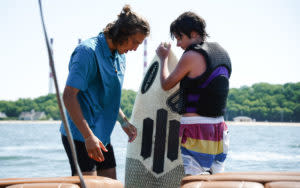 Credit: Kevin Cryer-Hassett
Ready for an exhilarating experience on the water? The family owned and operated water sports charter known as Over the Top Charters is here to bring it! They offer premier wakeboarding, wake surfing, waterskiing, tubing, instructional lessons and more! Ride the waves as brothers Preston and Spencer teach you everything there is to know. They also offer sunrise, sunset and dinner cruises! Whether your vibe is ripping through some waves or observing the beautiful water with a delicious meal, you'll have a blast at this location!  Visit them now for an over-the-top experience you won't forget!
Tour Gatsby-era Mansions and iconic NYC landmarks from a private yacht with Long Island Boat Rentals (Port Washington)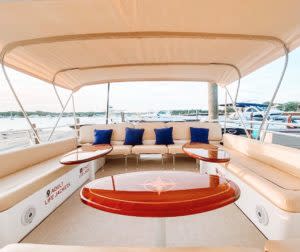 Another fantastic way to flee to the waters off the Nassau coast is with Long Island Boat Rentals in Port Washington. Offering captained and bare boating rentals, guests will have the option to rent a full staffed charter or be the captain of their own ship! From romantic sunset cruises to tours around Manhattan Island, LIBR will make your dreams a reality. Long Island Boat Rentals also offers private training classes and adventure tours complete with floats, wakeboards, and other water-sporting accessories. It's your one-stop-shop for nonstop fun on the water! Visitors who present their FREE Downtown Deals Travel Pass score 15% off!
Catamaran Mon Tiki is perfect for your next family reunion (Montauk)
If you need a little more room on board, we recommend checking out Catamaran Mon Tiki in Montauk. With three different sailing catamarans to choose from, the Mon Tiki family can comfortably accommodate groups of 2 to 100 passengers on a BYOB and picnic friendly adventure at sea. And since we're talking about catamarans, the ride is much smoother than it would be on a traditional sailboat. Making this one of the most memorable attractions for bachelorettes, wedding parties, special birthdays, corporate events, and all other private charters.
Head out on a one-of-a-kind birding adventure with Skyline Cruises (World's Fair Marina)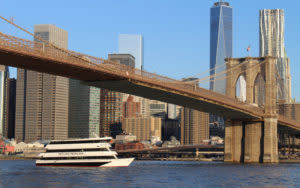 Experience an extravagant, on the water event with the amazing choices offered to you by Skyline Cruises. Skyline Cruises has a variety of stunning sightseeing tours, as well as incredible catered events and dinners. Sailing from several ports, you can book a private or public occasion on their "Skyline Princess" charter. Visit their website for more information and to book this memorable water event now!
Set sail on a historic turn-of-the-century riverboat with South Bay Paddlewheel Cruises (Brightwaters)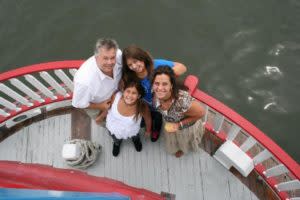 Set sail this summer with the Lauren Kristy, a 65-foot turn-of-the-century style riverboat located at the Bay Shore Marina. Take your pick with the Lauren Kristy as you can have the pleasure of experiencing a casual luncheon cruise or an elegant evening dinner cruise. You can also celebrate special private events on this beautiful charter! See their website for more information.
For a posh picnic at sea, check out Layla Sailing (Greenport)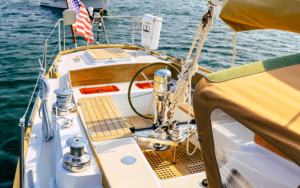 If you've ever wanted to sail on the open ocean in luxury and style, Layla Sailing in Greenport is your ideal destination. Relax in the cushioned open cockpit while the seasoned crew serves you and your guests during this elegant cruise on a Fastnet 45 yacht. Fitted for up to six passengers, the Layla is spacious enough for guests to lounge around without feeling disconnected from one another. The boat sets sail morning, noon, and night, there's also an option to book the boat for a full day at sea. Looking to enhance your experience? Layla is BYOB, so don't forget to pack your cooler! Although the crew doesn't recommend tailgating with things like red wine or soup (for obvious reasons), whites or rosés, as well as sandwiches and charcuterie boards are popular picnic options.
For a serene escape, Kayak Shelter Island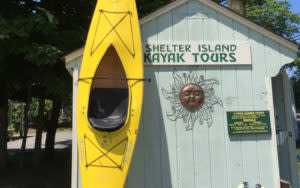 Grab a kayak and get ready to paddle through a serene, delightful, and fun exploration through Shelter Island's harbors. Shelter Island Kayak Tours allows you to paddle your own kayak and take in lovely landscapes along the protected waters. Get an upclose view of the marine life and unique nature as you travel along this escape. You're sure to have a peaceful and amusing time whether you visit solo or with the whole family! For more information, head to their website.
Art and design appreciators need to check out New York State Tour Boat Association's architecture tours (Brightwaters)
The New York State Tour Boat Association provides guests with a variety of boat tours for including a sightseeing tour, a bubbly brunch cruise, and a truly unique architecture observation ride that will tour you around some of the region's most historic and renowned architectural structures.
Unique aquatic adventures
Soar from the sea to the sky with Hamptonsfly (East Hampton)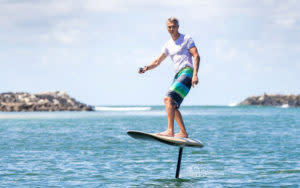 Ever dreamed of using a jetpack? Well, now you can…sort of. All you need is a fliteboard or a hydrofoil surfboard (an air-bound lifting surface that operates in water) powered by an electric motor that you "fly" using a special remote control that allows users to sail above the water and through the air. Unlock the gift of flight right on the water with the Hamptonsfly in East Hampton!
Cage dive with sharks or dive shipwrecks with Shark Dive Montauk & Sea Turtle Dive Charters LLC (Montauk)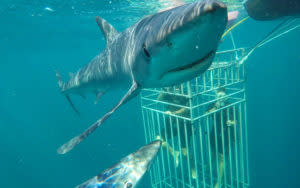 If you've got some guts, we've got the expedition for you! Shark Dive Montauk & Sea Turtle Dive Charters LLC offers an up-close-and-personal look at some of Long Island's most intimidating marine life. The charters depart from Montauk and run anywhere from seven to 12 hours from June through September. Those interested in diving are not required to be SCUBA certified but should be comfortable swimming three to four feet below the surface.
Family-friendly splash parks
Ride all new rides at Long Island's Waterpark, Splish Splash (Calverton)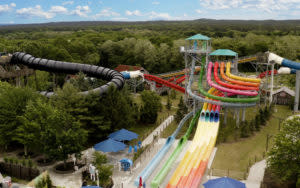 Make all new memories this year at Splish Splash Waterpark! Whether you're a season pass holder, or visiting for the day, you'll be sure to have a blast. The iconic waterpark is home to over 20 rides and attractions for the whole gang and it recently added a brand-new ride for the 2022 season, HYPERLIGHT—a high-speed animated adventure that takes riders through a musical light show.
Soak up the sun at Cantiague Splash and Sprinkler Park (Hicksville)
Looking for a fun summer day for the whole family? Look no further than Cantiague's Splash and Sprinkler Park. At the Olympic-sized pool, kids can enjoy their two water slides, a diving pool and an awesome water-play area that features a jungle gym with sprinklers and water guns. This park is open to all, and prices are listed below:
$10 resident adult with Leisure Pass
$6 child (13 and older must have their own Leisure Pass)
$6 for seniors, volunteer firefighters, EMTs, veterans and handicapped individuals
Nonresident fees: $25 per adult, $20 per child.
Don't overlook the splash pool at Eisenhower Park (East Meadow)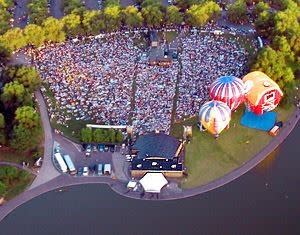 Everyone is welcome to have some fun at Eisenhower Park in East Meadow. From now until Labor Day, the family can enjoy three playground areas, as well as a free splash pool that has a huge sprinkler ring for the little ones to play around! Head there for a family picnic or to cool off on the hottest days this summer.
Refresh at the Bay Park Sprinklers (East Rockaway)
If your kids still have spring fever, bring them to Bay Park for fun spent sprinting through the sprinkler park and climbing the several playgrounds located around the park. It's a great option for those looking to cool off without the crowds or long lines.
Soak the whole family at Blumenfeld Park (Port Washington)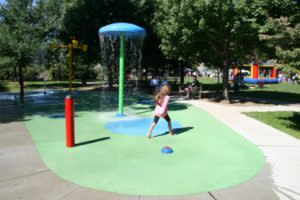 Free and open to all, the Blumenfeld Family Park is located on Main Street in Port Washington and is about as close to a waterpark as you can get without the admission fees. This truly spray-sational park features user-controlled sprinklers and water shooters so kids can interact and control the water all by themselves. The park also features three timed fountains to run around in, a mushroom waterfall, dump buckets, swings, monkey bars and more!
Cool off at Clark Street Playground (Long Beach)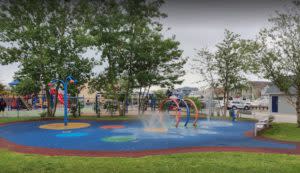 credit: Mark Azarcon/Google
Clark Street Playground offers a fun summer day with free sprinklers, numerous water fountains to run around in and play in, a rope climb, playground and so much more! This park is open to all and is a great way to spend the hot day!
Jump around on the Splash Pad at Jones Beach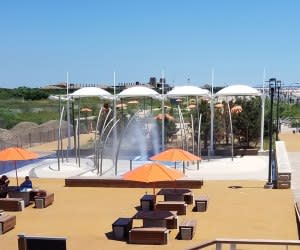 Jones Beach State Park not only offers miles upon miles of white-sand shoreline for you to cool off in, but the park is also home to a free splash pad that visitors can find located in the central mall. The splash pad has user-controlled water shooters and fountains, spray bubbles that come up from the ground, and a brand-new playground. The splash pad also offers a shaded area with tables and umbrellas perfect for hiding from the sun's hot rays.
For a rainforest inspired splashing experience, head to Rockville Centre Recreation Center & Children's Park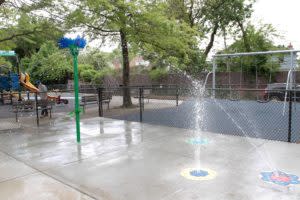 Here, visitors can find multiple flowers painted on the ground that sprout water up and buttons for kids to interact with that sets off a waterfall and spray shooters. Additionally, there is a play structure that presents a pirate ship on one side and a pond scene on the other. While kids play and act on the structure, parents can scan a QR code that will play fairy tales like "The Little Mermaid" and "The Ugly Duckling" out loud. The park is open from 8 a.m. to dusk seven days per week.
Splash around at Shipwreck Cove (Bay Shore)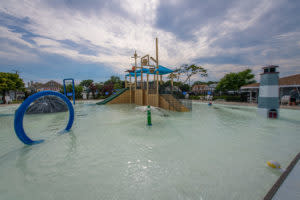 Are your kids attending Camp Mom or Dad this summer? Take them to Shipwreck Cove! All ages will absolutely love this spray park's dump buckets, climbing structures, a kiddie pool, and spray park. The park also features a small dock with beach access and restaurant, making it the perfect destination for a hot summer day. The park is open from June 23rd to Sept.3rd, from 10 a.m. to 5:45 p.m. Prices are listed below.
$8 for holders of a Town of Islip Recreation Card
$12 for proof of town residency
$15 for nonresidents
$2 for residents with a Town Senior Recreation Card or Permanent Town Disability Card
Take a break from the beach and head to the spray park at TOBAY
Crowds flock to TOBAY Beach every day during the summer for its unrivaled access to both the ocean and bay beaches, on-site restaurant/bar and its regular live entertainment. But what many guests many do not know, is that with your parking fee, you gain entry to the beach's interactive spray park! park has water arches, water guns, multiple fountains and more. There's a place for everyone to relax as there are covered areas for the choice of fun in the sun or chill time in the shade!
For a pool day met with waterpark excitement, check out Wantagh Park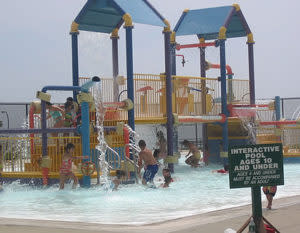 Wantagh Park features over 111 acres of waterfront beauty, including an 18-hole mini golf course, playgrounds, sports fields, and a spray park that features a water-enabled playground, two 30-foot waterslides, dump buckets, a kiddie pool, a diving pool, and an Olympic-sized main pool. The pool area also includes a concession stand, locker rooms, and lounge chairs on the deck. Prices are listed below.
$10 for adult residents (with valid Leisure Pass)
$6 per child residents
$6 for senior residents, disabled individuals, volunteer EMS, and veterans
$25 for non-resident adults (or those without a Leisure Pass)
$20 for non-resident children
Season and family passes are also available
Venetian Shores is a hidden gem for Town of Babylon residents (Lindenhurst)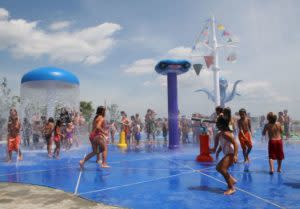 Head over to Venetian Shores in Lindenhurst for their awesome interactive spray park. Here you can find a mushroom fountain, tons of water dump buckets, water sprayers and water fountains of all types! This park is open to town residents from 10 a.m to 6 p.m daily. Town of Babylon residents can also catch a break at Geiger Lake Memorial Park in Deer Park.
This splash park is bringing all the fun this summer with a Tree of Life theme. The theme features 25 different play elements including a bridge, multiple water slides, water cannons, bucket water dumps, a huge spider and snake play set, a rope-climbing net, and boatloads of more fun. The park is open to Town of Babylon residents only from 10 a.m. to 6 p.m.!
Town of Smithtown residents can spend the hottest days in the sprinklers at Hoyt Farm Park Preserve
Hoyt Farm Park Preserve has a splash park for Smithtown residents and it's something you're going to want to keep in mind for those super-hot and sunny days. The park features multiple water arches for kids to run under, sprinklers, and two fun playgrounds on the sand!