The crew at Long Island TV is ready for fall and has scouted some of the best places in the region to catch the changing of the leaves. Read on for our insider's guide to Long Island's fall foliage.
Best places to catch the fall foliage on Long Island's North Shore
Planting Fields in Oyster Bay
One of the best spots to take in the blazing colors of fall is at the Planting Fields on Long Island's Gold Coast. This magnificent estate was owned by the Coe family in the 20th century and boasts over 400-acres of stunning gardens designed by the Olmsted Brothers, a renowned landscape architectural firm best known for their design of the gardens at New York's Central Park.  Take in the estate's serene colors and be sure to visit the outdoor art exhibition "The Great Bird Blind Debate" by artists Mark Dion and David Brooks. The exhibition frames the artists dueling views on birdwatching or "birding" as an activity and birders as a distinct community. The bird sanctuary garden was completely replanted for the exhibition with native plants to ensure birds would thrive in the environment.
Subscribe to our YouTube Channel and tune in weekly to see where we are off to next. Head to DiscoverLongIsland.com/TV for a full episode guide, LiLi's "Best of Long Island" playlist, and an interactive map of locations featured on Long Island TV. Please connect with us at membership@discoverlongisland.com if you are interested in being a featured destination on the show.
Sands Point Preserve in Sands Point
Sands Point Preserve has 3 spectacular mansions: Falaise, Hempstead House, and Castle Gould. With miles of trails and a beautiful garden, you can walk the grounds as you enjoy the view of the Long Island Sound. With Port Washington close by, you can spend some time at the amazing shops and restaurants as well.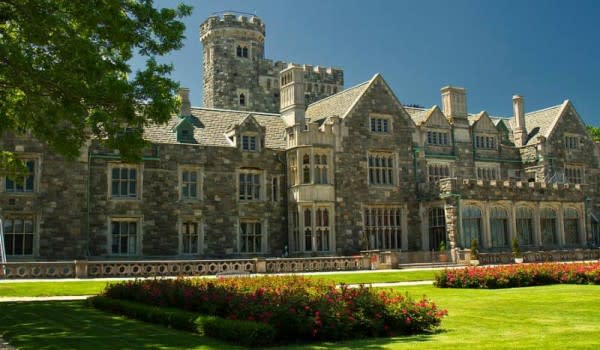 Sand's Point - Hempstead House
Bethpage State Park in Bethpage
Home to the famed Bethpage Black Course, Bethpage State Park is for more than just golf outings. Take a walk on the near 1,500-acres of grounds and enjoy the beautiful fall foliage and scenic fields. This park features many recreational fields and visitors can take part in any one of the following activities: biking, hiking, sledding, golf, tennis, polo, and more.
Muttontown Preserve in East Norwich
Set on 550 acres, Muttontown Preserve is one of Long Island's best hidden gems. Originally three separate estates, the Muttontown Preserve now encompasses all three and serves as a piece of living history. The Nature Center and Chelsea are located on a 100-acre parcel donated by Alexandra Moore McKay. An additional 400 acres were purchased from the Lansdell Christie Estate, including the original Winthrop Mansion. A 20-acre parcel donated by Mrs. Paul Hammond contains evidence of the pre-Revolutionary Duryea Farm. The ruins of the mansion once owned by King Zog of Albania can also be viewed in the wooded area just north of Muttontown Road. The preserve includes miles of marked nature trails with local wildflowers, trees, birds, mammals, reptiles, and amphibians. It's the perfect spot to catch the changing of the leaves and native fauna in their natural habitat. In winter, residents can enjoy the cross-country skiing trails that are available when the weather allows. Muttontown also has several structures, including the Chelsea Estate, which is listed on the National Register of Historic Places and Nassau Hall.
David Weld Preserve in St. James
Follow along one of the hiking paths at David Weld Sanctuary to bask in some unbelievable fall foliage. The well-kept paths will take you through a wooded setting and up the hills toward bluffs overlooking the Long Island Sound.  Here, visitors can also catch glimpses of wild turkeys, red-tailed hawks, chipmunks, turtles, and other native woodland creatures. If you'd like a longer hike with more water views, we recommend taking the beach path all the way to the David Weld Sanctuary.
Caumsett State Park in Lloyd Neck
One of the most historic state parks in New York, Caumsett offers miles of walking paths and hiking trails that are ideal for spotting the changing of the leaves and a variety of indigenous wildlife. Visitors can take part in all sorts of activities while here, including biking, fishing (by permit only), cross-country skiing, and enjoying the beautiful gardens that thrive here. History buffs will be pleased to know that they can also access information about the historic Henry Lloyd Manor house that was built in 1711 and still sits on the property. Please refer to the Lloyd Harbor Historical Society for a historic interpretation of life during the colonial period.
West Hills County Park in Huntington
If you're in the Caumsett area but would prefer a more challenging hike to see fall's splendor, head to West Hills County Park to take a walk along the historic and picturesque Walt Whitman Trail to Jayne's Hill, Long Island's highest peak. Rumor has it, that hill is also haunted!
Blydenburgh County Park in Smithtown
This 627-acre park is open year-round and features quite the view, especially for people who can't get enough of Long Island's rich history. Here, visitors can hike forested hills and valleys at the headwaters of the Nissequogue River, fish on Stump Pond, and casually stroll through the Blydenburgh Farm and New Mill Historic District where a grist mill and historic houses still stand. Once the leaves start changing color, Blydenburgh becomes one of the most picturesque historic districts in the whole region.
Caleb Smith State Park in Smithtown
If you're looking for picturesque views that change with the seasons, head over to Caleb Smith State Park. With its 543-acres of passive-use land, the park not only helps protect the local plant and wildlife populations but also allows visitors to escape from the hustle and bustle of everyday life and enjoy the tranquility that can only be found in untouched nature. It's ideal for birdwatching (specifically for Prothonotary Warblers, Virginia Rails, and Osprey to name a few). And along with its miles of hiking trails, Caleb Smith is where Long Island's Nature Museum lives. Here, guests can enjoy natural history exhibits including a Great Blue Heron, Red Fox, Flying Squirrel, and a River Otter, among many others.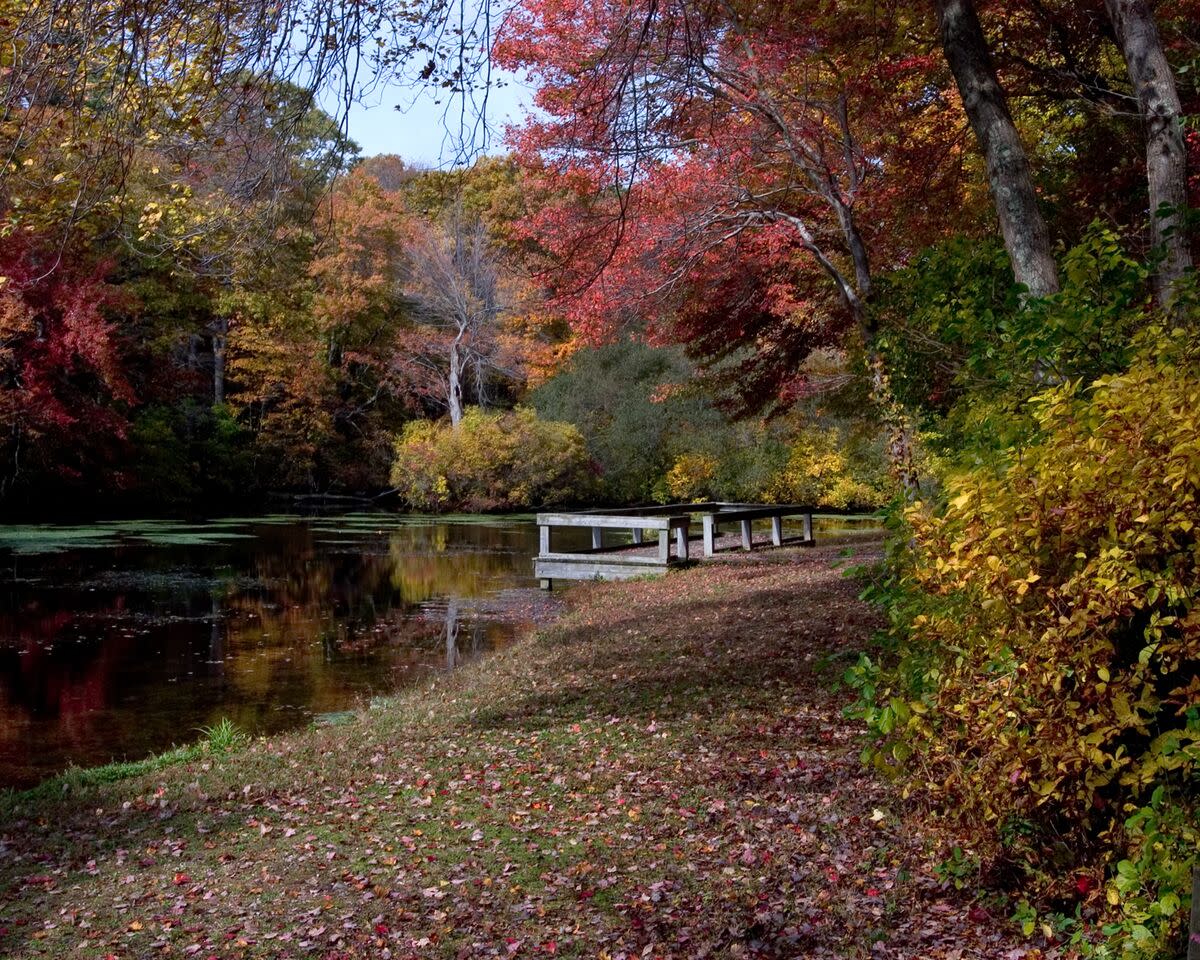 Caleb Smith State Park Preserve
Nissequogue River State Park in Kings Park
Home to the Greenbelt Trail, Nissequoque River State Park parallels the Nissequogue River and provides scenic views of the river and the Long Island Sound from the top of the bluffs.
Old Westbury Mansion and Gardens in Old Westbury 
Old Westbury Mansion is an elegant estate that features a 44-room English manor house and traditional, formal gardens sprawling over 200 acres. It was built by financier John S. Phipps and his wife, Margarita Grace Phipps, in 1906. The spectacular estate has been featured in over 25 movies including North by Northwest and Love Story and in dozens of television shows. The public is welcome to explore both the house, furnished with priceless antiques and decorative artwork, and the grounds, which include sweeping lawns, wooded paths, and some of the most beautiful gardens in the world.
Hotspots on the South Shore
Eisenhower Park in East Meadow
Considered Nassau County's own "Central Park," this 930-acre park is a mecca for sports and leisure fun for all. Guests will find paved loop trails perfect for cyclists, skaters, and joggers, a massive playground area, a roller rink, and a pond ideal for RC boating.
Norman J. Levy Overlook Park and Preserve in Merrick
Norman J. Levy Overlook Park and Preserve is home to a land conservation project, gravel walking paths surrounded by trees and shrubbery, turkeys, peacocks, goats, and one-of-a-kind views of Long Island's autumn season! While the animals sure make for some cute photos, they also serve a purpose on the grounds. The goats are actually used in place of lawnmowers, so if you see them or any of the other wild animals roaming around please keep your distance--they are hard at work!
Massapequa Preserve in Seaford
This 423-acre preserve was once named the "Best Nature Preserve of Long Island" and for good reason! Featuring a fully paved 6-mile long out-and-back biking and walking trail, visitors can take this path from Massapequa Lake all the way to Bethpage State Park. The path also loops around through the preserve itself, so if you're not in it for a hike and just want some sweet autumn views, stick to the footbridges instead of continuing down the path that runs along the Bethpage State Parkway. A variety of native flora and fauna live along the edges of the path, so in addition to watching the trees change color, guests can test their eyesight and spot chipmunks, turtles, swans, Great Egrets, and so much more.
Cedar Creek Park in Seaford
Cedar Creek Park is a great place to be active while taking in the views. This 259-acre park offers jogging paths, an aerodrome field, an archery field, and a dog run area. It also serves as the entry point for a twenty-mile paved path to Captree State Park (with stopping points at Jones Beach, TOBAY Beach, Gilgo Beach, and Cedar Beach) for joggers, hikers, cyclists and rollerblade enthusiasts.
Connetquot River State Park in Oakdale
Connetquot River State Park maintains 3,473 acres of land and water for the protection and propagation of game birds, fish, and animals. The preserve also has 50 miles of hiking, horseback riding, and nature trails, as well as fishing on the Connetquot River.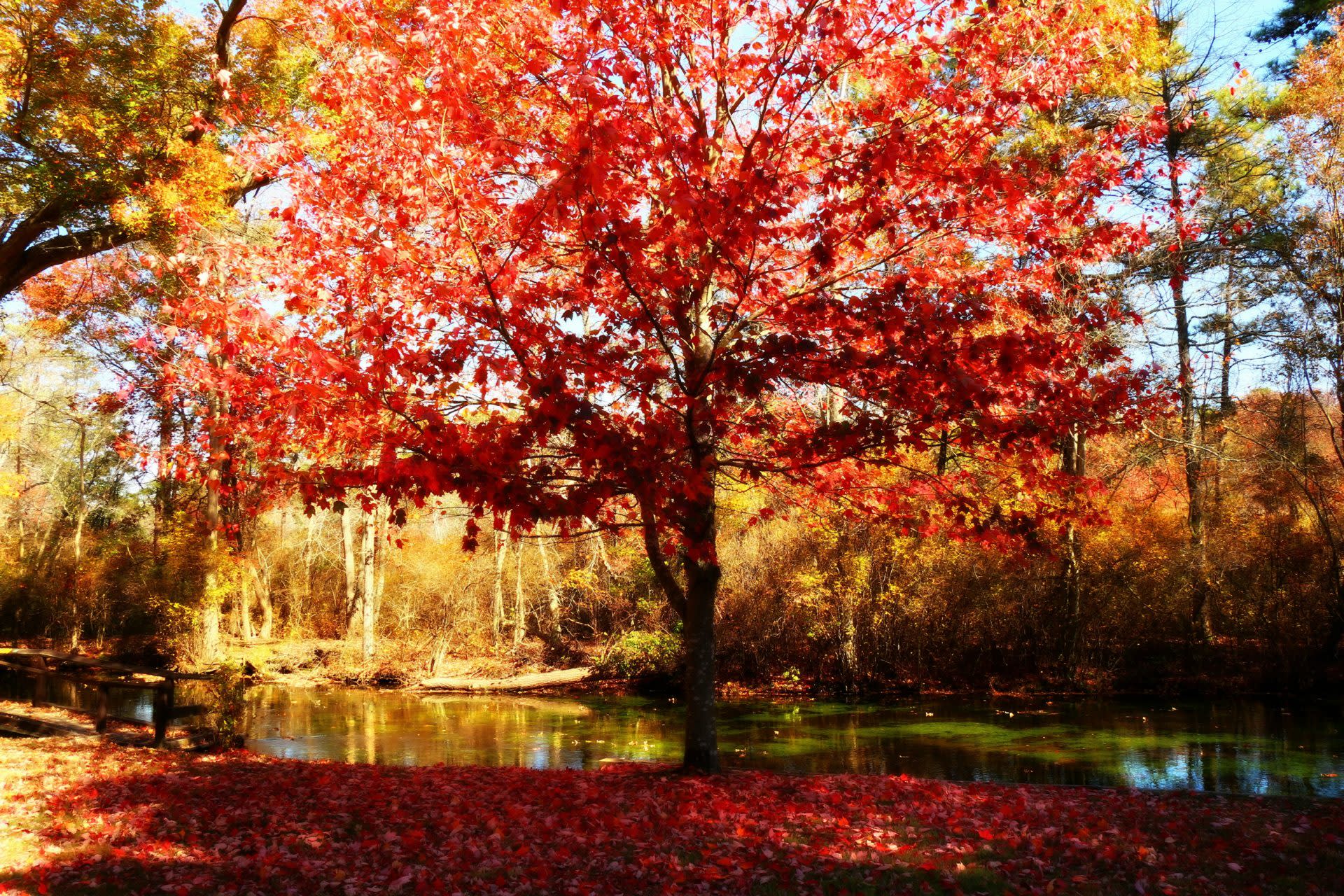 Connetquot River State Park
Bayard Cutting Arboretum State Park in Oakdale
Bayard Cutting Arboretum is home to some of the oldest varieties of trees on Long Island. The site was originally wooded and many of the large oaks now seen were retained during the clearing of the land when the noted landscape architectural firm of Frederick Law Olmsted started the arboretum development in 1887. With the cooperation of Charles Sprague Sergeant, then director of Boston's Arnold Arboretum, Mr. Cutting several years later began to plant his conifer collection in the area just north of the Carriage House. Unfortunately, as a result of a severe hurricane in 1985, many of these original plants have been lost. However, because of subsequent plantings made during and after the 1940′s, the current collection of fir, spruce, pine, cypress, hemlock, yew, and other lesser-known conifers is still probably the most extensive to be found on Long Island. It offers a truly one-of-a-kind fall foliage scene, complete with sprinkles of Long Island history.
Prosser Pines in Middle Island
Long Island's only true forest, Prosser Pines Preserve, is one of the most impressive places to catch the changing of the leaves. Offering 15-acres of white pine forest views, this park serves as the ideal backdrop for any fall photography. And unlike many of the other parks listed here, the Prosser Pines Preserve trail is the shortest, measuring a little less than one mile when completing the entirety of the loop.
Dining with a view
When you're done foliage hunting on the north shore of Suffolk County, head to Huntington Village for waterfront views of the changing fall colors on display. USA Today recently named Huntington, NY as one of the top 19 incredible destinations to visit during the fall season.  At Prime American Kitchen & Bar, the talented chefs serve up innovative twists on classic dishes with exquisite water views, cozy fireplaces, and a refined boathouse look that is perfect for year-round dining experiences. For local brews and indoor fireplaces, head to Six Harbors Brewing Company located in the heart of Huntington. Here, guests will find Long Island-inspired beers in a rustic, nautical atmosphere. Bonus: this location is pet-friendly!
If you plan to stay on the south shore of Suffolk County, we recommend stopping by The Snapper Inn in Oakdale. Guests will enjoy breathtaking views of the Connetquot River, an award-winning seafood menu, and a raw bar. For classic American eats with a modern and sophisticated twist, check out Tellers in Islip. Located in a renovated 1927 grand stone bank building, this location and its exterior are so distinctive you can't miss it! The interior is also just as charming and its menu offerings are massive, with expert chefs serving up everything from locally-caught seafood to roasted chicken and filet mignon wellington.
Not in Suffolk? Not a problem! Both the north and south shores of Nassau County are fabulous places to find great eats and magnificent views.
If you're on the north shore, make sure to check out Rare650 in Syosset. As one of Long Island's premier steakhouses, Rare650 offers an exceptionally unique dining experience. Inside, guests will find a chic decor reminiscent of Miami meets the Hamptons and dine by candlelight surrounded by greenery. But where the real views lie is outside in its greenhouse-style patio, it's the perfect place to take in all the fall looks while you enjoy a dry-aged steak, fresh options from the raw bar, and some of the best sushi around. Or you can dine by the floor-to-ceiling Carrara marble fireplace or personal fire pit while taking in the serene views on the back patio of Opus Steakhouse in Jericho. The interior of Opus is nothing like you've ever seen before, featuring dramatic dining spaces with gracefully curved walls, soaring architectural ceilings, and an endless panorama of glass providing gorgeous views to lushly landscaped grounds and plush outdoor terraces. Its menu is nothing to ignore, either. Opus serves up top-tier steak dishes, fresh seafood, and plates large enough to share. The Milleridge Inn, also located in Jericho, offers a unique ambiance and a village market perfect for helping you make the leap from summer to fall. Stop by for special seasonal offerings, a grand Sunday buffet, and signature dishes that have been served for nearly 80 years!
When scoping out a place to eat in Southern Nassau, head over to the Nautical Mile in Freeport for delicious food, mini-golf, and other fun activities. Located here are numerous restaurants, but one that stands out from the crowd is Hudson's On the Mile. Offering scenic waterfront dining, fresh seafood, steak, sushi, and live music, Hudson's is the place to be for people that love to enjoy a good meal and even better company. For family-friendly dining in a casual setting with waterfront views, check out Peter's Clam Bar in Island Park. Featuring a large variety of freshly caught seafood, lobster rolls, signature cocktails, and an Instagram-worthy Jaws mural, you may never want to leave. For local beer and a BYOTO (Bring Your Own Takeout) fare, run, don't walk to Bright Eye Beer Co. in Long Beach. Here, guests will find pet-friendly open-space seating, a modern interior, and deliciously cold craft beer.
For exclusive offers on dining and activities, be sure to download Discover Long Island's FREE Downtown Deals Travel Pass. And for even more places to adventure, check out these Long Island trip ideas.