Summer on Long Island is a treasured time of year, and while Labor Day may mark the unofficial end of cherished season, beach weather temps and outdoor entertainment often stick around through late September. That's why we rounded up the best ways to keep the fun in the sun going and where you can experience an endless summer on Long Island. For more ways to soak up the season, check out our articles on watersports activities and outdoor art!
Clamming, Crabbing, and Oyster Shucking
With hundreds of miles of coastline, Long Island is known as a shellfish mecca and harvest season is open year-round! Soak in the end of the season with the age-old past time of clamming in the shallow waters of the north or south shore. Moriches Bay at Cupsogue Beach County Park in Westhampton and Cordwood Landing County Park in Miller Place are good places to start. If you prefer to stay dry, try crabbing from the dock at Captree State Park or an oyster shucking class at The Shoals in Southold. Be sure to check the regulations of your clamming or crabbing spot - some locations require a permit.
Catch the End of Summer With A Fishing Adventure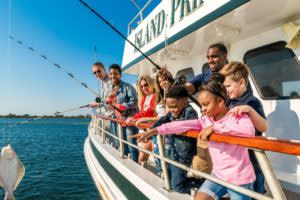 Long Islanders are made up of generations of mariners. Whether casting a line off the shore or chartering a deep-sea adventure, there are many ways you can reel in a fresh catch. Captree Fleet fishing boats set sail through the month with open fishing and private charter boats available for reservations. The Captree Princess sails daily through Sept. 30 for jumbo fluke sea bass, porgies and bluefish. Some other great spots for a catch include Fire Island, Robert Moses State Park, Jones Beach, and Lake Ronkonkoma (for freshwater fish).
Hit the Waves in Warmer Waters
Some may be surprised to learn that Long Island waters are often the warmest on the tail end of the summer season. That's why September is an ideal time for watersports! Whether you're looking to wakeboard, surf, paddle board, kayak, or jet ski, every area of Long Island provides the gear, services and lessons for your ideal experience. Learn to surf in Montauk with CoreysWave in a scenic coastal setting, explore diverse natural landscapes with a guided kayak tour in the beautiful North Shore village of Stony Brook. For something more adventurous, look no further than jet skiing with Island Jet Ski, or Over the Top Watersports for wakeboarding and much more.
Dine Dockside and Soak In Waterfront Views
From dockside clam shacks to beachfront bars, to celebrity chef-owned restaurants where you can watch the sunset on the harbor as boars arrive with the day's catch, Long Island is a mecca for waterfront dining. Some of the best spots to soak up the season, along with waterfront views include Claudio's, Cowfish (pictured above), RUMBA, Peconic County Brewery, and many more - for a full list, check out our article here.
Revel With Family at Adventureland, Carnivals, and Festivals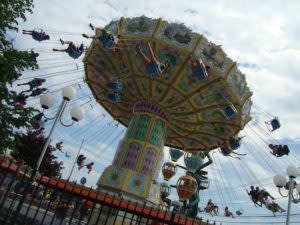 While Long Island's cherished family-owned amusement park Adventureland, is a summertime staple, after Labor Day may be the best time to visit! With school back in session, the crowds thin, the lines shorten, ensuring more time to take in the fun which includes over thirty different rides, an indoor arcade, event space and more. There are also many outdoor carnivals and festivals to help stretch the season including the East End Seaport Museum's Maritime Festival on September 24th and 25th - don't miss the Clam Chowder cook-off on the Sunday!
Experience the Nautical Charm of Long Island's Waterfront Villages
Experience the nautical charm of the many historic, waterfront, restaurant-laden bustling downtown villages across Long Island's suburban landscape. Main Streets on Long Island come alive with festivals and entertainment throughout the year and are home to an array of locally-owned shops, pubs and museums.  From Long Beach to Bay Shore to Sayville on the South Shore, and Greenport to Port Jefferson to Port Washington on the North Shore, each village has a distinct personality of its own and many hidden gems to discover.
Grab Your Crew for a Craft Bike Tour - No Sweat!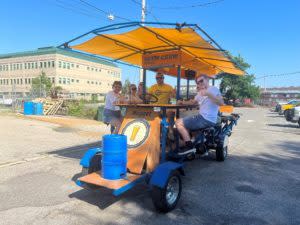 With temperatures slowly cooling, it's a great time to check out some of the incredible breweries located here on Long Island. One of the best ways to do that is with Urban Pedal Tours in Riverhead – the best way to pub crawl. With 15 spots on the cycle, Urban Pedal is perfect for reunions, corporate events, bachelor/bachelorette parties.
Jam Out Under the Sun at an Outdoor Concert
With temperatures staying mild, now is the time to experience some live music outdoors. Claudio's in Greenport keeps its beautiful outdoor space open throughout the fall and offers multiple concerts and performances every weekend, from classic bands to trendy DJs - come for the lobster rolls, stay for the lineup. Another fantastic spot to check out is Bodhi's Beach Shack, whose tropical atmosphere lends itself to chilled out musical performances to higher energy dance parties that are a can't miss event. Montauk's summer Monday Night concerts are almost over, be sure to hit the Village Green with a lawn chair to enjoy a perfect start to your week.
Beat the Crowds & Soak in the Season at an Iconic Beach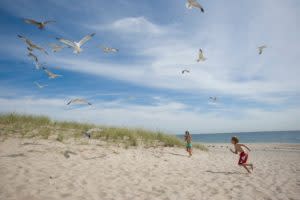 Labor Day weekend does not mark the end of beach season – in fact, many beaches waive parking and entrance fees beginning in mid-September. Lifeguards stay on duty at many state park beaches past the holiday. Jones Beach in Wantagh, featuring WildPlay, and Robert Moses in Babylon have lifeguards on duty until mid-September, with vehicle entrance fees ($10) collected until Sept. 13; Hither Hills in Montauk goes until Sept. 20 and Sunken Meadow in Kings Park until mid-September. Point Lookout Beach, Lido Beach, Tobay, Sunken Meadow, and Main Beach are also open with lifeguards through September. Click here for more on Long Island beaches!
Hit The Hotel Pools Where the Beat Goes On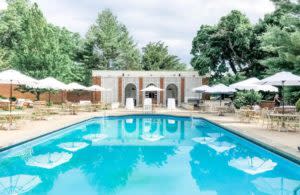 Take a dip in one of Long Island's opulent boutique hotel pools, offering day rates. The Mansion at Glen Cove's outdoor pool is set to stay open through the month of September. Visiting guests will need to purchase a day pass ($25 for a lounge chair, $200 for a day bed for up to four people; both include a credit for food and beverage). Another luxurious option is Capri Southampton, which features The Bathing Club, a refined poolside retreat complete with chaise lounges and daybeds. For something on the South Shore, don't miss the Allegria Hotel and its luxurious pool area, complete with stunning views of Long Beach's shoreline. For one of the best pool parties on Long Island, don't miss the Montauk Beach House's last pool parties of the season throughout September.
Zipline at Jones Beach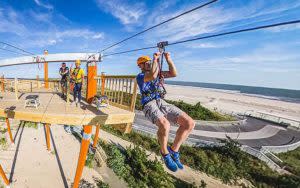 Take advantage of the thinner crowds and milder temperatures that September offers and have an adventure up in the sky at Jones Beach with WildPlay. Featuring a ropes course on an elevated platform, a challenge course, a child-friendly course, and a zipline, no trip to one of Long Island's most popular beach is complete without a stop at this daredevil experience.
Take A Selfie Among A Sea of Sunflowers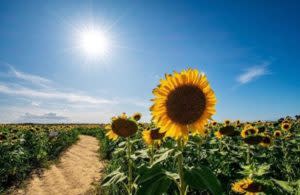 Strike a pose at Waterdrinker Farms' Sunflower Fields during a sunset for an unrivalled summer setting and photo op. Farm owners welcome selfies, family photos, dog photos and more! Beyond the flower fields you'll find, barnyard animals, mini golf, tractor pedal cars, obstacle courses, a wooden playland and more.
Explore a legendary lighthouse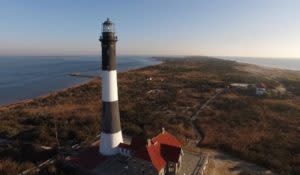 Many of our region's landmark lighthouses allow visitors to climb to the very top to take in sweeping ocean views and capture magnificent photos - and many stay open past the summer. Fire Island Lighthouse, Montauk Lighthouse, and Horton Point Lighthouse are all open through November! Many also offer tours for visitors to learn more about Long Island's cherished maritime history and understand the important role of these nautical icons.
Sail Into The Sunset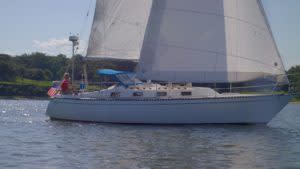 Long Island is a boater's paradise with endless options to set sail or tie up. And the fall season is a perfect time to enjoy this favorite Long Island pastime.  Sail into the sunset with Long Island Boat Rentals, operating out of Port Washington on the North Shore. They offer various marine services including private boat rentals, party boat charters, and more.  Another great option is The Moon Chaser Cruise, sailing out of Captree State Park. With various types of cruises available, including a dinner cruise operated by Flynn's Fire Island, the opportunities for late summer fun are endless.