With Spring Break approaching, locals and visitors alike are looking for the best things to do on Long Island this April. Luckily, the team at Discover Long Island has done all of the hard work for you and has organized a list of upcoming events and seasonal specials happening in our region. Check out our list of family-friendly spring break activities, social events, and more below!
Iconic attractions 
Test your agility at WildPlay Element Park (Wantagh) 
WildPlay Element Park at Jones Beach will put your endurance to the test with its many rope courses, 700-ft. long zipline, and 40-ft. bungee jump. With three levels of obstacles to choose from, the park is the perfect place for kids and adults alike! The park officially opens for the season on April 15th, and if you want a sneak preview of what to expect be sure to check out our Long Island TV episode.
Event dates: Opening day is April 15th
Take a trip to Adventureland and enjoy all new rides, games, a 21+ tavern, and more (Farmingdale)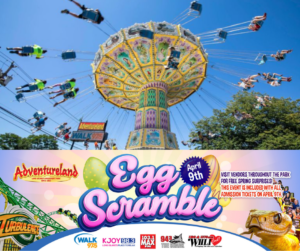 Adventureland has been Long Island's family-friendly theme park since 1962. In honor of its 60th birthday, the park has added a one-of-a-kind rollercoaster (FireBall), a slew of new arcade games, and even opened an adult beverage station--Tony's Tavern. On April 9th, the park will be hosting Long Island's ultimate Easter egg hunt--the annual "Egg Scramble." Included with park admission, the Egg Scramble features local vendors, free surprises, live entertainment, and a special visit by the Easter Bunny!
Park hours: Open on weekends from 11 a.m. to 5 p.m. from now through June, open everyday from 11 a.m. to 5 p.m. during spring break (April 14th-24th)
Embrace spring colors at the Tulip Festival (Manorville)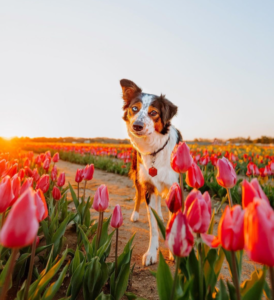 Credit: @talesofarya/Instagram
Waterdrinker Farm & Garden's Tulip Festival is going to be bigger and better than ever this year thanks to the over 1 MILLION tulip bulbs that were planted. Tiptoe through the tulips, play a round of mini golf, visit the barnyard animals, and enjoy live music and activities for kids. Peak bloom time is mid-April so be sure to get there before they're gone and remember to bring your camera!
Event date: April 22
White Post Farms is home to family-friendly fun for all ages (Melville)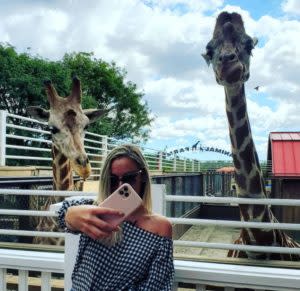 White Post Animal Farm opens for the season on April 2nd and is offering extra special activities for kids throughout the month. Stop by to visit with the animals and while you're there enjoy a magic show, an Easter egg hunt, or take a photo with the Easter Bunny. Animal encounters (like shown in the picture above) are weather permitting.
Event dates: Park opens April 2nd, check the farm's calendar of events for specific attractions 
Wining & Dining
Satisfy your cravings with Long Island Restaurant Week (Regional)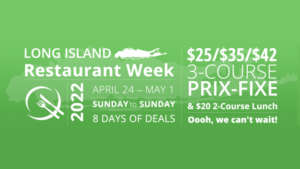 The tri-annual and award-winning Long Island Restaurant Week is s ready to help fill the seats of Long Island restaurants! The spring promotion will take place from Sunday, April 24th to Sunday, May 1st and there are a number of prix fixe options ready to help cure cabin fever. Restaurants may offer a $20 two-course lunch; a $25 three-course dinner menu, a $35 three-course dinner menu or a $42 three-course dinner prix fixe and restaurants may offer one, two or all of these options throughout the promotion. Each participant is required to offer three options per course (appetizer, entrée, and dessert) for dinner. The promotion runs Sunday to Sunday (except Saturday night when it only has to be offered until 7 pm). Many restaurants will be offering the promotion for takeout as well as for limited indoor and outdoor dining.  For a full list of participants, click the link below.
Event dates: April 24th - May 1st
Learn all there is to know about winemaking during Sannino Vineyard's VIP Wine Blending Session (Cutchogue)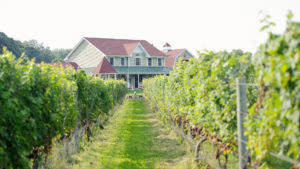 Enjoy an immersive experience into the winemaking process hosted by Anthony Sannino of Sannino Vineyard. You'll begin your winemaking experience with a full tour of the vineyard, wine production facilities, and barrel cellar. All throughout the tour, guests will be tasting current wines to better understand the various methods of making unique styles of wine. After the tour, guests can settle in for a light lunch. The second part of the day will be the red wine blending session. You will learn how to blend your own custom bottle of wine. Each guest will be able to blend their own wine and take home a bottle (additional bottles may be blended and purchased upon request). This course runs for approximately 3 hours (from 11 a.m. to 2 p.m.) and costs $175 per person.
Event dates: April 3rd 
Treat yourself and your little one like royalty at the Long Island Aquarium's Princess Tea Party (Riverhead)
Get your little Princess and head to the Long Island Aquarium for its Sweetheart Princess Tea Party! Dance and sing with all of your favorite Princesses and capture photos to remember for a lifetime. The event features formal white glove tea service in the elegant Sea Star Ballroom, serving up finger sandwiches and sweets. Reservations are required ($49.95 for anyone 13+, $44.95 for children ages 3-12, and $5 per child 2 & under), please call (631) 208-9200, ext. 426 or use the link below.
Event date: April 3rd
Celebrate Easter at East Wind (Wading River)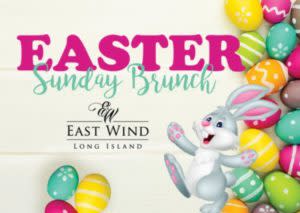 Join the Easter Bunny and friends at East Wind for a hoppy-go-lucky brunch in the Grand Ballroom at East Wind. The special includes a full gourmet buffet, a kids station, a cash bar, and the opportunity for photos with the Easter Bunny. Reservations are available from 10:3 a.m. to 3 p.m. and must be made in advance, the price for adult tickets is $59.95 per person and $29.95 for children aged 3 to 10.
Event date: April 17th
Reserve a table
Enjoy a five-star Easter meal at the Fox Hollow (Woodbury)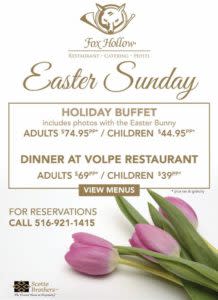 If you're looking for a stress-free way to enjoy the upcoming Easter holiday, consider the Fox Hollow's limited time specials. Seating for the expansive buffet which features a variety of gourmet cheeses, a raw bar, chef's carving board, pasta a la carte, elaborate desserts, a kiddie corner, and more, begins at 11:30 a.m. It also includes pictures with the Easter Bunny. Seating times for the exclusive sit-down menu is available between noon and 5 p.m., and it offers one appetizer, salad or pasta, an entrée, and a dessert per person.  A $50 deposit is required and you can do so by calling (516) 921-1415.
Event date: April 17th 
Dine on prix fixe perfection courtesy of the North Fork Table & Inn's Easter menu (Southold)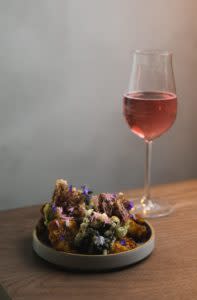 North Fork Table & Inn will be serving a curated $68 prix fixe menu featuring delicious shared starters, like deviled eggs, spring onion tempura, and seasonal fruit, as well as a choice of entrees, including Olive Oil Pancakes (berries, vanilla Chantilly, warm maple), Pea & Nettle Agnolotti (chestnut mushrooms, parmesan, snow peas), and the Hudson Valley Steelhead Trout (jalapeño-tomatillo salsa, KK's Lettuces), among others. Guests can finish off their meal with delectable Easter treats meant to share, like Coconut & Egg Custards, Double Fudge Bon Bons, and Macarons. The full lineup can be found here.
Event date: April 17th
Outdoor Explorations 
Spot seals on the East End with CRESLI educators (Westhampton Beach)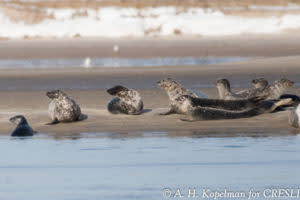 CRESLI invites you to join its team as they observe, photograph, and learn about Long Island's seal population with expert guided tours. Since these walks started in 2006, CRESLI has recorded over 28k seal encounters! The walk leaves from Cupsogue Beach County Park and extends for just over 1 mile, takes roughly one to one-and-a-half hours from start to finish, and is perfect for families.  The suggested donation for entry is $5 for adults and $3 for those under the age of 18. Registration is required but donations are not, please see the CRESLI site to register or for more information.
Event dates: April 9th, 10th, 14th, 23rd, and 24th
Go fish at Hempstead Lake State Park (West Hempstead)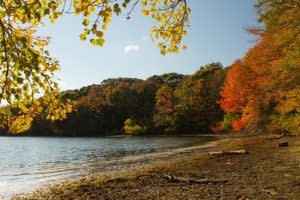 Head to the new environmental center at Hempstead Lake State Park to uncover the basics of fishing and learn new techniques. On each of our free and fun expeditions, guests will explore a new topics that make us better anglers. This series of free programs is brought to you through a partnership with the Department of Environmental Conservation. All materials will be provided, registration is required. See the link below for full details.
Event dates: April 10th and 24th
Head to Old Westbury Gardens for a Storybook Stroll or guided walking tour (Old Westbury)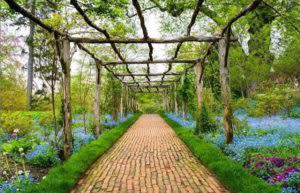 This April, Old Westbury Gardens is hosting a variety of interactive walking tours through its gardens and landscaped grounds. The season kicks off on April 2nd with "Storybook Stroll: The Velveteen Rabbit by Margery Williams," which features a live reading of the classic storybook as guests explore the gardens and craft making for kids. The estate will also be hosting a variety of guided walking tours through the gardens and informal woodlands during the week of Spring Break (April 18-22) .
Event dates:  April 2nd (Storybook Stroll), April 18th (Spring Break Out: Trees), April 20th (Spring Break Out: Birds)
Go birding and biking at Jones Beach State Park (Wantagh)
It's migration season! Join the experts at Jones Beach Energy & Nature Center for a leisurely bike ride with rest stops for birding. Learn about the different habitats on Jones Beach and keep your eyes open for shorebirds, Ospreys, Warblers, Tree Swallows, and more. No experience required. Binoculars are provided--but bikes and helmets are not. The event starts at the Center, going over a few basics of birding and facts about winter ducks, and then participants follow educators via bike across the West End. Advanced registration is required ($4 per person) and there is a limited amount of space still available.
Event date: April 19th
Give back to your community at the Earth Day Clean-Up (Riverhead)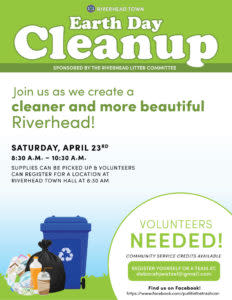 Join the Town of Riverhead and its litter committee for an Earth Day-inspired clean up in the village. The Riverhead Litter Committee will supply volunteers with all of the necessary clean-up essentials, they just ask individuals and groups to register prior to attending the event. Registration can be made online by emailing deborahjwetzel@gmail.com or at Town Hall the morning of the event. Community service credits are available, for more information please visit the Town of Riverhead's Litter Committee Facebook page linked below.
Event date: April 23rd
Live Shows for Adults and Kids
Jam out to the Eagles' greatest hits at UBS (Elmont)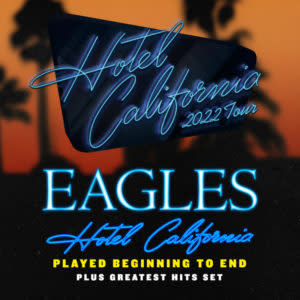 The legendary rock band is coming to UBS Arena at the end of the month. Hear the fan favorite album, Hotel California, in full alongside some of the Eagles' greatest hits. A limited amount of tickets are still available, so grab your wallet and get bookin'!
Event date: April 23rd
Catch live performances of the Wizard of Oz, Little Mermaid Jr., Frog & Toad, and Cinderella by Plaza's Broadway (Bellmore & Elmont) 
Looking for a family-friendly theatrical performance? Plaza's Broadway has you covered all month long with the group's renditions of children's story time favorites. On April 2nd, join Dorothy, the Scarecrow, the Tinman, and the Cowardly Lion as they come to life in a stage adaptation featuring the music of the MGM movie at The Showplace at Bellmore Movies. On April 9th, 19th, 20th, and 21st, the beautiful young mermaid Ariel longs to leave her ocean home to live in the world above singing all the songs you know and love from the movie, join us live on stage at the Bellmore theater for a Disney-inspired performance by Plaza's Broadway's talented Performing Arts Academy students. On April 21st, Arnold Lobel's well-loved characters hop from the page to the stage at the Elmont Library in this musical which celebrates friendship through the seasons. Closing out the month is the most classic of all fairy tales springs to life in this fast-paced musical production featuring Cinderella and the handsome prince.
Event dates: April 2nd (Wizard of Oz), April 9th + 19th-21st (Little Mermaid Jr.), April 21st (Frog & Toad),  April 24th (Cinderella)  
See Eric D'Alessandro live at The Paramount (Huntington)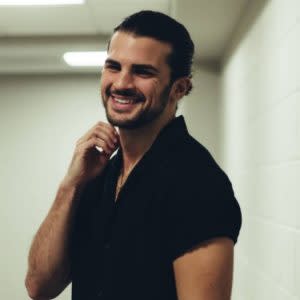 New York native Eric D'Alessandro has always found his place in the spotlight. His passion for comedy is equally credited to his creative mindset, as well as his big Italian-American family which inspires his raw comedic sketches and uncensored, relatable rhetoric. His comedy events are strictly for adults (18+), and tickets are on sale now at The Paramount so grab them while you still can!
Event date: April 2nd
Have a splash at The SpongeBob Musical  (Riverhead)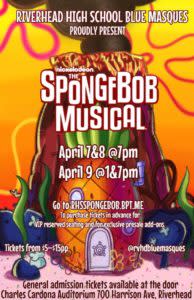 The stakes are higher than ever in this dynamic stage musical, as SpongeBob and all of Bikini Bottom face the total annihilation of their undersea world. Chaos erupts. Lives hang in the balance. And just when all hope seems lost, a most unexpected hero rises up and takes center stage. The power of optimism really can save the world. The SpongeBob Musical is based on the beloved animated series created by Stephen Hillenburg and features a book by Kyle Jarrow, with original songs by a variety of legendary musicians including David Bowie, Cyndi Lauper, John Legend, Sara Bareilles, Steven Tyler, and many more. Tickets are on sale now ($5-$15 per person) and benefit Riverhead High School's drama club, the Blue Masques. Disclaimer: Strobe lights will be used throughout the performance. 
Event dates: April 7th, 8th, and 9th
Laugh out loud with Jo Koy's Funny Is Funny World Tour (Elmont)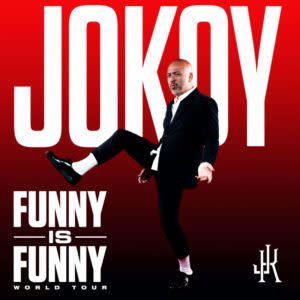 Jo Koy is best known for his frequent appearances on Chelsea Lately and his specials on Comedy Central and Netflix, now's your chance to see him and all his glory live at UBS Arena.
Event dates: April 15th
Wind down at Winter Tide (Port Jefferson)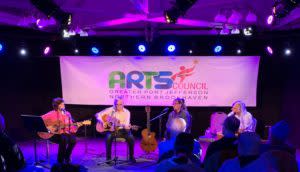 Every Friday at 7 p.m. through April 22nd, the Port Jefferson Village Center will be hosting live performances. It's first come, first serve, so if you're interested be sure to get there early. Masks are required, and the Greater Port Jefferson-Northern Brookhaven Arts Council suggests a $5 donation at the door.
Event dates: April 1st, 8th, 15th, and 22nd 
Celebrate Holi at Curry Club SāGhar (Port Jefferson)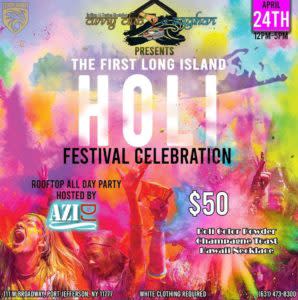 Holi symbolizes the celebration of spring, friendship, family, and the victory of good over evil. Communities gather and throw bright-colored powder and splash red, green, and yellow colored dust in the air, each carrying its own meaning. Join Curry Club at SāGhar for a celebration of friendship and spring featuring a live DJ, lots of color, champagne toast, freebies, and more! Tickets are on sale now for $50 per person and include Holi color powder, a champagne toast, and spirited necklace.
Event date: April 24th 
Family-friendly Crafts, Events & Activities 
Hunt for eggs or sign up for hatchery and fish-feeding tours at Cold Spring Harbor Fish Hatchery & Aquarium (Cold Spring Harbor) 

All month long, the Cold Spring Harbor Fish Hatchery & Aquarium is hosting fun, family-oriented events for future marine biologists and Easter enthusiasts. Beginning April 2nd, the property will be hosting Egg Hunts every weekend through Easter Sunday. The aquarium also has a variety of educational tours and experiences for children (like a fish-feeding demonstration, live animal encounter, and more) planned for the week of Spring Break (April 18th-22nd).
Event dates: Seasonal events begin April 2nd and happen regularly throughout the month 
Get your hands dirty at Jones Beach Energy & Nature Center's Squid Lab (Wantagh) 
Slap on those gloves and get your dissection tools ready because we're diving into the anatomy and survival adaptations of the squid! Join educators at the Jones Beach Energy & Nature Center for a guided squid dissection for a deeper understanding of these magnificent marine animals. This program takes place OUTDOORS on tables, please dress appropriately. Registration is required ($4 per person) see the link below for further details.
Event dates: April 10th and 24th 
Keep your kids busy with beachfront craft making (Wantagh)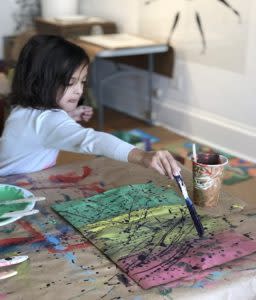 Get ready for spring's arrival by learning how to make a beautiful tissue paper bouquet, or sponge-painted butterfly in an 1-hour long art class at the Jones Beach Energy & Nature Center. A limited amount of space is available and registration is required. Use the link below to learn more or sign up.
Event date: April 12th 
Pick up painting with expert-led classes at Islip Arts Council's Gallery (Bay Shore)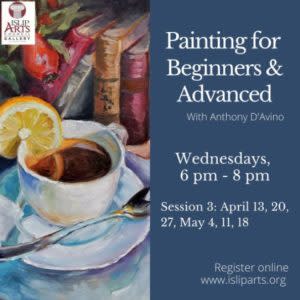 In this Paintings for Beginner & Advanced session led by artist Anthony D'Avino, students will learn about color theory, figure, perspective, and composition while developing their own painting style at their own pace. This 6-week course is perfect for the beginner painter to the advanced painter who desires studio space. Mature teens and adults welcome, registration required ($135 per person, 10% discount to Islip Arts members). See the link below for details.
Event dates: April 13th, 20th, 27th, May 4th, 11th, and 18th
Hunt for Easter eggs at the Southampton Inn (Southampton)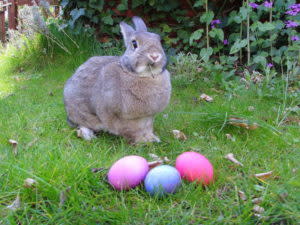 The Southampton Inn Easter Egg Hunt is a hop, skip and a jump away! The annual Easter morning tradition is back on the Great Lawn at Southampton Inn beginning at 10 a.m. on Easter Sunday. Visitors can also reserve a table for brunch at Claude's (either before or after the hunt) which will be serving ala carte traditional holiday eats and treats. Reservations are not required but highly recommended. For more information or to make a reservation, call 631-283-6500 or email events@southamptoninn.com.
Event date: April 17th
Show off your Easter Best at the Port Jefferson Easter Parade and Egg Hunt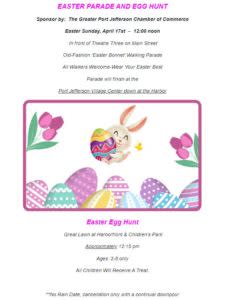 Rain or shine, the Port Jefferson Easter Parade and Egg Hunt will take place on Easter Sunday at noon. The parade will begin at Theatre Three and make its way down to the harbor and Port Jefferson Village Center. The egg hunt will commence at 12:15 on the Great Lawn at Harborfront & Children's Park and is for children ages 2-8 only.
Event date: April 17th
Exercise your brain at the Long Island Explorium's Earth Week Camp (Port Jefferson)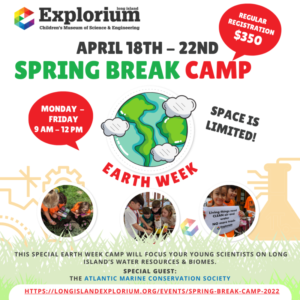 This special Earth Week camp at Long Island Explorium will focus on Long Island's water biomes and resources. Your young scientists will learn all about Long Island's formation, freshwater resources, marine environments, coastal wildlife, and how to protect our waters at home with a special guest: The Atlantic Marine Conservation Society. Space is limited, so if you're interested in signing your child up we recommend doing so as soon as possible. The camp will run for the week of Spring Break (April 18th - 22nd) from 9 a.m. to 12 p.m. and costs $350 per child (includes registration + materials).
Event dates: April 18th - 22nd 
Send them to spring FUN-cation at the Long Island Aquarium (Riverhead)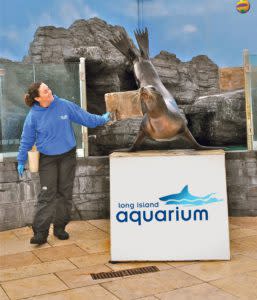 Working during school break? Drop your kids off for some Spring Break Fun at the Long Island Aquarium!  Kids ages 5-11 will tour the aquarium, (including the Butterflies, Bugs & Bees habitat) feed the sting rays, check out the Sea Lion Show, visit the arcade, watch a movie, make some crafts and more!  Children can be signed up for the full week or just a couple of days, this is a full-day of camp and activities guaranteed to keep them entertained. Advanced registration is required ($200 per week or $50 per day) and can be done so using the link below.
Event dates: April 18th-22nd, 9 a.m. to 5 p.m.
Explore the magic of paper folding at the Earth Day Origami Workshop (Bay Shore)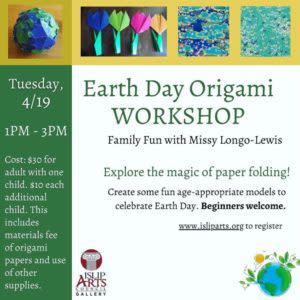 Parents, if you're looking for a fun and new creative project to do with your kids while they're on Spring Break, this creative event led by instructor Missy Longo-Lewis will teach age-appropriate models to celebrate our beautiful planet.  Beginners are welcome. Includes materials fee of origami papers and use of other supplies ($30 for one adult + one child, $10 for every additional child). Registration required, please call (631) 888-3525 or stop into Islip Arts Gallery (located at the Westfield South Shore Mall in Bay Shore, next to Dick's Sporting Goods) to do so.
Event date: April 19th
Hike, craft, and encounter animals during Quogue Wildlife Rescue's Spring Wildlife Camp (Quogue)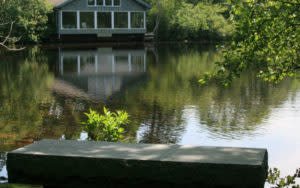 Come to the Refuge for a great experience of wildlife, education, and fun! Each day will include a hike, a craft, and meeting animals, this Spring Break program is appropriate for children in grades K – 5th. Please dress your child for the weather and send child with an individual snack & drink each day. Registration and payment required in advance ($300 for all four days, see link below for the online application).
Event dates: April 19th-22nd, 9 a.m. to 12 p.m.
Have a sleepover at the Long Island Aquarium (Riverhead)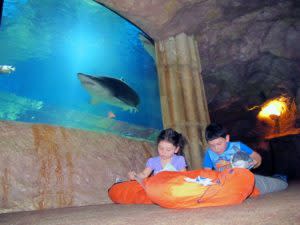 Celebrate the love of Australian wildlife with one unforgettable overnight sleepover at the Long Island Aquarium! In this activity-filled adventure guests will meet Australian reptiles, bugs, and take part in hands-on activities at craft stations. Enjoy dinner, and then when the lights go out, unroll your sleeping bag next to the 120,000-gallon shark tank, the colorful Best Buddies tank, or even under the watchful eye of a giant Pacific octopus! In the morning, you'll wake up with the fishes and enjoy a continental breakfast. Tickets are required ($75 per family, $67.50 for Aquarium Members) and can be purchased using the link below or by calling the aquarium at (631) 208-9200.
Event date: April 21st
Run, don't walk, to Port Jeff Health & Wellness Fest (Port Jefferson)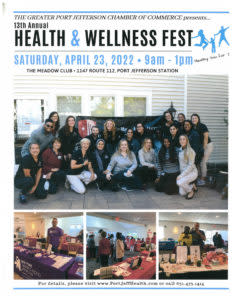 The Greater Port Jefferson Chamber of Commerce is sponsoring the 12th Annual Health and Wellness Fest, "Healthy You for '22",  at The Meadow Club towards the end of the month. The event is free and open to the public, featuring over 50 Health & Wellness professionals, miniature donkeys, a guinea pig "village," a diverse food court serving up everything from vegan BBQ to festival favorites, and so much more.
Event date: April 23rd
Welcome Spring in Stony Brook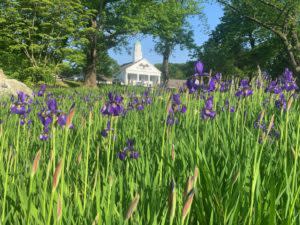 Head to the Stony Brook Village Center for a free Spring Appreciation Day festival featuring live music, a petting zoo, a scavenger hunt, a car show and more!
Event date: April 23rd (rain date April 24th) 
Explore your senses with crafts at Jones Beach Energy & Nature Center (Wantagh)
For children who enjoy engaging in sensory play, come and see what Jones Beach Energy & Nature Center has to offer. Participants will make their own sensory boxes to take home and have fun with sensory classroom activities. This is an autism and developmental disability friendly class. Maximum attendance is 10 children and RSVP is required (use the link below).
Event date: April 28th 
Show off your spy skills at the hamlet-wide scavenger hunt (Southold)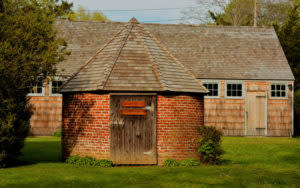 Southold Historical Museum is pleased to offer an exciting family event this spring, the second-ever "Discover Southold Scavenger Hunt." Great fun for all ages, grab your friends and family to create a 'team' that's goal is to explore and uncover some truly fascinating tidbits of North Fork history. Most targets are centered in the Southold hamlet area, within walking distance of each other and located using clues from the Goose Chase app. The fee is $25 per team ($20 for Southold Historical Museum members), teams can be made of 1 to 100 people but all teams will share one smart phone. Registration is required and can be done so online using the link below.
Event dates: April 30th - May 1st
Pick up the new skill of jewelry making at Southampton History Museum (Southampton)
All April long, work alongside Artist in Residence, Alyssa Saccente, at the Southampton History Museum to develop your skills in metalsmithing, and maybe even develop a lifelong passion along the way! The courses are packaged into one, two, three, or four 2-hour sessions that can be booked as one-on-one with the artist, or as a partner session. Prices vary by package.
Event dates: Daily timeslots available