It's five o' clock somewhere, right? Whether you're in town for business, a fabulous Long Island wedding, a girls' weekend getaway or if you're a local looking for an exciting new craft brewery or cocktail lounge, Long Island has an ideal Happy Hour spot for every vibe. From vibrant scenes to hidden gems to unrivaled views and entertainment, we've rounded up the best Happy Hour spots across Long Island.  Don't miss our posts about waterfront restaurants and bars, breweries, and music venues!
Hot Hotel Bars Across Long Island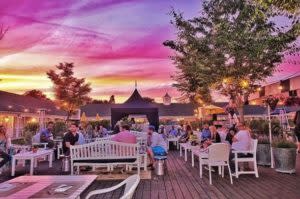 Capri Southampton, known as a celeb refuge and a staple for Manhattanites and Hamptonites alike, the boutique beach chic hotel boasts an unrivaled scene from happy hour to afterhours – featuring refreshing craft cocktails, surprise appearances from world-renowned DJs, pop-ups of famed New York City restaurants and the best poolside parties in the region.  Whether you're staying in one of their Instagramable guest rooms, dining at the onsite restaurant or looking for a sophisticated, high-energy, unforgettable setting for entertaining friends, the poolside bar scene at Capri Southampton should not be missed.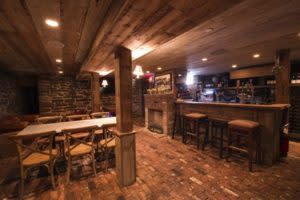 For one of the most unique settings to sample a diverse range of whiskeys and other libations, look no further than The Speakeasy at Jedediah Hawkins Inn in Greenport, a hidden, historic sanctuary with flagstone walls and old brick and timber from the Inn's barn. This hidden gem is ideal for an exclusive and secluded drinking experience that's sure to impress every history buff, with unexplained secret passages and trapdoors! Immerse yourself in the history with a glass from the keg wine and a bite from a casual menu of pub fare.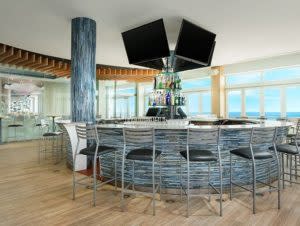 L'Onda Lounge is located on the main level of the luxurious beach chic Allegria hotel, the only hotel on the famous Long Beach boardwalk, and known to attract trendy Manhattanites looking for a convenient beach getaway.  The stunning boardwalk bar features dramatic round bar, high-top tables by the floor-to-ceiling glass doors and mirrors, and glass fireplace surrounded by lounge seating.  It also attracts beachgoers, surfers, volleyball players right off the beach throughout the day. If you're looking for incredible waterfront views in a sophisticated and vibrant setting and killer happy hour deals with a diverse crowd, look no further than L'Onda.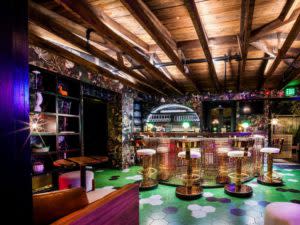 Long Island's North Fork is known for its many historic bed-and-breakfasts among miles of farmland and some of the most acclaimed vineyards in the world.  But at the tip of the island, you'll find a standout boutique with photo-ready vibrant art-deco décor that will transport you to South Beach. American Beech is a destination all on its own with American Beech Restaurant and Black Llama Bar – known for their speakeasy-inspired craft cocktails and high-end libation selection.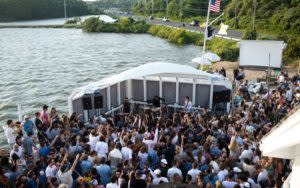 What began as an Irish dive bar years ago is now one of the most sought-after hotspots in all of the East End of Long Island. Each summer, the Surf Lodge assembles a star-studded roster of musical guests, which this year included artists like The Chainsmokers, Questlove, Bob Moses, and more. Beyond the incredible music, the food is also no slouch – the chef draws inspiration from the ocean's daily bounty and local ingredients, sourcing sustainable local seafood from the fishing boats of Montauk Harbor and produce from the farms of the East End and North Fork of Long Island.
This Riverhead hotel and bar is home to one of the best wine cellars and lounges on Long Island – the Preston House is home to more than 800 sophisticated bottles from around the world. Stop by for a midweek kickback for Oyster Happy Hour every Wednesday for $1.50 oysters at the bar! The Preston restaurant boasts multiple levels – the speakeasy downstairs might be the best place to steal away for drinks – have you explored it yet?
Drink like royalty at the King Bar in the Garden City Hotel. From breakfast and brunch to world-class wines and late-night bites, the King Bar by David Burke is a see-and-be-seen sophisticated hotspot for Long Island's after-work crowd. Enjoy an array of signature cocktails, fine wines by the glass, and imported and domestic lagers, ales, and IPAs. Not your vibe? Discover The Rose Room, a secretive, steam-punk inspired spot also located at the Garden City Hotel. The underground, dimly lit lounge that features unique craft cocktails made with rare spirits, live music and much more.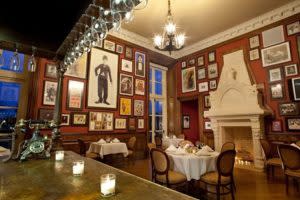 Channel your inner Jay Gatsby and impress your guests with "Gatsby Hour" at the OHK Bar, located in Oheka Castle, the most recognized of the lavish Gold Coast historic estates. Enjoy a carefully curated variety of wine, beer, spirits, and specialty cocktails crafted by OHK Bar's resident Sommelier Samantha Bellando, at the stately bar or on the Piazza.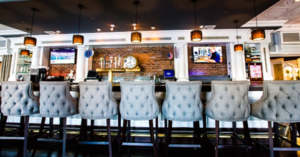 After a day taking in all that historic Port Jefferson village has to offer, stop into the eclectic lounge at Wave Seafood & Steak for a refreshing cocktail while you watch the sunset over the harbor. Stay for dinner and choose from many of the mouthwatering items on the always seasonal dinner menu. Perfect for that special celebration or for a treat, Wave is open daily for lunch and dinner with Happy Hour specials.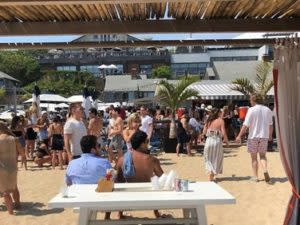 The world-renowned luxury coastal retreat that is Gurney's includes three incredible spaces known for DJ-fueled cocktails to experience day and night during the summer and beyond. The property's white sand beach club has 500 lounge chairs, a spacious, fire pit-dotted patio that seats 50, and the soulful restaurant hotspot Scarpetta's which has an ocean view from every seat and an unrivalled bar-scene with frequent live music performances.
Bistro 72 is a casually elegant restaurant and lounge located in the newly opened Hotel Indigo East End. Under the auspices of top chefs, Bistro 72 brings a distinctive contemporary dining experience on Long Island's East End. The cuisine seasonally showcases the finest locally grown ingredients and regional wines. Enjoy locally sourced cuisine in our restaurant any day of the week. They feature indoor/outdoor and poolside/fireside dining, and live entertainment each Wednesday through Saturday nights.
Action Packed Happy Hour Spots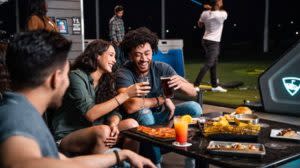 Enjoy TopGolf's climate-controlled hitting bays for year-round comfort with HD TVs in every bay and throughout the sports bar and restaurant. Grab your friends or your work squad and take aim at the giant outfield targets and the high-tech balls will score themselves, and wash it all down with drinks from the brand new sports bar! TopGolf also offers versatile event catering packages perfect for birthday parties, company events, happy hours, fundraisers, or other social get-togethers.
Whether you're a couple looking for a fun afternoon activity or a family reunion that enjoys drinking together, Urban Pedal Tours is for you.  This tour agency caters to all group sizes, whether big or small - great for bachelorette parties or team-building exercises. Come enjoy a day on the 14-person bike and visit local Riverhead craft beer hot spots where you can try some of the most innovative and delicious craft beers in the entire industry with friends and family!
What do you get when you cross a neighborhood bar with a concert venue? Mulcahy's. They recently added a new VIP loft area as well as a larger concert space, along with a new large bar – perfect for ordering the variety of weekend drink specials offered at shows. Whether you go to see a DJ, band, or a rock star, Mulcahy's maintains the neighborhood bar vibe that has made them a South Shore mainstay for years.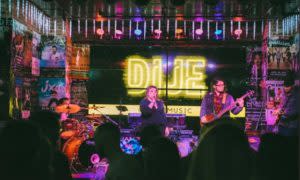 Spotlight is The Paramount Theater's attached bar that offers 12 different taps and an eclectic full-scale food menu created by executive chef Matthew Wagner. Open nearly every day of the week and offering live music (both bands and DJs) Thursday through Sunday – perfect to pair with their weekly featured cocktails and highly rated food menu.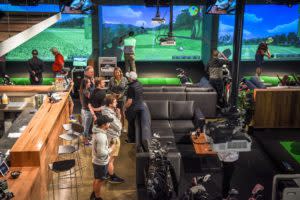 X-Golf is the world's most advanced and accurate golf simulator. After a (virtual) round, relax in the full-service sports bar and lounge serving a variety of beer, wine, liquor, and an array of bar food such as pretzels, pizzas and wings, perfect for birthday parties, corporate events, or anyone looking to work on their golf game in the off-season!
If you're not feeling like going out to the party, then let DJ CHEF bring the party to you! As his name implies, DJ CHEF is the only entertainer who simultaneously cooks and DJs for special events worldwide. DJ CHEF recently flexed his culinary chops by winning Food Network's Cutthroat Kitchen. Whether he's on the decks or on the grill, this guy truly does it all.
Wines, Brews, and Happy Hours with Views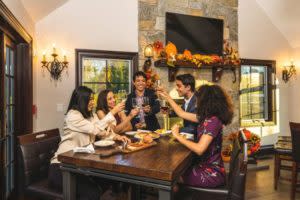 Nestled in the hills of Northport on Long Island's Gold Coast is a hidden 8-acre vineyard that is a go-to spot for local and visiting wine-lovers alike. Ranked as one of America's top 100 outdoor restaurants by OpenTable, Del Vino Vineyards is one of the best wineries on Long Island to grab an after-work drink. Featuring a Tuscan villa style tasting room with a large bar area, cozy lounges, and a private loft, Del Vino caters to everyone with a level of sophistication that's a cut above the rest.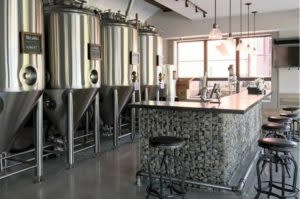 Six Harbors Brewing Company is a family owned and operated brewery that opened in May 2018.  Located in Huntington, it's the town's first and only micro-brewery. Enjoy a flight, or a pint, at the tasting counter while in clear view of the bright and shiny tanks and the to-go canning process.  Take a seat in their relaxing lounge or bring a group of friends and sit at the live edge beer table with driftwood lighting; not only is the beer delicious but the setting is unlike most others.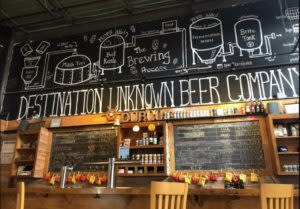 Destinations Unknown Beer Company, located in Bay Shore, is one of the South Shore's newest and most innovative breweries. Featuring a tap room, two different brew systems, and an incredible beer garden, DUBCO is the perfect spot to sample some new flavors and creations.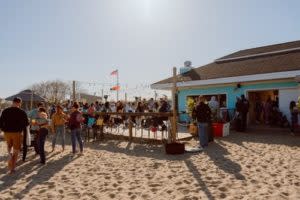 Make happy hour a fun staycation at Bodhi's Beach shack. Featuring an oceanfront bar and seating, Bodhi's seaside vibes and tropical-inspired cocktails bring the feel of a luxurious vacation to you anytime. Their food menu is no slouch either, with fresh seafood, including the delicious lobster roll sandwich. With live music extending on Thursday and Fridays after summer ends, at Bodhi's, the party never stops.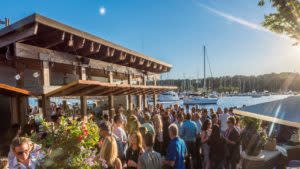 Situated right on Huntington's harbor, this classy restaurant is a polished option for cocktails with scenic water views from the Wave Bar. Spend an afternoon in the wood lounge, compete with a fireplace and luxurious leather couches. Their fresh seafood selection is delectable, with oysters, lobsters, fresh fish, and more.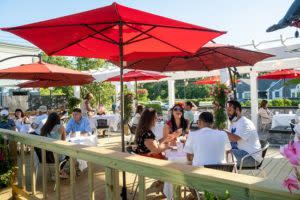 Spiro's has been voted Long Island's best cocktail bar and happy hour for seven years in a row - if that's not enough to make you want to visit, then have a look at their incredible cocktail menu featuring different drinks and specials weekly. their drink menu entails over twenty specialty martinis alone. Running short on time? Spiro's offers large cocktails to go, so there's no excuse not to try them out.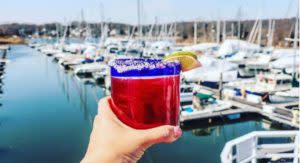 The Whales Tale restaurant and bar provides a visual reflection of the local, eclectic characters of the North Shore nautical life. Located conveniently in Northport Village in Britannia Yachting Center, the Whales Tale is a laid back outdoor/indoor restaurant featuring an array of specialty tacos (don't miss Taco Tuesday).
After a day of soaking up the sun or adventuring at WildPlay, have a beer or a cocktail at the Bar on the Jones Beach Boardwalk. The park also frequently has live bands and DJs in the Jones Beach amphitheater, making Jones Beach a great place to enjoy your happy hour.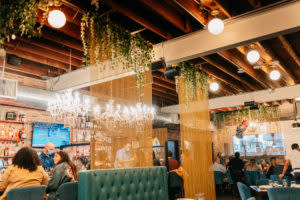 With one of the most creative menus on Long Island, the Linwood Restaurant & Cocktail Bar is must-try for any foodie. Making an effort to highlight local creations, they have a large beer, wine, and cocktail menu and have a long-standing collaboration with the Better Man Distillery. Weekends feature live music performed on the Linwood's side porch overlooking Main Street, a cozy venue typically packed with fun folks.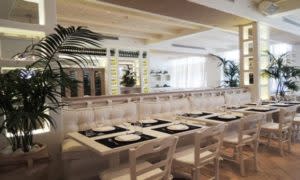 You don't need to fly to Mykonos for a taste of the Mediterranean beach vibes. Kyma Rosyln offers European-style atmosphere and drinks, featuring an oval bar separating the dining room from the lounge area. Here you will have your choice of standing cocktail banquettes, bar and lounge style seating. The resident, DJ keeps the energy high in this fun social spot - make sure to check them out on Thursday Nights for a variety of happy hour specials!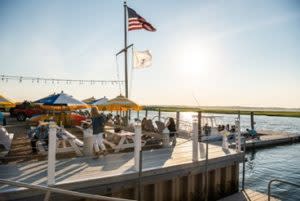 Dockers Waterside is what summer in the Hamptons is all about. The casual, relaxing & friendly environment is by design with an "on vacation" feeling. The food, the view and the live entertainment are all part of the overall experience. Zagat has rated Docker's highly as a "lively, upscale casual waterfront restaurant, bar & marina."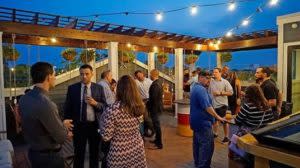 RHUM is the first tri-level space in the area to include a rooftop terrace. The venue includes two full-service bars (one on the first floor with seating and gathering space, the other on the third-floor rooftop with swing and lounge seating), along with a full dining room on the second floor with private party space. The rooftop is a great spot to soak in happy hour