Long Island is full of stunning natural beauty that continues to attract nature enthusiasts from across the globe. With a four-season, coastal climate and diverse landscapes, Long Island is home to thriving ecosystems rich with unique wildlife – from coastal and island forests home to bald eagles, osprey, and an array of reptiles, to freshwater wetlands, shellfish reefs, vast pine barrens, coastal cliffs and more.
The region is also home to a handful of expertly cared for arboretums with extraordinary libraries of trees and rare plant life – providing a paradise for green thumbs. So, whether you're a birder craving a peaceful scenic walk through a nature preserve, you want to break a sweat trekking through a lush, hilly forest, or see stunning flowers typically found on another continent, Long Island is the place for you.
From Instagram-worthy hiking trails to fabulous arboretums, listed below are our top picks for nature oases to explore that you won't believe are on Long Island.
South Shore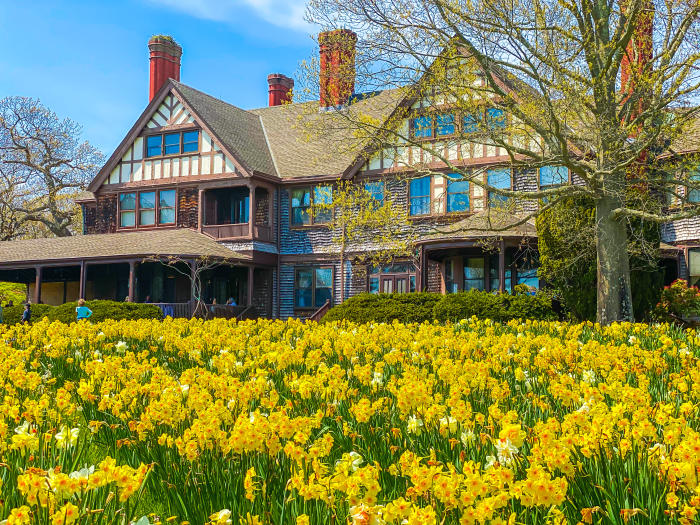 Head to Long Island's South Shore, known for its famed white sand beaches including Robert Moses and Jones Beach State Park. And when it comes to wildlife, you'll discover much more than seagulls and sand dunes. One of the best-kept secrets in the area is Norman J. Levy Overlook Park and Preserve in Merrick. It's home to a land conservation project, two ponds, turkeys, peacocks, goats and more with the preserve's 155-foot peak offering spectacular views of the Jones Beach Tower, the New York City skyline, and numerous coastal treasures.
A town over in Seaford, you'll find Tackapausha Preserve, a historic and beautiful 84-acre sanctuary of oak forests, ponds, streams, small mammals, and scores of bird species, all of which can viewed via five miles of clearly marked trails. Birdwatchers often hike the trails, with lawn chairs in tow, seeking out species commonly found at the preserve, such as the ruby-throated hummingbird. In all, more than 170 bird species have been identified.
Explore the "museum of trees" at Bayard Cutting Arboretum. Located in Oakdale, the arboretum has 690 acres of lawns and open meadows, a wildflower garden, a marshy refuge, and many nature trails for bird watching. Discover the 17-acre Tanglewood Preserve in Rockville Centre which features nature trails that swoop around ponds and other fantastic natural landscapes, ideal for families of all ages. Exotic species, native reptiles, birds, mammals, and amphibians are presented in realistic indoor and outdoor environments.
Make it a weekend getaway by staying at the Allegria Hotel or Bellport Inn.  
Fire Island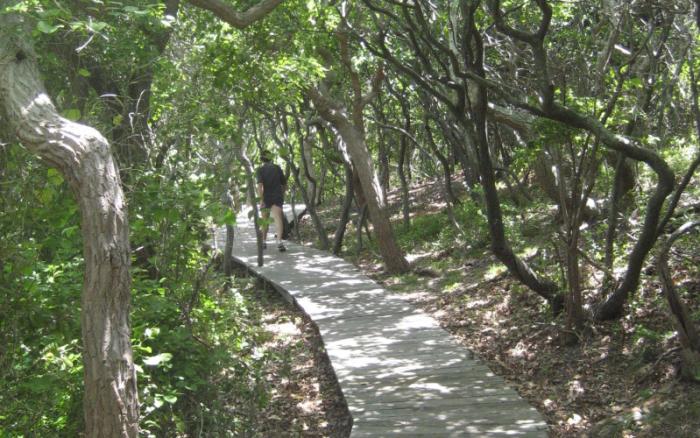 Off the coast of the South Shore and only accessible by boat, you'll find the car-free barrier island and iconic beach haven: Fire Island.  Don't visit without exploring Sailor's Haven, home to a rare natural wonder: The Sunken Forest - one of the last remaining maritime forests on the eastern seaboard.
When you traverse this peaceful forest and its meandering boardwalks, you'll feel like you're below sea level.  The 40-acre sunken oasis is known for its globally rare collection of plants, including a variety of tress, shrubs, American Holly and catbrier.  Sunken Forest Natural Trail is a thin strip of forest about a ¼ mile wide and 1.5 miles long.  The walk takes about 45 minutes, and along the way you'll likely encounter deer, foxes, and other wildlife.  How did deer make it all the way to this island? Scientists say they traveled over the bay when it was frozen solid and have remained here since.
Make it a weekend getaway by staying at the Seashore Condo Hotel located right near the Sunken Forest. 
Gold Coast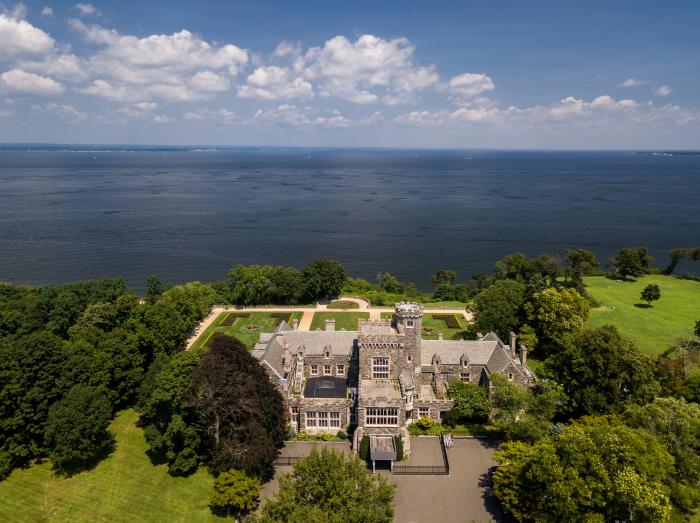 Head to the Gold Coast area of Long Island's North Shore where you'll discover Sands Point Preserve. Home to a magnificent 216-acres of land, it was formerly known as the Guggenheim Estate. Steep cliffs overlook a mile of sandy beach on the Long Island Sound. Visitors are able to enjoy freshwater ponds, rolling fields, nature trails that wander through the woods, walk over century-old stone bridges, and get a view of the Castle Gould, Hempstead House, Falaise, a Gatsby-era country homes that is the embodiment of Long Island's Gold Coast era.
Nearby in East Norwich is the Muttontown Preserve, a 550-acre nature preserve. It is the largest in the county and includes miles of well-marked hiking trails (The main loop trail measures 2.5 miles), woodlands, fields, glacial kame, and kettle ponds. Also on the property sits the historic Chelsea Mansion, and while the mansion is not open for tours, it does make for some fabulous backdrops.
Also in East Norwich, you'll find the Bailey Arboretum, a stunning estate that focuses on the connections of people and the natural world through their living collections and interactive programs.  Learn about the famous Dawn Redwood trees that are scattered throughout the property that were thought to be extinct at one point and ease your way through the beautiful nature trails for more woodland knowledge. 
Make it a weekend getaway by staying at the Mansion at Glen Cove, the Fox Hollow Inn, Hilton Garden Inn Roslyn or the Garden City Hotel.
North Shore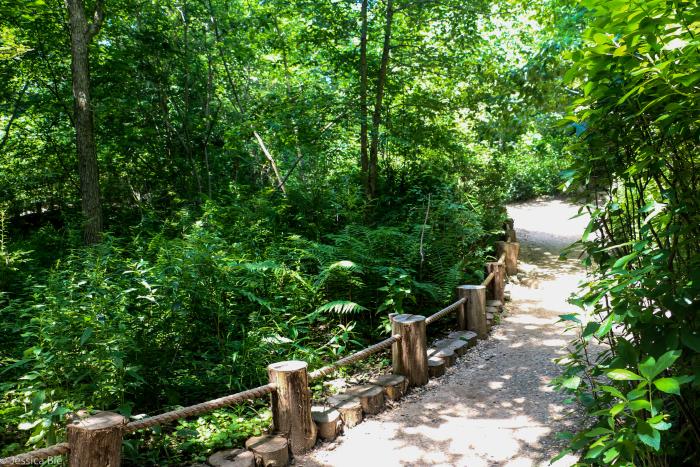 Further east on the North Shore, you'll discover Avalon Nature Preserve. Located in Stony Brook Village, this year-round nature park features four distinct and beautiful hiking trails perfect for a casual stroll or day of birdwatching. Explore age-old ponds, the rolling hills graciously crafted by glacial boulders, wildflower meadows, woodland forest canopies, and an abundance of history.
While on the North Shore, check out Caleb Smith State Park Preserve. Located in Smithtown, the preserve offers 543 acres of woodlands with marked trails that are great to explore and take in the amazing views of high tree lines, marine ecosystems, and indigenous wildlife. While here, make sure to stop by the Nature Museum on the premises that showcases natural history exhibits relating to Long Island.
Make it a weekend getaway by staying at the Three Village Inn or Danfords Hotel & Marina in Port Jefferson.
Centrally Located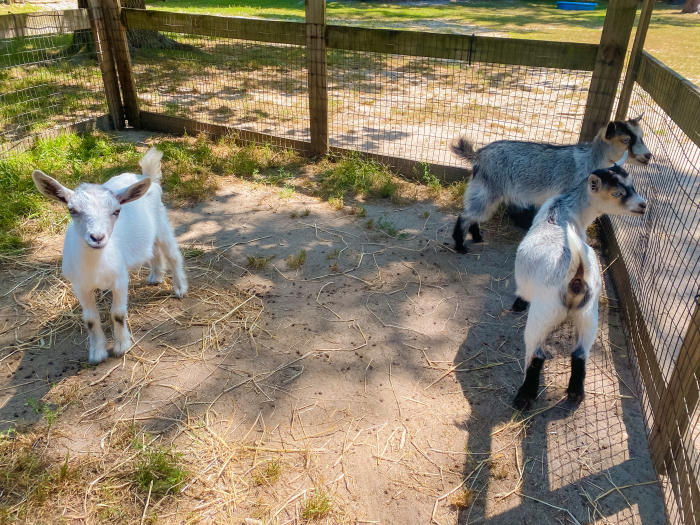 Centrally located on Long Island is the Holtsville Ecology Site & Park – a great option for an amazing animal experience. At this park you can see bobcats, buffalo, an eagle, black bears and more. Take in the other amenities such as their greenhouse, picnic area and ecology exhibits and tours. In Yaphank is the Suffolk County Farm and Education Center where you can witness a real working farm run by the Cornell Cooperative Extension in action with the addition of many opportunities for fun – including goat yoga. Everyone is welcome to participate in their special events as well as up close and personal interactions with the friendly animals.
As a wildlife park and children's zoo on Long Island, the Long Island Game Farm offers families a natural environment where they can learn about wildlife and animals through observation, education, and entertainment. Get up close and personal by petting and feeding their animals including baby goats, sheep, deer, and more.
Another place to observe animals is White Post Farms in Melville. Visit the animal farm for a great day of outdoor family fun or meet Long Island's only two resident giraffes: Patches & Ollie. Feed colorful birds in two bird aviaries and give a treat to the playful marmosets, squirrel monkeys, and lemurs in the monkey barn.
East End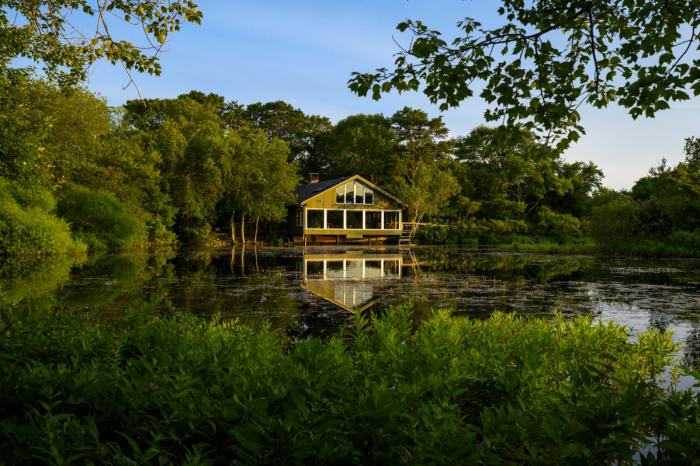 Check out the Quogue Wildlife Refuge on the East End, a 305-acre facility featuring over seven miles of walkable trails that wind around diverse habitats throughout the Preserve. The Charles Banks Belt Nature Center offers spectacular views of Old Ice Pond as well as a variety of wildlife exhibits, live animals, a nature library, and gift shop.
Try out the 8.2-mile point-to-point Southampton Bay to Bay Trail in Hampton Bays, the perfect hike for long-distance travelers interested in local bird and mammal species. The red hiking markers will lead you south from the trail head through woodland to its end in Pine Neck Sanctuary which faces the Shinnecock Bay.
Make it a weekend getaway by staying at Canoe Place Inn & Cottages in Hampton Bays or stay up in Riverhead at the Preston House & Hotel.