Rocking out to a legendary band, a cover band or even a local band under the sky on a hot summer day with a Long Island wine or Blue Point Beer in hand, is a Long Island staple and summer vibe that cannot be matched! From summer concerts on Main Streets, to pop up performances at breweries, to the hottest A-list acts booked at iconic venues, this summer's lineup of live entertainment is destined to draw crowds.  That's why our team rounded up the must-see music festivals and top restaurants, bars, breweries, and vineyards to see live music this summer.
Best Restaurants for Live Music
Mulcahy's (Wantagh)
Credit: @thewarpedtourband/Instagram
Mulcahy's is one of Long Island's original Live Music Venue, providing locals and visitors with premier entertainment for the last 50 years. Mulcahy's hosts weekly concerts and events featuring local icons like Mike Delguidice and Big Shot, the Zac Brown Tribute Band, Shilelagh Law, Badfish, A tribute to Sublime, as well as classic, international touring acts such as Bret Michaels, Weezer, Third Eye Blind, Dropkick Murphys', Joan Jett, Matisyahu, Joey Fatone & Lance Bass of NSYNC—you name them, and they've probably performed at Mulchay's. The Wantagh-based venue is also known for its seasonal parties, emo nights, and DJ sets. For more information, visit the venue's calendar of events.
Flynn's (Ocean Bay Park)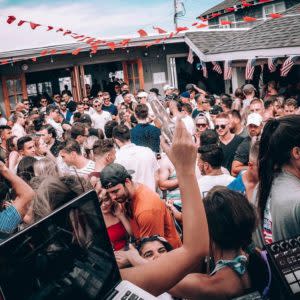 Credit: @flynnsfireisland/Instagram
Flynn's encapsulates the definitive Fire Island summertime experience. Combining a restaurant, bar, and marina to offer both a relaxing dining experience overlooking the Great South Bay and a fan-favorite party spot for live music, DJs, and private catered events. To make the experience even more unique, Flynn's partnered with The Moon Chaser Boat Cruise out of Captree State Park to provide guests with soul-soothing music and a pleasurable ride across the bay to the Fire Island landmark.
LaMotta's Dockside (Port Washington)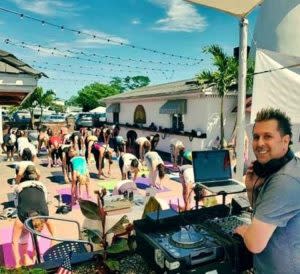 A waterfront tradition since 1994, LaMotta's Dockside serves only the finest modern American cuisine with global influences. Come enjoy delicious dishes and beautiful views of Manhasset Bay in Port Washington alongside your furry friend. Open from mid-May through Labor Day, LaMotta's has gained the reputation of being one of Long Island's top waterfront destinations that just so happens to have a dog-friendly patio.
Ram's Head Inn (Shelter Island)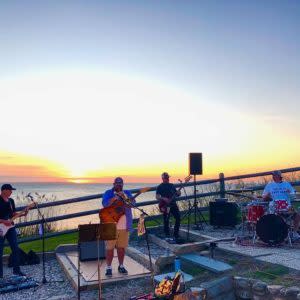 The Ram's Head Inn is known providing a scenic, relaxing stay to all its guests—but what you may not know is that the hotel is also the site of a waterfront restaurant that sets the mood with live music and unique events year-round. For the full experience, we recommend booking a room and staying the night. Shelter Island is the perfect destination for an East End getaway while avoiding the normal crowds associated with a Summer in the Hamptons.
Hudson's on the Mile (Freeport)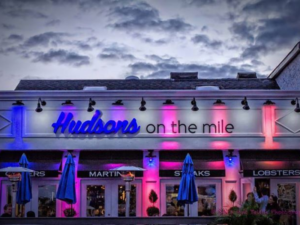 The Nautical Mile in Freeport is practically the hub for live entertainment of all kinds, but Hudson's on the Mile is the place to be if you want only the freshest seafood, steak, sushi, legendary cocktails and live music. The restaurant offers indoor and outdoor dining, and the outdoor patio is even dog friendly. Get the best seat in the house and head to the rooftop deck which offers picturesque views and harbor front sunsets.
Lily Flanagan's (Babylon)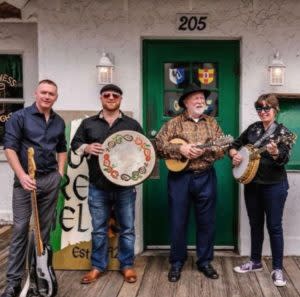 Opening its doors in 2007, Lily Flanagan's quickly became a favorite. With over 24 rotating draft beers on deck at any given time and delicious food offerings reminiscent of traditional American with an Irish pub flare to pair with them, we see why the locals love it. Lily's also regularly hosts live music by the best local bands on the island, so don't forget to bring your dancing shoes! Even better, if you stop in mid-week and present our FREE Downtown Deals Travel Pass, you'll score 15% off your bill.
Maliblue (Lido Beach)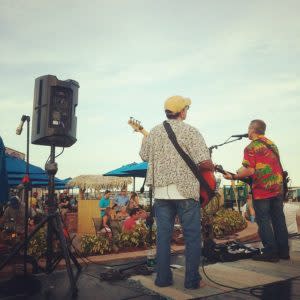 Credit: @Maliblue_Shoreclube/Instagram
Let's just say, those who know, know. And those who don't, well, you're about to realize you wish you would have heard about this place sooner. Maliblue (formerly known as Maliblue Cantina & Tequila) is located at Lido Beach, but you don't need to be a Nassau County Resident or Lido Beach Club member to access the restaurant. It offers a rotating act of live music from acoustic performances to a diverse line-up of local rock, indie, and pop musicians. The menu here is also not to be overlooked, serving up delicious seafood, tropical drinks, and popular fishbowls—savor the flavor before you dance the night away!
Claudio's (Greenport)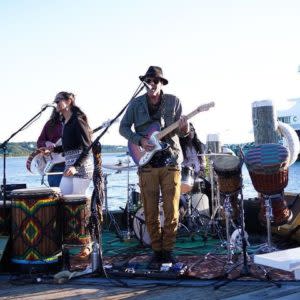 Credit: @rws.marketing/Instagram
This local staple is serving up legendary seafood in a beach party atmosphere all season long.  Enjoy waterfront dining, local performances, and a lively crowd—willing to dance the night away—at Claudio's Waterfront and its Beer Garden. Guests can also catch the live performance from the other side of the docks at Crabby Jerry's, which offers family-friendly waterfront dining and dog-friendly outdoor seating as well as easy marina access.
 CJ's Fire Island (Ocean Beach)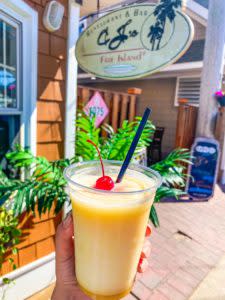 For over 50 years, CJ's Restaurant & Bar has been providing Fire Island visitors with delectable eats and endless fun. Known as the "Home of the Rocket Fuel®", CJ's has become Fire Island's landmark bar for this refreshing Fire Island must-have frozen cocktail. Perfect for cooling down on even the hottest summer days, CJ's Rocket Fuel was made for sippin' on in between songs performed by some of the most sought out local performers. From DJ sets to beach bashes and everything in between, CJ's knows how to throw a party.
The Boat Yard Bar & Grill at TOBAY Beach (Massapequa)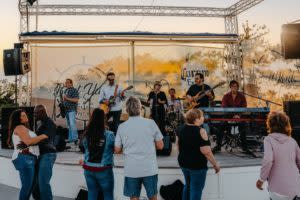 Credit: @theboatyardny/Instagram
Offering a diverse lineup of live performances—from 70s cover bands to jazz, rock, and alternative—and an even more varied menu, The Boatyard is where you can feel the sand beneath your toes while enjoying regional favorites. Located at TOBAY Beach, restaurant and concertgoers can avoid the parking fee if they arrive after 6 p.m. (or take the car-free route and bike along the Jones Beach Bikeway!). Check the website for daily specials and an up-to-date calendar of events.
Peter's Clam Bar (Island Park)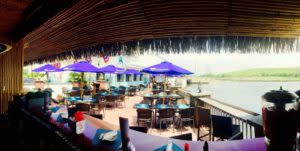 This local icon has been serving Long Island staples, like lobster rolls and crab, since the summer of 1940. Located right on the water in Island Park, it's no wonder locals head here in droves during the warmer months. Offering a full bar and practically endless food and drink menu, as well as regular live performances, Peter's Clam Bar is an essential summer experience.
Best Breweries & Vineyards for Live Music
Bright Eye Beer Co. (Long Beach)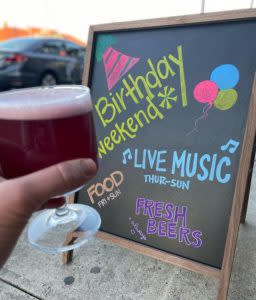 Credit: @Brighteyebee/instagram
Bright Eye Beer Co. is Long Beach's first craft brewery. This pet-friendly pub offers a large variety of brews, from IPAs to fruit beers, porters, and everything in between! Bright Eye Beer Co. is licensed as both a microbrewery and a farm brewery, meaning it crafts small batch brews using local ingredients. Dogs are welcome but must always be leashed.
Pindar Vineyards (Peconic)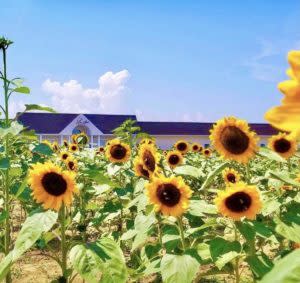 Pindar Vineyards may just be one of the most recognized wineries in all of Wine Country, but I bet you didn't know that along with award-winning wines, the flagship vineyard offers live music all throughout the season. Enjoy a tasting across your choice of 23 varietals while you jam out to a local artist or admire Pindar's growing collection of blossoming sunflowers. For a list of upcoming artists, checkout Pindar's Events Calendar.
Greenport Harbor Brewing Co. (Peconic)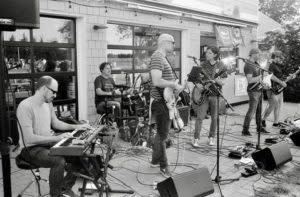 Credit: @krsears119/instagram
Inspired by the beauty of the North Fork region and the Long Island Sound, Greenport Harbor Brewing Company creates each beer and can designs to reflect the vibrant life and values of the locals on the North Fork. The immense yard at the Peconic location is perfect to enjoy live music with a fresh, cold brew during the warmer months. The outdoor space is dog-friendly and offers a variety of lawn games for friends and families to enjoy while sampling the local flavors.
Fire Island Vines (Bay Shore)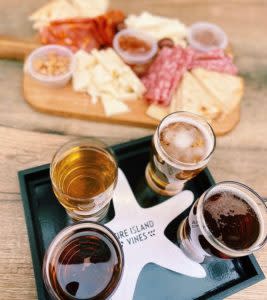 Credit: @FireIslandVines/Instagram
While Long Island's craft breweries and vineyards are usually associated with the East End, the truth is you don't have to travel far to enjoy locally made wine. Fire Island Vines is in the heart of Bay Shore, and this family-owned and operated establishment has been bringing laidback vibes, delicious wines, and entertainment to this South Shore community for years. To stay in-the-know about upcoming live performances, tasting specials, and seasonal events, follow Fire Island Vines on Instagram.
Best Long Island summer music festivals & concerts
Kick off your summer early at Mayday Music Festival (Southaven County Park in Yaphank)

The Mayday Music Festival returns to Suffolk County's Southaven Park as the first music festival of the season! Hosted by Suffolk AME, enjoy a great day of live music featuring headliners: Spin Doctors, Crash Test Dummies, Deer Tick, and more, alongside award-winning craft beer, local Long Island wine, and a multitude of diverse food truck options all amidst the bucolic scenery of Suffolk County's Southaven Park. Tickets are on sale now. Please note that children 12 and under receive FREE admission to this family-friendly event. When purchasing your adult tickets, be sure to select the appropriate number of free Children's tickets for your order. 
Event Date: May 14th
Head to The End to for the 11th Annual Montauk Music Festival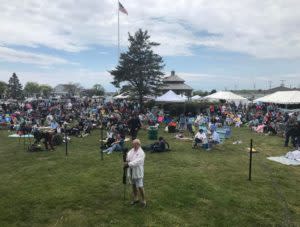 Credit: @montaukmusicfest/Instagram
Montauk Music Festival is a four-day musical celebration featuring talented up-and-coming independent artists, set against the backdrop of one of the most idyllic beach communities on the east coast – Montauk, NY. Organized by the Montauk Chamber of Commerce, over 400 artists boasting a wide variety of musical styles (from alternative, rock, folk, pop, Americana, reggae, blues, jazz, bluegrass, to flamenco, hip-hop, country, and more), will be performing for free in the spirit of sharing original music. So grab your beach blanket and your besties, because you won't want to miss this!
Event Dates: May 16-19
Take part in a family favorite sing-along during Sesame Street Live! Let's Party! (UBS Arena in Elmont)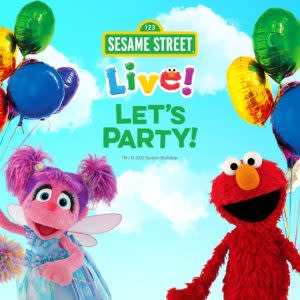 Jump to the beat with your friends on Sesame Street! Join the fun with an interactive show that unfolds on one of the world's most famous streets at the funniest, furriest party in the neighborhood. Learn new songs and sing along to familiar favorites with Oscar and Cookie Monster, flap your wings with Big Bird, be amazed when Super Grover flies, and move to the rhythm with Rosita. Tickets are on sale now!
Event Date: May 14th & 15th
Purchase tickets
Sing your heart out at Northwell Health's "Side by Side: A Celebration of Service 2022" music series (UBS Arena in Elmont)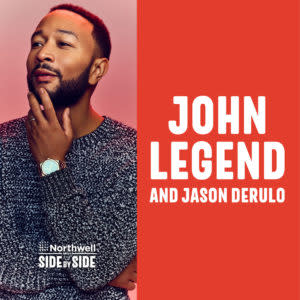 Join headliners John Legend and Jason Derulo for a one-of-a-kind performance at Elmont's state-of-the-art UBS Arena. The show starts at 7:30 but doors open at 6 p.m. sharp, we recommend getting there early so you can check out Belmont Hall, the venue's other eateries, outdoor terraces, and vendor markets.
Event Date: May 29th
Purchase tickets
Rock out with Tim McGraw at Long Island's Premier Outdoor Amphitheater (Northwell Health at Jones Beach Theater in Wantagh)
Country music legend, actor, and former advisor on The Voice, Tim McGraw, is performing his most popular hits and newest releases at the one and only Jones Beach Theater. Tickets are on sale now for as low as $35—snag them while you still can!
Event Date: June 3rd
Grab tickets to the ultimate '90s throwback performance: New Kids On The Block's Mixtape Tour (UBS Arena in Elmont)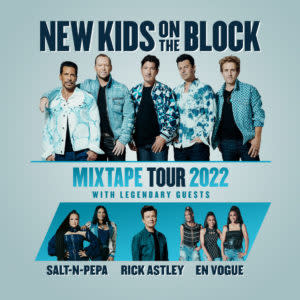 New Kids on the Block will bring The Mixtape Tour to UBS Arena. This isn't just a regular tour, either. It's practically the '90s in a time capsule—featuring additional performances by Salt-N-Pepa, Rick Astley and En Vogue. Tickets are on sale now.
Event Date: June 30th
The annual bayside bash is back! Mark your calendar for Great South Bay Music Festival (Shorefront Park in Patchogue)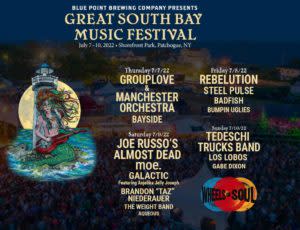 Patchogue's popular summer music festival is back with unbelievable headliners for the 2022 season. Join Grouplove, Manchester Orchestra, Bayside, moe., and more for a four-day music festival that also features a craft village, food court, variety of vendors, and kid's zone.
Event Date: July 7th through 10th
The children's summer concert of the year is here: KIDZ BOP LIVE (Northwell Health at Jones Beach Theater in Wantagh)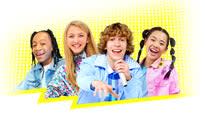 Beloved children's act, KIDZ BOP, is taking their family-friendly musical hits to the stage at Jones Beach. Sing and dance along with the KIDZ BOP Kids as they perform today's biggest hits, live on stage, including "Good 4 U" and "Dance Monkey." Don't miss out—get tickets now!
Event Date: July 23rd
Encanto: The Sing Along Film Concert (Northwell Health at Jones Beach Theater in Wantagh)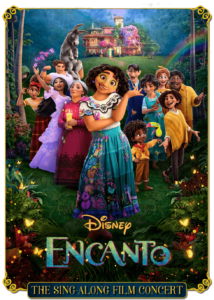 A little bit of Disney magic is headed to Long Island this summer with the singalong musical performance of the instant classic, Encanto! Tickets are on sale now and with admission starting at just $25, you score the Disney World experience for bargain prices.
Event Date: August 18th
My Chemical Romance Reunion Tour (UBS Arena in Elmont)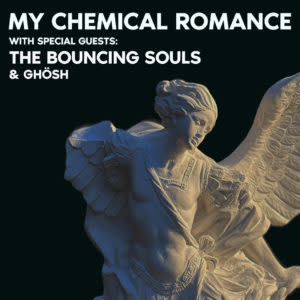 Postponement after postponement, the My Chemical Romance Reunion Tour is finally making a stop on Long Island! With special guests The Bouncing Souls and GHÖSH, you won't want to miss out on the opportunity to see this iconic band perform live on Long Island for the first time since they went on hiatus in 2013.
Event Date: August 27th  
Purchase tickets
Old Time Music Weekend (Old Bethpage Village Restoration)
Credit: @oldbethpagevillage/Instagram
Go back in time with popular music of the Civil War period and learn traditional 1800s contra dancing and listen to the sounds of a military brass band. While you're here, tour the museum and enjoy some old-fashioned sweets from the gift shop!
Event Date: August 27th and 28th