The holidays are a magical time of year on Long Island. Revel in the season by ice skating at one of Long Island's many outdoor ice rinks or head to a local historic theater to see a Broadway caliber performance of a favorite Christmas play. See an extravagant, immersive, larger than life glowing art installation or display or tour a Gatsby-era mansion decked for the season in stunning holiday décor. Ride a tractor through rows of firs, spruces and pines at more than a dozen Christmas Tree Farms where you can cut your own!
Savor the small-town charm of Long Island's many downtown villages as they come to life with festive concerts and events like the Dickens Festival in Port Jefferson, Flying Santa at Fire Island Lighthouse, Winterfest, and dozens of tree-lighting celebrations. While you're there, explore the mom-and-pop Main Street shops for unique gifts for loved ones.
With so much to do, we rounded up the most enchanting holiday spectacles happening across Long Island this year.
November 3, 2022 – January 8, 2023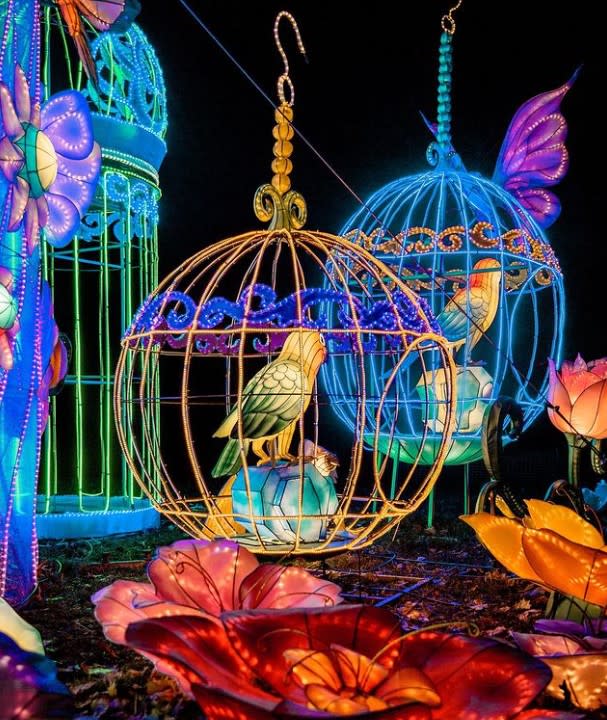 Immerse yourself in an awe-inspiring whimsical world of light that celebrates Chinese culture.  The NYC Winter Lantern Festival, a vibrant Chinese-inspired holiday light show, will dazzle families at two locations on Long Island this fall and winter. Starting Nov. 3, the bright, colorful lantern installations will return to Nassau County Museum of Art in Roslyn, which will offer a drive-thru experience for guests to enjoy. And beginning Nov. 4, the artistic event will debut at Smithtown Historical Society as the Suffolk Winter Lantern Festival. The NY Times says, ""Game of Thrones" isn't filming there, but this creature does qualify as a special sorts: Ablaze with LED lights, it is part of an inaugural Chinese-style lantern festival."
November 9, 2022 - January 8, 2023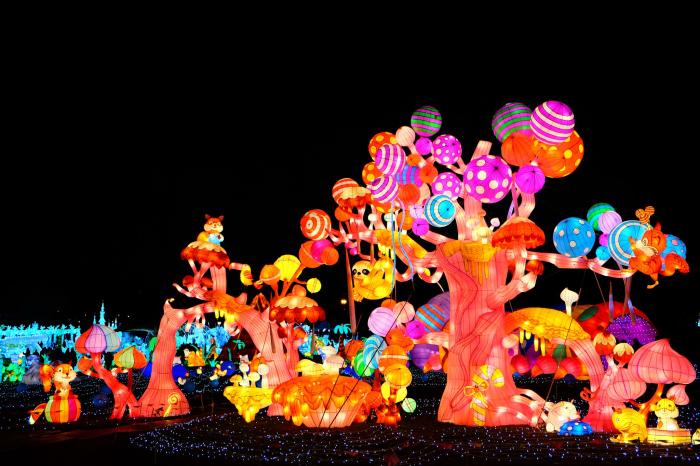 Follow Lumi, the magical lightbulb who hails from Unicorn Kingdom, through a wondrous world of ancient civilizations, illuminated jungles, and glowing art installations. LuminoCity is partnering with Nassau County this holiday season to bring you a world of magical light installations that come to life at Eisenhower Park in East Meadow, NY.
This year's theme, "Pure Magic" will deliver a state-of-the-art production that brings art, light, and color to life through remarkable displays. Children will be in awe of the mystical, fantastical displays illuminating 17 acres of grounds.
November 16 - November 20, 2022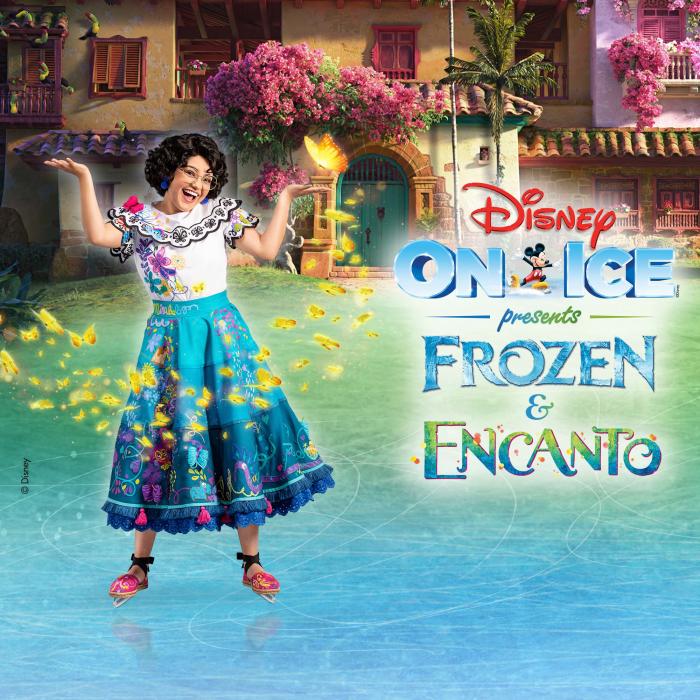 Disney On Ice's new show will feature "Frozen" and "Encanto" — two of its recent blockbuster animated movies — when it comes to UBS Arena Nov. 16 to 20. Audience members are encouraged to sing along as the skaters perform.  Show-goers will see Anna, Elsa, Mirabel and the Madrigal family. Olaf, "Frozen's" summer-loving snowman, narrates during the audience's visit to Anna and Elsa's kingdom of Arendelle. Mirabel Madrigal will tell the tale of her family's magical casita in Encanto, with the help of her sisters, Isabela and Luisa.  This is the first time this show will be on Long Island. OG Disney characters Mickey and Minnie Mouse, Donald Duck, Goofy and others will also make an appearance during the ice show.
November 18, 2022 - December 30, 2022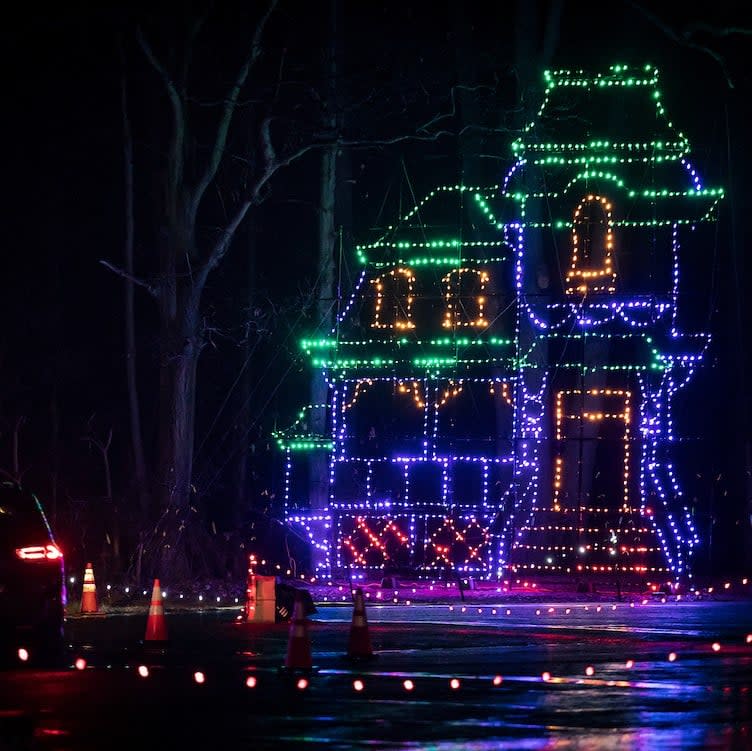 Magic of Lights is a dazzling, drive-through holiday lights experience featuring larger than life favorite holiday scenes and characters of the season using the latest LED technology and digital animations. Experience Magic of Lights from the comfort and safety of your own car as you wind through the sparkling path of Long Island's favorite holiday tradition. One carload, one price.
November 18, 2022 – December 31, 2022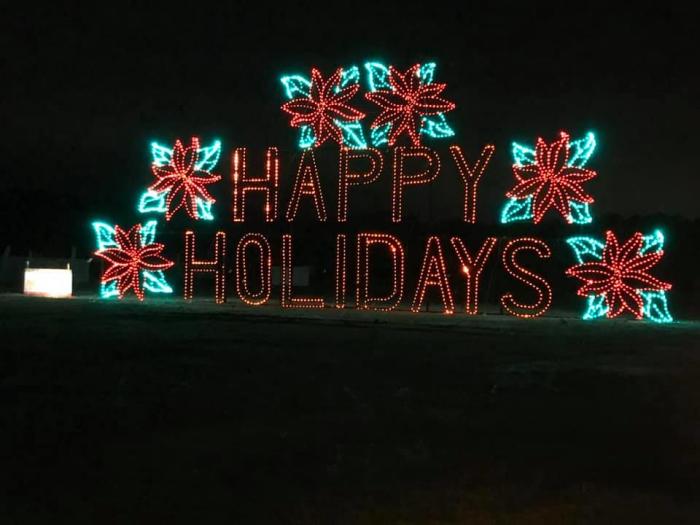 Credit – Holiday Light Show/Facebook
The Riverhead Holiday Light Show™ is the best holiday light spectacular of the year and is now back for its 5th season! Featuring hundreds of dazzling, never-before-seen holiday themed displays to delight the entire family, there is simply nothing like a trip through Suffolk County's largest light show! Pack a favorite snack and beverage, bundle up in the warmth of your car and tune your radio to enjoy the synced light performance as your travel the 1-mile route through the Riverhead Holiday Light Show™!
November 25, 2022 - January 1, 2023

Shimmering Solstice at Old Westbury Gardens is an unforgettable walkthrough experience of holiday lights, sights, and sounds! Be prepared to be enchanted by magical light displays and seasonal soundtracks that are set along Old Westbury Gardens' beautiful paths that will lead you through the world-famous Walled Garden, Rose Garden, South Lawn and Allée, just to name a few.
Designed for Old Westbury Gardens by Lightswitch (a collective of internationally recognized lighting, media, and visual designers), Shimmering Solstice allows guests to experience what is familiar every day in a whole new shimmering light. This year, even MORE beautiful visuals have been added! For this year's dramatic finale, an even more astonishing finale show will be displayed onto the south face of Westbury House.
November 25, 2022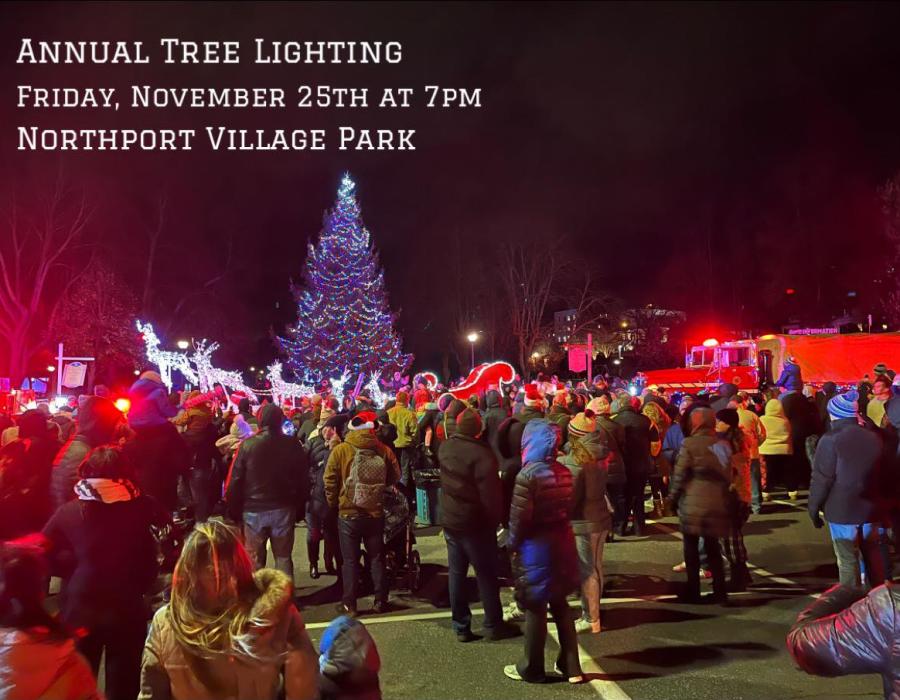 The Annual Northport Village Tree Lighting Ceremony is taking place on November 25 with holiday songs and the mayor lighting the large fir tree in the Park. The Northport Fire Department will come in their festively decorated trucks carrying Santa and Mrs. Claus along with their helpers. Complimentary hot chocolate will be given to attendees compliments of Copenhagen Bakery & Café, Tim's Shipwreck Diner and Feed & Grain of Northport.
November 25  - November 27, 2022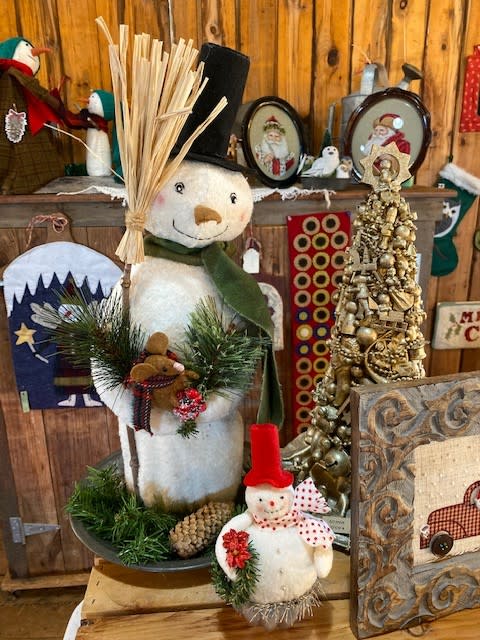 The North Fork's most unique holiday show of fine folk artists and craftspeople returns for just one special weekend. Visit Hallockville Museum Farm and experience the transformation of its historic Naugles Barn into a holiday wonderland and unique shopping experience. The Hallockville Country Parlor features exclusively handcrafted gift items, artwork, and holiday décor created by local artisans and craftspeople. Among the array of beautiful, authentic handmade items will be pottery; baskets; tree ornaments; quilted, knit, and woven apparel and home décor; paintings; candles; soaps; and much more!
November 26, 2022 4:00 pm - 7:00 pm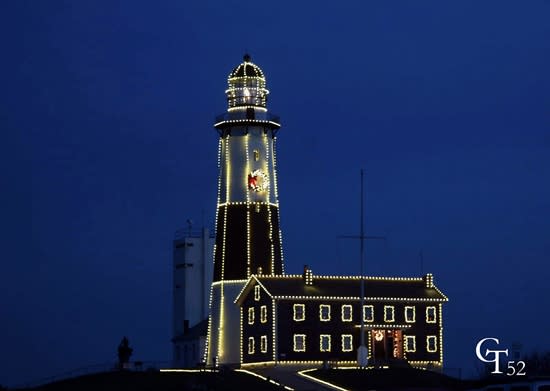 The fun begins at around dusk, with free hot chocolate courtesy of Hamptons Coffee, and live, singalong holiday music from Sarah Conway and the Playful Souls, as we await the main event: the lighting of the light! This year's honoree is MHS Board Member Nick Racanelli, whose hard work and expertise have allowed us to undertake the restoration of the lighthouse tower and keepers' dwelling.
November 26, 2022 – January 10, 2023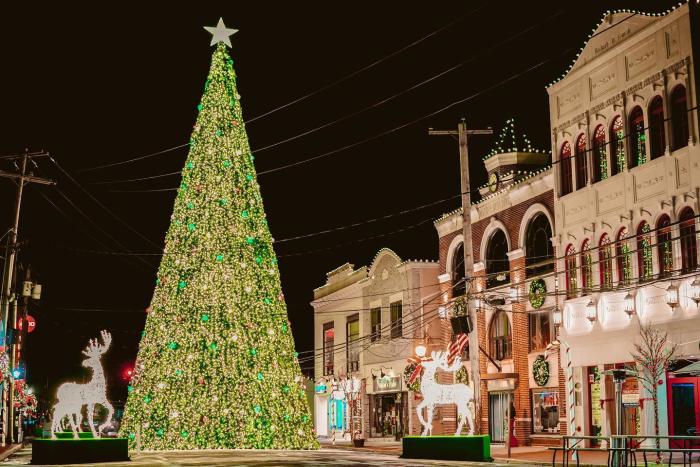 Credit: Huntington Holiday Spectacular/Facebook
The Holiday Spectacular is back this year on Wall Street in Huntington with nightly festivities including lights, music, holiday surprises, and a tree and menorah lighting. Over five weeks, culminating on January 10th, 2023, guests can visit Wall Street, daily, to view this newly created Winter Wonderland. Local businesses will participate with special deals to promote the holiday season supporting the shared goal of bringing residents from across Long Island to Huntington.
November 26, 2022 - November 27, 2022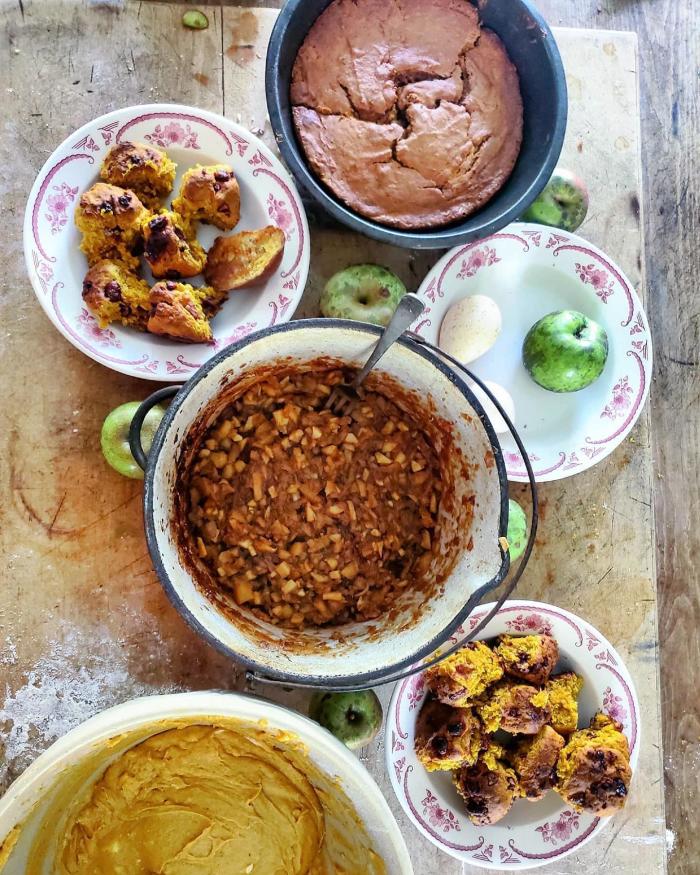 Credit: Old Bethpage Village Restoration/Facebook
Visitors to Old Bethpage Village, the re-created mid-19th Century village, will be able to enjoy the sights and aromas of an old-fashioned Thanksgiving including decorated pumpkin pies baked in a beehive oven, and turkey roasted over an open fire. In addition, each afternoon, Traditional Fiddle music will be played, and children's stories will be read several times each day. Old Bethpage Village Restoration, located at 1303 Round Swamp Road in Old Bethpage, provides visitors with a unique and wonderful opportunity to step back in time and experience life in a recreated mid-19th Century American village set on more than 200 acres. 
November 27, 2022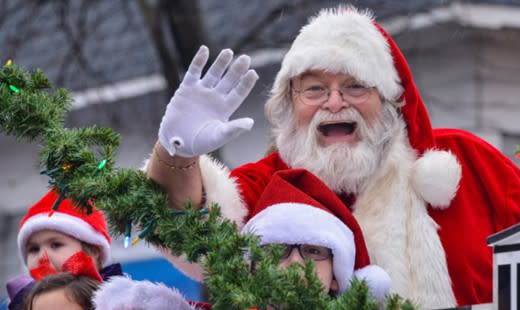 The Port Jefferson Santa Parade starts at the Long Island Train Station on Main Street at 3:00 p.m., then makes its way down on Main Street, going right onto East Broadway, and finishes at the Port Jefferson Village Center where Santa will be at his workshop for photo opportunities. The parade includes floats, vintage cars, and more!
December 1, 2022 – January 8, 2023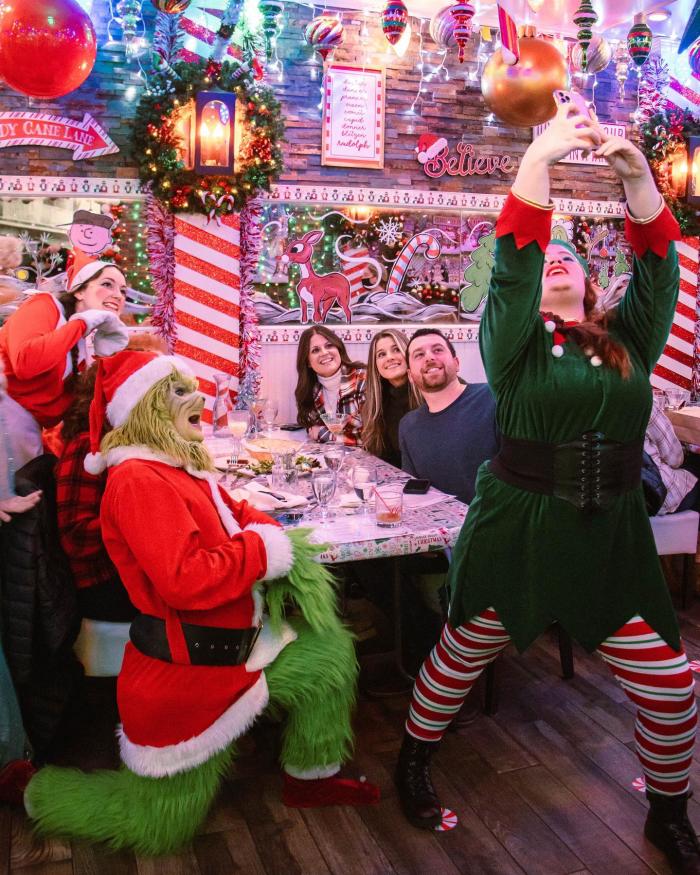 Credit: The Christmas Club Pop Up/Facebook
It's The Most Wonderful Time of the Year! Yuck! Who is the mean fellow, with his skin all green and his teeth all yellow? Mr. Grinch! Visit the Christmas pop up cocktail experience inspired by the movie: The Grinch! Join us for a stink, stank, stunk time and Christmas cheer. Indulge in Christmas themed cocktails and a small plate food menu PLUS a visit from Mr. Mean Green himself with table side interactions and photo opportunities! (Adults 21+ only).
December 2 - December 4, 2022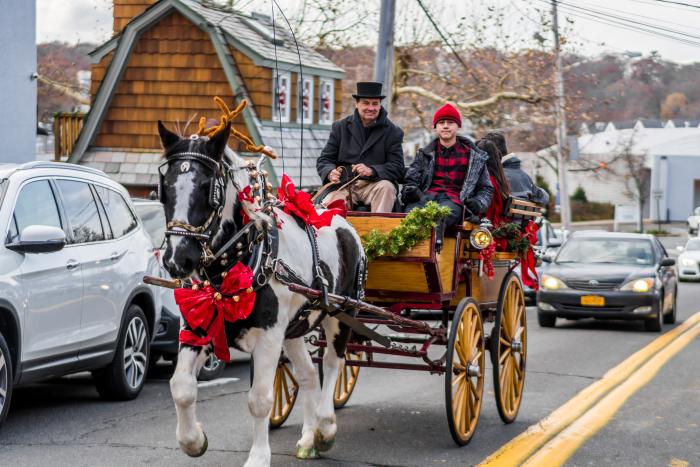 The Village of Port Jefferson will magically transform into the Dickensian era with streets filled with roaming characters such as Father Christmas, Dickens Mayor, Scrooge, the Town Crier and the beloved chimney sweeps. The events are open to the public and most attractions are free of charge, so everyone – from the very young to the young at heart can join in the fun. 
The festivities will feature many returning favorites: ice skating at the Village Center, a cappella performance by choirs and harmony groups, Nutcracker performances, magic shows by The Great Wizard of the North, and many fine musical performances by area musicians. In addition, this year's festival will feature Theater Three's Annual production of A Christmas Carol.
December 3, 2022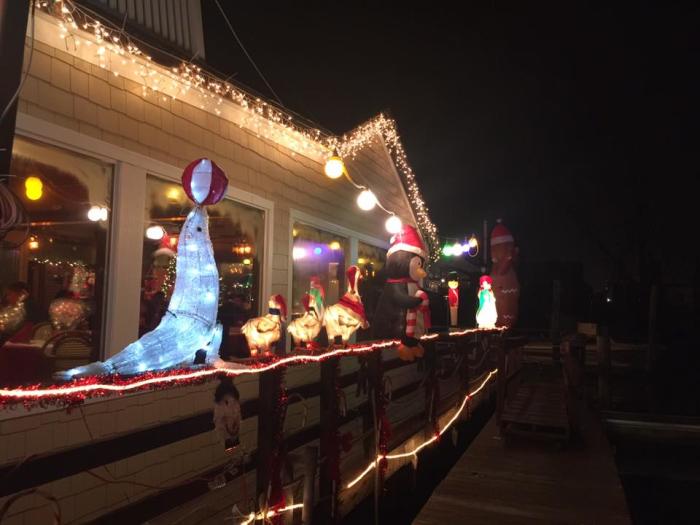 Sponsored by the Freeport Chamber of Commerce, this unique event showcases festively decorated boats along Freeport's Nautical Mile. Boat owners go all out decorating their vessels, and homeowners along the route adorn their yards with lights.
December 10, 2022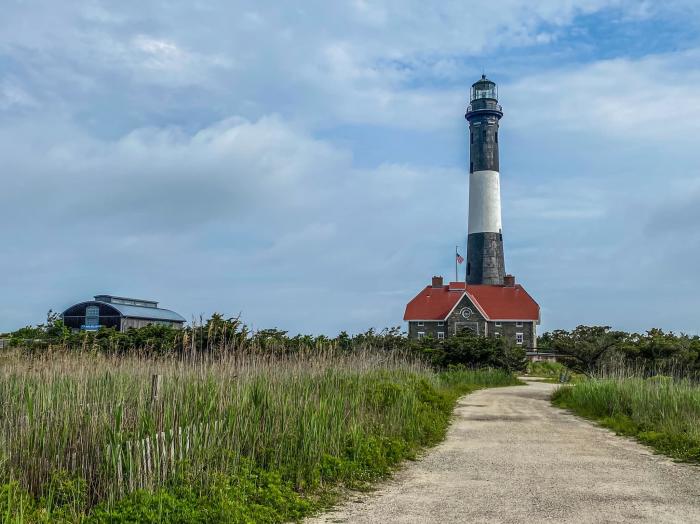 Credit: Fire Island Lighthouse/Facebook
In 1953, author Edward Rowe Snow (a.k.a. "Flying Santa") flew a plane over Fire Island and dropped a package containing candy, wooden toys, newspapers, coffee and a box of spices for the lighthouse keeper and his family. Now, relive this historic event through the 20th annual reenactment from 11:30 a.m. to 12:30 p.m. and expect a special guest in a red suit.
December 18, 2022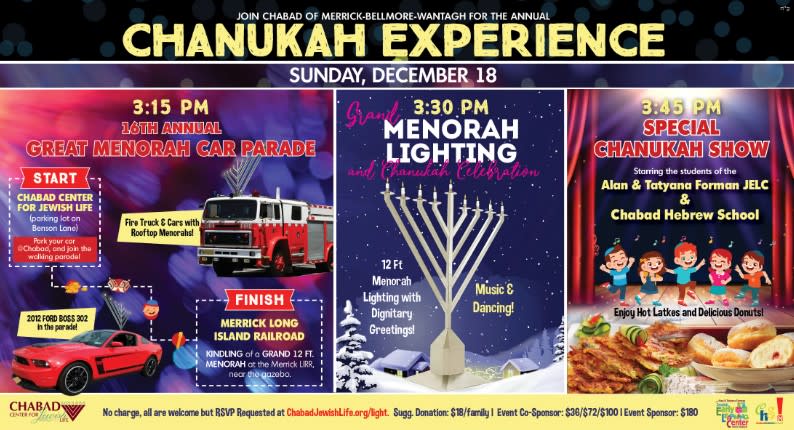 The Chabad Center for Jewish Life of Merrick-Bellmore-Wantagh presents their grand menorah lighting and parade with a fire truck and vintage car with rooftop menorahs! Come for the grand 12-foot menorah lighting, hot latkes, delicious donuts, music, dancing, and more!
Now-January 8, 2023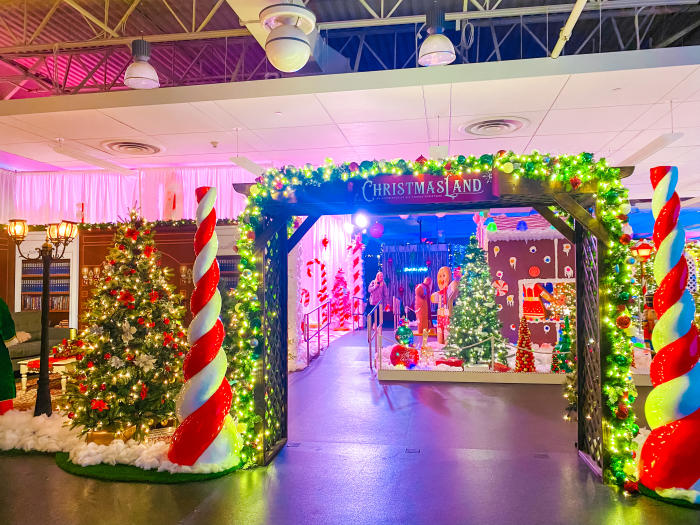 Get your shopping done while experiencing all things Christmas! Explore the world of Christmas cheer and be transported to an imaginative land with a one-of-a-kind experience. Christmas Land is an interactive installation that celebrates the vibrant colors and traditions of your favorite holiday with over a dozen environments across 20,000 square feet of space.