If you're looking for an open-air escape and craving a little culture, Long Island's outdoor sculpture gardens, alfresco art installations and activities cannot be missed.  Spend the day strolling through floral oases and art-studded parks, gazing at larger-than-life sculptures under the summer sun.  Pack a picnic for a perfect day trip.  From world-class art collections to local artist exhibitions, to hidden, eccentric destinations, to meditative experiences, Long Island is a mecca for arts and culture with a diverse array of outdoor exhibits to experience this summer.
Nassau County Museum of Art (Roslyn)
Home to the former Child Fricks Estate, this Gold Coast mansion turned museum is where contemporary creations and abstract expressionism come together in an ever-rotating lineup of featured exhibits. But what's truly spectacular about this place is its outdoor sculpture garden with over 40 pieces by 30 sculptors, located throughout its 145 acres of fields, woods, ponds, and formal gardens of the William Cullen Bryant Preserve. The property features sculptures created over the past 100 years, from 1913 to 2018.
Old Westbury Gardens (Old Westbury)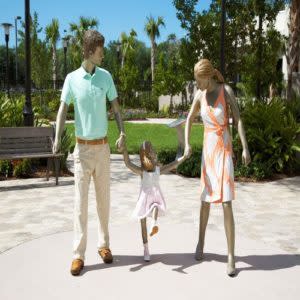 Credit: Old Westbury Gardens
Visitors to Old Westbury Gardens' Seward Johnson exhibition may feel the urge to touch, take photos with or even strike up a conversation with the artist's famously lifelike sculptures, 35 of which will be on display throughout the historic Gold Coast Estate and the magnificent Gardens from June 18 to September 5. Visitors can encounter the installations in the walled garden, by the colonnade pool, the big beech tree, the rose garden, the primrose path and the lake trail. New to the exhibition is a selection from the artist's "Icon" series, which explores familiar images portrayed in a different light, as well as the debut of a never-before-seen composition.
LongHouse Reserve (East Hampton)
Credit: LongHouse Reserve
Tucked away just a stone's throw outside of the bustle of East Hampton town is a 16-acre reserve and sculpture garden where every few steps brings a magical surprise. Founded by Jack Lenor Larson in 1975, LongHouse Reserve blends the beauty of the Hamptons landscape with the property's brilliant collection of over 60 contemporary sculptures.  Pools and ponds and dunes and lawns and trellis pathways unfold at every turn, while pieces by everyone from Yoko Ono to Willem de Kooning punctuate the garden's wandering maze of blooming moments.  The experience provides a unique view of the relationship between nature, humans, and art. The property has also recently installed Jack Youngerman's black-and-white sculptures in its East Hampton gardens.
Parrish Art Museum (Water Mill)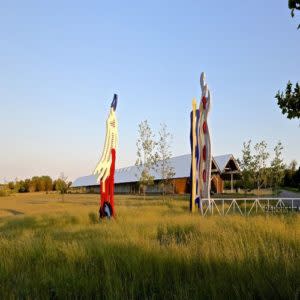 Parrish Art Museum has been showcasing the artistic legacy of Long Island's East End since the 1950s and has become one of America's most significant creative centers. The museum offers a range of outdoor and indoor art exhibitions across its 14 acres—totaling over 2,600 works of contemporary art! The famed painted-aluminum sculptures by Roy Lichtenstein have been popularized by its grand garnishing of the Parrish's Pathway – a must-see Long Island destination.
The Heckscher Museum of Art (Huntington)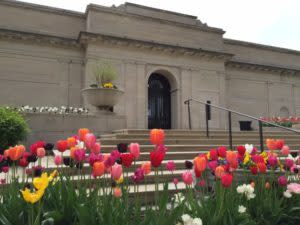 Credit: Hecksher Museum of Art
The Heckscher Museum of Art is located in scenic Heckscher Park in vibrant Huntington Village - within walking distance of downtown shops and award-winning restaurants. The park is now home to Huntington's Fall Festival and Summer Arts Festival. Its pond, play areas and beautiful gardens provide a tranquil rest spot in the midst of busy downtown Huntington, a few minutes' walk away. The Museum provides a dynamic schedule of changing exhibitions on American art. The Museum's collection comprises more than 2,500 works from the 16th to the 20th century, including European and American painting, sculpture, works on paper, and photography.
Landcraft Garden Foundation (Mattituck)
A hidden gem on the North Fork of Long Island, Landcraft Gardens offers four acres of botanical gardens surrounded by nearly ten acres of meadows, which are open to the public on Fridays and Saturdays. The Foundation seeks to activate the artistic community of the North Fork with annual exhibitions that provide opportunities to view sculpture in dialogue with natural flora.  Their second annual outdoor exhibition, Sculpture in the Garden, will present the work of artists Sam Moyer and Eddie Martinez. The exhibition is curated by the internationally celebrated artist Ugo Rondinone, a member of the Landcraft Garden Foundation Art Advisory Board and will be on view at Landcraft Gardens from June 4 through October 29, 2022.
Bay Walk Park and Nautical Art Museum (Port Washington)
For a quick escape that beckons creativity and the appreciation of nature, head to Bay Walk Park in Port Washington. Located on Shore Road, this two-mile stretch of boardwalk features phenomenal water views and a dozen works of art, including kinetic sculptures by Lyman Whitaker and a stained-glass piece illustrating the history of yacht clubs along Manhasset Bay by Aaron Morgan.
Patchogue Arts Council Sculpture Garden (Patchogue)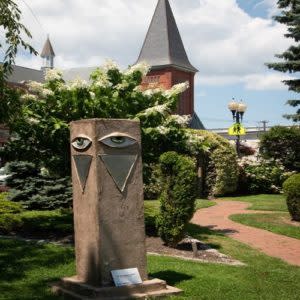 Credit: Andrea Stolz
A hidden gem in Patchogue can be found at the corner lot of Terry Street and South Ocean Avenue. Courtesy of Patchogue Arts Council, a collection of sculptures created by local artists is now on display, including Massapequa artist John Dunlop's "Angel Fish" and "Because" by Bayport's Brian McAuliff. While there, be sure to check out the progress on the brand new 2022 mural created by Michael Krasowitz, with the official opening ceremony taking place later in August!
Gallery North Inside/Out Exhibit (Setauket)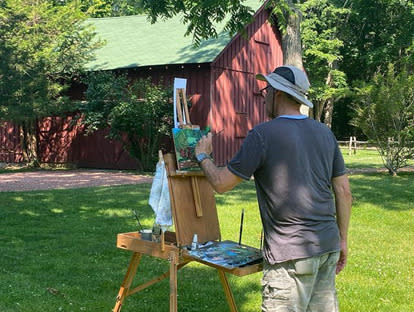 Credit: Gallery North LI
Join Gallery North for the introduction of a one-of-a-kind exhibit, Inside/Out. The new feature showcases the artwork that has emerged from a variety of Gallery North programs including the 2022 Wet Paint Festival and workshops at The Studio. The outdoor exhibition will be on view from July 7 to August 7 of 2022 and features work from Marceil Kazickas, Nancy Bueti-Randall, along with over 70 local and regional artists.
Peconic Landing Sculpture Garden (Greenport)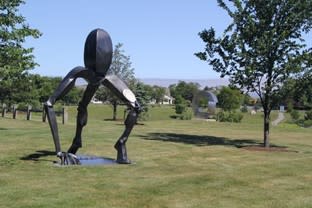 Credit: 27East
This outdoor gallery nestled in Long Island's North Fork Wine Country features 18 different works sprinkled throughout Peconic Landing's sprawling campus. Established in 2010, it is home to regional, national, and internationally recognized artists showcasing a diversity of material, techniques, and content. The current exhibition, Art Without Barriers: What you hear is what you see, is all about accessibility, with a particular focus on the visually impaired. The garden features descriptive audio, enabling people of various abilities to experience art in creative ways.
Guild Hall (East Hampton)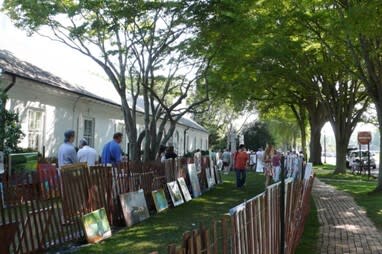 Credit: Guild Hall
Guild Hall is one of the oldest multidisciplinary art centers in the country and is formally accredited by the American Alliance of Museums. The permanent collection features 2,400 works of art focusing on the 20th and 21st centuries through all types of mediums, including paintings, photography, video, and sculptures. This summer, Guild Hall's KidFEST returns with several live outdoor art performances various artists and musicians in July and August.
Ma's House & BIPOC Art Studio (Southampton)
Ma's House & BIPOC Art Studio Inc. is led by Indigenous artist Jeremy Dennis. The project began in June 2020 and serves as a communal art space based on the Shinnecock Indian Reservation in Southampton, New York. The family house, built in the 1960s, features a residency program for Black, Indigenous, and People of Color (BIPOC), art studio, library, along with hosting an array of art and history-based programs for tribe members and the broader local community.
Sagaponack Sculpture Field (Sagaponack)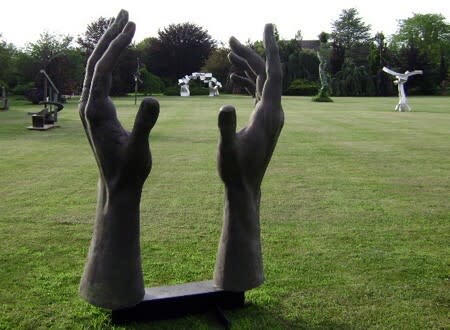 Credit: Audrey Flack
The Sagaponack Sculpture Field is a privately owned collection of breathtaking handcrafted sculptures that are open to public viewing and enjoyment. The contemporary sculpture collection is one of the most unique in the entire region, featuring works by Robert Graham, Cheryl Farber Smith, Audrey Flack, and many other sculptors and artists .
Art enthusiasts and culture seekers should also be sure to check out Huntington Arts Council, Islip Arts Council, and Long Island Arts Alliance for the latest art exhibits throughout Long Island's museums and galleries all year long.