Long Island is a community that thrives on family fun, and our attractions deliver on that promise. There is a treasure trove of activities to keep all ages entertained – especially in the summer season.
Explore the Long Island Aquarium which has one of the largest all-living coral reefs in the hemisphere and over 100 exhibits and interactive experiences. Get nose-to-nose with giraffes and bottle feed newly born animals at the Long Island Game Farm Wildlife Park and Children's Zoo or check out Travel Channel's "Third Best Water Park in the US," Splish Splash Water Park. Come and explore the countless opportunities for family fun that await you in our vibrant destination.
Have an animal encounter at a farm, zoo or rescue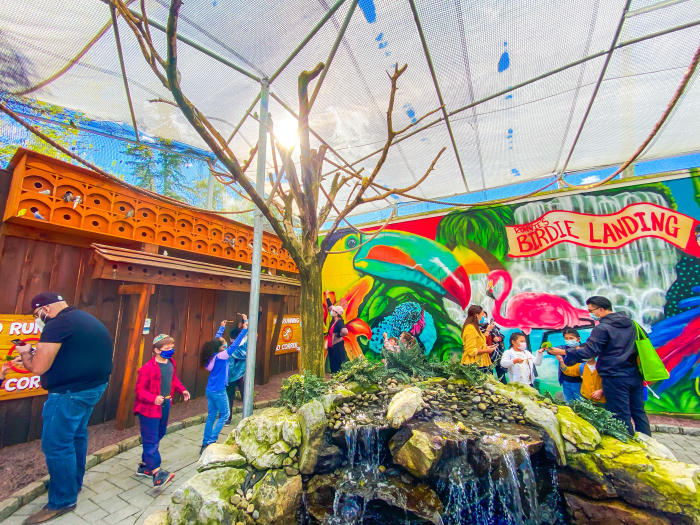 What better way to spend the summer than with adorable animals? At the Long Island Game Farm Wildlife Park and Children's Zoo in Manorville, little ones can have close encounters at the deer park, feed young goats in the nursery, get up close with emus, lemurs, zebras, and so much more! You can also visit wildlife rescues at the Long Island Zoological Society's Animal Farm Petting Zoo and Family Park in Manorville, have a barnyard adventure on Summer Fun Fridays at Harbes Family Farm in Mattituck, or take selfies with giraffes at White Post Farms in Manorville.
Take a picture with The Big Duck
See one of Long Island's quirkiest roadside attractions, The Big Duck. This unique structure in Flanders was originally created by Riverhead duck farmer Martin Maurer in 1931 and functioned as a small shop for his duck eggs. Now, this 20-foot-tall architectural wonder is preserved under the National Registry of Historic Places and is the perfect place to snap a family photo.
Pick fresh produce at a local farm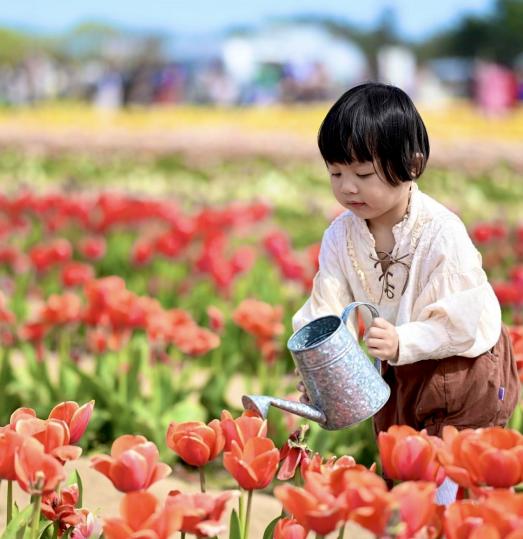 Credit: IG @genesis_l1n
With over 600 working farms across the Island, there are many places to pick your own delicious fruits when you stop at one of Long Island's locally owned farms and ranches. In the summer, choose from a variety of strawberries, raspberries, blueberries, blackberries, and peaches at Lewin Farms or visit the North Fork's original certified organic farm, Golden Earthworm, where you can pick fresh strawberries and let the kids play in the majestic oak tree. Don't forget to stop by Waterdrinker Family Farm and Garden in Manorville where you can participate in free Tulip Bulb Dig Days, enjoy the annual Sunflower Festival, and other family-friendly events.
Set sail for some whale watching
There is no better place to experience the beauty of whale watching than off the coast of Long Island. Meet up with The Coastal Research & Education Society of Long Island, Inc. (CRESLI) in Montauk for summer whale watching tours along with Viking Fleet every Sunday and Wednesday afternoon starting July 2, 2023. Other whale watching cruises include Long Island Whale and Sea Watching in Freeport where an experienced captain will take your family abord the Atlantic Pearl to see migrating whales and dolphins off the coast.
Rent kayaks and paddleboards or learn to wakeboard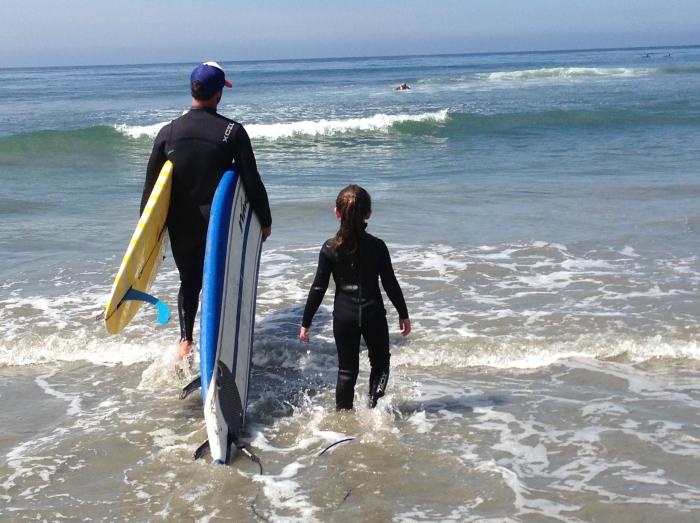 Looking to catch a wave this summer? Check out CoreysWave Professional Surf Instruction in Montauk for expert guidance in private and group surf lessons, stand-up paddling, personal surf training, and a Kids Surf Academy! With programs for both beginners and intermediates, kids ages 7-16 will have a great time learning from the pros. Go paddle boarding with Long Island Stand Up Paddle Boarding in East Patchogue, rent jet skis and learn to flyboard at Island Jet Skis in Freeport, experience water sports adventures in Huntington with Gold Coast Water Sports, or learn how to wakeboard with Over The Top Watersports in Northport.
Witness lightning-fast speeds at Riverhead Raceway
As one of the oldest existing stock car race tracks in the United States, this iconic raceway is sure to be a favorite with people of all ages. As Long Island's official NASCAR home track, this venue is renowned for hosting professional races on its high-banked oval and world-famous figure 8. With events every weekend all throughout the summer, including firework shows and a host of monster truck races, Riverhead Raceway is the place to be this season.
Climb to the top of a historic lighthouse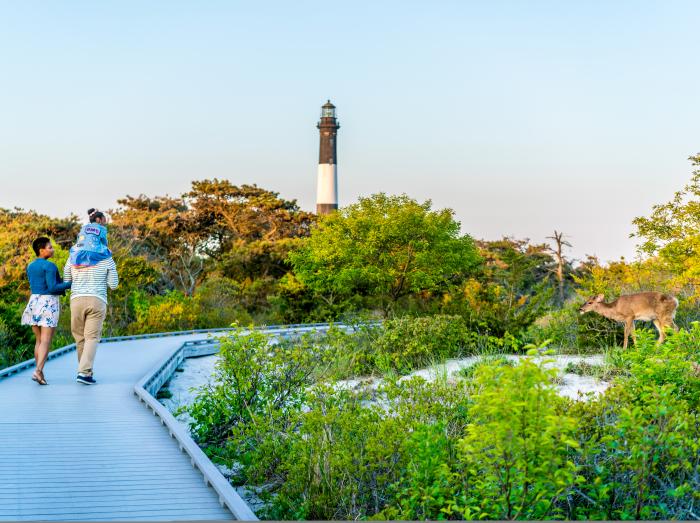 Completed in 1826, the 74-foot-tall Fire Island Lighthouse is a fascinating sight for both kids and adults. Learn about the history of the lighthouse during a 182-step tower tour with panoramic views of the Atlantic, Fire Island, and on a clear day, the New York City skyline. On the East End and commissioned by President George Washington himself, the Montauk Lighthouse is sure to wow as it is the fourth-oldest working lighthouse in the United States and is open for tours all summer long.
Hit the beaches with the best splash parks and playgrounds
Long Island's beaches boast fantastic kid-friendly activities that are bound to make a splash with little ones. Check out Jones Beach Splash Pad in Wantagh, Tobay Beach's sprayground in Massapequa, Tanner Park in Copaigue, and Venetian Shores Park in Lindenhurst for plenty of fun in the sun. You can also find a playground at Robert Moses State Park in Babylon located in Field 5, also known as the gateway to Fire Island.
Camp on a beach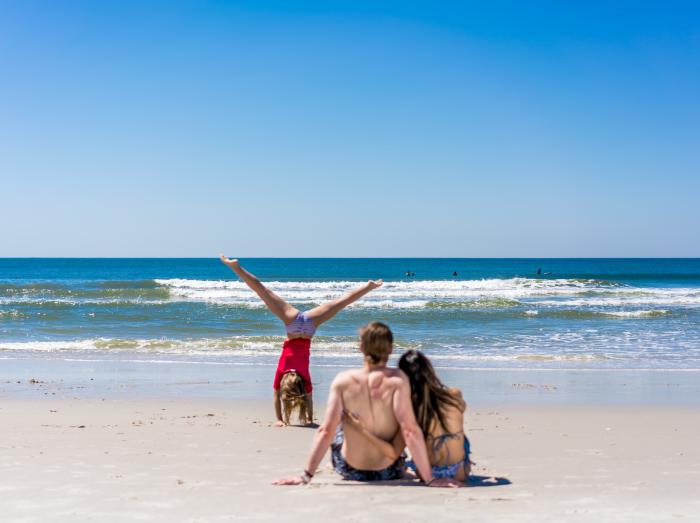 Long Island is known for its pristine beaches and waters, but did you know you can camp right on the sand? Located in Cupsogue Beach County, pet-friendly outer beach camping sites let families park RVs/campers and enjoy the nearby lifeguarded beach, go saltwater bass fishing, and more. Hither Hills State Park is another hotspot with amenities such as picnic areas and fireplaces, sport fishing, a sandy ocean beach, playing fields, a playground, and hiking trails. For more campgrounds, check out Cedar Point County Park, Montauk County Park, Wildwood State Park, or see here for a full list of Suffolk County locations.
See a drive-in movie
Head over to the Town of North Hempstead for movies like Jurassic World Dominion and Black Panther: Wakanda Forever or visit the Town of Oyster Bay's "Movies by Moonlight" series for more kids' animated hits. Within Suffolk County, you can discover outdoor movies playing in the Town of Babylon, Town of Huntington, Port Jefferson's Harborfront Park, find classics like The Goonies and E.T. The Extra Terrestrial playing at the Hamptons International Film Festival's Outdoor Summer Movie Series located in East Hampton, or visit Long Beach International Film Festival where you can watch films right on the sand and under the stars.
Cool off at Splish Splash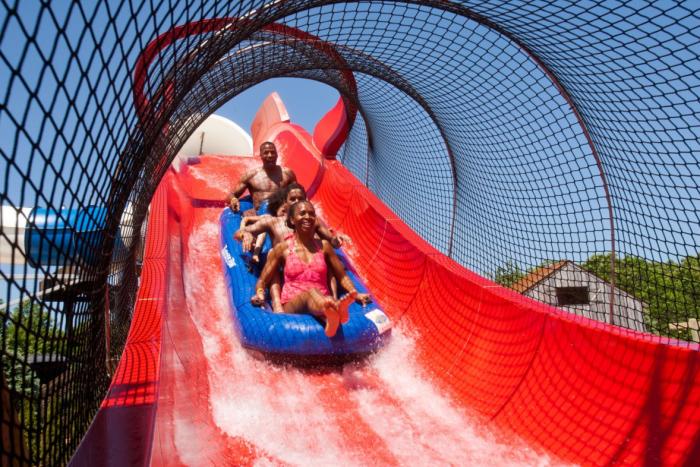 No Long Island summer is complete without a visit to Splish Splash in Calverton! With 96 acres of attractions and fun, visitors can enjoy 20 water slides, two wave pools, a large Kiddie Area, lazy river, and many different food and merchandise locations including their newly unveiled Clucks and Hops Wing Bar. From the devoted thrill seeker, the laid-back sunbather, to the tiniest of tots, there are plenty of ways to soak up the sun at Splish Splash.
Grab your binoculars and go birdwatching at the beach or local park
On Fire Island, you can discover magnificent birds year-round at the salt marshes in Watch Hill or the William Floyd Estate, where it is not uncommon to find red tailed hawks, wild turkey, eastern bluebirds, and a variety of woodpeckers making their homes. Out east, head to Mashomack Preserve on Shelter island, a beautiful 2,350-acre "Jewel of the Peconic" that's seen over 200 bird species and hosts a variety of protected flora and fauna. Whether on the East End or the barrier islands, Long Island's wildlife and birdwatching scene is unmatched.
Create unforgettable family memories at Adventureland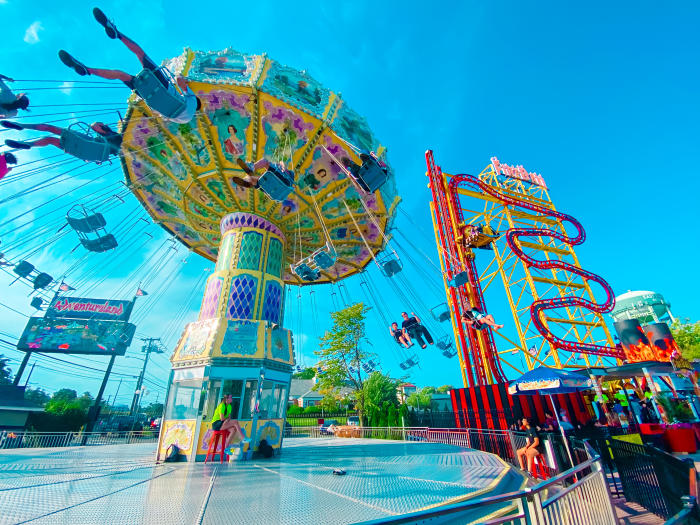 Visit Long's Island's favorite family amusement park since 1962. Adventureland in Farmingdale features over 30 adult and kiddie rides and attractions, a state-of-the-art arcade, a restaurant, and a gift shop. Visit Kiddie Land and take a ride on the Alfie Express, Helicopters or the Spinning Cars, and ride as a family on the Ferris Wheel, Antique Cars or the Train. A one-of-a-kind thrilling experience, be sure to check out Adventureland's newest rollercoaster for the ride of a lifetime, FireBall!
Insider's tip: While the kids are enjoying the attractions, parents can stop by Tony's Tavern to cool off on a hot day with a nice cold beer, hard seltzer, or ICEE Slushy.
Take summer to new heights at WildPlay Jones Beach and more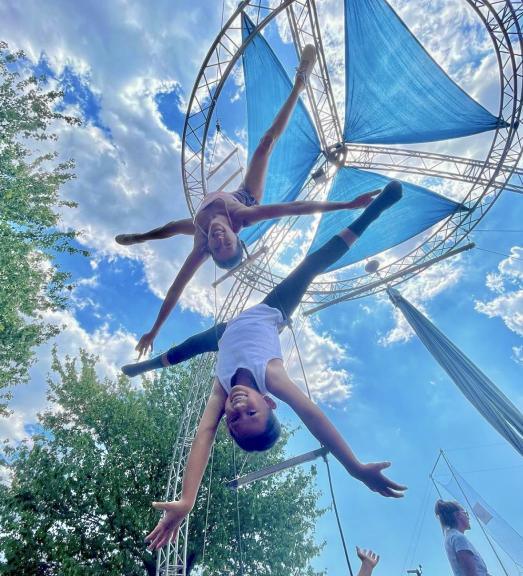 WildPlay Element Parks at Jones Beach State Park is an exciting adventure park for adults and kids ages five and up. Located right off the Jones Beach Boardwalk, guests will enjoy a thrilling adventure complete with ziplining, cargo net crawls, tightrope walks, and the chance to soar through the air on rope swings and swinging logs.
You can also visit Urban Air Adventure Park in Lake Grove for glow-in-the-dark mini golf, a trampoline park, and bumper cars, iFlyTrapeze in East Meadow for the ultimate flying adventure, and The Adventure Park at Long Island in Wheatley Heights for an exhilarating ziplining and climbing experience.
Encounter magnificent underwater creatures Long Island Aquarium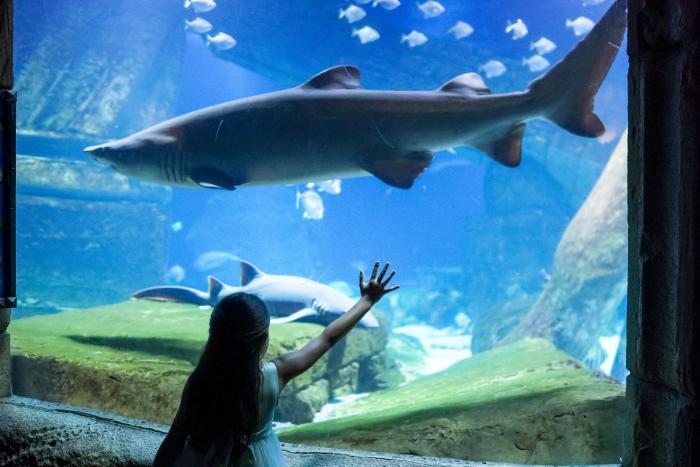 This FINtastic Riverhead destination features one of the largest all-living coral reef displays in this hemisphere, a 120,000-gallon shark tank, year-round sea lion shows, numerous touch tanks, butterflies from all over the world, and more than 100 exhibits and interactive experiences. This summer, the Long Island Aquarium will be hosting a Summer Adventure Days hands-on learning program where kids will engage in exciting activities ranging from animal encounters to scavenger hunts and more. Enroll now for a summer your kids will cherish for life!
Celebrate the seas at the Maritime Festival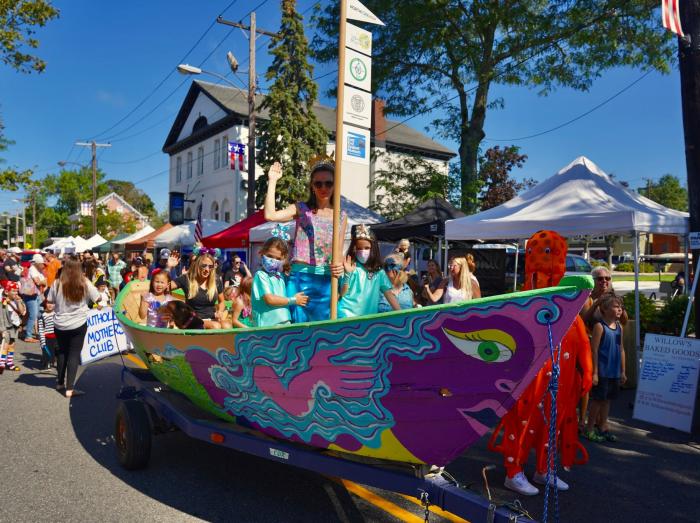 Credit: FB @East End Seaport Museum & Marine Foundation
Greenport's Maritime Festival is back with an annual celebration hosted by East End Seaport Museum & Marine Foundation (EESM) showcasing Long Island's deep-rooted maritime history. From September 23rd-24th, 2023, enjoy classic boat displays, kayak races, music, children's activities, maritime demonstrations, roving Sea Shanties and of course 100 great vendors that feature hand crafted and unique items.
Treat the kids to ice cream & sweet treats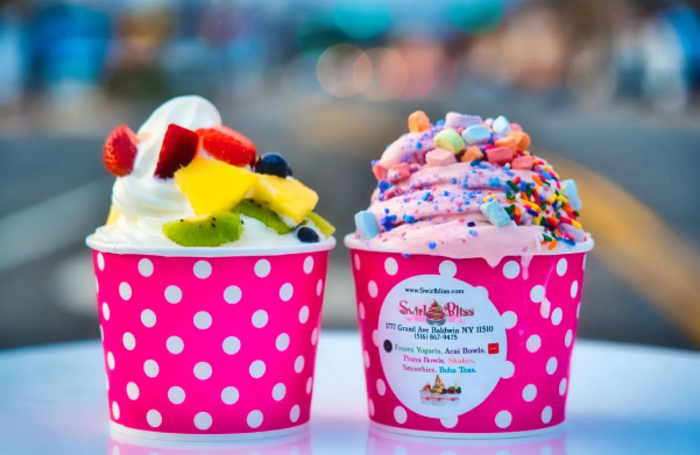 Kids and adults alike will satisfy their sweet tooth when they visit Long Island's beloved ice cream establishments and family-owned bakeries. In Baldwin, taste from a delicious assortment of yogurt flavors at Swirl Bliss for a healthy twist. For on-the-go options, discover the taste of Italy with traditional handcrafted cookies from The Biscotti Company or indulge in decadent chocolate creations from Disset Chocolate. Parents will love Montauk Distilling Company's newly released boozy ice cream line featuring flavors like creamy root bear float, apple pie, and delicious sorbet flavors. Try them all!
Explore a bustling boardwalk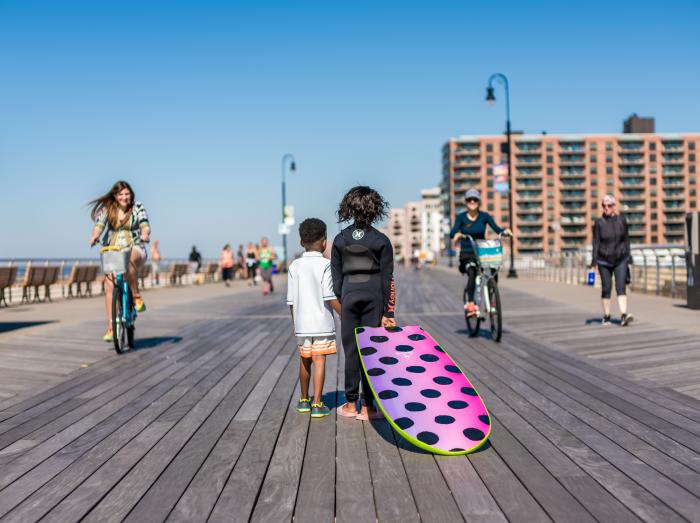 For the ultimate summer beach experience, visit Jones Beach State Park's two-mile boardwalk which features eateries such as the Boardwalk Café and the Gatsby, an array of games including miniature golf and pickleball courts, playgrounds, and a splashpad! The City of Long Beach is also home to a sprawling boardwalk that spans over two miles and hosts a free summer concert series on Wednesday nights. You can also check out Sunken Meadow Park's ¾ mile boardwalk which boasts a serene atmosphere and views of the Long Island Sound.
Go fishing or crabbing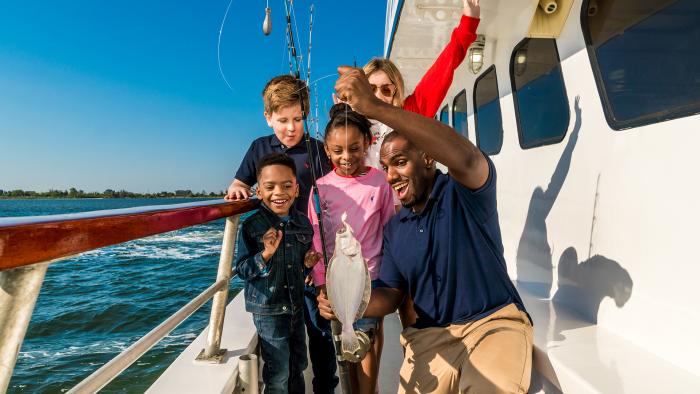 With hundreds of miles of coastline, Long Island provides a diverse range of fishing opportunities. Head to Captree State Park in Babylon for open boat trips where families can reel in Atlantic Cod, Flounder, Porgy, and many more species, or check out Peconic Star Fishing in Greenport for daily open boat and weekday charter trips. Many local parks are also known for their crabbing hotspots, including Tanner Park in Copiague, Mascot Dock and Marina in Patchogue, and the West Sayville Docks.
See a Long Island Ducks Game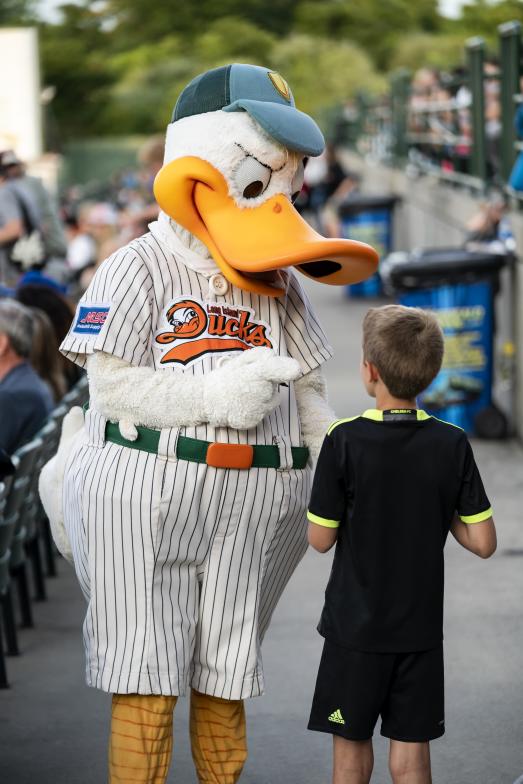 The most winningest team in Atlantic League history are back for another 2023 baseball season! Home to Fairfield Properties Ballpark, the Long Island Ducks stadium features 20 luxury suites, spacious seating, a 126-seat bar/restaurant and an indoor batting tunnel. Attend select games this summer for postgame fireworks shows, and check their promotional schedule for free giveaway nights!
Kids Day at The Hampton Classic Horse Show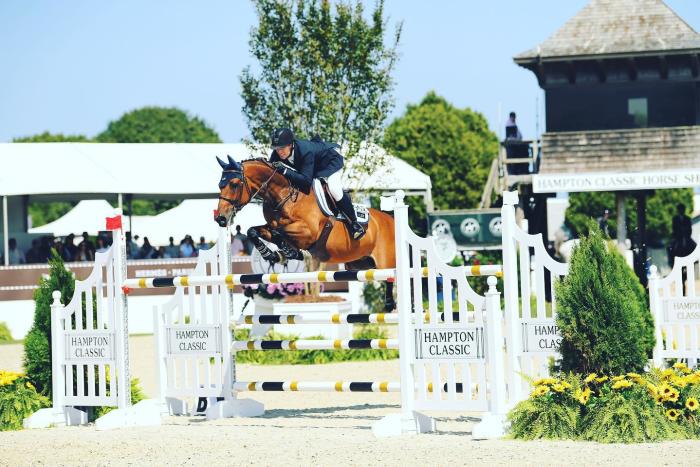 Located in Bridgehampton, The Hampton Classic, the country's premier show jumping event, is also the ideal spot for spending time with family. In addition to horse show jumping in six show rings over seven days of competition, a Boutique Garden with hundreds of vendors and food concessions will be at the show as well as a Kids Tent with a petting zoo, reptile show, and games offered each day. Don't miss out on Kids Day taking place on Saturday, September 3rd, 2023 – it will be an activity-filled day for all ages including pony rides, face painting, live music, and more!
Insider's tip: Did you know you can attend The Hampton Classic for only $20 per carload? It's a deal you can't beat!
Learn and play at Long Island Children's Museum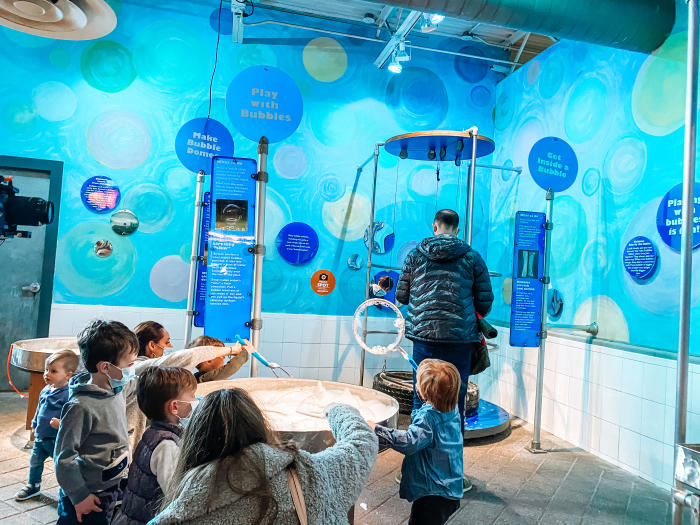 Artfully housed in a former airplane hangar, the award-winning Long Island Children's Museum in Garden City is a creative, innovative, and inspiring destination for children and their grown-ups. With 44,000 square feet of indoor and outdoor exhibit space and a state-of-the-art theater, families have ample opportunities to play and learn together in a nurturing environment. Kids can visit the brand-new Loops and Hoops exhibit where they can be an engineer for the day and build their own rollercoaster models! Check out their website for a full schedule of interactive family programming and professional performances including music, dance and theater.
Have a blast at Mini Golf, Top Golf, or X-Golf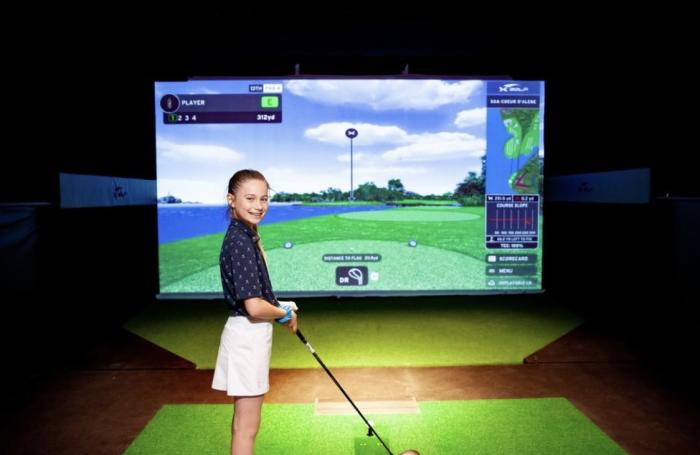 Head to Topgolf in Holtsville where kids will enjoy climate-controlled hitting bays to beat the summer heat and HDTVs for hours of entertainment. Using Topgolf's complimentary clubs or your own, take aim at the giant outfield targets and their high-tech balls will score themselves. Little ones will especially enjoy Cantiague Park's 18-hole miniature golf course, as well as Eisenhower Park and Wantagh Park's mini-golf courses. X-Golf in Commack and Westbury also provides the ultimate simulated golf experience where golfers can play on the world's top courses and compete in a wide variety of game formats that's fit for the whole family.