With hundreds of miles of breathtaking beachfronts, charming New-England style villages, floral oases, centuries-old historic sites, and majestic mansions of the roaring 20's, Long Island is an ideal destination for romantic occasions of any kind. Whether you're looking for an unrivalled setting to pop the question or to take engagement photos, or a dreamy date night or weekend escape, Long Island has a wide array of swoon-worthy picture-perfect locations. 
Waterfront Villages Worthy of a Hollywood Romcom
From Port Washington to Greenport on the North Shore and from Long Beach to Montauk on the South Shore, Long Island's coastlines are a mosaic of beachfronts and historic waterfront villages that offer enough charm to be the set of a romantic comedy or Hallmark Christmas movie.
Sea Cliff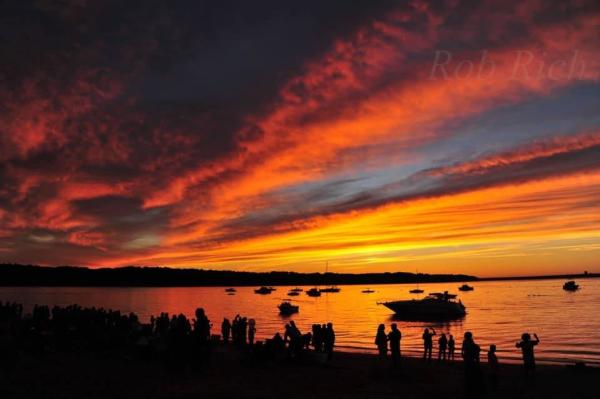 Credit: Rob Rich
A hidden gem nestled on the North Shore worth exploring for date night is Sea Cliff. At only one square mile, Sea Cliff boasts its own beach and 16 parks.  Sitting atop a 120-foot bluff, with meandering streets overlooking Hempstead Harbor and Long Island Sound, the waterfront community offers dramatic views of bobbing boats and traditional Victorian houses and antique shops, nestled throughout the cliffside. Fifty-four buildings in this tiny town have local landmark status and 29 are on state and national registries.
Sag Harbor
On the other end of the Island, you'll find the off-beat Hamptons Village of Sag Harbor. Originally a whaling port, this historic, Instagrammable downtown is filled with small restaurants, boutiques, and antique shops – many of which are located in restored whaling cottages from the 19th century, often adorned in dandling ivy and other greenery. Watch the rich and famous dock their yachts or grab a photo of the iconic Sag Harbor Cinema, built in 1890 to host vaudeville and burlesque shows.
Northport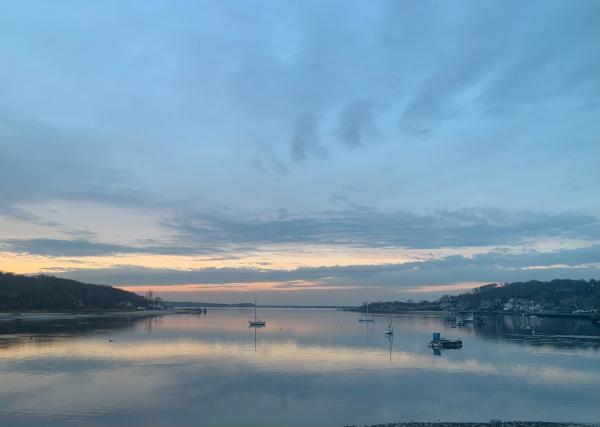 Northport Village is a quaint,  picture postcard, waterfront village, settled in the 1600's – and another ideal setting for romance. Main Street still bears the trolley tracks lad in the early 1900's as well as the family-owned vintage sweet shop operating since 1929, historic The John W. Engeman Theater built in 1912 and more.  Take a cruise during golden hour and capture unrivaled views (and photos) of the Northport's harborside hills lined with sail boats and stunning Victorian style homes before pulling up to a local dockside restaurant for dinner by boat.
Roslyn, Cold Spring Harbor and Greenport are other top picks for the instagrammable village list.
Gold Coast Mansions for Gilded Age Romance
Serving as the inspiration for the Great Gatsby and the year-round home of Teddy Roosevelt, Long Island's "Gold Coast" is home to stunning mansions and pristine gardens built by industry tycoons including the Vanderbilts and Guggenheims. Today, these castles offer overnight stays, tours, restaurants and more – and an opulent setting to make your partner feel like royalty. 
Oheka Castle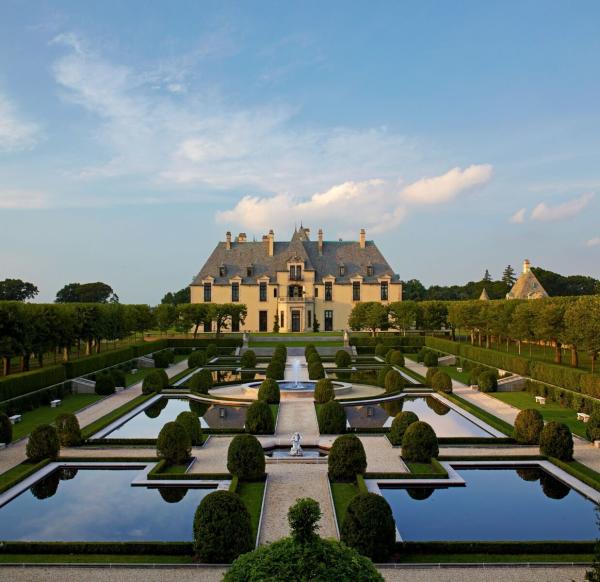 This most famous of the grand estates, Oheka Castle, is a French-style château built on the highest point on Long Island in 1919.  As the set of dozens of major Hollywood productions from Taylor "Blank Space" music video to Citizen Cane, one could argue that this is the most Instagrammable. 
Sand's Point Preserve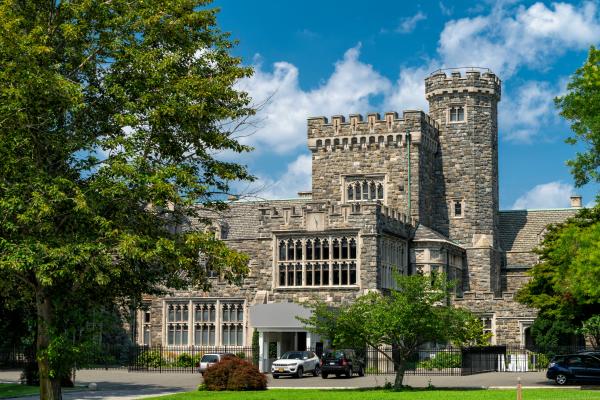 A lesser-known but just a majestic Gold Coast property is Sand's Point Preserve, home to three spectacular mansions: Falaise; Hempstead House; and CastleGould which also served as the backdrop of iconic films like The Godfather and the Wolf of Wallstreet. Walk the grounds that overlook the Long Island Sound and step back in time and romance in the gilded age splendor.
Coe Hall at Planting Fields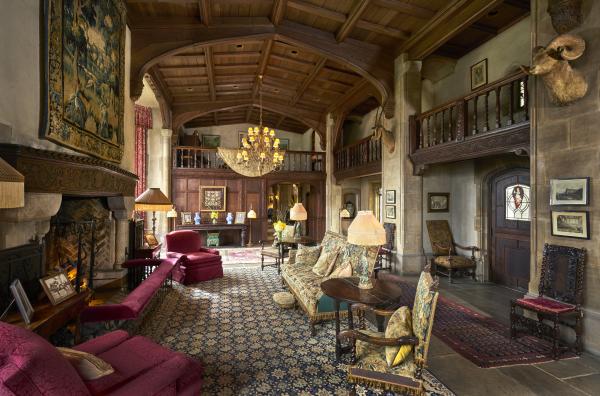 Coe Hall at Planting Fields is undoubtedly one of the most photogenic. Coe Hall is the Tudor Revival residence of the Coe family and is open for guided tours. Immerse yourselves in the ornate, stunning Gatsby-era craftsmanship and impressive collections of furnishings, paintings, stained glass, and decorative arts. In addition to the mansion, visitors will experience a wide variety of gardens, specimen plantings, and charming outbuildings that make Planting Fields truly unique.
Old Westbury Gardens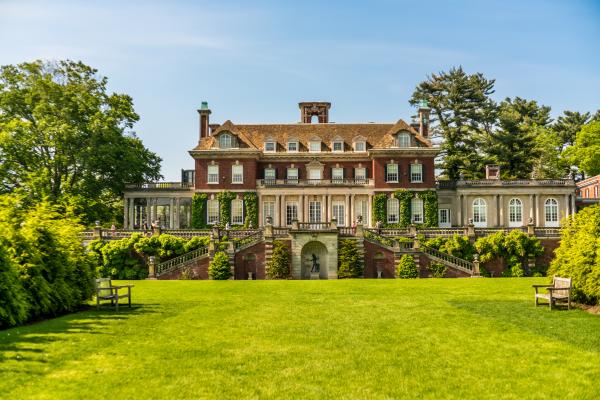 Yet another ode to the Gold Coast of the North Shore, Old Westbury Gardens, set on 200 acres of formal gardens, pristine grounds, woodlands, ponds, and lakes, you'll be sure to find just the right place for a special moment.
Vanderbilt Museum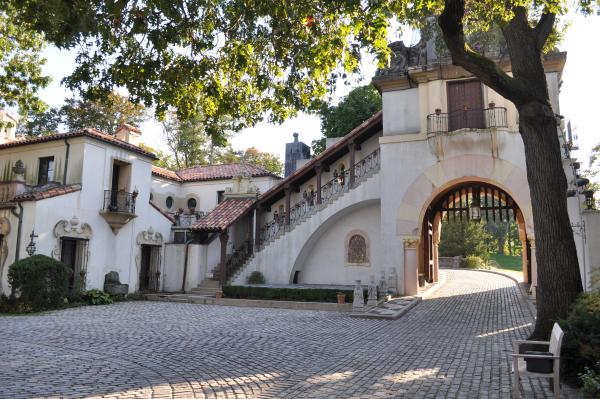 The Suffolk County Vanderbilt Museum is a unique combination of mansion, marine and natural museum, planetarium, and park. Many of its exhibits and themes focus on Long Island's Gold Coast Era which makes it a popular spot for that romantic moment.
Stunning Natural Landscapes, Landmarks and Lighthouses
Long Island's nature and historic preserves offer enchanting views perfect for an "I do" moment. Long Island's beaches make for a romantic proposal spot with the waves gently crashing in the background.
McAllister County Park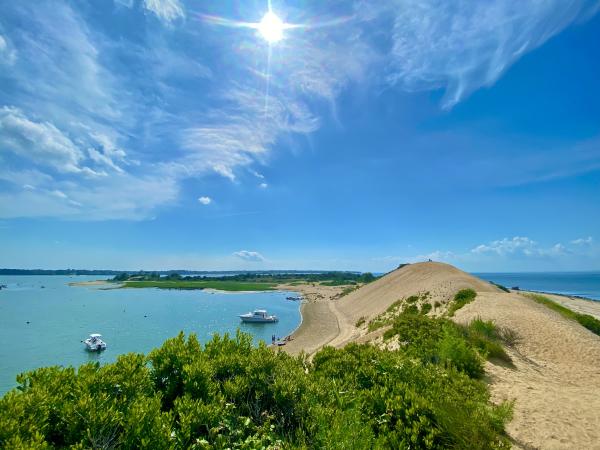 McAllister County Park, also known as "Pirates Cove," is a hidden treasure located on the waterfront of Port Jefferson Village. Trek up the elevated sand dunes to the top for a bird's eye view of the entire cove and sweeping vistas of the Long Island Sound and Port Jefferson Harbor.
Robert Moses State Park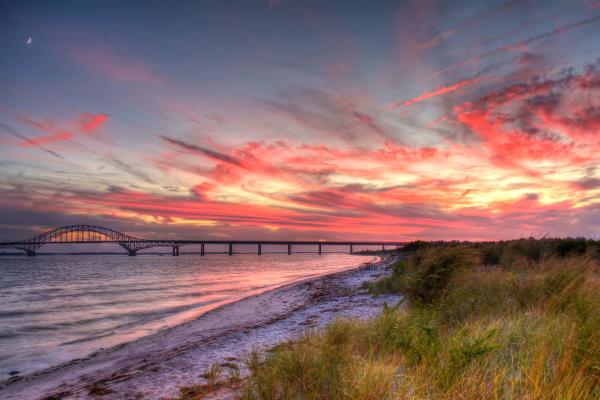 With five miles of white, fine, sandy beaches stretching eastward from the Fire Island Inlet and a boardwalk that takes you to the Fire Island lighthouse, Robert Moses is a popular spot for not only engagement pictures, but also a great proposal spot. Catch the sunset on the beach and propose with a beautiful view in the background.
Jones Beach State Park
Also on the south shore of Long Island is Jones Beach State Park with the sand, water, and sun offering the most romantic backdrop for your marriage proposal.
Montauk Lighthouse
Located in the Montauk State Park, the Montauk Lighthouse is celebrated as the oldest lighthouse in New York State and the fourth oldest lighthouse in the United States. Visitors are welcome to tour the lighthouse during the spring, summer, and early fall seasons (and plan their romantic proposals).
Bayard Cutting Arboretum 
You can see the Olmsted brothers' work at his "museum of trees" otherwise known as Bayard Cutting Arboretum. Bayard Cutting Arboretum in Oakdale has 690 acres of lawns and open meadows, a wildflower garden, a marshy refuge, and many nature trails for bird watching.
Wonderous Wine Country
Long Island's north fork is a destination for romance with a wide array of one-of-a-kind settings sure to impress a date and your Instagram followers.  You'll find charming roadside cottages and historic B&Bs nestled throughout the region's vast farmlands as well as more than 60 vineyards with spectacular tasting rooms. So, which are the most picturesque?
Raphael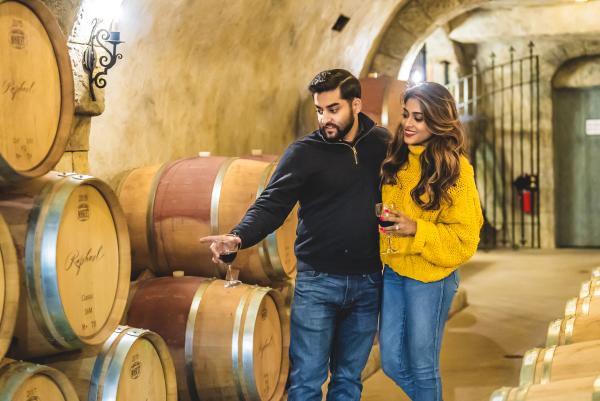 Built, owned, and operated by four generations of family, Raphael is a premier North Fork boutique winery designed by John Petrocelli. Petrocelli was inspired by the Italian monasteries of his ancestral home. With its impressive, white-and-terra cotta, Tuscan-style décor, guests are transported to a romantic Mediterranean escape. For a cozy, unique tasting experience, take a tour of the wine cellar where the rows of reclaimed wooden wine barrels will make you the envy of your Instagram followers.
Rose Hill Vineyards
Quaint, small and off-the-beaten-path, Rose Hill Vineyards & Farmhouse Inn is not to be missed.  Tucked away on Oregon Road you'll find the 1880's homestead estate and tasting room set in a 125-year-old barn.  Enter the tasting room and be welcomed by lush brown leather couches and cozy corners with velvet upholstery. The barrel room, also used for tastings, is charming—wood, metal, greenery, and lights make it the picture-perfect place to spend the day or night. 
Kontokosta Winery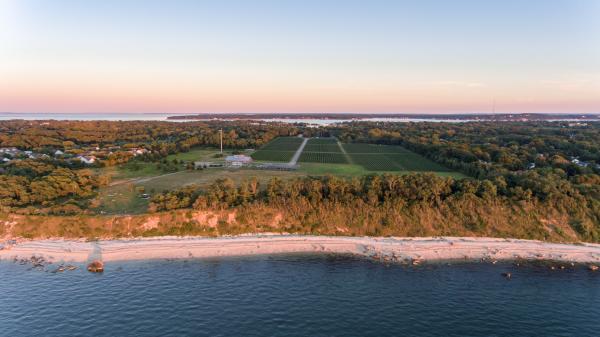 Perched atop the sweeping bluffs overlooking the Long Island Sound, Kontokosta Winery is the only waterfront winery in the North Fork - making it an unmatched setting for romantic photos.
Croteaux Vineyards
For an unrivalled boho-chic aesthetic, you'll want to head to Croteaux Vineyards. Throughout their dreamy tasting garden, flowers grow wildly yet curated; blankets line the lawn benches; an old barn acts as both a tasting room as well as a boutique, and a Pinterest worthy rosé truck is parked on premises throughout peak season.
Floral Oases, Sculpture Gardens & Arboretums
Long Island boasts some of the most Instagrammable, euphoric floral oases in the nation.
Lavender by the Bay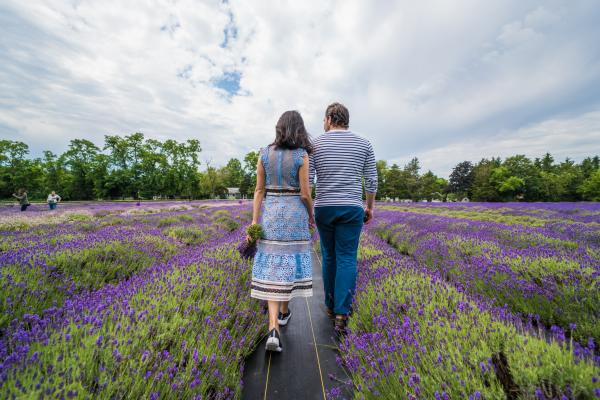 A purple paradise in the summer and early fall, Lavender by the Bay features over 80,000 picture-perfect lavender plants with locations in East Marion and Calverton.
Mill Neck Manor
If a walk through lusciously landscaped vistas and bountiful lavender fields aren't romantic enough for you, the historic charm of the Mill Neck Manor surely will be. Mill Neck Manor boasts 500-year-old doors, gorgeous stained glass depicting Shakespearean plays and beautiful ceilings and woodwork. The grounds of Mill Neck Manor are so gorgeous, it's become a popular spot for wedding photography, so if you haven't visited yet, mark your calendar this spring when the Cherry Blossoms are in full bloom.
Waterdrinker Family Farm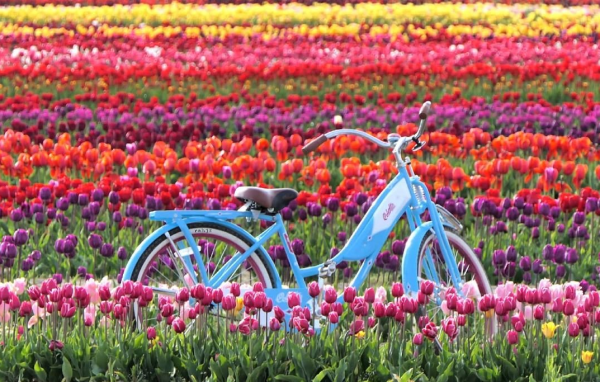 Credit: @rahjr66
Waterdrinker Family Farm is known for its famed Tulip Festival in the spring and u-pick sunflower fields in the summer.  Couples can spend the afternoon frolicking through the sea of yellow, checking out the collection of farm animals— and enjoying the sunflower fields at sunset – a romantic summer vibe that cannot be matched.
John P. Humes Japanese Stroll Garden
John P. Humes Japanese Stroll Garden in Mill Neck is a unique 7-acre gem of landscape design and woodland, boasting an impressive collection of North American and Asian plants that constitute a beautiful Japanese landscape and impart a meditative experience. A stunning stepping stone path is one of the defining features found on this property and was inspired by the intimacy of a mountain path. A gentle climb through the woodland part of the garden will lead you to a "mountain peak". There you will meet the gravel path representing a stream that will guide you to an authentic pondside tea house.
Nassau County Museum's Sculpture Garden
The Nassau County Museum's sculpture garden is an outdoor sculpture collection of over 40 pieces located throughout 145 acres of fields, woods, ponds, and formal gardens of the William Cullen Bryant Preserve. The greenery and artwork in the background serve as a romantic spot to visit.