Spectacular summertime escapes may be what Long Island is best known for, but many will argue that fall's crisp days are the best time of year to explore the region – home to hundreds of pick-your-own farms, haunted historic sites, an award-winning wine country, wondrous fall foliage, extravagant Halloween-themed events and much more.
Harvest time on Long Island's east end is a seasonal spectacle that locals yearn for throughout the year and attracts visitors from across the globe. Farm goers can frolic through sunflower fields, pick pumpkins, sample cider donuts and craft brews, get lost in corn mazes, hit a hayride and much more.
Beyond the farms, the season boasts bucket-list worthy Halloween extravaganzas and dozens of unique activities and festivals that celebrate small town traditions. That's why we've gathered 22 Long Island adventures that should be one everyone's fall 2022 bucket list.
Add These 2022 Fall Long Island Adventures To Your To-Do List ASAP
1. Experience the Larger than Life Great Jack O'Lantern Blaze (Old Bethpage Village Restoration)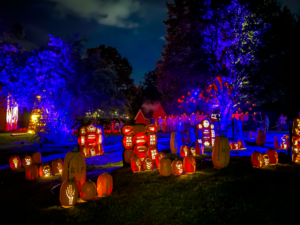 Bethpage's Great Jack O'Lantern Blaze is Long Island's most electrifying and unique seasonal event. Walk the immersive pumpkin trail on the grounds of a 19th century village with more than 7,000 hand-carved jack o'lanterns carved by a team of expert artisans. Attracting tens of thousands of attendees every year, this event is the ultimate Long Island fall experience.
2. Pick Some Juicy Apples and Take a Bite out of a Delicious Cider Donut at Harbes Family Farm (Riverhead)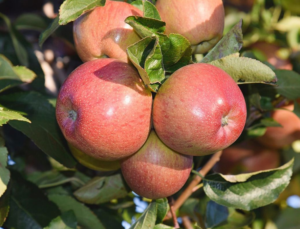 Credit: @harbesorchard/Instagram
Naturally pumpkin picking comes to mind when thinking about fall on Long Island, however, September is a great month when it comes to apple picking! Harbes Family Farm has an annual apple harvest festival at their Riverhead apple orchard where visitors can enjoy the beautiful apple orchard and pick some of their own. Harbes also offers yummy treats like homemade cider donuts!
3. Try a Witchy Cocktail at the Witch Craft Hocus Pocus Themed Pop Up Bar! (Farmingdale)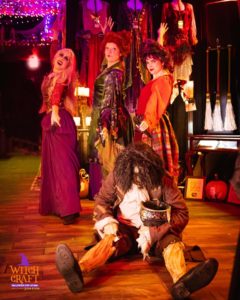 Credit: @witchcraftpopup/Facebook
A pop-up experience that will have you reminiscing about the movie, the "Witch Craft" Halloween pop-up bar will be open in Farmingdale on select dates in October and November. The menu will include witchcraft-themed cocktails and mocktails with props and decorations from the Hocus Pocus movie.
4. Attend the East Coast's Largest Waterfront and Oyster Festival (Oyster Bay)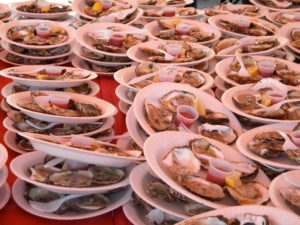 Credit: @oysterfestivaloysterbay/Facebook
The Oyster Festival has a long tradition as the East Coast's largest waterfront festival and is known for its live entertainment, ships, top-notch artisans, pirate shows, midway rides, and the iconic oyster eating and shucking contest. On October 15th and 16th, visitors can attend the annual celebration for themselves and check out the food court where unique oyster, clam, and other seafood options are served.
5. Milleridge Inn Hosts an Entire Halloween Village with Family-Fun Activities Everyone Can Enjoy (Jericho)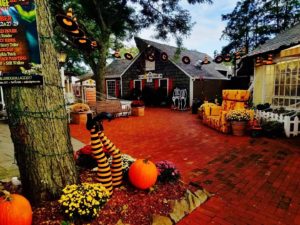 Credit: @TheMilleridgeInn/Facebook
An entire Halloween village complete with a haunted house, tarot reader, pumpkin patch, spooky rides, magician, stilt-walking fire eater, hayrides, and face painting? Sign us up! The Milleridge Inn hosts their annual Halloween village on weekends in the fall.
6. Long Island Maritime Museum has an Annual Boat Burning where they Burn a Real Boat (West Sayville)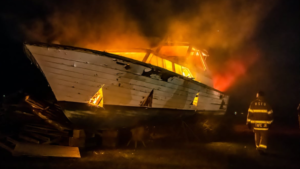 Credit: @LIMaritimeMuseum/Facebook
An entire Halloween village complete with a haunted house, tarot reader, pumpkin patch, spooky rides, magician, stilt-walking fire eater, hayrides, and face painting? Sign us up! The Milleridge Inn hosts their annual Halloween village on weekends in the fall.
7. Participate in a Ghost Hunt at Some of Long Island's Most Haunted Mansions (Southampton)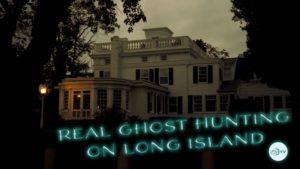 Have you ever wondered what it would be like to be a paranormal investigator? The Southampton History Museum offers exclusive tours of historic properties where visitors can participate in real live ghost hunts. The Museum is made up of a dozen historical buildings, and two of them, The Rogers Mansion and The Halsey House are said to be some of the most haunted places on Long Island.
8. Get Comfy by the Fire at a Cozy North Fork B&B (Various Locations)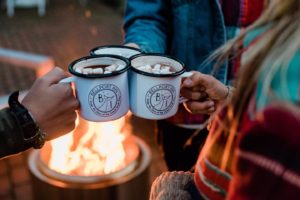 Credit: Bellport Inn/Facebook
Relax by the fireplace this fall at a cozy North Fork like the Bellport Inn. Experience a relaxed and curate setting in a historic property dating back to 1889 located in the heart of Bellport village. Another historical place to stay is the 1770 House.  With only six guest rooms and a two-story carriage house, each stay is customized for a fully relaxing visit. And the Baker House 1650 offers unparalleled luxury as one of the most exclusive Bed & Breakfast accommodations in the Hamptons.
9. Discover a Speakeasy and Enjoy Drinks Together! (Various Locations)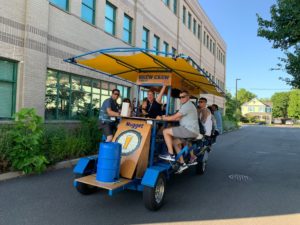 Credit: @urbanpedaltourslongisland/Facebook
The best way to pub crawl! Urban Pedal Tours is a fun activity and a way to enjoy drinks together. Catering to groups big and small, the bike ride brings you to and from Riverhead's craft beer establishments for a day of fun riding. Or if you want to head to Bay Shore, Destination Unknown Beer Company is kicking off Oktoberfest with their annual Dubtoberfest on September 17. This event will include various German style and pumpkin beers from Long Island Brewers Guild member breweries including Great South Bay, Lithology, and more! For a more active event, i-tri is hosting a scenic ride & wine bike ride adjacent to the Channing Daughters Winery in Bridgehampton on October 1.
10. Boo! Come for the Pumpkins and Stay for the Scares at Krupski Farms' Corn Maze (Peconic)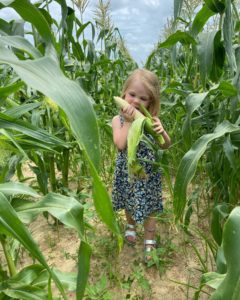 Credit: Krupski Farms/Facebook
Krupski Farms offers a wide variety of fall festivity including a haunted corn maze, hayrides, and a haunted barn. Located on the North Fork, the farm is family friendly for a great weekend adventure.
11. The Garden of Eve farm in Riverhead is celebrating its 20th Garlic Festival (Riverhead)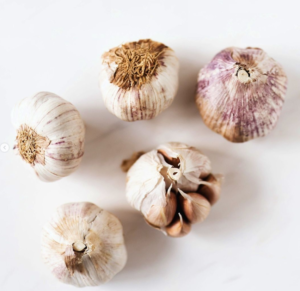 Credit: @gardenofevefarm/Instagram
Long Islanders love their garlic! The annual Long Island Garlic Festival is back for two weekends in September. As Long Island's ONLY garlic festival, this event is an all-day celebration of garlic inspired foods, crafts, music, and just plain garlic to eat and plant.
12. Fall Restaurant Week Returns this November! (Various Locations)
A tri-annual event, Long Island restaurant week is back this fall to garner publicity and additional business for the region's restaurants. Taking place this November, participating restaurants offer a 3-course prix-fixe.
13. Attend Stony Brook Village's 32nd Annual Scarecrow Competition (Stony Brook Village)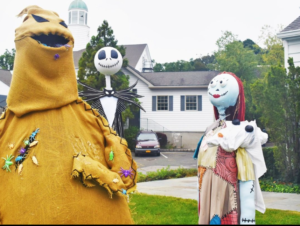 Credit: @stonybrookvillage/Instagram
It's back! This October, scarecrows will once again line the walkways throughout Stony Brook Village in the Ward Melville Heritage Organization's 32nd Annual Scarecrow Competition. Individuals can register alone or with a group to create their scarecrow masterpiece. Spend the day perusing Stony Brook Village's many shops and restaurants, then cast your vote on your favorite scarecrow! Voting takes place during the month of October.
14. Take a Hike and Get in Some Leaf Peeping at Long Island's Gorgeous Nature Preserves and County/State Parks (Various Locations)
To truly experience the fall foliage that autumn on Long Island has to offer, stepping outside is a must. With richly forested hills and valleys at the headwaters of the Nissequogue River, Blydenburgh County Park offers 588 acres of hiking trails, boating, and fishing, making for a great place to witness Long Island's autumn magic. Take a step back in time at Caleb Smith State Park Preserve with gorgeous nature trails perfect for a hike where you can witness the changing colors of the leaves firsthand.
15. Brave One of Long Island's Scariest Haunted Houses with Bayville Scream Park (Bayville)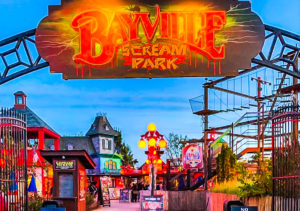 One of Long Island's top rated haunted houses, Bayville Scream Park offers 7 different attractions from a haunted mansion to an asylum to a funhouse of fear. The scream park is not recommended for children under the age of 12.
16. Say Hello to the Animals at the Long Island Game Farm or White Post Farms (Various Locations)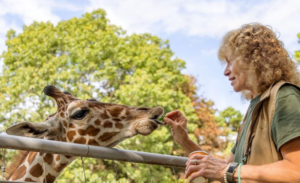 Credit: Lori and Steve Biegler, Lsb Photography via @longislandgamefarm/Instagram
A part of Long Island's family history for over 50 years, the Long Island Game Farm is the largest combined children's zoo and wildlife park on Long Island. The LI Game Farm in Manorville offers a natural environment for families to learn about wildlife and animals in a both entertaining and educational way. White Post Farms in Melville also has an animal farm where visitors can visit the animals, monkey barn, bird aviary, giraffes, and playgrounds. On weekends in the fall, White Post Farms also has a fall festival that also includes hayrides and family/magic shows.
17. The Long Island Monster Gallery Returns with Spooky and Realistic Renditions of Life Size Monster Replicas (Mineola)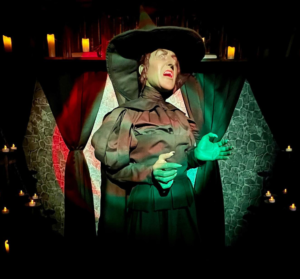 Credit: @monstergallerylongisland/Instagram
Long Island's only art gallery dedicated to horror & Halloween cinema is back this fall! The Long Island Monster Gallery features theatrical sets, lighting, and soundtracks with two floors of life-size movie monsters handmade by artists from around the globe.
18. Enjoy a Wine Tasting or Winemaker's Tour During the Harvest and Post-Harvest Seasons (Various Locations)
Fall vineyards are the best place to be to get in on the harvest and post-harvest seasons. Whether you're looking to enjoy a wine tasting, a hands-on wine making experience, or winemaker's tour, RGNY on the North Fork is the place to be. The winemaker's tour consists of a tour of RGNY's 205-acre property, exclusive barrel tastings, and more. Likewise, located on the rolling hills of Northport, Long Island's Gold Coast, Del Vino Vineyards offers extraordinary scenery and a providential climate for wine, especially during the fall harvest season.
19. Get a Taste of Love Lane Kitchen's Delicious Menu (Mattituck)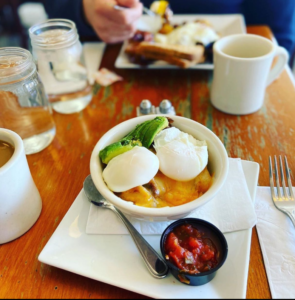 Credit: @lovelanekitchen/Instagram
 Explore Love Lane Kitchen in Mattituck with upscale comfort meals served in a quaint local café with house-roasted coffee, beer, and wine, open for breakfast, lunch and dinner. The restaurant is also pet friendly and has outdoor streetside seating so you can ring in the fall while sipping on a hot beverage.
20. Plan a Visit to Hallockville Museum Farm's Country Fair (Riverhead)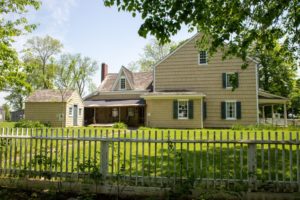 Credit: @HallockvilleMuseumFarm/Facebook
With so many things to do, Hallockville Museum Farm is dedicated to taking Long Island back to its family farming roots and explore their relevance today. They offer museum tours, barn dances, educational classes and workshops, and host fairs and festivals throughout the year. A North Fork tradition, the Hallockville Country Fair is taking place this fall on September 17 and 18 and features family-friendly activities for all ages such as live music, a farmer's market, and plenty of historical exhibits.
21. Explore the Sunflower Fields of Harbes and Waterdrinker Family Farms (Various Locations)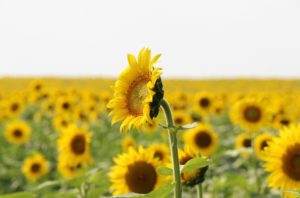 Looking for a Sunflower Festival? Harbes Farms Jamesport is introducing their all-new sunflower maze this year on September 10 & 11 with two fun-filled days of sunflowers. Manorville's Waterdrinker Family Farm also has a full field of sunflowers in full bloom and ready for visitors. Perfect for fun with friends or family, sunflower fields make the perfect photo setting.
22. Experience Autumn in the Trees at the Adventure Park (Wheatley Heights)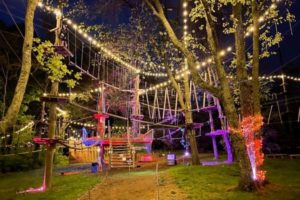 Adventure amongst the fall foliage or visit the park at night for "Glow in the Park" – Adventure Park's signature nighttime event. Visitors can zipline and climb through an illuminated forest to high energy music with different unique themes. As the area's largest zipline and climbing adventure experience, fall is a great time to experience the changing colors at eye level.