Long Island comes alive each spring with a host of seasonal activities that locals and visitors alike yearn for all winter - from exploring hiking trails and wildlife oases, biking on oceanfront boardwalks, and dining al fresco in a bustling downtown village during Spring Long Island Restaurant Week!
As an island with dozens of restaurant-laden waterfront villages along with nearly 600 working farms, the region has a long history of serving up the freshest catch and farm-to-table fare. And with a price point that fits everyone's budget, spring restaurant week is the perfect time to immerge from hibernation and experience the fresh flavors of the region.
Participating eateries, which range from Michelin star-rated restaurants to famed family-owned pizzerias are offering two-course lunch prix fixe menus for $22 and/or three-course dinner prix fixe menus for $27/$37/$44 (with the exception of Saturday night, when it may only be offered until 7 p.m.) Fantastic restaurants stretching from Manhasset to the Hamptons are taking part, including longtime favorites and first-time sign-ups.
To get a taste of what you're in for, here is a sampling of twelve restaurants that you'll be remiss not to try.
Jump to: Calissa | Arlo Kitchen & Bar | Fifth Season | Lombardi's on the Bay | The Melting Pot | Harbor Crab Co. | Chops | Casa Rustica | Mirabelle at The Three Village Inn | Juniper | Benihana | Frantonis
Suffolk County
Calissa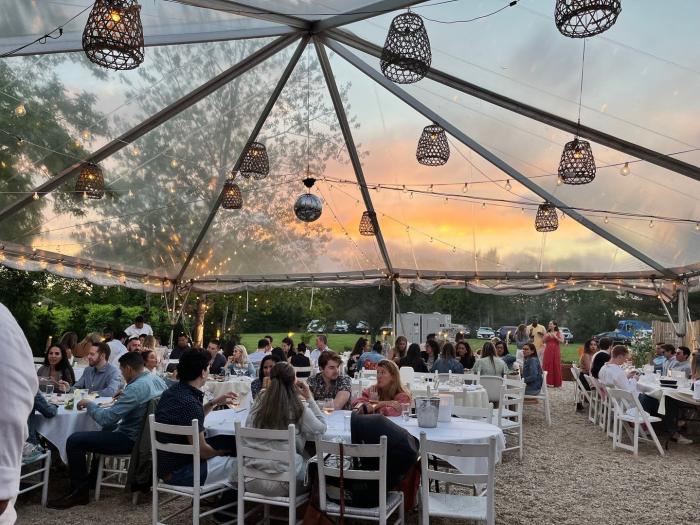 Credit: @calissahamptons
Calissa in Water Mill is the Mykonos of the Hamptons. The menu focuses on seafood and Greek dishes such as salt-baked fish, seafood pasta, and Mediterranean mezze. Also, the wine list has been deemed "excellent" by Wine Spectator, and Calissa boasts the largest selection of rosé in the Hamptons. For restaurant week, Calissa is serving a $37 three-course prix fixe dinner featuring yummy noms such as roasted beet salad, chicken souvlaki, moussaka, baklava, and organic Greek yogurt. It's important sometimes to stop and smell the rosé.
Arlo Kitchen & Bar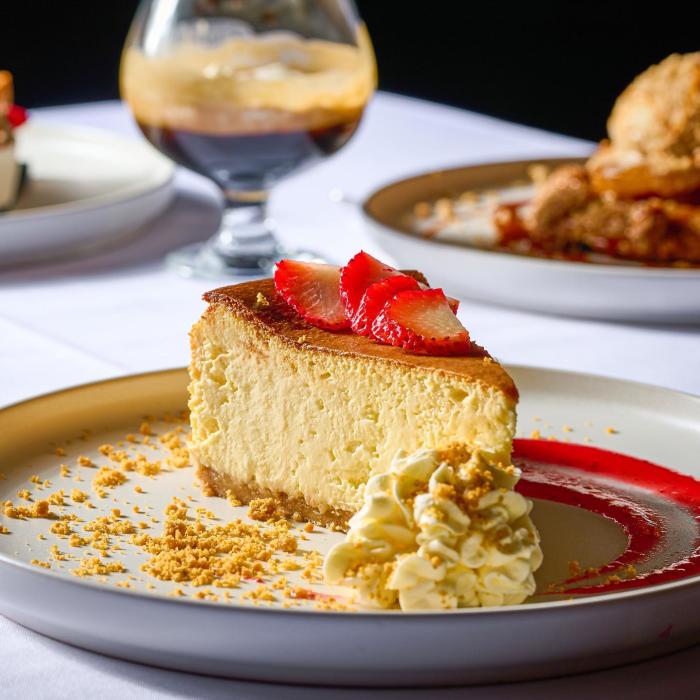 Located on the Gold Coast of Long Island, nestled into a hilltop that sits on 2 acres of lush forest-like property is Arlo Kitchen & Bar. Arlo offers a multi-level dining experience with an open kitchen, two bars, and a magnificent outdoor patio. The menu focuses on sourcing the finest ingredients available to create dishes that will excite diner's taste buds. Arlo's menu includes a wide range of Appetizers, Salads, Fresh Raw Bar offerings to Fresh Pastas, Wild Caught Seafood, and Prime Steaks. For restaurant week, Arlo is offering a $44 prix fixe dinner menu.
Fifth Season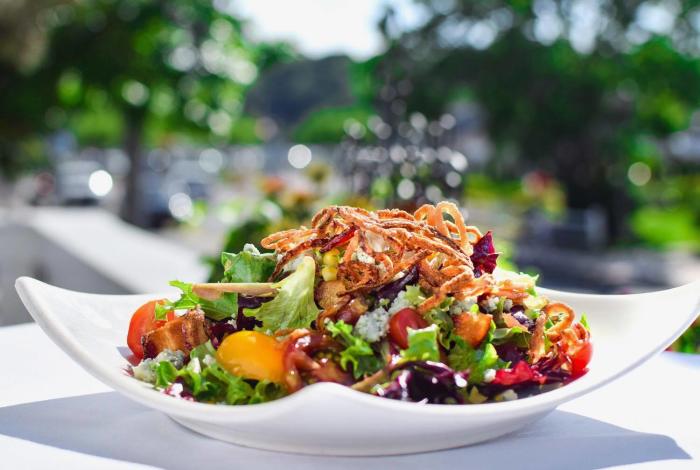 Credit: @fifthseasonrestaurant
The patio is calling your name. John Urbanati, chef and owner of Fifth Season in Port Jefferson, has said that "ingredients are the inspiration," of the restaurant. This is evident in Fifth Season's $37 three-course dinner prix fixe for restaurant week, where fresh and local ingredients from both the farm and sea will dazzle you. The only question is which dish to order; options include Snake River Farm American kobe beef burger, pan-seared Pacific sea bass, roasted vegetable stuffed polenta, and artisanal mushroom ravioli. 
Lombardi's on the Bay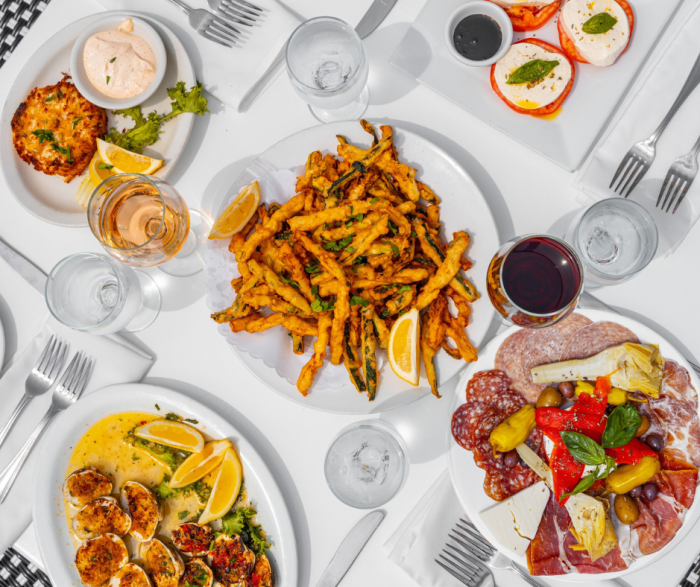 Cited by The New York Times as a location where "the food is as good as the views," experience the Lombardi Family tradition of fine cuisine at Lombardi's on the Bay in Patchogue. With breathtaking views of the Great South Bay, Lombardi's offers an elegant dining experience like no other. Whether you are enjoying Mamma Lombardi's classic Italian specialties in the dining room or one of the quality steaks outdoors, Lombardi's on the Bay has something for everyone. For restaurant week, Lombardi's is serving a $44 three-course dinner prix fixe. 
The Melting Pot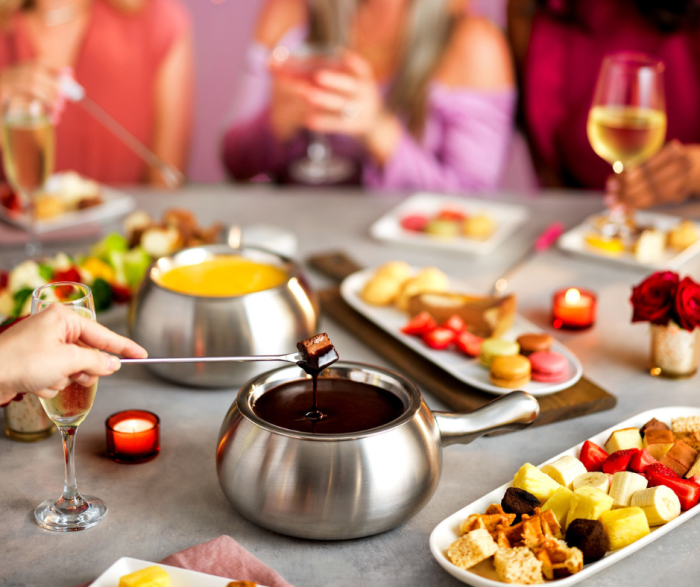 Whether you want to join a few coworkers after a long day for happy hour specials or you want to take your special someone on a date they'll never forget, The Melting Pot in Farmingdale has all the ingredients for a wonderful evening. For restaurant week, it will be serving a $44 three-course dinner prix fixe featuring cranberry bacon fondue, broccoli, and cheddar fondue, teriyaki marinated steak, and chocolate fondue, and your choice of fresh fruit! 'Due something romantic this restaurant week.
Harbor Crab Co.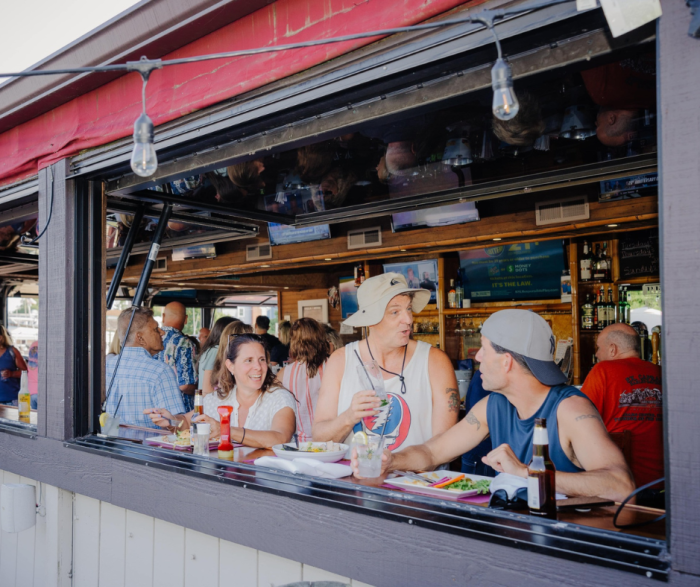 Set on the beautiful waters of the Patchogue River, Harbor Crab Co. invites you and your guests to enjoy one of Long Island's most spectacular panoramic waterfront views. From live bands to food and drink specials, there's always something going on here. Harbor Crab is offering the full monty for restaurant week: a $22 two-course lunch prix fixe and $27, $37, and $44 three-course dinner prix fixes. Menu highlights (check Long Island Restaurant Week to see which dish is being offered on which prix fixe) include Thai chicken wings, coconut shrimp, Tahiti lobster tail, Maui Kona scallops, and stuffed eggplant. The chocolate peanut butter pie will knock your socks off. 
Chops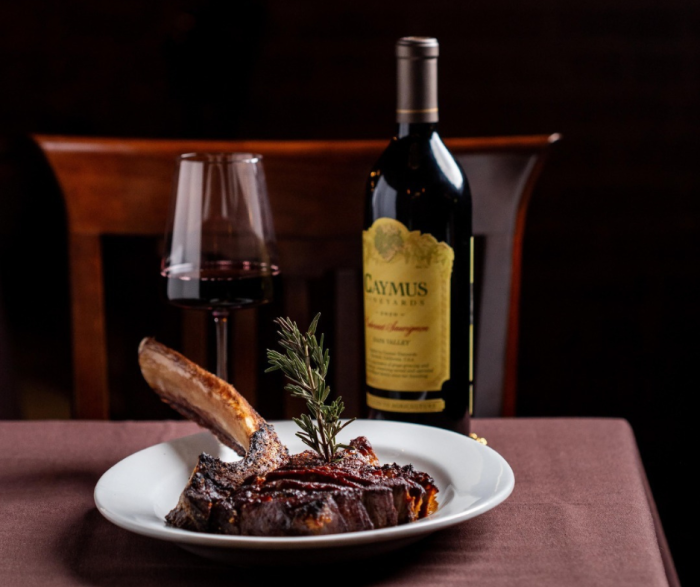 Established and founded in 2022 by John Sarno, Chops Steakhouse Patchogue has quickly ascended to one of Long Island's premier dining experiences. Located in the heart of Main Street, the Prohibition-era, speakeasy-themed restaurant will bring you straight back to the days of swing music, bootleggers, and flappers. With a menu focused on dry-aged steaks, traditional sides, a fresh selection of seafood, and a world-class bar and wine cellar, you can expect nothing but the best. Chops will be offering a sublime $44 three-course dinner prix fixe for Spring Long Island Restaurant Week. 
Casa Rustica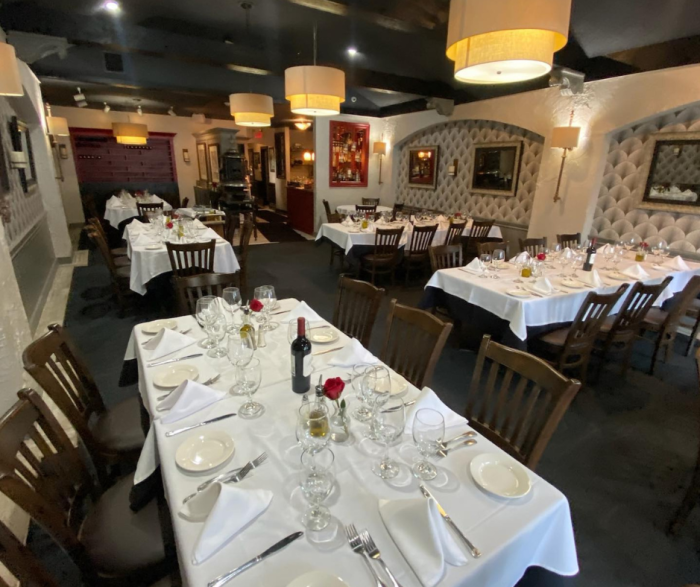 Proudly serving the village of Smithtown since 1985, Casa Rustica offers world-famous lobster flambé, authentic Sicilian cuisine, original craft cocktails, and much, much more. Born and raised in a small town in Palermo, Italy, Mimmo Gambino has been delighting guests with her hearty recipes and offering a home away from home for the community. For restaurant week, it will be serving a scrumptious $44 three-course dinner menu.
Mirabelle at The Three Village Inn
What began as a simple tea room in the 1930s became a large restaurant with rooms to accommodate overnight guests. In fact, Mirabelle is offering a 'hotel package' for restaurant week: guests will receive two prix fixe dinners, welcome drinks at the tavern bar, wine, and cheese in the room upon arrival, and overnight accommodations on Sunday, April 23rd, and between Wednesday, April 26th to Sunday, April 30th. Starting at $250 per night, this deal is too good to pass up. The $44 three-course prix fixe dinner menu features cream of asparagus soup, chickpea fries, pork medallions cordon bleu, whiterock bass, and affogato and profiterole (pictured above) for dessert.
Nassau County
Juniper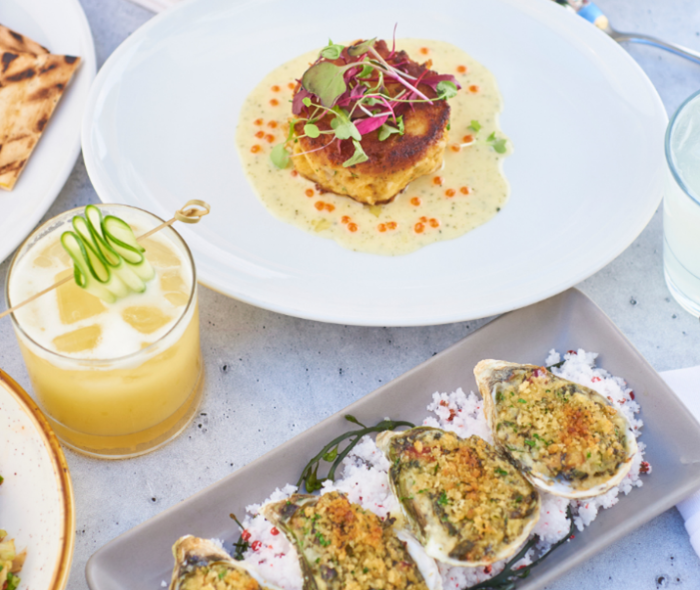 Juniper at the Vanderbilt offers New American dining inspired by Long Island's bounty, and it also happens to be a sister restaurant to Calissa. As the name suggests, Juniper's award-winning beverage program focuses on dozens of gin offerings from around the world. The Westbury staple is serving up a stellar $44 three-course dinner for restaurant week featuring Long Island clams casino with bacon, bucatini, New York strip steak, and salmon with roasted cauliflower and mustard dill sauce. P.S. Juniper has one of the best dessert menus we've encountered; favorites include the creme fresh berries brulee and the flourless chocolate cake topped with strawberries and whipped cream.
Benihana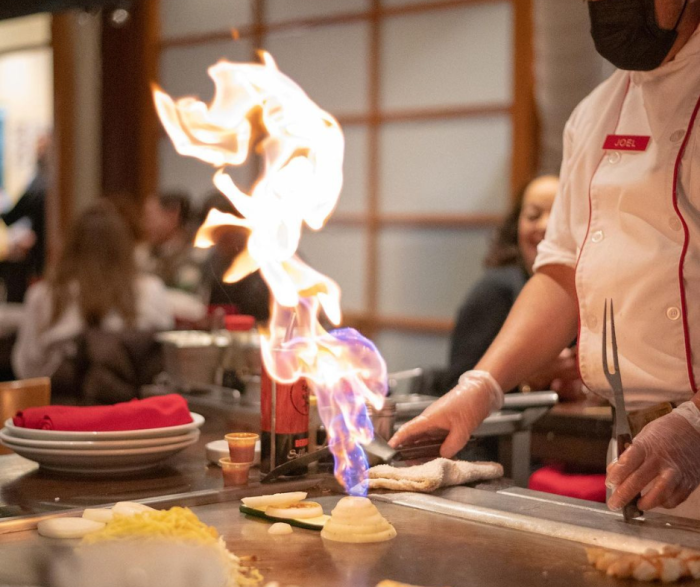 Benihana in Westbury AND Manhasset are both participating in Spring Long Island Restaurant Week, offering a $44 three-course dinner prix fixe! Guests can expect to be seated at communal hibachi grill tables, where their personal chef slices & dices and prepares a meal that will dazzle your eyes as well as your taste buds. Prix fixe menu highlights include hibachi chicken rice, California roll, hibachi steak, and Benihana onion soup. Now that's fire. 
Frantonis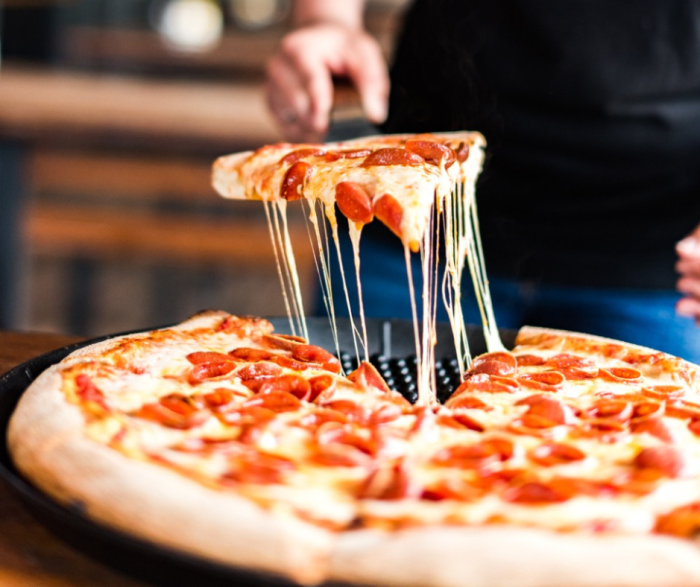 Since 1988, Frantoni's in Woodbury has exemplified the very best of a family-owned, community-friendly pizzeria and ristorante. Even diehard pizza aficionados will be tempted by Frantoni's other delectable options, ranging from salad and pasta to seafood and hot and cold heroes. For restaurant week, Frantoni's will be serving a $37 three-course dinner prix fixe featuring zucchini sticks, eggplant rollatini, beef ossobuco, primavera pasta, and mini cannolis. "Leave the gun, take the mini cannoli."