With hundreds of miles of captivating coastline, it goes without saying that boating on Long Island is a huge commodity. Whether you're a boat owner or not, there are endless opportunities to set sail or tie up and enjoy this favorite Long Island pastime.
Set sail from Bay Shore Marina on relaxed sunset dinner cruises, or cruise around our famed lighthouses aboard a turn-of-the-century style riverboat. Sail into the sunset in Gold Coast style aboard a yacht charter.
Try the Moon Chaser Cruise that launches from Captree State Park, or a day at anchor with Over The Top Water Sports in quaint Northport Harbor. If you're in the mood for an adventure, book a spot on a whale or seal watching cruise or a wetland exploration outing. Long Island is a boater's paradise.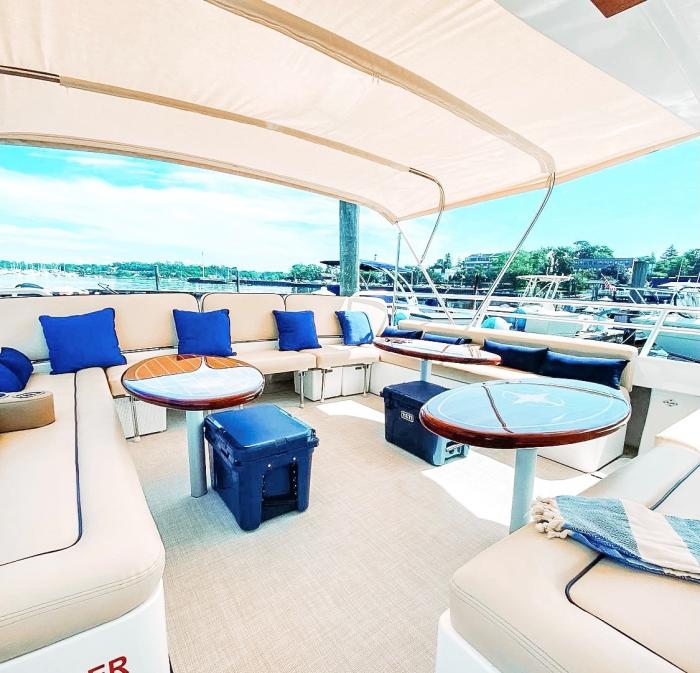 A fantastic way to experience the water with sweeping views of Long Island's rocky Gold Coast is with Long Island Boat Rentals in Port Washington. Experience luxury when you charter a yacht and explore the North Shore with views of the Statue of Liberty or host your own "flarty" party (float party) for a celebration your guests will rave about for years to come. Long Island Boat Rentals also offers private training classes and adventure tours complete with wakeboards and other water-sporting accessories. It's your one-stop-shop for nonstop fun on the water!
Insider's tip: Visitors who purchase a 5-pack rental package will also receive 15% off on all rentals.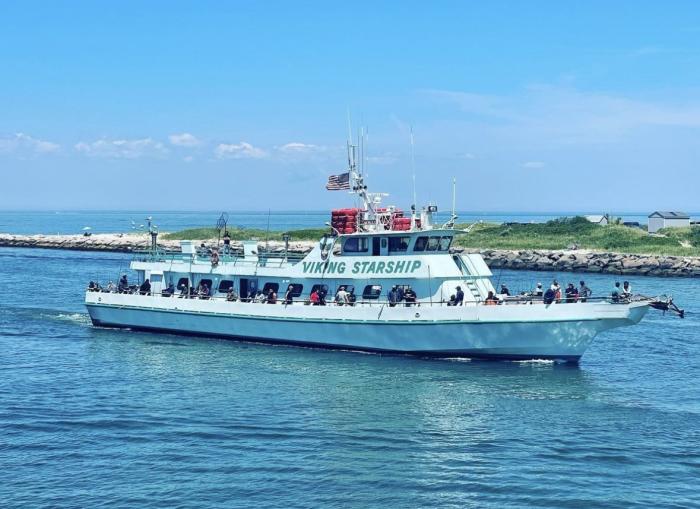 Located in Montauk Harbor, Viking Fleet is your destination for year-round fishing trips, seasonal fast ferry service, excursions, and private charters. With a variety of trips to choose from, you can set sail on a Whale Watching Tour where you'll cruise by the Montauk Lighthouse and see majestic marine wildlife or hop on a Sunset Cruise which takes you through the scenic waters of the East End and offers a selection of alcoholic beverages at the bar. Book a trip today for the upcoming summer season!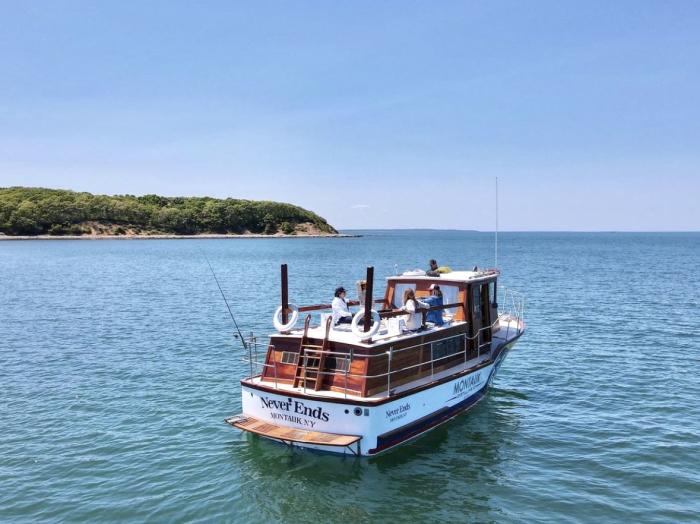 Sponsored by Montauk Distilling Co., Never Ends Charters offers private boat cruises in Montauk for your next on-the-water outing. Choose from packages that include delicious picnics, stops at restaurants like Duryea's, Navy Beach, Inlet Seafoods, and Montauk Yacht Club, guided meditations with a relaxing sound bath, and so much more. Cruise in luxury as you explore Lake Montauk, Fort Pond Bay, and Block Island exclusively with Never Ends Charters.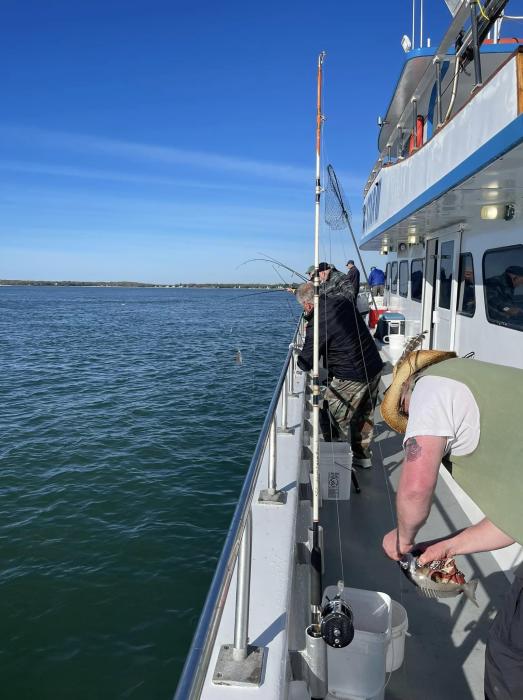 Come set sail on a local fishing adventure with Peconic Star Fishing. On Peconic Star III, you can sail all day long fishing for porgies on the tip of Long Island's North Fork or reserve the Peconic Star IV which offers weekend half-day options and weekday charters where you can reel in porgies, sea bass, weakfish, fluke, stripers, and more! All open boats feature heated cabins with dinettes and huge upper-level sundecks so the whole family can sail in comfort, as well as providing rods, bait, and tackle for the optimal fishing experience.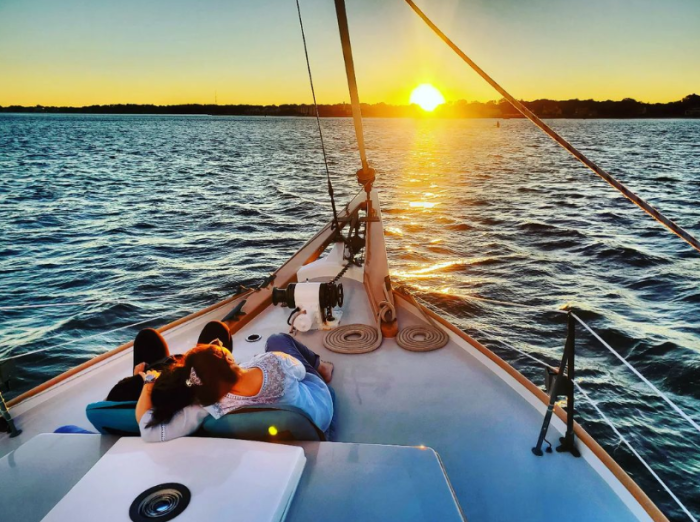 On the other end of Long Island, sail in style and comfort on the beautiful waters of Greenport Harbor when you book with East End Charters. Board the Surprise, a private six-guest custom-built wooden ketch with stable, easy motion and elegant form. Surprise's bright and spacious interior, large cockpit, and copious deck space offer plenty of room to relax, socialize, and enjoy the peacefulness of being on the water. With options from relaxing morning sails to luxurious overnight stays, East End Charters is the premier destination for luxury sailing.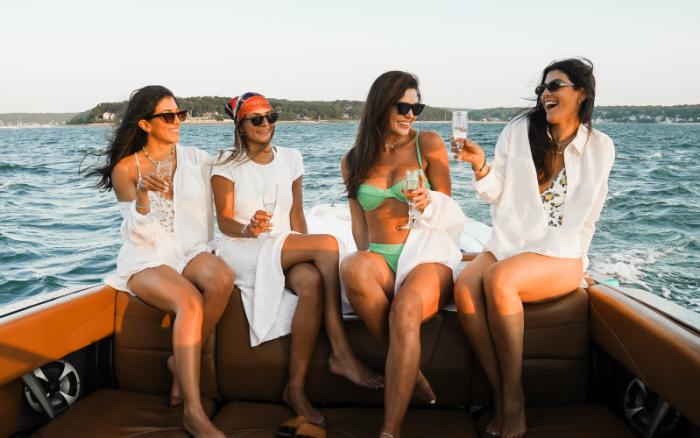 Credit: Kevin Cryer-Hassett
Whether your vibe is ripping through some waves, a day at anchor, or capturing photos of sprawling hillside Victorian estates, you'll have a blast while experiencing terrific views of Northport Harbor. In addition to offering water sports such as wakeboarding, wakesurfing and waterskiing, Over The Top Watersports also offers sunrise, sunset, and dinner cruises! Visit them now for an over-the-top experience you won't forget.
Departing from Captree State Park on Long Island's South Shore and adjacent to Robert Moses State Park, board this impressive 200-passenger charter for an unforgettable night of great music and delicious food at an iconic waterfront eatery. On the Moon Chaser, you can soak up the sea air, sway to the music, and enjoy the party atmosphere as you dance to a cover band on the Bay Jam Cruise. Alternatively, board the Fire Island route on Flynn's Dinner Cruise and observe fantastic views of the iconic Fire Island Lighthouse on your way to dinner at Flynn's, Fire Island's most famous restaurant! The Moon Chaser also offers four-hour packages for private parties, perfect for your next on-the-water celebration.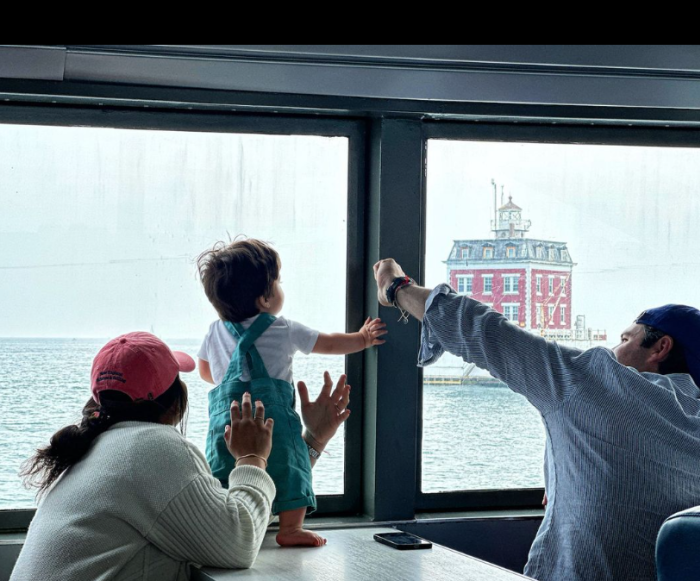 Cruise in style when you go sightseeing with Cross Sound Cruises. Departing from the Orient Point dock, the two-hour Long Island Lights Cruise shows you breathtaking sights on the coastal tip of Long Island's North Fork wine region and takes you directly to the local lights of stunning landmarks, including Gardiners Point Island and the Orient Point Lighthouse, and also boasts views of nearby New London, CT. For only $33 per adult passenger on the Long Island Lights Cruise, Cross Island Cruise's comfortable, climate-controlled high-speed vessels will make your summer bucket list a reality.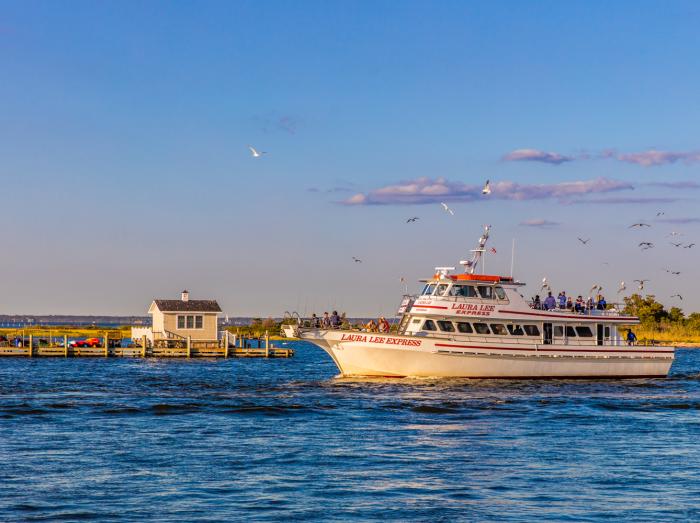 Located on the easternmost tip of Jones Beach Island, Captree Fleet offers plenty of opportunities for your ideal maritime adventure. Whether you seek to host the party of a lifetime with one of their private charters or are looking for an open boat to fish for the day, Captree has it all. There are also charter rentals available to rent for your next corporate party, field trip, or family celebration. Choose from a variety of boats and Captree will accommodate your party size and/or fishing needs – all at a great price!
Get ready for an interactive and educational 2-hour adventure aboard the Atlantis Explorer Tour Boat. The Atlantis Explorer takes you down the Peconic River and into Flanders Bay and offers plenty of opportunity for hands-on exploration with local wildlife. Group tours are available daily, and no aquarium admission is required to ride the tour boat. Check out their website for more details on this exciting excursion.
This summer, let the Discovery take you through the historic hamlet of Stony Brook. This 27-passenger vessel cruises through the Ward Melville Heritage Organization's 88-acre preserve for a tour through the wetlands. While on board, an expert narrates the wildlife that passengers observe and the natural history of the area, all in a one-and-a-half-hour trip. Experience Stony Brook Harbor like never before with the Discovery Wetlands Cruise!
Experience the South Shore like never before with Freeport Water Taxi and Tours. Book a classic one-hour Long Island cruise where you'll voyage through the Woodcleft Canal and explore the wonderful inlets and bays of Long Island's South Shore on this fun and relaxing boating experience. Other popular cruises include their Happy Hour Cruise, Sunset Cruise, and Seal Watching Cruise. Come explore the waters of Long Island on a boat tour today!