DISCOVER LONG ISLAND ADDS BAY SHORE TO DOWNTOWN DEALS TRAVEL PASS
Bay Shore joins downtown promotional program developed during the pandemic geared towards supporting the deeply impacted tourism and hospitality industry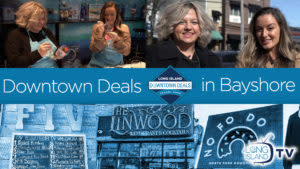 LONG ISLAND, NY (February 9, 2021) – In an expansion of the Discover Long Island partnership with Nassau and Suffolk County Industrial Development Agencies (IDAs) to support struggling downtown businesses and spur economic recovery, the partners are excited to announce Bay Shore as the newest downtown feature on the Downtown Deals Mobile Travel Pass. This free mobile travel pass offers itinerary suggestions and exclusive discounts to safely explore Long Island downtowns and support local businesses.
The passport is a free program that all locals and visitors can sign up for to provide inspiration and discounts when visiting Farmingdale, Great Neck, Rockville Centre, Greenport, Huntington, Patchogue and now Bay Shore.  With over 100 local businesses included within the passport, it showcases the best of these Long Island downtowns in an easy, mobile-friendly way.
"We are so excited to be the newest downtown featured in this innovative program that highlights the many unique and vibrant businesses in Bay Shore and also lends to the economic recovery of the region," said Chairman of the Bay Shore Restaurant Committee, Michael McElwee. "This free mobile platform allows locals and visitors to explore the endless gems in Bay Shore and redeem exclusive offers with safe and touchless technology."
Deal seekers will find the process easy. There is nothing to download. Sign-up for a Downtown Deals Travel Pass by visiting www.discoverlongisland.com/deals. A link is sent, which opens the passport and directs the user to add the button icon to their home screen. Once the user is ready to redeem their discount, they simply show their phone at the ticketing or checkout counter to access their deal.
Examples of new Bay Shore Businesses offering deals on the exclusive Downtown Deals Mobile Travel Pass include:
North Fork Doughnut Company: 10% off final purchase.
Local Burger Co.: Free milkshake with any burger purchase.
T.J. Finley's–15% off final bill for indoor dining.
The Penny Pubhas been welcoming locals, visitors, friends, and family alike for over 50 years. Insider 'Deals' Tip: 15% off dine-in bill.
The Linwood Restaurant & Cocktails: Prix Fixe three course dinner $38 per person.
Sip & Paint at Pinot's Palette Bayshore:10% off in-studio paint class.
Wine Tasting at Fire Island Vines:20% off wine tasting or face value on gift cards.
"We are thrilled to be able to assist our struggling downtowns during this challenging time with the expansion of the Downtown Deals Travel Pass that provides exclusive discounts to generate interest and drive traffic to our local businesses," said Discover Long Island President & CEO, Kristen Jarnagin. "We are grateful to our partners at the Suffolk and Nassau IDAs for supporting this new technology platform that has generated more than 50,000 website visits and more than 5,000 downloads of the mobile pass. We look forward to adding additional Long Island downtowns to further our regional economic recovery."
"We are proud to support our downtowns throughout Long Island by working with Discover Long Island to offer this free mobile platform that allows residents and visitors to experience locally owned businesses and redeem exclusive offers with safe and touchless technology," said Suffolk IDA Executive Director, Tony Catapano. "Our downtowns and small businesses need our help now more than ever so we welcome Bay Shore to the Mobile Travel Pass and applaud the continued expansion of this successful program."
To sign-up for the Downtown Deals Travel Pass and view a listing of businesses and deals currently available, please visit DiscoverLongIsland.com/Deals. If you're interested in learning more about the program, please contact tourism@discoverlongisland.com.