As an island with hundreds of miles of shorelines that are lines with dozens of restaurant-laden waterfront villages, Long Island is a culinary mecca with no shortage of incredible waterfront dining options. From dockside clam shacks to beachfront bars, to celebrity chef-owned restaurants where you can watch the sunset on the harbor as boats arrive with the day's catch, we've gathered the top spots for dinner with a waterfront view.
Unbelievable waterfront dining options on Long Island
Head to The Atlantica to take in upscale boardwalk views that allow you to enjoy the sun, sand, and surf from a shady distance (Long Beach)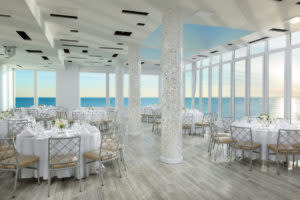 With floor-to-ceiling windows right on the boardwalk opening to views of the ocean, the Atlantica at the Allegria Hotel does not disappoint when it comes to scenery.  Visit the restaurant's bright and nautical dining room for breakfast, lunch, or dinner, and enjoy sweeping views of the Atlantic and even a glimpse of the NYC skyline on a clear day.
Feel the sand beneath your toes at Bodhi's Beach Shack (Blue Point) 
For a beach party vibe any day of the week, head to Bodhi's Beach Shack in Blue Point. Located right on the Corey Beach, Bodhi's offers uninterrupted views of Patchogue Bay on its outdoor deck that's just steps away from the sand. Serving up a tasty assortment of tacos, salads, seafood, traditional pub fare, and cocktails, alongside regular acts of live entertainment, it's only a matter of time before you become a regular here.
Enjoy fresh seafood at Long Island's oldest clam bar (Island Park)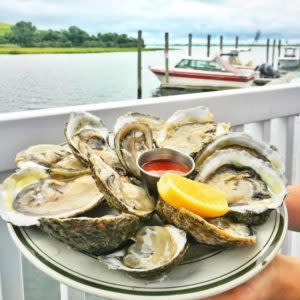 Credit: @petersclambar/Instagram
Visit one of Long Island's oldest and most famous clam bars, Peter's Clam Bar. This local icon has been serving Long Island staples, like lobster rolls and crab, since the summer of 1940. Located right on the water in Island Park, it's no wonder locals head here in droves during the warmer months. Offering a full bar and practically endless food and drink menu, as well as regular live performances, Peter's Clam Bar is an essential summer experience.
Sway to the rhythm of the music while you cruise to Flynn's (Ocean Bay Park)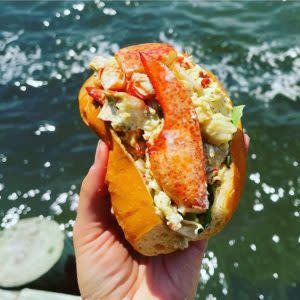 Credit: @flynssfireisland/Instagram
Flynn's encapsulates the definitive Fire Island summertime experience. Combining a restaurant, bar, and marina to offer both a relaxing dining experience overlooking the Great South Bay and a fan-favorite party spot for live music, DJs, and private catered events. To make the experience even more unique, Flynn's partnered with The Moon Chaser Boat Cruise out of Captree State Park to provide guests with soul-soothing music and a pleasurable ride across the bay to the Fire Island landmark.
LaMotta's Dockside proves that the Gold Coast isn't just Gatsby-era mansions and historic castles, but an oasis of incredible harborside dining (Port Washington)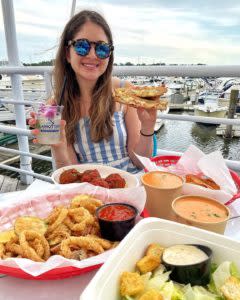 Credit: @eats.and.the.city/Instagram
If you have a boat in the Manhasset Bay and a big appetite, be sure to take your boat right up to LaMotta's Dockside. The restaurant also welcomes walk-ins, for those arriving by land. A waterfront tradition since 1994, LaMotta's Dockside serves only the finest modern American cuisine with global influences. Come enjoy delicious dishes and beautiful views of Manhasset Bay in Port Washington alongside your furry friend. Open from mid-May through Labor Day, LaMotta's has gained the reputation of being one of Long Island's top waterfront destinations that just so happens to have a dog-friendly patio.
Dance the night away at Claudio's Waterfront and Beer Garden (Greenport)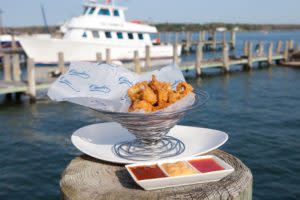 Claudio's Restaurants is one of the most historic eateries on all of Long Island. The restaurant serves legendary seafood cooked old school style, incredible cocktails, live music, and local craft beverages across three waterfront properties: Claudio's on Main, Claudio's Waterfront (which is also home to an outdoor Beer Garden), and Crabby Jerry's.
Enjoy the open-air eateries and unmatched scene of the Nautical Mile at Hudson's on the Mile (Freeport)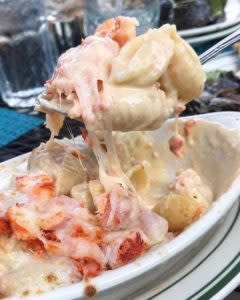 Credit: @Hudsonsonthemile/Instagram
The Nautical Mile in Freeport is practically the hub for live entertainment and seafood dishes of all kinds, but Hudson's on the Mile is the place to be if you want an assortment of fresh fish, steak, sushi, legendary cocktails, and live music. The restaurant offers indoor and outdoor dining, and the outdoor patio is even dog friendly. Get the best seat in the house and head to the rooftop deck which offers picturesque views and harbor front sunsets.
Bar hop your way from one waterfront destination to the other with the RumBarge (Hampton Bays) 
Spice things up with an island-inspired waterfront dining experience at RUMBA Inspired Island Cuisine & Rum Bar out in Hampton Bays.  Enjoy handcrafted rum libations from happy staffers with an easygoing breezy vibe right on Shinnecock Bay. Then hop on the complimentary RumBarge and chase the summer sun with even more fine dining and drinks at Cowfish Restaurant on the Shinnecock Canal.  With panoramic water views and dishes from both the land and sea, these two Hampton Bay restaurants offer a bucket-worthy summer experience all season long.
Spend the day at Jones Beach and then grab dinner at Gatsby on the Ocean (Wantagh) 
Credit: @gatsbyontheocean/Instagram
Jones Beach State Park is one of the most visited beaches in the U.S., but did you know that it's also home to a restaurant with a rooftop bar and endless views of the Atlantic Ocean? Gatsby on the Ocean is the park's seasonal sit-down eatery conveniently located right off of the boardwalk, near the West Bath House (parking is available at Field 3). The restaurant hosts themed brunches, special events, and live music regularly. To stay up-to-date on all the happenings, we recommend following Gatsby on the Ocean's Instagram.
Housers Bayfront Bar & Grill is the perfect spot for your next Girls' Night Out (Ocean Beach)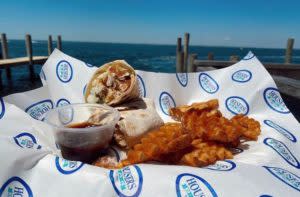 Credit: @Housers_OB/Instagram
One of the most notoriously fun spots to hit up when visiting Ocean Beach Fire Island is Housers Bayfront Bar and Grill. Known for their house made "Zippy Coolers" and regular lobster specials, Housers is where nightlife and daytime cocktails collide. Enjoy a fabulous meal overlooking the bay or cheers with your besties at the bar, whatever the vibe, Housers can match it!
Enjoy exquisite cuisine and world-class views from inside or outdoors at Gurney's Scarpetta Beach Restaurant (Montauk)
Hailing from the culinary delicacy of Downtown Manhattan, Scarpetta Beach at Gurney's Montauk Resort & Seawater Spa brings the famous eats of NYC to Montauk. Scarpetta Beach offers Montauk vibes while serving the signature Italian and seafood classics that you'll find at the flagship NYC location. And while the restaurant is located on Gurney's property, you don't have to be a hotel guest to dine on the five-star dishes or sip on expertly-crafted cocktails.
Share a fishbowl on the beachy patio at Maliblue (Lido Beach)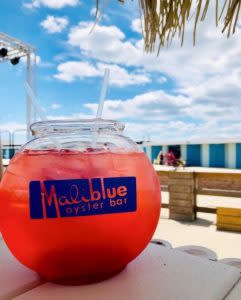 Credit: @maliblue_shoreclub/Instagram
Let's just say, those who know, know. And those who don't, well, you're about to realize you wish you would have heard about this place sooner. Maliblue (formerly known as Maliblue Cantina & Tequila) is located at Lido Beach, but you don't need to be a Nassau County Resident or Lido Beach Club member to access the restaurant. It offers a rotating act of live music from acoustic performances to a diverse line-up of local rock, indie, and pop musicians. The menu here is also not to be overlooked, serving up delicious seafood, tropical drinks, and popular fishbowls—savor the flavor before you dance the night away! While Maliblue doesn't offer waterfront views, the restaurant is saturated in a beachy vibe and is just steps away from Lido's shores.
Soak up the salty breeze at The Boat Yard (Massapequa)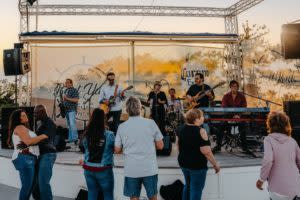 Credit: @theboatyardny/Instagram
Offering a diverse lineup of live performances—from 70s cover bands to jazz, rock, and alternative—and an even more varied menu, The Boatyard is where you can feel the sand beneath your toes while soaking up the sunset over TOBAY Beach and listening to local musicians. The restaurant and bar is located at TOBAY, so patrons that are not looking to spend the day at the beach and pay the parking fee should plan to arrive after 6 p.m. (or take the car-free route and bike along the Jones Beach Bikeway!). Check the website for daily specials and an up-to-date calendar of events.
Hop on a ferry and head to Maguire's for the best bay views (Ocean Beach)
Treat yourself to a delicious meal on a deck overlooking The Great South Bay while enjoying a breathtaking Fire Island sunset—a view the venue is famous for. Along with offering a fabulous array of seafood and craft cocktails, Maguire's also has classic favorites on the menu for those who prefer to get their meals from land and not sea. The restaurant can also be accessed by boat or ferries that leave from Bay Shore.
Savor classic seafood dishes with riverfront views at The Snapper Inn (Oakdale) 
Seated right on the Connetquot River in Oakdale, The Snapper Inn has remained owned and operated by the same family since 1929. The restaurant offers breathtaking views of the Connetquot River and award-winning entrees and local seafood like Blue Point oysters, Peconic Bay scallops, and soft-shell crabs, as well as weekly specials.
Discover the hidden gem that is The Freeport Inn & Marina (Freeport)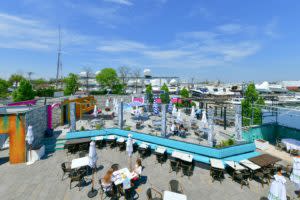 The Freeport Inn & Marina is one of the best kept local secrets when it comes to waterfront dining on Long Island. Home to "The Patio," a world-class outdoor dining experience on the canal featuring fresh seafood, tacos, margaritas, and other sensational summer delights—it's a must-visit for lunch, happy hour, or dinner.
Sip on Long Island wine at The Hideaway Bayfront Bar & Restaurant (Ocean Beach)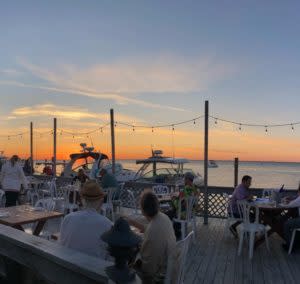 Credit: @thehideawayob/Instagram
If you find yourself in Ocean Beach, sure to check out The Hideaway Bayfront Restaurant. Here, guests can take in the ocean views from one of the best bayfront decks in all of Fire Island. In addition to offering your run-of-the-mill eats, cocktails and beers, The Hideaway is also home to an impressive collection of local wines. It's the perfect place to take in the best of what our region has to offer!
Snap a sunset selfie at Wave Seafood & Steak (Port Jefferson)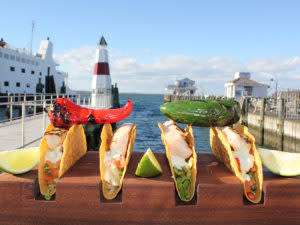 Take a stroll along the Sound in Port Jefferson to Wave Seafood & Steak at Danfords Hotel & Marina for an elegant meal in the ultimate nautical environment.  Wave serves up farm (and sea)-to-table entrees that focuses on fresh, local produce and regional seafood paired with the most amazing sunset over the Port Jefferson Harbor. If you find that you don't want to leave, book a stay at the hotel and bask in the waterfront views for just a moment longer.
Reserve a tasting at Long Island's premier waterfront vineyard, Kontokosta (Greenport)
Kontokosta Winery is the North Fork's first and only waterfront tasting room and winery. Situated on 62 acres, the property boasts over a quarter-mile of gorgeous Long Island Sound waterfront. Perched atop sweeping bluffs overlooking the region's coastline, guests are invited to sit and enjoy our wines in the maritime climate from which they were created.
Dine like a local at Island Mermaid (Ocean Beach)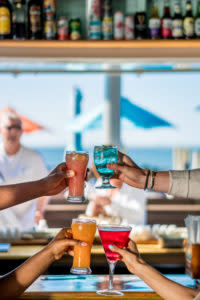 Island Mermaid is a landmark destination as far as regulars of Fire Island are concerned. Located right on The Great South Bay in the heart of the vibrant Ocean Beach community, Island Mermaid offers waterfront dining on its patio and at the dockside bar. The Island Mermaid chefs consciously keep two promises to Fire Islanders: to provide all guests with the freshest ingredients⁠—using as many local purveyors and products that are seasonally available⁠, as well as to create perfectly prepared and artfully presented versions of local staples, popular seafood favorites, and thoughtfully crafted drinks.
Pair five-star eats with world-class views at Prime (Huntington)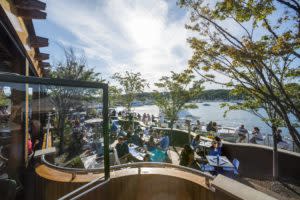 Designed to reflect the look of a classic boathouse along the Charles River, Prime's multi-level visual expanse is just the beginning of this destination experience. A custom designed glass wall in the center of the main dining room is an artistic balance to the shimmer of Huntington Harbor just outside the doors. Exquisite water views can be enjoyed from the Wave Bar or while dining on the menu of modern American cuisine served outside on the porch. Defined by innovative departures to classic dishes, Prime offers a curated raw bar, world-class sushi and USDA Prime 21-day dry aged beef that can be paired with a variety of enhancements as well as both the classic steakhouse side dishes and some fantastic modern creations!
Peconic County Brewery was made for Golden Hour by the river (Riverhead)  
Credit: @peconiccountybrewing/Instagram
Get a taste of some of the best local flavor as you take in the best views of Riverhead. With idyllic views of the Peconic River, this brewery features a picturesque outdoor patio, spacious and bright interior, nearly a dozen house-made beers on tap, and a surprisingly large food menu. While patrons of Peconic County Brewery come for the beer, many stay for the full meal. Fan-favorite entrees include the Rustic Flatbread (whipped goat cheese and mozzarella on a flatbread with the option to add prosciutto), Giant Pub Pretzel (served with beer cheese and pub mustard), and a charcuterie board outfitted with a variety of artisan cheeses and meats.
Sip on frozen cocktails and bask in breathtaking views of the bay at CJ's Fire Island (Ocean Beach)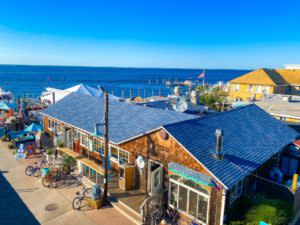 For over 50 years, CJ's Restaurant & Bar has been providing Fire Island visitors with delectable eats and endless fun on the south side of the Great South Bay. Known as the "Home of the Rocket Fuel", CJ's has become Fire Island's landmark bar for this refreshing Fire Island must-have frozen cocktail. Perfect for cooling down on even the hottest summer days, CJ's Rocket Fuel was made for sippin' on in between songs performed by some of the most sought out local performers. From DJ sets to beach bashes and everything in between, CJ's knows how to throw a party.