Enjoying live music in the open air on a sun-soaked summer day is a Long Island staple synonymous with the season. From rocking out to a legendary band under the stars at the iconic Jones Beach amphitheater to dancing the day away to an infamous cover band on a waterfront deck, Long Island's al fresco music scene cannot be matched and should top your list for things to do this summer. That's why we rounded up the top concerts and seasonal hotspots for outdoor live music to hit this summer.
Music Festivals:
See Calvin Harris, Kygo, Chantel Jefferies and more at the Palm Tree Music Festival (Westhampton, NY)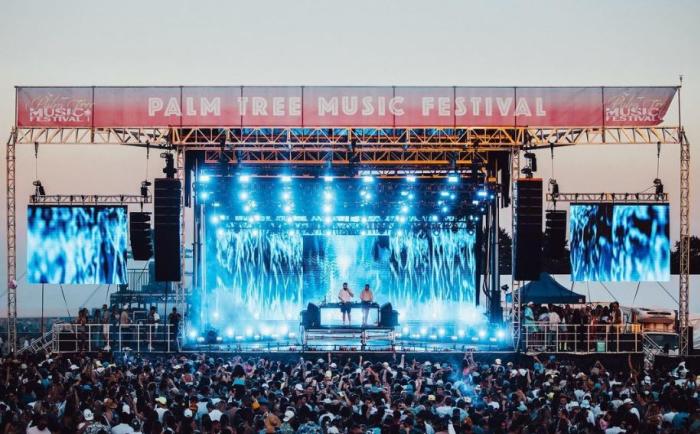 Credit: IG @palmtreemusicfestival
The hottest dance party of the year is happening in Westhampton this summer, and tickets are going fast! At the tropical Palm Tree Music Festival, Calvin Harris, Kygo, and other star headliners are set to wow the crowds on June 24. Founded by Kygo and Myles Shear in 2016, the festival features a local food truck lineup, exclusive VIP seating areas, and even RV rentals so you can watch the show in luxurious comfort. See top-charting musical acts and party all night long with Palm Tree Crew for the ultimate summer vibes.
Event date: June 24, 2023, at 2pm
Head to Huntington Summer Arts Festival (Huntington, NY)
For the entire month of July, Huntington Arts Council will be hosting live outdoor concerts every night at the Chapin Rainbow Stage in Heckscher Park. This month-long celebration of the arts includes theatrical performances, the Huntington Community Band, the 16th Huntington Folk festival, and other exciting performers.
Event date: July 1-30, 2023
See the official website calendar for more details.
Enjoy over 55 performers across 4 stages at the Great South Bay Music Festival (Patchogue, NY)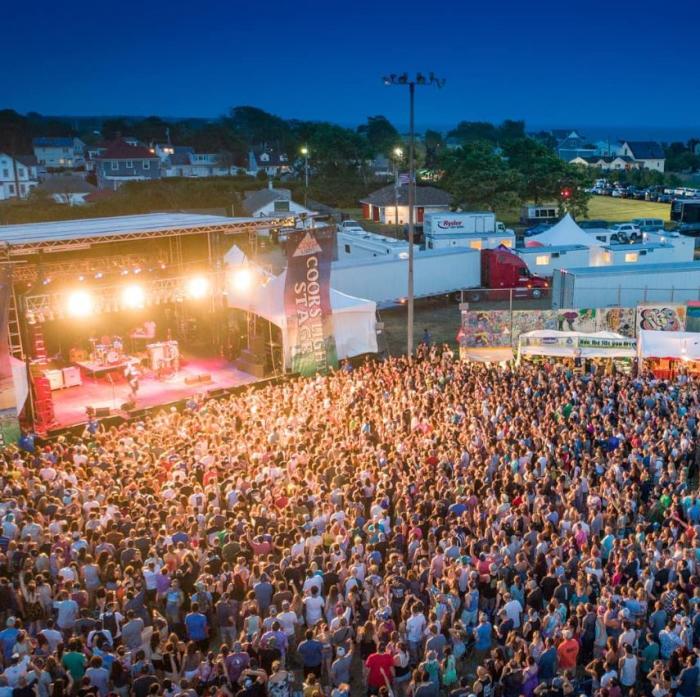 Credit: IG @greatsouthbaymusicfestival
As Long Island's longest running and largest four-day music, art & cultural event, Patchogue's Great South Bay Music Festival is a must-see event. With over 55 performers on 4 stages, this festival attracts both legendary performers as well as local emerging artists in nearly every music genre imaginable. This year, see performances by Electric Hot Tuna, Phil Lesh and Friends, Dirty Heads, and Gov't Mule! For arts and crafts lovers, stop by the Great South Bay's Artisan Market on festival grounds where you'll find diverse collections of beautifully handmade and imported creations.
Event date: July 20-23, 2023
Summer Concerts:
TLC, Shaggy, En Vogue, Sean Kingston "Hot Summer Nights" Tour at Northwell Health at Jones Beach Theatre (Wantagh, NY)
Two legendary acts are set to perform at Long Island's iconic beachfront theatre – TLC and Shaggy! With over 65 million records sold worldwide, TLC is regarded as one of the most successful American girl groups. Joined by Shaggy, hit Jamaican reggae rapper, the group will take the stage at Jones Beach for their Hot Summer Nights Tour where you'll hear their greatest songs from the 90s. 
Event date: June 13, 2023, at 7pm
Experience Traditional Greek Music at Calissa Hamptons (Water Mill, NY)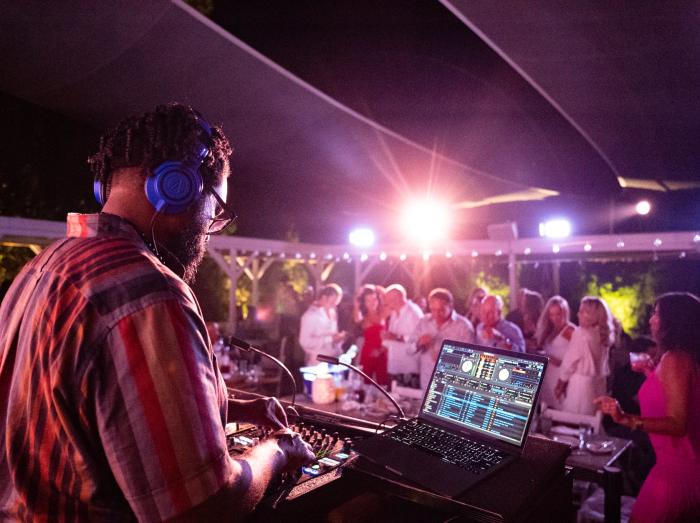 Credit: FB @Calissa Hamptons
See the talented Greek Liako singer Giorgos Tsalikis bring his energetic musical show from the Athenian Riviera to the Terrace at Calissa, a premiere Hamptons dining venue that will transport you to the breathtaking island of Mykonos. At this cultural concert, you'll have the opportunity to participate in a tradition only found in Greek nightclubs called "floromania," otherwise known as "flower throwing," a celebratory act that symbolizes joy, enthusiasm, and appreciation for the performing artist. Reservations are required for this event, so be sure to get your tickets soon!
Event date: June 17, 2023, at 9pm
Luke Bryan at Northwell Health at Jones Beach Theatre (Wantagh, NY)
Attending a concert at Jones Beach Theatre is a hallmark of every Long Island summer. This year, one of the greatest names in the country music genre is coming to town – Luke Bryan! Winner of the 2021 American Country Music Entertainer of the Year award and American Idol judge, Bryan is an act you won't want to miss this summer.
Event date: July 6, 2023, at 7pm
Sam Hunt at Northwell Health at Jones Beach Theatre (Wantagh, NY)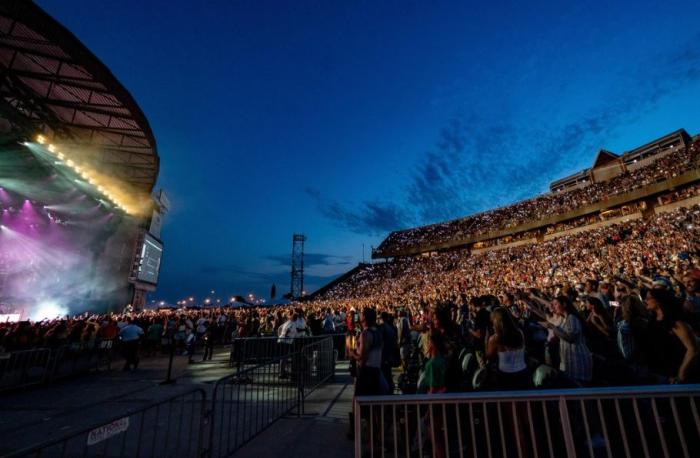 Credit: IG @northwellijbt
Put on your best cowboy boots for Sam Hunt at Jones Beach this summer! Performing alongside the talented Brett Young and Lily Rose, the country star will be stopping in Wantagh for the Summer on the Outskirts Tour where he'll be playing classic favorites. Get your tickets now before it's too late!
Event date: July 14, 2023, at 7pm
NOFO Band and Chef Eli at Sannino Vineyard (Cutchogue, NY)
Known for its high-quality wines and immersive tasting experiences, the family-owned and operated Sannino Vineyard is hosting a special event with NOFO Band! At only $25 per person, enjoy glass specials and pack your picnic blanket for a relaxing and musical night under the stars.
Event date: July 15, 2023, 7pm
Pat Benatar and Neil Giraldo at the Catholic Health Amphitheater at Bald Hill (Farmingville, NY)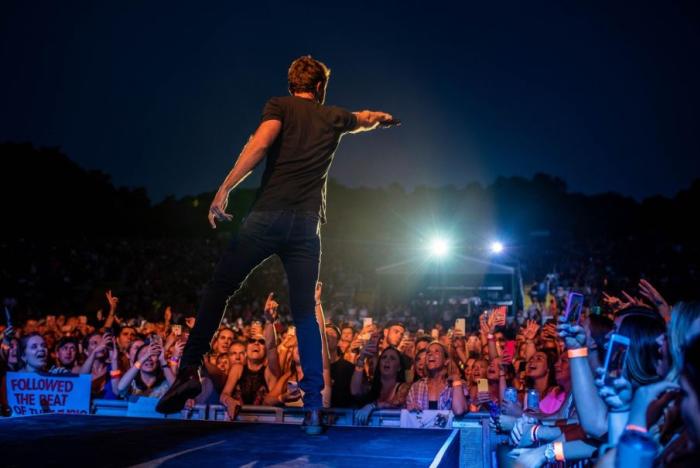 Credit: IG @ampatbaldhill
Known as the First Lady of Rock and now a Long Island Music Hall of Fame inductee, Long Island native Pat Benatar and her partner Neil Giraldo are coming home this summer! The iconic singer/songwriter duo and recent inductees of the prestigious Rock and Roll Hall of Fame will be playing at the outdoor concert venue for their 2023 headliner tour. Located in Farmingville, the Catholic Health Amphitheater at Bald Hill hosts unforgettable nights filled with live music outdoors all summer long. See here for more information about tickets and parking.
Event date: July 23, 2023, at 7:30pm
Darius Rucker at the Amphitheater at Bald Hill (Farmingville, NY)
Come see renowned singer, songwriter, and frontman of the band Hootie and the Blowfish Darius Rucker sing classic hits! The country and rock star will be visiting for his latest North American leg on the Starting Fires Tour. Rucker will be supported by Drew Holcomb, lead singer of the Americana band Drew Holcomb and the Neighbors. Grab your blankets and head to the lawn for a spectacular show!  
Event date: August 5, 2023, at 7:30pm
Outdoor Music Hotspots:
Claudio's Waterfront (Greenport, NY)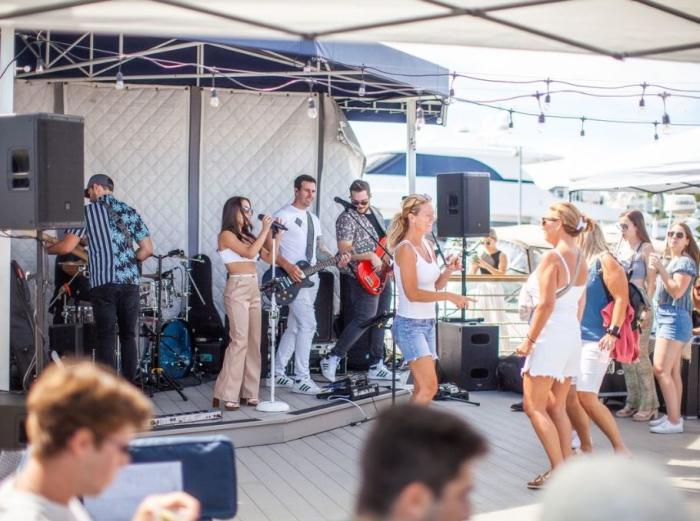 Credit: IG @claudioswaterfronts
Serving amazing seafood for over 150 years, this North Fork marina restaurant is not only known for its iconic lobster rolls. Dancing the night away to live local bands on the wharf is part of the Claudio's experience. Catch electrifying DJs and other musical performances at Claudio's Waterfront or Crabby Jerry's, a casual, quick-serve waterfront dining experience with dog-friendly outdoor seating that is great for families. Check out Claudio's website for more events throughout the summer.
Flynn's Fire Island (Ocean Beach, NY)
This venue combines a restaurant, bar, and marina to offer both a relaxing dining experience overlooking the Great South Bay and a perennial favorite party spot with live music, DJs, and private catered events. To make the experience even more unique, Flynn's partnered with The Moon Chaser Boat Cruise out of Captree State Park to provide guests with soul-soothing music and a pleasurable ride across the bay to the Fire Island landmark. Starting July 6, soak up the sea air, sway to the music, and enjoy the party atmosphere on this 45-minute dinner cruise that features a cash bar and sails directly to Flynn's Fire Island. For a lineup of summer happenings, see Flynn's official website and event calendar.
The Surf Lodge's Summer Concert Series (Montauk, NY)
The Surf Lodge Summer Concert series is back with an impressive lineup of acts all summer long! This July, electrifying headliners Lauv and Anna of the North will take the outdoor stage and on Labor Day, certified-platinum artist Quinn XCII is set to close out the season. If you're looking for somewhere to spend the night after dancing, look no further than their coastal hotel where you'll receive complimentary amenities such as weekend wellness classes and bike rentals. You won't want to miss The Surf Lodge's hottest parties of the summer!
Salt Shack (Babylon, NY)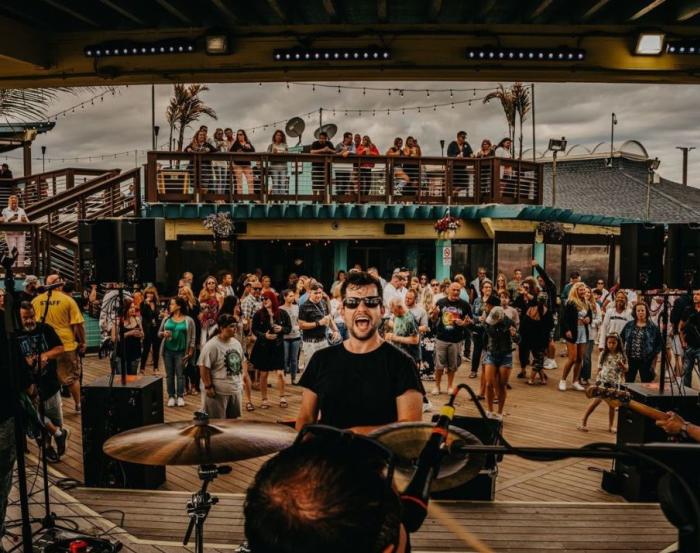 Credit: IG @saltshackny
For a true #SaltLife summer experience, visit the Salt Shack, for delicious food, local libations, and live music. Located right on the sand at Cedar Beach with a weathered deck under the stars serving as its dance floor, guests can expect live music seven nights a week all summer long. From 80s revival bands to rock and roll groups, to laid-back acoustic tunes, there is something for every music taste at this seaside spot.
Montauk Distilling Company (Riverhead, NY)
Located in Riverhead, visit Montauk Distilling Co. for live music nearly every day of the week! See acts such as Sonic Gumbo, Julia Jewel, and DJ Henry's hit summer parties as you sip on some of Montauk's best spirits in the region. While you're there, enjoy a tour of the distillery offered on Fridays and Saturdays at select times where you'll see how their original products are made.
Event date: See official website calendar for more details.
Pindar Vineyards (Peconic, NY)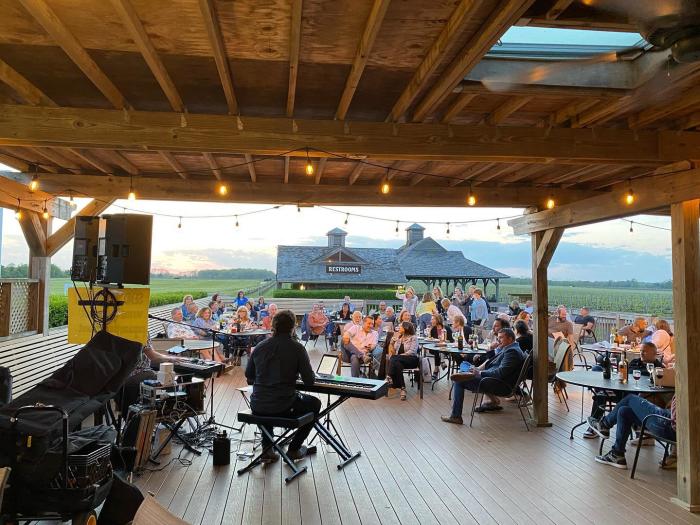 Credit: FB @Pindar Vineyards
A North Fork staple and one of the region's oldest vineyards, Pindar Vineyards is hosting live music at the Pavilion all summer long. Get ready for performances at May Fest, Summer Fest, and Wine Fest where you can bring your own blankets and beach chairs as you relax with a glass of Pindar's award-winning wine. For an all-inclusive experience, go behind the scenes with a winery tour where you'll taste an exquisite selection of five handpicked wines from their state-of-the-art production facilities. Other vineyards in the region known to offer a slate of live entertainment include Bridge Lane Wine in Mattituck, Clovis Point Wines and Jason's Vineyard in Jamesport, and Osprey's Dominion in Peconic!
Event date: See the official website calendar for exact dates and times
Bodhi's Beach Shack (Blue Point, NY)
Located on the beachfront in Blue Point, Bodhi's is a colorful, no-frills hidden gem offering a fleet of Adirondack chairs lined up from bar to ocean, along with deck-bound stools, adult swing sets, topical cocktails, local brews and more. Don't visit without sampling Aunt Frans' Fried Clams while you hear hits from local bands including Project Vibe to Dizzy After Midnight. Get your tickets now for upcoming performances here!
Danfords Hotel and Marina (Port Jefferson, NY)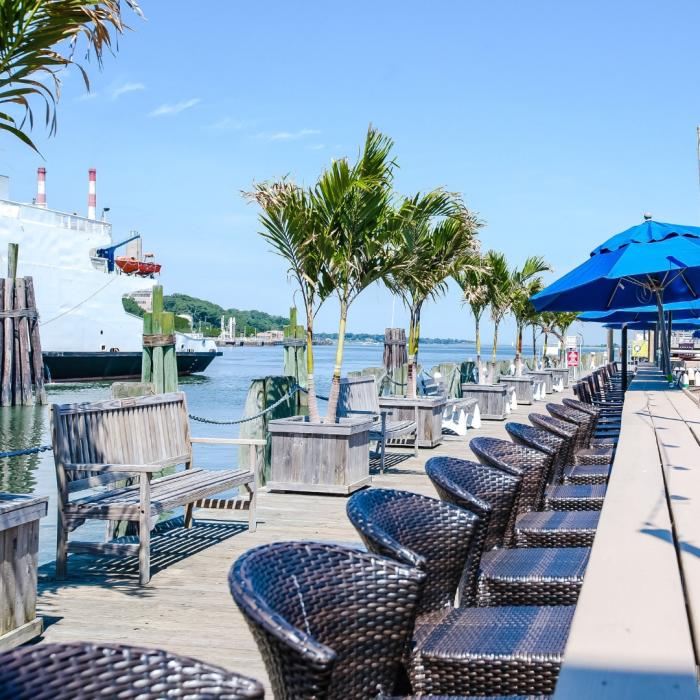 Credit: FB @Danfords Hotel
Experience luxury this summer when you visit this gorgeous coastal retreat located in the Long Island Sound. You can enjoy the sounds of talented local musical guests when you dine harborside at one of their exquisite bars and grills. There is live music playing every weekend evening at The Turn and the Ferryman's Grille, both of which offer delicious eats from fresh Maine lobster rolls to tasty wraps and deluxe salads. And why not make it a weekend getaway when you stay at one of Danfords hotel's expansive guestrooms that feature awesome amenities such as in-room dining and dog-friendly suites! Other hotels in the region known for hosting great live music include The Pridwin on Shelter Island and The Shoals in Southold.