Lobster rolls are synonymous with a Long Island summer, and it goes without saying no bucket list is complete without one (or a dozen). There are several famed spot on Long Island's East End like Shinnecock Lobster Factory in Southampton or The Lobster Roll (LUNCH) in Amagansett where everyone from Bill Clinton to Jerry Seinfeld has pulled over and dined at the roadside retro shack. From hidden gems far off the east end to one of the oldest seafood shacks in the region, we've taken a deep dive and rounded up some of the top spots to savor this Long Island summertime staple.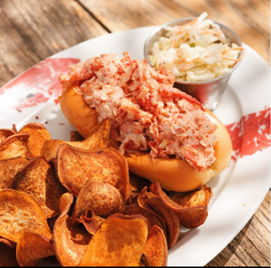 @duryeasmontauk
Duryea's Lobster Deck & Seafood Market is one of the most famous summer hotspots on Long Island. not only for its views and ambiance that rival those in Mykonos but for their fresh Maine-style lobster roll. Dine on the deck overlooking Fort Pond Bay at sunset time and for the most romantic atmosphere. The seafood is the freshest, the views are the pretties, the service is the most attentive. The original Montauk location is walk-in only, in keeping with the classic tradition of clipboard orders at the cashier's window.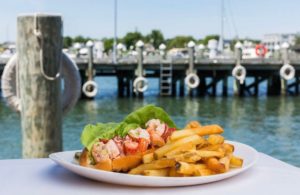 @claudioswaterfronts
This North Fork institution has been serving seafood on Greenport's waterfront for 150 years - and the quality of their iconic lobster rolls have remained the same. These days, Claudio's operates four different restaurants in the same complex, serving diners who walk, drive, or even boat in search of a bite to eat. Lobster rolls at each spot are all equally delicious, served on buttery toasted buns with the highest quality fresh lobster meat in hot or cold varieties.
In the heart of the seaside Bellport community, amongst the historic Bellport Inn, restaurants, boutiques and the Bellport Marina on the Great South Bay, you'll find Porter's on the Lane and their overflowing lobster rolls made with poached lobster, dill mayo, lettuce and tomato.
The popular seafood spot and restaurant has been a neighborhood staple in the seaside village of Port Jefferson for more than two decades - and for good reason! The lobster rolls are made with a 1/2 lb. of lobster salad that mixes fresh celery and mayonnaise. It is then served on a toasted New England style hot dog roll with French fries and coleslaw.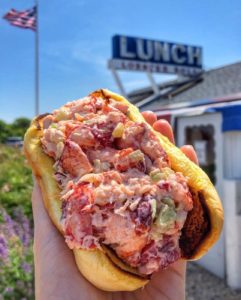 @emmaklassen
Amagansett's The Lobster Roll has been serving up its namesake since the 1950's - if it ain't broke, don't fix it! The retro-styled seafood shack is an East End classic, attracting locals, celebs, tourists, and more - and for good reason - their lobster roll are just as good now as they ever have been.
Harbor poaches their lobster meat in butter and serves their rolls warm - an absolutely perfect combination of the Main and Connecticut styles. With various menu items created by an award-winning chef, this neighborhood market's warmth and authenticity make it a definite North Fork bucket list item to check off.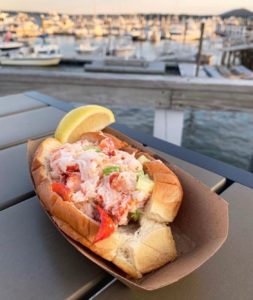 @21andhungry
This casual seafood restaurant with waterfront seating serves up heavenly lobster rolls, only the freshest seafood, as well as local beer and wine. Since its located on a dock in Manhasset Bay and prefers to source its produce locally, the eatery is only open seasonally from May to October.
Bold and unusual, the lobster roll at Halyard in Greenport boasts some eclectic ingredients. The lobster is mixed with house-made mayo and Old Bay seasoning and rests on a grilled hokkaido milk bun. The pillowy Japanese bread balances the bite of the Old Bay beautifully. The roll comes with French Fries.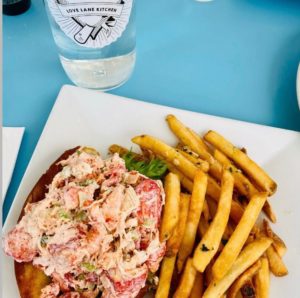 @michelinadafonte
It should be no surprise that a beloved landmark restaurant like Mattituck's Love Lane Kitchen has a lobster roll to match its reputation. Lobster salad mixed with celery and mayonnaise is tucked onto a buttery toasted brioche roll. The traditional recipe is transported by the sweetness of the bread, and the side of garlic fries makes this heaven on a plate.
For breakfast or lunch with stunning ocean views, Tillie's is your answer. Located in Gurney's Montauk Resort and S2eawater Spa, the restaurant offers you American favorites - waffles, pancakes, French toast for breakfast and simple yet mouthwatering seafood dishes for lunch. A lot of people especially appreciate the $26 breakfast buffet with an omelet station and a wide selection of pastries, fruits, coffee, and juice. The highlight of the lunch menu is the lobster roll with spicy sriracha mayo; it's the combo you never knew you needed. One of the great recent edition to the list of Montauk restaurants.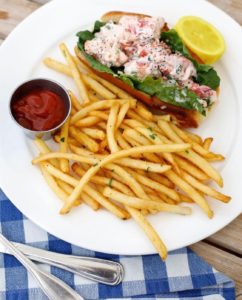 @baronscove
If you're looking for the perfect waterside bite, check out the Restaurant at Baron's Cove. Their iconic dish comes with a choice of cold chive mayo dressing or warm butter poached lobster, choice of shoestring fries or house salad. Located right along Sag Harbor cove, there's a salt water pool in the summer, lounge chairs aplenty by said pool, and a preppy interior that looks like Ralph Lauren gave the decorator some tips.
If you love rose, this is probably your version of heaven: Handsome people sitting around with small dogs and happy children, all drinking pink, in a yard that tries hard to conjure Provence. The barn tasting room is 200 years old and as cozy as a barn can be, but you're here for that garden and it's maybe-blossoming cherry tree, and to gawk at the Croteaux vineyard while sipping wine.
A casual take on lobster rolling, this spot lets you order and then choose your seat - and, if you're lucky, you'll score a water view. Lobster meat, mayor, lemon juice, scallion and celery marry on a warm hot dog bun.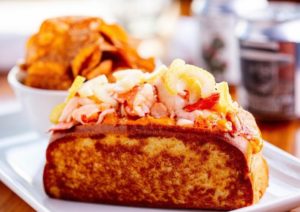 @saltandbarrel
Apparently Bay Shore is the unofficial home of the Connecticut roll. This warm roll is filled with butter-poached lobster, along with a little celery, for good measure. On the side? Salt and vinegar chips.