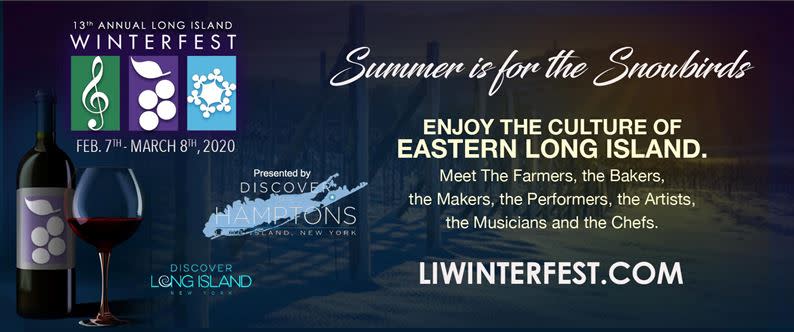 The 13th Annual Winterfest is about to get started on Long Island's East End. This five-week, mid-winter festival will take place on both the North and South Forks of Long Island, showcasing the region's unique wineries, breweries, hotels, arts organizations, and other cultural venues.
New this year: You can now join the Winterfest Founders Club that gives you a VIP Passport to special offers from participating partners. From a complimentary bottle of wine at your hotel to discounts from your meals, this card will give you the ultimate Winterfest experience.
https://www.instagram.com/p/B6LYqAUHhnK/
Events
February 7: Kick-Off Party
Hotel Indigo will host the Winterfest kick-off party that will begin the five weeks of exclusive experiences on the North and South Forks. The party will feature two floors of entertainment with performances, craft vendors, food, drinks and more. You can also talk with Winterfest venues and hotels to find out what they have planned during the event.
https://www.instagram.com/p/B7jkburHg7w/
February 28-March 1: Hamptons Bedside Reading Authors Weekend
Calling all book lovers! The second annual Hamptons Bedside Reading Authors Weekend will feature cocktail parties, brunch and book signings at several Hamptons Inns, including Topping Rose, White Fences Inn, The 1770 House, The Bake House 1650 and The Maidstone Hotel. Tickets will get you entry to all five book events and a book at each event.
https://www.instagram.com/p/B75uxQLA1jy/
February 28-29: Food & Wine Pairing Event
Make sure to come to Desmond's at East Wind Long Island hungry for a delicious Food & Wine Pairing Event. Enjoy a four-course dinner with each course carefully paired with a complimentary glass of wine.
https://www.instagram.com/p/B8HGBY0H-TX/
February 29: Harborfrost
Head to Sag Harbor for the return of HarborFrost. Celebrate all things winter with live ice carving demonstrations, ice sculptures along Main Street, live music performances, indoor children's activities, and a new Laser Light Show.
Every Friday
Welcome each weekend during Winterfest at Jamesport Farm Brewery. Grab your friends for Pints, Flights, & Trivia Night each Friday at 6:30 PM where you can test your trivia skills over a tasty beverage and compete for prizes.
https://www.instagram.com/p/B61Fjs7nrck/
Every Saturday
Every Saturday from 10 AM-2 PM, the Riverhead Farmer's Market will be open for you to explore over forty vendors offering everything from local produce and dairy to spirits and handmade gifts.
https://www.instagram.com/p/BvWvhYjF3JY/
Every Sunday
From 2-6 PM every Sunday during Winterfest, Long Ireland Beer Company with be hosting a series of Live Music performances. Head out for some great beer and a variety of music for every musical taste.
https://www.instagram.com/p/B8C300nnfdd/
Art and Culture
Winterfest is the perfect time for you to explore the rich artistry and culture of Long Island's East End. Don't miss special performances, events, and exhibitions that will showcase the very best of the region.
Parrish Art Museum: Discover and connect with artists and art, with 15 temporary exhibitions presented each year, including new installations drawn from the museum's world-class collection of more than 3,000 works, special exhibitions, and group exhibitions. Make sure to stop by March 7 for Two Forks and a Cork, a fun and appetizing event that features food and wine from the East End with live music and the opportunity for gallery exploration.
The Suffolk Theater: Experience diverse performing arts, from live entertainment, music and plays to movies and catered affairs. Shows during the event will include an Eagles tribute band, Valentine's Weekend dinner and a show, and a hillbilly burlesque.
Peconic Ballet Theatre: Enjoy a wine tasting from Kontokosta Winery and a gallery viewing followed by the Theatre's professional dance company performing pieces of work from Ballet, Tap, Jazz, and Modern.
Southampton Cultural Arts Center: Attend a variety of programming that combines art, education, dance, music, and theater that engages you and the rest of the community with the arts.
WHERE TO STAY
For more information, visit www.longislandwinterfest.com.