March is Women's History Month, a time to celebrate the groundbreaking women in history whose profound contributions have shaped our world today. From the pioneers of the Woman's Suffrage Movement to rallies that saved the Montauk Lighthouse, Long Island has ties to many historic milestones and achievements in the fight for women's rights. Long Island continues to be a region full of history-making women, female entrepreneurs shattering glass ceilings, and other tales of success. Continue reading to learn more about Long Island's HERstory, celebratory events happening throughout the month, and how to support the local woman-owned businesses making an impact in the region today.
Long Island's HERstory Makers
Suffrage Movement
Elizabeth Cady Stanton & Harriot Stanton Blatch are mother and daughter duo who had summer homes in Shoreham and were key players in both the Suffrage and Abolitionist movements in New York. Elizabeth Cady Stanton is the author of the "Declaration of Sentiments" which expanded on the Declaration of Independence. Harriot then founded the Equality League of Self-Supporting Women and organized the 1910 New York suffrage parade.
You can visit Mary Louise Booth's childhood home, The "Booth House" on Main St. in Yaphank. Booth served as a founding editor of Harper's Bazar magazine, received letters from Abraham Lincoln and helped bring the Statue of Liberty to NY. Booth acted as a translator between Frédéric Auguste Bartholdi (the French sculptor/creator of the Statue of Liberty) and government officials in New York.
Ida Bunce Sammis, born in Cold Spring Harbor, organized the first Women's Suffrage club in Suffolk County, was the President of the Equality League and is one of the first two assembly women elected to the New York State Legislature in 1918.
You can find a statue in Cold Spring Harbor State Park dedicated to honoring Rosalie Gardiner Jones who was known as "the General" for organizing state-wide marches. She led two marches- the first from NYC to Albany where she led over 200 women over 175 miles in 13 days in December 1912 through bitter cold. The second was to the White house in March 1913 before Woodrow Wilson's inauguration.
The Founder of Newsday
Alicia Patterson launched Newsday in September 1940, despite her father firing her from being a reporter at the New York Daily News and told her a tabloid would not be successful on Long Island. Newsday won a Pulitzer Prize in 1954, became the country's largest suburban magazine and helped shape the identity of Long Island.
Other notable female pioneers
Elinor Smith Sullivan, a pioneering aviator, went by the nickname of the "Flying Flapper of Freeport". She flew her first plane at 6 years old and became the youngest licensed pilot at age 16 in 1927. Sullivan was named as the Best Female pilot in the US by the American Society for the Promotion of Aviation in 1930 at just 19 years old.
Barbara McClintock, an American Scientist and Nobel Prize-Winning Geneticist, worked at Cold Spring Harbor Laboratory in 1940. She studied chromosomes and how they changed during reproduction in corn. McClintock was met with a lot of skepticism from male scientists, so she stopped publishing her data. She wasn't recognized for her work until she was 81 years old when she won a Nobel Prize for the discovery of genetic transposition.
Joan Whitney Payson was a prominent heiress and businesswoman who lived in Manhasset. As cofounder and owner of the Mets, she served as the team president until 1975.
Recent change makers
Saving the Montauk Lighthouse
Over 40 years ago, Giorgina Reid saved the Long Island landmark as we know it today, the Montauk Lighthouse. The Coast Guard was ordered to abandon the lighthouse. On Earth Day in 1970, Giorgina, came out with her husband and volunteers from Rocky Point to do plantings on the cliff face of the Montauk Lighthouse to stop the erosion. In 1985, there was a tribute to Giorgina for her efforts and a letter written by President Ronald Regan of her courage. 15 years later, Reid and her volunteers saved the lighthouse from falling into the sea. Learn more by viewing the LITV episode linked below.
First Female Eagle Scouts
Just last year, three Long Island teens were among the nation's first female Eagle Scouts. This accomplishment is the highest rank in the program and achieved by only 6% of all scouts. Three teens from Troop 186 of Wantagh worked for two years to receive the honor. Learn more about the accomplishments here.
Women's History Month Celebrations on Long Island
Celebrating Women in Space (Oakdale)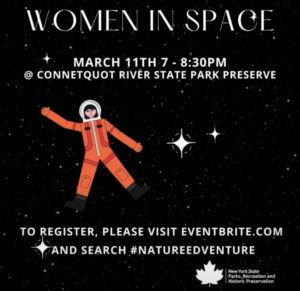 Learn about the women who have made our achievements possible, and what the future holds during this workshop at Connetquot River State Park. Enjoy astronomy, family-friendly activities, and learn about stargazing. Family programs are appropriate for ages 5+ and masks are required inside all buildings. $4 per person upon arrival.
Event date: March 11th, 7 p.m. to 8:30 p.m.
Conversations in Coe Hall: The Women of Planting Fields Past and Present (Oyster Bay)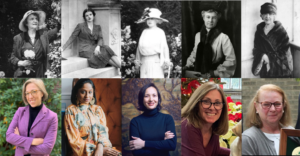 Head to the Planting Fields in Oyster Bay for the March edition of Conversations in Coe Hall. In the spirit of Mai Coe's legacy, this conversation will celebrate the women of Planting Fields both in the past and the present during Women's History Month. Featuring Planting Fields Foundation's leadership team, second row above from left to right, Meredith A. Brown (Director of Museum Affairs and Chief Curator), Liyamol Thachil (Director of Education and Engagement), Gina J. Wouters (Executive Director), Lilly McGurk (Director of Development and Membership), and Donna Moramarco (Historic Landscape Horticulturalist), this conversation will explore the impact of women at Planting Fields in the early 20th century and today.
Event date: March 23rd from 6 p.m. to 7:30 p.m.
Maiden film-screening at the Connetquot River State Park & Preserve
Watch the first all-female sailing team make history in this true story screening at Connetquot River State Park & Preserve. The film is rated PG and masks are required inside all buildings. $4 per person upon arrival. Reservations are required for all programs. Space is limited. If you are unable to keep your reservation, please cancel so others may have the opportunity to attend. Please try to arrive 10 minutes early.
Event date: March 25th at 7:30 p.m.
Women's Retreat at the Bellport Inn (Bellport)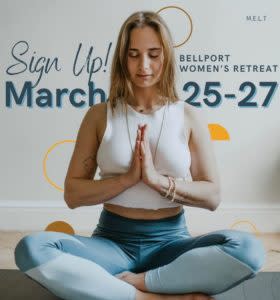 This retreat happening at The Bellport Inn is open to women who have a longing to take time to practice self-care and bear witness to the potential for how a common experience, in the container of meditation can nurture our spirits and develop a way we walk through the world that is more present, nurturing and ultimately beneficial for all. The weekend will be filled with time for silence, personal journaling, wisdom talks, group meditations and discussions, yoga, and delicious plant forward meals by Chef Jen Gorman of Rogue Kitchen. Special time will be set aside on Saturday for a Dream Big, Live Big guided meditation followed by a mastery wheel and vision board development session to help you manifest your best year yet, all with a small group of seekers who are on this path together. The retreat will be alcohol and technology free (except for those times that are necessary to check in with family or work). This container will allow us to rewind, reset and fill up our cups so that when we leave one another we have more capacity in our hearts to nurture ourselves and all those we love, and a rich community to reach out to when we forget that all this nourishment is always as close to us as "our next breath".
Event date: March 25th-27th
Women's History Walk (Oakdale)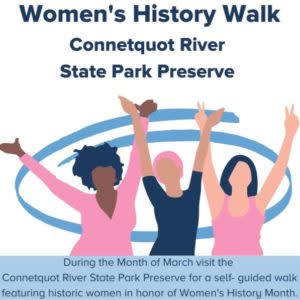 Head to Connetquot River State Park Preserve for a self-guided walk. Take notice of the signs displayed on the trails as they feature significant women of New York State as well as environmental leaders who have changed how we see and interact in our planet.
Event date: Throughout March
Local Women-Owned Businesses to Support
In honor of Women's History Month, the team at Discover Long Island has compiled a list of local women-owned businesses in the region that you can support this month—and every month.
AIREM Modern Beauty Rituals (Syosset)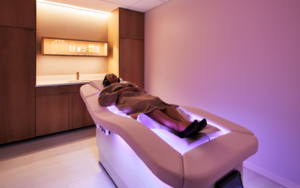 AIREM Modern Beauty Rituals is Long Island's first medspa inspired by Korean beauty rituals and backed by science. Owned by native New Yorker and Long Island's first female facial plastic surgeon, Dr. Eunice Park, AIREM utilizes Dr. Park's 10+ years of minimally invasive, non-surgical, and surgical techniques to help its clients achieve optimal skincare and beauty results. Inspired by her own journey of skincare and aesthetic wellness post-partum, Dr. Park has created a space for Long Islanders to rejuvenate, relax, and soak in self care with proven results.
The Bellport Inn (Bellport)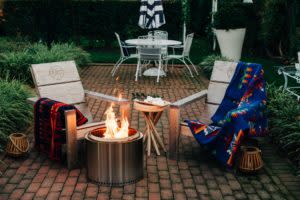 After traveling abroad for some time, Ivana Newman discovered the quaint village of Bellport in 2014 and was instantly drawn to Long Island's magical beaches, the shimmering waters of the Great South Bay, the beautiful farms, and community's charm. She set out to highlight Bellport's diverse talents and community by opening the boutique hotel, The Bellport Inn, inside of a historic property dating back to 1889. The hotel opened in June of 2021 and features the work of local artists, authors, and artisans as well as an array of amenities.
Divine Self Rituals (Rockville Centre)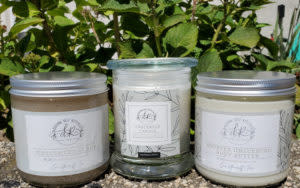 For homemade, sensitive-skin-approved beauty and wellness products, check out Divine Self Rituals. Using holistic, aromatherapy, and herbalism practices, Divine Self Rituals offers gifts ideal for your all-natural bestie or those that need a little encouragement when it comes to R&R.
Down the Rabbit Hole Wine Boutique (Sayville)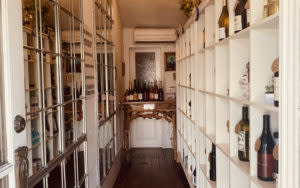 For some, brunch is not complete without a great cocktail or glass of wine — but we will let everyone decide whether they want to spike their brunch or not. If you choose to turn things up, head over to Down the Rabbit Hole Wine Boutique in Sayville. They have a selection of wines bursting with flavors that you may want to try! They also source wines from Black-Owned wine makers around the world. They also offer wine consulting and in-home tastings.
Love Lane Kitchen (Mattituck)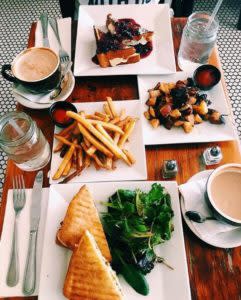 A must-stop North Fork restaurant serving breakfast, lunch, and dinner year-round with tasty desserts, cocktails and local beer and wine. Love Lane Kitchen now offers online orders with contactless pay options.
PH7 Nails & Sugaring (Woodbury)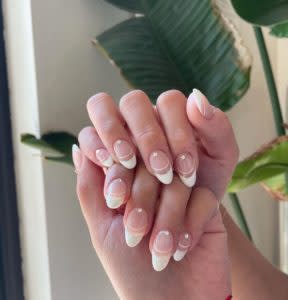 For unparalleled nail health solutions and manicure accessories, pH7 in Woodbury should be your go-to. The shop here offers a diverse collection of nourishing hand, cuticle, and nail products as well as rejuvenating body elixirs, lotions, non-toxic long-lasting nail lacquers, and so much more.
Harbor Pet (Greenport)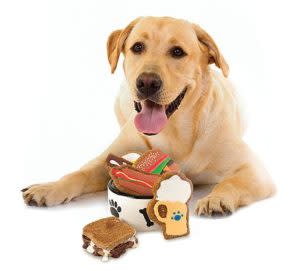 Our pets deserve the best, its what inspired Kim Loper to open a boutique pet products and services shop, Harbor Pet, in the historic Greenport building. Here, shoppers will find an array of healthy treats, food, toys, and accessories for their furry friends.
North Fork Doughnut Company (Mattituck & Bay Shore)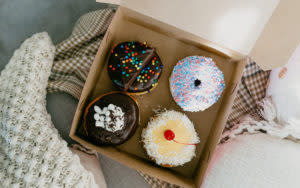 For creative, specialty hand-crafted doughnuts, pop on over to North Fork Doughnut Company in Bay Shore or Mattituck for all a weekly flavor forecast and a cup of Long Island's favorite local coffee, Sail Away Coffee. Score 10% off your final order when you show your Downtown Deals Travel Pass.
Port Salt Cave (Port Washington)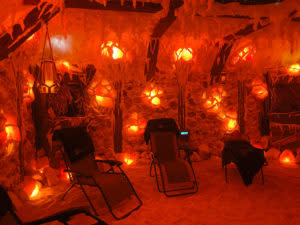 Right on the Inspiration Wharf in Port Washington, Port Salt Cave offers one of the best deep relaxation experiences in its serene salt cave. Salt Therapy may help support the immune, nervous, and lymphatic systems, but it is one of the most calming experiences ever. Be sure to get some unique salt crystal jewelry from the cave's Krystal Blu Boutique on your way out too!
Sannino Vineyard & B&B (Cutchogue)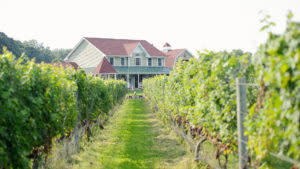 Sannino Vineyard has been owned and operated by the Sannino Family since 2006. For the past 16 years, Lisa Sannino and her family have worked to create sustainable and delicious wine. The estate has been so successful that it has grown to include a highly accredited two room bed & breakfast as well as additional acreage for the Tasting House. Following Lisa's suit, her daughters Marisa and Miranda have invested years of study to perfect viticulture, enology and sommelier and incorporate their knowledge into the Sannino family vineyard.
Sugared Beauty Bar (Roslyn)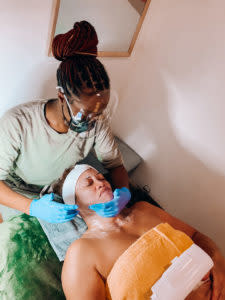 Try out a new holistic beauty routine at Sugared Beauty Bar, where sugar, lemon and water are the all-natural ingredients used for your self-care upkeep!  Aside from the skincare and sugaring services offered, the Studio also offers Reiki class and utilizes Tibetan tones to center those in the classes.
Hanalei and Kula's (Ocean Beach, Fire Island)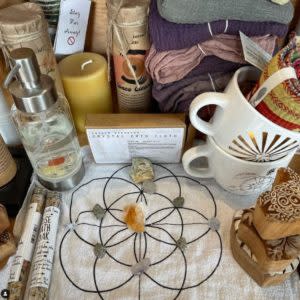 Photo courtesy of @hanaleiandkula/Instagram
Embrace beachside surfer vibes at Hanalei and Kulas (either online or at the location on Fire Island). Here, you'll find a wide variety of boho-chic apparel, hot tea blends, candles, incense, books, and more.
Stony Brook Chocolate (Stony Brook)
For artisan-made chocolates, candies, and gift baskets made with love, visit Stony Brook Chocolate Works. For over 30 years, owner Bernice Fehringer has been crafting artisan chocolates and sweet treats for the community.
Revive Health Studio (Huntington)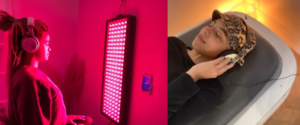 Uncover one of the best, new ways to reduce stress and anxiety at Revive Health Studio with the magic of the studio's Tune Bed.  By utilizing healing sounds and vibrations, the Tune Bed helps you heal your mind and spirit with easy and efficient means.
Quintessential Lifestyles (Oceanside)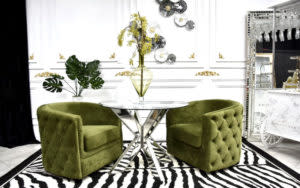 Treat yourself to a brand-new look and even some shopping therapy at Quintessential Lifestyles' salon. Book a hair or makeup appointment, and then shop from the wonderful variety of beauty & lifestyle products that the team uses to be fabulous every day!
Manna at Lobster Inn (Southampton)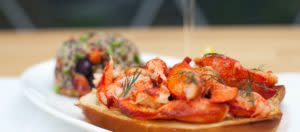 For a spectacular and sustainable seafood spread, run--don't walk—to Manna at Lobster Inn. This famed waterfront dining restaurant is a must-visit any time of year. The restaurant is the brainchild of local offshore aquaculture pioneer Donna Lanzetta and Sag Harbor restaurateur Ryunosuke Jesse Matsuoka (Sen and K Pasa), who met in 2015 and discovered that they "passionately shared a vision to feed the world sustainably grown and sourced seafood.
Macari Vineyards (Mattituck)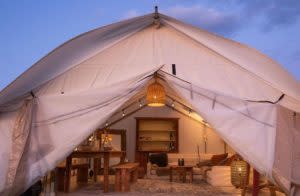 Visit the Macari Estate, set in the heart of Long Island Wine Country and led by winemaker Kelly Urbanik Koch who has been making wine with her family since she was a child. Experience Macari's informative wine presentation in the contemporary tasting room, or if you prefer, enjoy the serenity of Macari Vineyards as you sip our wines on a covered deck set amid 180 acres of vines.
Paddle Diva (East Hampton)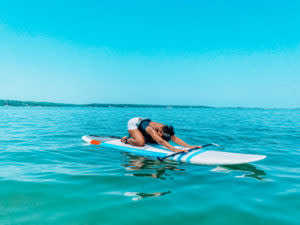 Originally founded with the purpose to empower young women through water sports, Paddle Diva has created a one-of-a-kind watersport experience. Paddle Diva's program is accredited by the Academy of Surfing Instructors. It also leverages founder, Gina Bradley's, 25 years of experience so anyone can transform their physical wellbeing and even improve their balance with a private paddleboard lesson (or an exclusive paddle tour through the waters of East Hampton).
Dynamic Fitness (Seaford)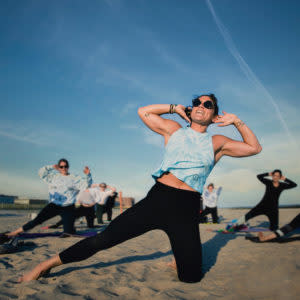 Dynamic Fitness believes that personal training shouldn't be a dreadful experience or require you to head to the gym. Instead, the company has adopted the belief that people should be able to work out where they want, when they want, with the equipment they want and nothing extra. Founded by certified personal trainer and fitness instructor, Dianna Falzarano, Dynamic Fitness offers clients time and space efficient strength training, pilates' principles, dynamic movement, and fitness coaching from the comfort of their own homes. Whether it be virtual training, 1X1 in-home training, or a small virtual group class, Dynamic Fitness provides personalized programs for all activity levels.
The Baker House (East Hampton)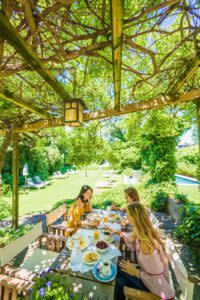 Enjoy a luxurious stay at one of the Hamptons finest bed and breakfasts, The Baker House. This award-winning boutique hotel has a long history dating back to the 1600s when it was a tavern, community center, meeting hall and a place for religious services. Fast forward to 1996 when Gary and Rita Reiswig turned it into an elegant and beloved hotel in East Hampton. Thirty years later, they sold it to the current owners, Antonella Bertello-Rosen and husband Bob Rosen, who revamped it with new amenities. Not only is this the place for exquisite events hosted on lush, terraced gardens and inside an elegant reception hall, but guests can also unwind in the hotel's state-of-the-art spa facility. Relax, rejuvenate, and revitalize your mind and body with Baker House's many spa experiences and wellness events. It's worth noting that The Baker House spa services are reserved for guests of the hotel.
Edna White Coaching (Riverhead)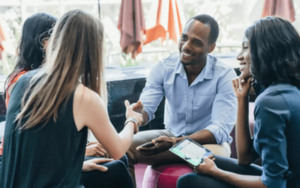 For relationship and business coaching, lean on Edna White Coaching & Consulting. Whatever your goal for the New Year may be, Edna White's strategic coaching services can help you build your dream life into this reality. Currently, all consulting services are by appointment only and are being held virtually, learn more by visiting her website.
For more on Long Island History, click here.
Tune into the Long Island Tea Podcast.
Subscribe for new Long Island TV Episodes.