Enjoying a little R&R may be easier said than done, but with Long Island's wealth of spas and healing centers, there's an impressive number of options available for a little self-care spa day. Discover Long Island's Fitness Ambassador, Dr. Michele Reed, a Long Island native and Board-Certified Family Medicine Physician (she also happens to be a Certified Personal Trainer and on call for the Long Island Nets), has been helping locals discover all the best health & wellness activities and outlets across the Island. We've featured many of them on our IGTV channel #FitFridays, so if you want an inside look be sure to catch up on those videos.
By the way, if you're in need of a little more serenity than just one day could provide, you're in luck! Many of the region's top-rated hotels are also home to incredible spas, so book a room and take it easy for a weekend or two. For a list of our favorite health and wellness-oriented service providers, continue reading.
Spa Experiences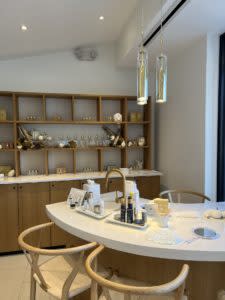 As the first Korean beauty inspired medical aesthetics spa in the United States, AIREM (428 Jericho Tpke., Syosset 11791) offers a variety of science-backed skincare essentials, facials, mind + body relaxation packages, micro-needling among other cosmetic skincare procedures, and so much more. Stop in and talk to one of the experts about facials, serums, and the other skincare treatments the MedSpa offers.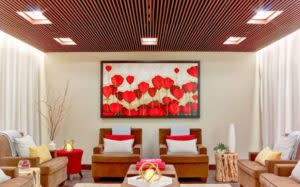 Red Hots Spa (45 Seventh St., Garden City 11530) is brand new to the Garden City Hotel. Opening in December of 2021, this luxury boutique spa brand combines the best results-driven spa treatments with popular "instant gratification" beauty rituals that leave guests feeling better than ever before. From facials to massages and even hair treatments, Red Hots Spa is a one-stop-shop for everything beauty and wellness. If you want to make more than a day of it, book a room at the prestigious Garden City Hotel and I promise you will leave feeling like royalty.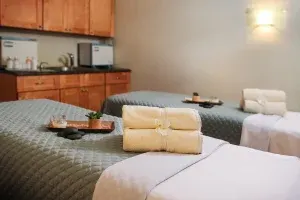 Relax and renew your senses after a long day by checking into the state-of-the-art luxury spa at Viana Hotel (3998 Brush Hollow Rd., Westbury 11590). There are a variety of special treatments offered at the spa from skincare treatments to body massages and even special Reiki healing services.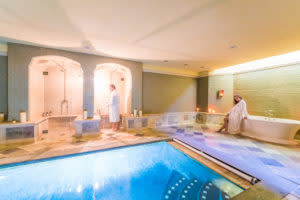 For unparalleled luxury at one of the Hamptons finest bed and breakfasts, check into The Baker House 1650 (181 Main Street, East Hampton, 11937).  Not only is this the place for exquisite events hosted on lush, terraced gardens and inside an elegant reception hall, but guests can also unwind in the hotel's state-of-the-art spa facility. Relax, rejuvenate, and revitalize your mind and body with Baker House's many spa experiences and wellness events. It's worth noting that The Baker House spa services are reserved for guests of the hotel.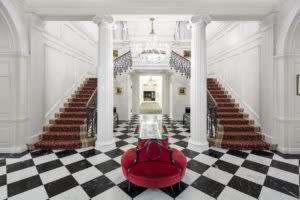 Massage Yoga Wellness (MYW) Spa at Glen Cove Mansion (200 Dosoris Ln., Glen Cove 11542) offers a variety of services geared toward nourishing your mental, physical, and spiritual self. Stop in for a facial, massage, personal yoga and meditation training, salt cave experiences, and so much more. All treatments can be tailored to fit your needs. And if you don't want to make the trek to Glen Cove, MYW will bring the spa to you with its "Home Spa" services.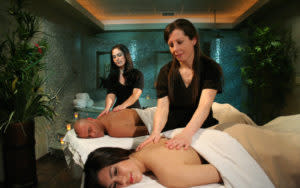 The Spa & Studio at East Wind (5720 Route 25A, Wading River, 11792) is a perfect afternoon escape or weekend getaway. Enjoy a full body treatment and clinical dermaplaning sessions that will leave your smooth, soft, and glowing or an aroma-massage that relieves stress and tension from both your mind and body. To make a weekend of it, take advantage of a spa + stay package offered by the inn.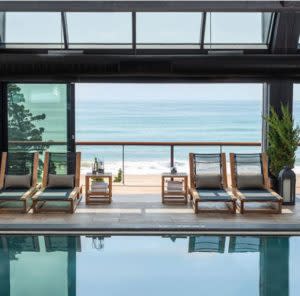 The spa has been re-imagined at Gurney's Montauk Resort (290 Old Montauk Hwy., Montauk 11954) with the help of Alonso Balaguer Designs, the brains behind the famed Aire Ancient Bath Spas. The spa will debut later this spring and include co-ed relaxation areas, eucalyptus oil-infused steam rooms and an ocean-fed saltwater pool.
Wellness & Healing Centers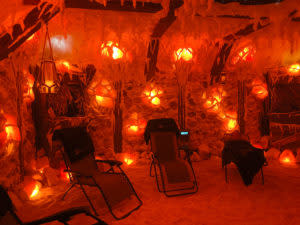 Right on the Inspiration Wharf in Port Washington, Port Salt Cave (403 Main St., Port Washington 11050) offers one of the best deep relaxation experiences in its serene salt cave. Salt Therapy may help support the immune, nervous, and lymphatic systems, but it is one of the most calming experiences ever. Be sure to get some unique salt crystal jewelry from the cave's Krystal Blu Boutique on your way out too!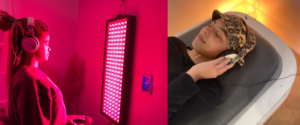 Uncover one of the best, new ways to reduce stress and anxiety at Revive Health Studio (44C Gerard St., Huntington 11743) with the magic of the studio's Tune Bed.  By utilizing healing sounds and vibrations, the Tune Bed helps you heal your mind and spirit with easy and efficient means.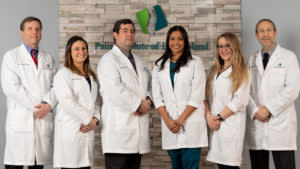 As we focus on health and wellness, one of the main goals is to reduce and eliminate pain. This is also the main mission of the Pain Institute of Long Island.  With four locations across Long Island, the Pain Institute's specialists and physicians utilize cutting edge evidence-based techniques to help find the right treatments to fit all the unique pain needs. Remember, if you're in pain, your body is trying to tell you something—do it a favor and listen.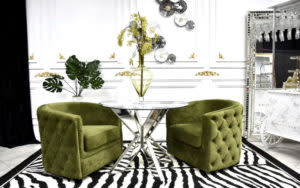 Treat yourself to a brand-new look and even some shopping therapy at Quintessential Lifestyles' salon (435 Merrick Rd., Oceanside 11572).  Book a hair or makeup appointment, and then shop from the wonderful variety of beauty & lifestyle products that the team uses to be fabulous every day!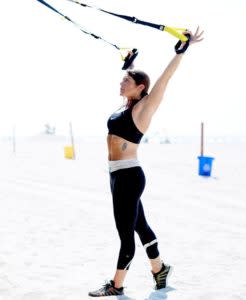 Dynamic Fitness believes that personal training shouldn't be a dreadful experience or require you to head to the gym. Instead, the company has adopted the belief that people should be able to work out where they want, when they want, with the equipment they want and nothing extra. Founded by certified personal trainer and fitness instructor, Dianna Falzarano, Dynamic Fitness offers clients time and space efficient strength training, Pilates principles, dynamic movement, and fitness coaching from the comfort of their own homes. Whether it be virtual training, 1X1 in-home training, or a small virtual group class, Dynamic Fitness provides personalized programs for all activity levels.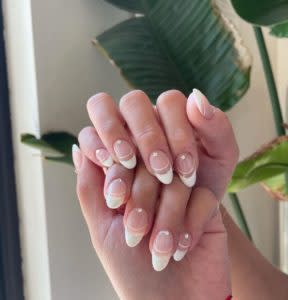 For unparalleled nail health solutions and manicure accessories, Ph7 (8586 Jericho Tpke., Woodbury 11797) should be your go-to. In addition to offering keratin-infused manicures, pedicures, and massages, the shop here offers a diverse collection of nourishing hand, cuticle, and nail products as well as rejuvenating body elixirs, lotions, non-toxic long-lasting nail lacquers, and so much more.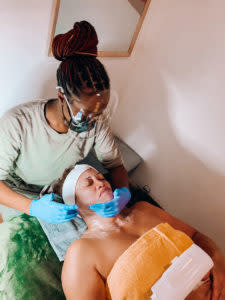 Try out a new holistic beauty routine at Sugared Beauty Bar (1355 Old Northern Blvd., Roslyn 11576) where sugar, lemon and water are the all-natural ingredients used for your self-care upkeep!  Aside from the skincare and sugaring services offered, the Studio also offers Reiki class and utilizes Tibetan tones to center those in the classes.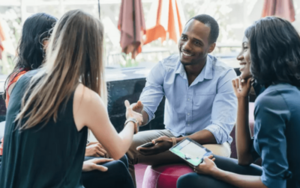 For relationship and business coaching, lean on Edna White Coaching & Consulting. Whatever your goal for the New Year may be, Edna White's strategic coaching services can help you build your dream life into this reality. Currently, all consulting services are by appointment only and are being held virtually, learn more by visiting her website.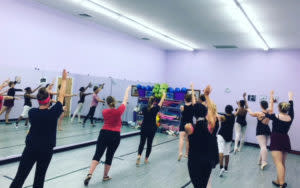 Dance is a fun and spirited way to stretch out your muscles and get some cardio in. For the past 51 years, Positions Dance Studio (264 Deer Park Ave., Babylon, 11702) has been serving the Babylon community with a goal of making dance accessible to all. This studio offers a large variety of dance styles like hip hop, contemporary, tap, jazz, and ballet. As well as fitness classes, parents and tot classes, birthday parties, adult dance classes, and more. The experienced qualified staff has extensive training in both dance and education, so they know how to make learning simple and fun. Come get your body moving in an upbeat, feel-good environment!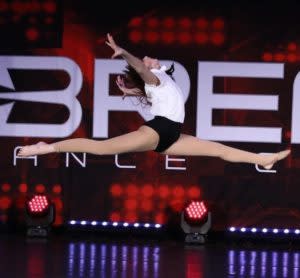 If you've got a competitive edge, Royal Dance Center of Babylon (17 Cooper St., Babylon 11702) may just have the team sport for you. Director and owner Rosa D'Aleo began her magical journey dancing in New York City over 30 years ago and has been teaching for 15+ years. Eight years ago, she opened Royal Dance Center and has been sharing her passion with the village ever since. The studio offers a variety of classes for all ages including acrobatics, jazz, Broadway, contemporary, and a competition dance team.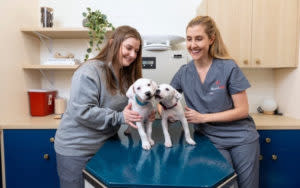 Humans aren't the only ones that benefit from healthier living New Years resolutions, our furry friends also deserve to live a happy, healthy lifestyle. And Bond Vet (855 E Gate Blvd., Garden City 11530) is here to ensure that your pet is getting the proper nutrients, grooming care, and enough exercise to keep your four-legged BFF in tip-top shape through regular check-ups, testing, and pet health product recommendations.
For more health tips from the Fit Doc click here!