Enjoy seasonal outdoor dining that is guaranteed to fill your heart with joy and your stomach with phenomenal food at these Long Island restaurants. Featuring super cool seasonal dining experiences complete with special menus, themed cocktails, and uniquely decorated spaces, outdoor dining in December never looked so good!
[embedyt] https://www.youtube.com/watch?v=zJkDitmt3Kw[/embedyt]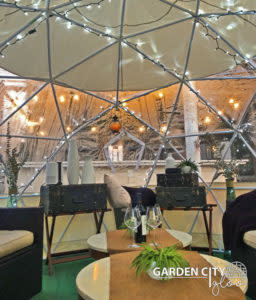 Enjoy celebrity chef catering in your own private igloo courtesy of David Burke's Red Salt Room located at the Garden City Hotel (45 7th St., Garden City). The hotel's private igloos and canopy seating will provide guests with an elegant outdoor dining experience under the stars complete with an air purifier, heater, music, and pre-ordered menu package. Each igloo can comfortably seat up to four people, while the canopies can accommodate up to 10 people. Space is limited so be sure to book your reservation ASAP.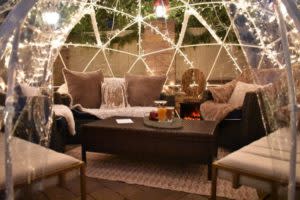 Located in Islip (501 Main St.), the American bar and grill known for its carousel-horse décor offers holiday-themed igloos with cozy couches and a fireplace that you can reserve for up to eight people. Reservations include one round of drinks and an exclusive igloo-only menu.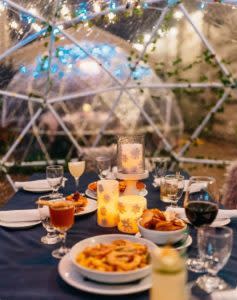 Located on the south shore of Suffolk County, The Linwood (150 E Main St., Bay Shore) offers craft cocktails and beer along with an assortment of local wines. The igloos here are decorated with stringed lights and feature an exclusive menu filled with all the seasonal favorites.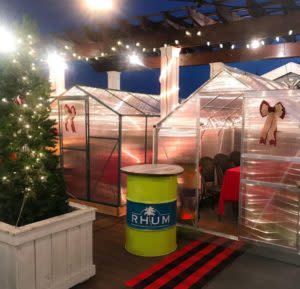 Located in Patchogue, RHUM (13 E Main St., Patchogue) is an island-inspired eatery and rum bar that has private, cozy, seasonal seating that sets it apart from the others. We're talking heated rooftop cottages, how cute! Want to save 10% on your bill? Download the free Long Island Downtown Deals Travel Pass.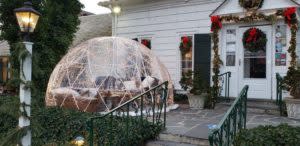 Mirabelle Tavern at the Three Village Inn (150 Main St., Stony Brook) has opened two private igloos for guests to dine in this fall/winter season. Igloos may be reserved for two hours for up to six people and include a heater, twinkling lights, distinct holiday decor, cozy seating, and a bottle of prosecco.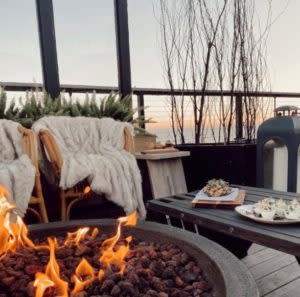 Located in Montauk, Gurney's Resort (290 Old Montauk Hwy., Montauk) is a luxury hotel right on the beach with panoramic ocean views and phenomenal eats at the on-site restaurant, Scarpetta Beach. Dine in a bungalow by the sea paired with a seasonal menu, open-air firepit, and specialty cocktails. Reserve your reservation online today.