Long Island is known across the globe for its captivating coastlines featuring hundreds of miles of pristine beachfronts – with two, Coopers Beach in Southampton and Main Beach in East Hampton, consistently named on Dr. Stephen Leatherman's (aka Dr. Beach) prestigious annual ranking of the "Top Ten Beaches" list in the nation. 
Experience the calm waters of rocky North Shore beaches or soak in the sun, soft sand and crashing waves on the South Shore. Lounge on summer beach days, explore bustling vibrant boardwalks, scenic beach trails, and legendary lighthouses, or take advantage of a wide array of water sports – there is no shortage of things to do on every Long Island beach. 
There are more than 100 public beaches across the region, each with a distinct character and slate of amenities, so we gathered our top picks on each coastline to help you experience your ideal summer beach day on Long Island. Dive into our list below to learn more!
South Shore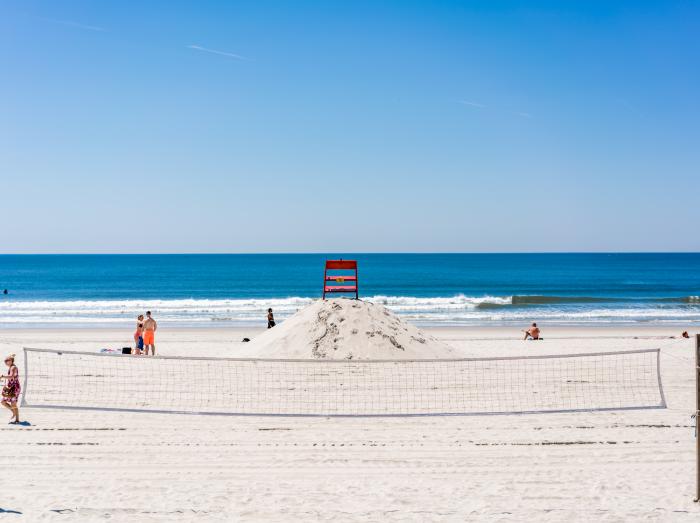 As one of the only two cities on Long Island, this "city by the sea" is a picturesque waterfront community with over three miles of beaches, an iconic boardwalk featuring an Instagram-worthy mural, fine dining, lively bars, and endless activities. 45 minutes from Midtown, Manhattan, the Long Beach boardwalk spans roughly 4.3 miles down the coast of the Atlantic Ocean. It's walking distance from many downtown Long Beach recreational facilities, restaurants, and hotels—many of which are located directly on the boardwalk. A popular summertime retreat, the Long Beach boardwalk regularly hosts movie nights on the beach, family-friendly events, and serves as a fantastic destination for long walks on the beach, boardwalk bike rides, rollerblading, and surf lessons.
Widely known for the Bethpage Air Show, an iconic waterfront theater, and a two-mile boardwalk, Jones Beach State Park boasts attractions from a swimming pool, nature center, bandshell, fishing pier, mini-golf, snack bars, and so much more. Visitors can now enjoy a range of activities including the newly unveiled WildPlay Adventure Park! Visit the Boardwalk Cafe, dine-in at the Gatsby, play miniature golf, and attend outdoor concerts at the iconic Northwell Health Theatre at this famous South Shore state park.
For all of Robert Moses State Park's 875 acres, its most popular attraction is the nearly five miles of white, fine, sandy beaches stretching eastward from the Fire Island Inlet. With four bathhouses and a beach shop, the park also features ballfields, saltwater fishing, and surfing areas, along with an 18-hole pitch-putt golf course. The east side of the park connects to the Fire Island National Seashore and the nearby Fire Island Lighthouse.
The South Shore is home to many beautiful beaches including this hidden gem – Lido Beach. This town park features a peaceful nature preserve where you can find the perfect spot for birdwatching and offers a quiet, serene experience with a local community feel that's ideal for families.
Located on a barrier beach on the South Shore of Long Island, Gilgo Beach boasts spectacular views and tranquility. Anglers will enjoy surf fishing in the Atlantic Ocean where they can catch blue fish and many other saltwater species. Visitors can also dine at the Gilgo Beach Inn, a bar and grill that's been running for over 80 years and offers live music and oceanfront dining.
Fire Island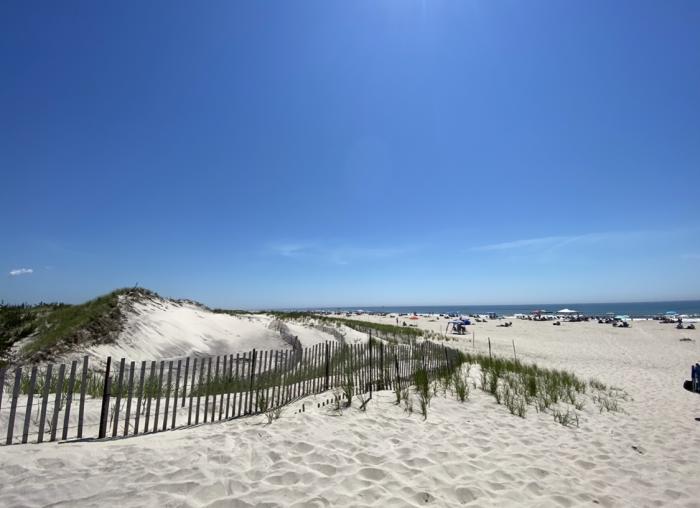 This 296-acre barrier beach park offers lifeguard-supervised swimming, sunbathing on white sand beaches, and some of the finest saltwater bass fishing to be had on the Island. A snack bar, rest rooms, first aid center, shower, and changing rooms are all situated at Cupsogue's pavilion. This park also offers outer beach access, remote camping, and a dog-friendly area.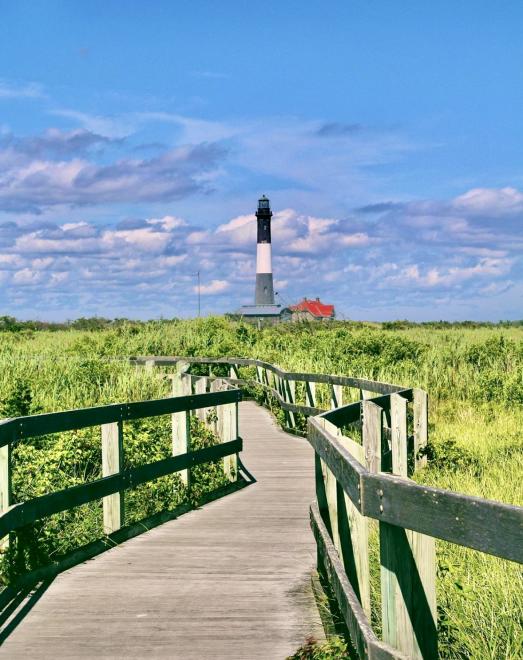 Credit: IG @sarahtavellaphotography
The Village of Ocean Beach is just a quick ferry ride across the Great South Bay from mainland Long Island and is a local destination that feels a world away. Locals and visitors travel around by foot, bike, wagon, and golf cart at this 'car-free' beach haven. This beachfront location features a boardwalk, bustling Main Street with a lively nightlife, plenty of hotels, and waterfront restaurants.
North Shore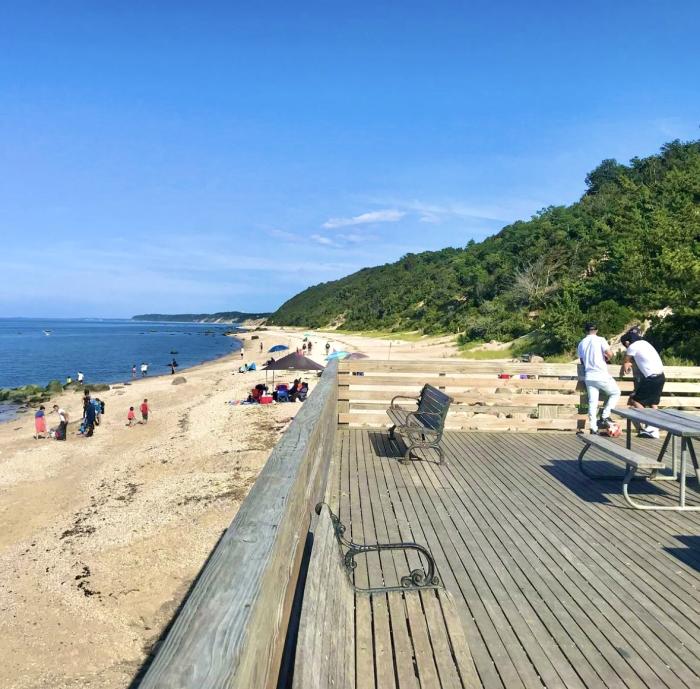 Credit: IG @pinknpurl
With 600 acres of undeveloped hardwood forest, campers can stay at trailer and tent sites, swimmers can take advantage of the cool waters of the Long Island Sound, and picnickers can relax at shaded picnic tables as their children enjoy the nearby playground. For the perfect glamping trip, check out Wildwood's newly built cottages that are nestled among the trees and just a short walk from the beach!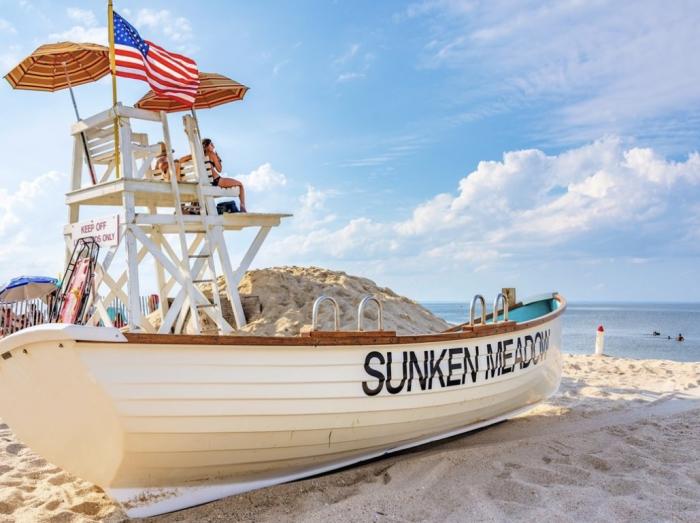 Credit: IG @wowography
Three miles of beach meets tall, glacier-formed bluffs at the west end of the shoreline at Sunken Meadow State Park. There are plenty of activities to do which include swimming in the Long Island Sound, hiking picturesque trails, horseback riding, picnicking, fishing, kayaking, and cross-country skiing. In addition, the park has three 9-hole golf courses, a driving range, and a putting green.
 
South Fork (Hamptons & Montauk)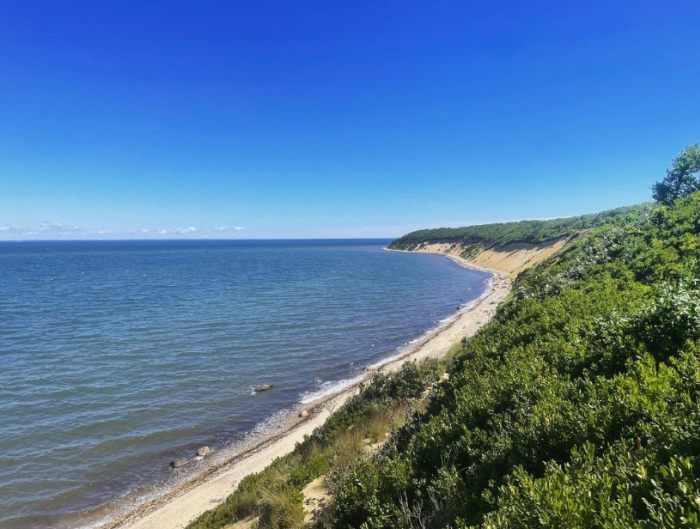 Hither Hills State Park offers visitors scenic picnic areas and fireplaces, sport fishing, a sandy ocean beach, playing fields, a playground, and a 189-site campground on the ocean. Anglers can fish year-round and obtain permits to fish at night while surfers will love riding the waves at the beach. The unique "walking dunes" of Napeague Harbor are located on the eastern boundary of the park, which also has woodlands filled with Russian olive, oak, shad, and pine trees.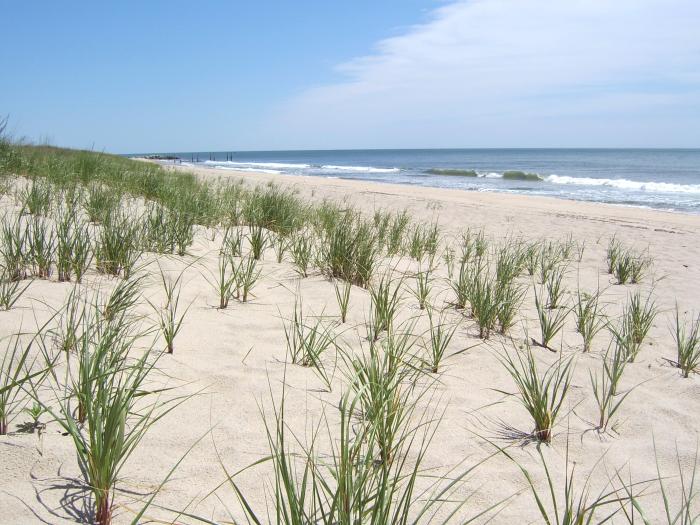 With its stunning, pristine shoreline, Main Beach, East Hampton, offers the best of Long Island's beaches – it consistently tops the lists of the best beaches in the nation each year. As one of five beaches in the East Hampton Village, Main Beach has lifeguards on duty, plenty of space for lounging and picnicking, and hosts the annual East Hampton Firework Show! See exciting local wildlife, such as piping plovers making their home on the beach, at this iconic Long Island beach destination.
Coopers Beach in Southampton is often rated among the Top Ten Beaches in America according to Dr. Beach and is consistently named on the listing of America's Top Ten Beaches. Visitors can enjoy the white sandy shores with the backdrop of nature along with rows of lavish beachfront estates and mansions of the rich and famous. Located on Dune Rd., the beach offers full facilities including concession, bathhouse, and chair and umbrella rentals.
Ditch Plains Beach is a haven for surfers and a local favorite of Hamptonites. With breathtaking cliffs and glorious waves, there is no better place to watch the sun rise and set. This East End destination is great for casual walks on the beach or surfing the waves all day long.
North Fork & Shelter Island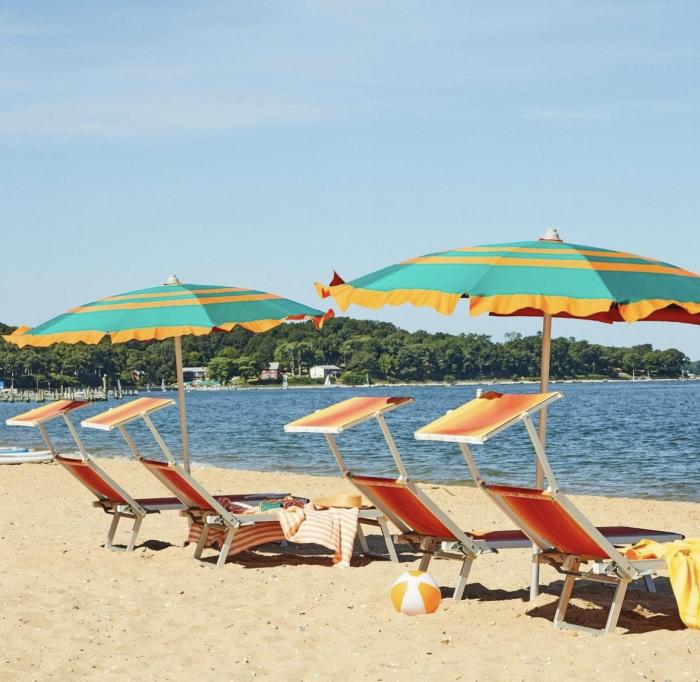 Nestled on the northern side of Shelter Island, Crescent Beach, also known as Sunset Beach, beckons visitors with its captivating views and wide sandy beaches. Overlooking Southold and Greenport, this beach provides a scenic backdrop for your beach day. Amenities include on duty lifeguard, kayaking, and paddleboarding.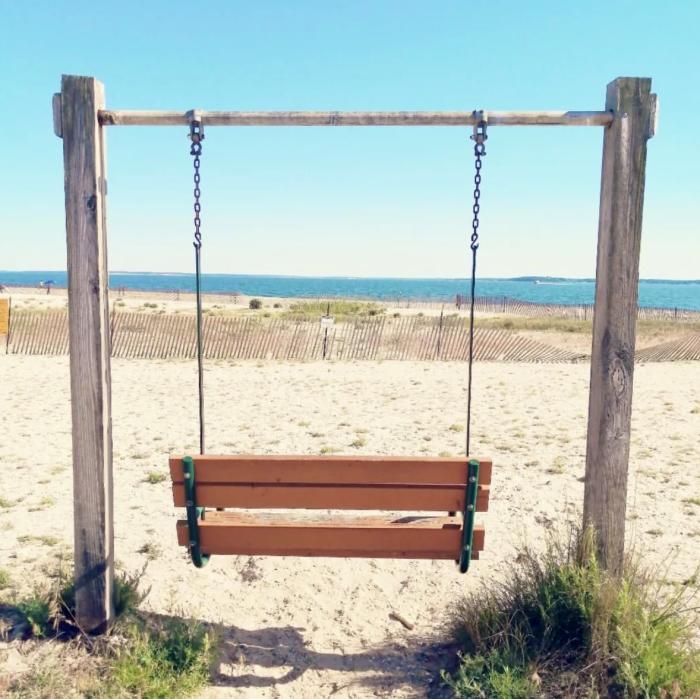 Orient Beach State Park is a natural wonderland of waterfront with 45,000 feet of frontage on Gardiner's Bay and a rare maritime forest with red cedar, black-jack oak trees, and prickly-pear cactus. Visitors can swim in the bay, fish from the shore, go kayaking, windsurfing, and stand-up paddle boarding, or take little ones to the playground. Other natural attractions in the park include marine wildlife and a host of magnificent bird species, making it the perfect beach for nature lovers.
Best Bet for Camping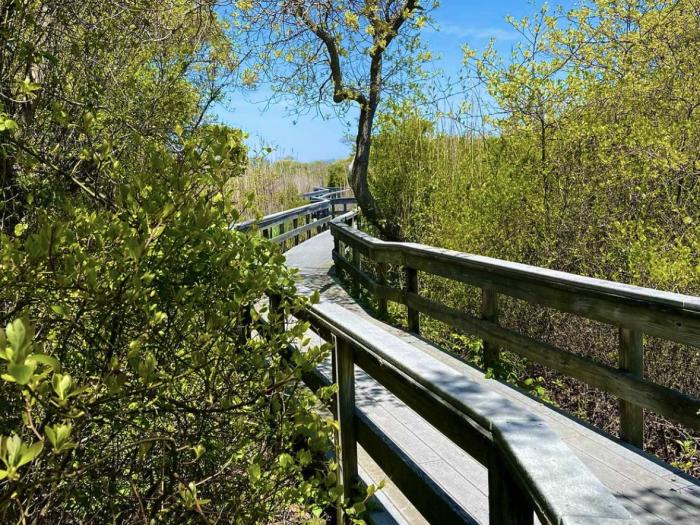 Credit: IG @patrickmacri
Discover Fire Island's most extensive salt marsh and the beauty of the barrier island's beaches and dunes at this National Park Service site. Accessible by ferry, Watch Hill is located on the western edge of the Otis Pike Fire Island High Dune Wilderness and is directly across the Great South Bay from Patchogue. Over the summer, Watch Hill offers a family campground, ranger-led interpretive programs, a 175-slip transient marina, self-guided nature trail, and lifeguarded beach.
Best Bet for Fishing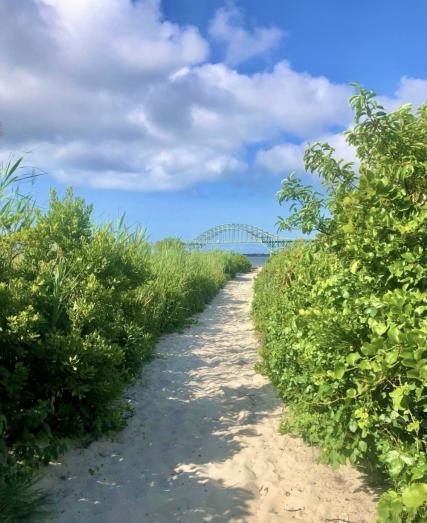 Home to the largest public fishing fleet on Long Island, Captree State Park is a fishing haven and a picnicker's delight. Located on the eastern tip of Jones Island at the end of the Ocean Parkway, Captree has open/charter boats available for saltwater fishing. No license or equipment is necessary as the boat staff provides everything you'll need for a day on the Great South Bay or the Atlantic Ocean.