June 1st marks the start of Pride Month – a celebration of LGBTQ+ communities, contributions, and history - with Long Island playing host to a slate of spectacular Pride events including many on Fire Island: the most iconic LGBTQ+ summer vacation destination on the East Coast.  But Fire Island certainly isn't the only place to revel in the excitement.  If you're looking for things to do to show your support and get in on the action, several downtown villages across the region are hosting their own Pride festivals complete with parades, drag shows, live music, dance parties and more. Read on for the ultimate guide to Long Island Pride!
Where It All Began: Invasion of the Pines (Fire Island Pines/Cherry Grove, NY)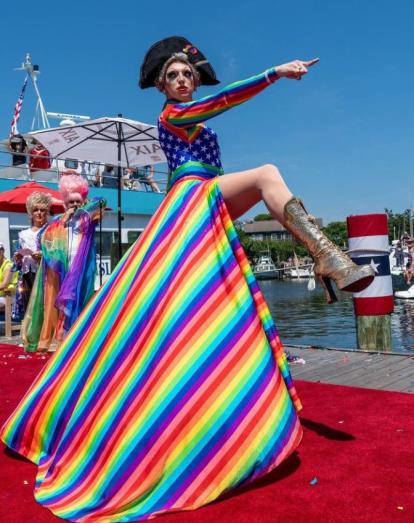 Credit: IG @robert.sherman.photography
Fire Island brims with LGBTQ+ Pride all summer long and hosts an annual celebration, largely known only by word of mouth for decades: The Invasion of the Pines, part of an extravagant multi-day celebration. 
Since the summer of 1976, visitors and seasonal residents of Fire Island's Cherry Grove put on their best drag and gather at the Ice Palace Bar at the Cherry Grove Hotel for Fire Island Invasion every 4th of July.  After parading through the streets of Cherry Grove, they board a chartered ferry boat and sail to the Fire Island Pines Harbor where they are greeted by thousands of cheering visitors and kick off a parade that spills out into a community-wide party. As each drag queen leaves the ferry and marches onto the dock, she is announced by Panzi, the original 1976 invasion leader, now mistress of ceremonies. The festivities that have come to be celebrated as "The Invasion of the Pines" commemorating a turning point in LGBTQ+ history.
Arrive early on Independence Day to watch the drag queens depart by ferry from Cherry Grove, or head to the Pines dock in the afternoon to welcome them as they greet the masses.
Insider's tip: Fire island's Pines Community hosts regular drag brunches, live entertainment, and plenty of Pride events throughout the year. We recommend following them on Instagram to stay up to date on all the events.
Pride Parades and Festivals on Long Island
Hamptons Pride Parade (East Hampton, NY)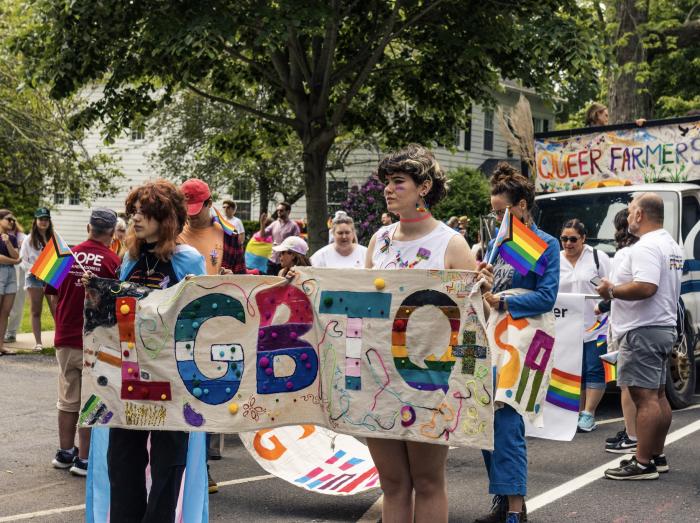 Credit: FB @Hamptons Pride
Head to The Hamptons for a spectacular day of celebration and Pride! Organized by public charity Hamptons Pride, the second annual parade in East Hampton will begin on Main Street and end in Herrick Park where there will be live music with D.J. Karin Ward until 3pm. This balloon-free, flag-filled, family-fun event is free to the public.
Event date: June 3, 2023, 12pm
Patchogue's First Annual Pride Parade + After Party (Patchogue, NY)
The Greater Patchogue Chamber of Commerce, Patchogue Arts Council, and Patchogue Pride Committee are proud to announce their first ever Pride parade! Head to Patchogue's Main Street where you'll see performances from local dance studios and outdoor events hosted by nearby restaurants and bars.
After the parade, stick around for the official after party – "Prideapalooza!" Arrive at Stereo Garden where the Angels of Long Island's Drag for a Day stage will be hosted by the Drag Mermaid herself, Bella Noche! Later, stay for an adults-only 21-and-over ticketed event with a live cabaret show and a slate of local art vendors. This will be a drag-a-palooza extravaganza featuring the area's most talented drag queens and sideshow daredevils!
Insider's tip: Want to march in the parade? See here for registration details!
Event date: June 4, 2023, 3-6pm with adults-only ticketed event from 7-11:30pm (purchase tickets here)
Long Island Pride (Huntington Village, NY)
Credit: FB @Long Island Pride
The official Long Island Pride celebration organized by the LGBT Network is happening in Huntington Village this year! The parade, which is proud to name American television personality and part-time Long Island resident Ross Mathews as its Grand Marshal, will march from Main Street to Heckscher Park where the festival will take place. The 4-hour Pride Festival features live entertainment and music, dozens of vendors, food trucks, children and family pavilion, VIP area, beer and wine garden, and more.
Event date: June 11, 2023, 12-5pm
Planting Fields Planting Pride Festival (Oyster Bay, NY)
Planting Fields Foundation is thrilled to host its second annual Planting Pride Festival! Celebrate the LGBTQ+ community at their beautiful 409-acre estate and enjoy this high-energy extravaganza filled with live music, behind-the-scenes access to historic spaces, and much more set amidst the beauty of Planting Fields in early summer. The gorgeous Coe Hall will also be open all day for free tours of their current exhibits.
Afterwards, don't miss the 21-and-over event "Legacy of Love:" the official Planting Pride Festival after-party! It is sure to be a legendary evening as DJ BABES will have everyone on the dance floor and Teddy Behr, Adora, and Fernan D'Cute will perform live. Tickets go for $35 per guest and include a complimentary drink.
Event date: Planting Pride Festival on June 11, 2023, 10am-4pm, and "Legacy of Love" on June 11, 2023, 7-10pm.
Babylon Village Pride (Babylon, NY)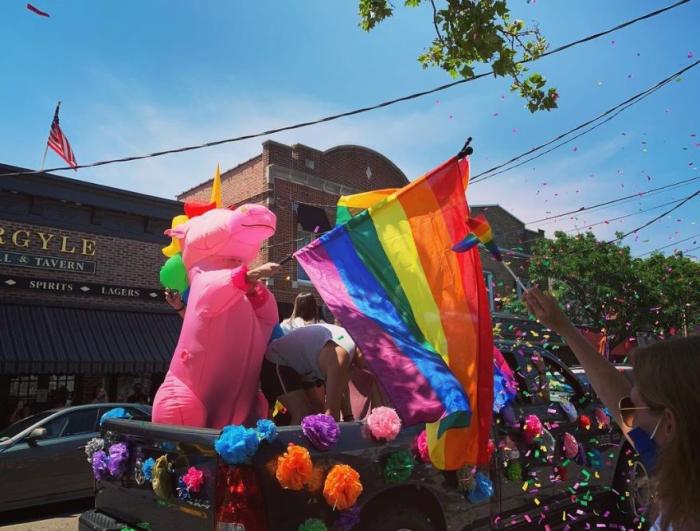 Credit: IG @jacknixed
Come and celebrate the 4th Annual Babylon Village Pride Car Parade and Celebration! Sponsored by Northwell Health, the parade will feature vehicles decorated with Pride for all to see. For the best viewing areas, head to West Montauk Highway and Deer Park Avenue to watch the show. This is a free admission event for all to enjoy.
Event date: June 4, 2023, 3pm
Northport's First PRIDEFEST (Northport, NY)
The Village of Northport and the Northport Chamber of Commerce are kicking off Pride Month for the first time this year with "Pridefest in the Park," an afternoon music festival at the harborside Northport Park where you can stroll among the vendor tents, picnic in the park, or explore Northport's Main Street! This village-wide celebration involves local businesses with some locations hosting "tea" starting at 4 p.m. and other fun events throughout the day.
Event date: June 17, 2023, 1-4pm
The Inaugural North Fork Pride Parade (Greenport, NY)
March with thousands from the LGBTQ+ community and allies celebrating the inaugural North Fork Pride in Greenport, NY! Groups can sign up through the official website, including Gay Straight Alliance or Gender & Sexuality Alliance (GSA) Clubs or similar organizations interested in marching. This first ever Pride parade for the North Fork region is made possible by the LGBT Network.
Event date: June 24, 2023, 12pm
Pride Events on Long Island
Pride Anthems at the Westhampton Beach Performing Arts Center (Westhampton Beach, NY)
Join the Westhampton Beach Performing Arts Center and Pride Live as they celebrate the past 50 years of Pride anthems! From Donna Summer and Queen to George Michael, Erasure, Madonna, Lady Gaga and much more, these hit songs will take partygoers from disco to the present day. This event will also star live performances by Natalie Joy Johnson, Kevin Smith Kirkwood, and Jon-Michael Reese. "Pride Anthems" is a show for all ages to come together in song and celebration. Get your tickets here!
Event date: June 2, 2023, 8pm
RHUM's Drag Queen Brunch (Patchogue, NY)
RHUM is celebrating Pride on Sunday, June 4th immediately following Patchogue's first ever Pride Parade with "Drag Queen Brunch" featuring the iconic Saline Dijon and Lyra Vega! Laugh, sing, and dance along to their renowned show while enjoying RHUM's bottomless mimosas, brunch burger, tres leches French toast, and more. After the show, head up to the Rooftop Lounge, where you can grab a cocktail, sit back, and relax at the only rooftop experience in Patchogue.
Event date: June 4, 2023, 1pm
Claudio's Pride Party (Greenport, NY)
Credit: IG @saltandbarrel
Claudio's dockside restaurant and live entertainment venue will be hosting "A Night Under the Stars – Pride Night!" in honor of Pride Month. Head to Claudio's Waterfront to see DJ Vivacious, star from "RuPaul's Drag Race" Season 6! While you're there, enjoy terrific seafood from Claudio's where you can order delicious lobster rolls, lobster mac & cheese, Baja shrimp tacos, and many more dishes to try.
Event date: June 16, 2023, 9pm to 1am
Pride Gala at The Mansion at Glen Cove (Glen Cove, NY)
Celebrate love and freedom at The Mansion at Glen Cove, kicking off with a lavish red carpet grand entrance. Dress to impress at cocktail hour which features a buffet station, followed by a masterfully-cooked three-course meal, and finally, a live music dance party – all for $150 per guest! Get your tickets here before they sell out.
Event date: June 17, 2023, 4:30pm
Pride Night at United Skates of America (Seaford, NY)
Celebrate National Pride Month with United Skates! This iconic glow-in-the-dark roller-skating rink located in Seaford is hosting its annual Pride Night featuring songs from the 80s, 90s, and today's hits. Come dressed up in epic fashion – there will be a "Best Dressed" contest at the end of the night to see who the most fashionable skater is!
Insider's tip: Tickets must be purchased in advance – get general admission for $15 and skate rentals for only $6 here!
Event date: June 23, 2023, 9:30pm to 12am
"Dress Up at Sea" at The Whaling Museum & Education Center of Cold Spring Harbor (Cold Spring Harbor, NY)
If you enjoy costumes, you'll love this program! Join The Whaling Museum for this family-friendly program exploring the history of sailors dressing up at sea. Learn how mariners held "line-crossing ceremonies" when crossing the equators where some crew members dressed as underwater queens and mermaids. Set sail with drag artist and mermaid Bella Noche for a unique "Drag Story Hour" and decorate a ship wheel ornament to keep for your own journeys.
Event date: June 29, 2023, 2pm and 4pm