Discover Long Island & Elected Officials
Mark First Day of Summer by Unveiling New Tourism Campaign
Starring Long Island Locals
"You BeLONG" Video Series is an Extension of Discover Long Island's Successful
"Where You BeLONG" Campaign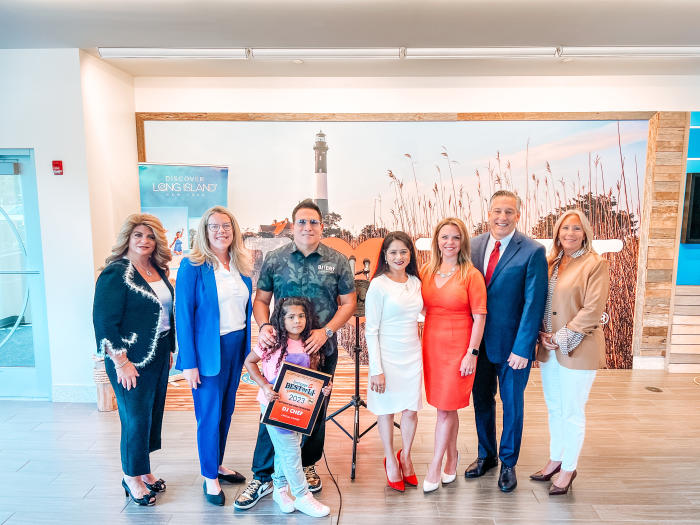 LONG ISLAND, New York – June 21, 2023 - Discover Long Island, the region's official and only accredited destination marketing organization, was joined by elected officials, local business owners and other stakeholders at the Long Island Welcome Center to unveil a new tourism campaign featuring a series of videos that highlight local Long Islanders who love where they live and want to share that passion with fellow residents and potential visitors. The first six videos in the new "You BeLONG" series run approximately three minutes each and feature a "DJ Chef", a chalk artist and children's book author, the legend of the Long Island bagel and the BECSPK (if you know, you know), Italian and Mexican inspired vineyards and a family-owned Indian restaurant. A trailer for the "You BeLONG" video series can be viewed here. The videos, which were posted on June 1, 2023, have already received over 60,000 views. 
The new video series is an extension of Discover Long Island's successful "Where You BeLONG" marketing campaign and promotional video launched in 2018 which invites travelers from across the globe to experience more than a place to visit, but a place where people can "Be" together, adventurous, happy, and most importantly, welcomed. The campaign was embraced by not only visitors, but also Long Island residents who love where they live and have continued to purchase large quantities of Discover Long Island merchandise featuring the "Where I BeLONG" tagline.
The embrace of the "BeLONG" messaging by local residents inspired Discover Long Island to produce the new "You BeLONG" video series where a diverse selection of Long Islanders share their unique, authentic stories of why they BeLONG on Long Island.  The locals featured take on the role of destination marketers by ending each video by inviting YOU to BeLONG on Long Island.
"We could not be more proud of this new video series that highlights what makes Long Island the best destination in the world - our people," said Discover Long Island President & CEO Kristen Reynolds, CDME. "Having our locals take the reins of our marketing efforts by sharing why 'You BeLONG' is far more impactful than any paid advertisement and it pulls back the curtain on the character and diversity of our destination. We look forward to sharing these stories of Long Island love with our residents and our global audience and to continue to grow this effort for increased exposure for our local businesses and communities."
"We have a booming tourism economy here on Long Island, with Discover Long Island working tirelessly to promote and highlight all of our worldclass attractions," said Suffolk County Executive Steve Bellone. "The 'You BeLONG' campaign showcases all that Long Island has to offer from our scenic vineyards to our waterfront restaurants and will encourage new visitors from near and far to discover these local treasures." 
"We are grateful for the opportunity to be a part of Discover Long Island's 'You BeLONG' series which has the potential to help us, and other local small businesses, share our story with a global audience. Long Island has become a destination for visitors, and we are excited to welcome guests to our family vineyard in Northport for an exceptional one-of-a-kind wine and culinary experience," said Del Vino Vineyards Owners Fred and Lisa Giachetti. 
About the Campaign
The video series was produced by Discover Long Island in partnership with Paradise Advertising and EGC Group. The videos can be viewed on Discover Long Island's YouTube page and website: www.discoverlongisland.com/youbelong . Itineraries on how to experience the featured communities were also created and are available on DiscoverLongIsland.com.
The digital marketing campaign will target consumers in New York City, Philadelphia, Boston, Washington DC, and Long Island, reaching more than 2.5 million viewers.  Highlights of the comprehensive campaign include fast, interactive in-feed video content across social media as well as skippable and non-skippable engaging ads on YouTube and Google – capturing audiences as they check Gmail, mobile apps and more.
Additional videos are expected to be added to the series and a social media campaign will invite local businesses to submit their stories of why they BeLONG on Long Island for the chance to be featured in the series or in Discover Long Island's marketing efforts. Follow Discover Long Island on social media to learn more.
###
Discover Long Island is the region's official destination marketing and leadership organization charged with furthering the destination's thriving visitor economy, which saw record-breaking highs in 2019 generating $6.3 billion in visitor spending. The organization ensures Long Island's coveted quality of life, thriving industries, and dynamic destination offerings are promoted on a global level, furthering economic development, and benefiting residents and businesses throughout the region.  Awarded "Best Social Media" in the nation by the US Travel Association, the organization produces engaging content featuring local businesses and attractions for their 10 social media channels which garner upwards of 10 million views.  Additionally, the organization hosts a popular YouTube series, Long Island TV, as well as the Long Island Tea podcast.  To learn more, please call 631-951-3900 or visit www.DiscoverLongIsland.com.
Media Contact:
Justine DiGiglio, V.P. of Communications
jdigiglio@discoverlongisland.com
631-807-1088