Long Island may be best known for its white-sand beaches in the summertime, but the region is just as beautiful in the winter months. With slimmed-down crowds and an affordable winter edge, the hotels and inns around the Island transform into cozy escapes that can cure those winter blues.
Cozy Winter Getaways on Long Island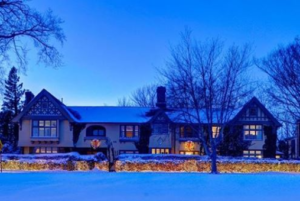 Nestled in the historic Village of East Hampton, The Baker House 1650 (181 Main St., East Hampton) is a cozy yet luxurious B&B in a 17th-century Cotswold-style building with custom-designed suites and sprawling gardens. Its in-town location puts it a short distance from Guild Hall's art exhibits and theater, upscale shops, and exquisite restaurants. Or for those wanting to stay in and keep warm, the inn offers an array of amenities, including in-room wood-burning fireplaces and whirlpools, continental breakfast delivered with the morning paper, and pampering at The Baker Spa, which also has a sauna, steam shower, and soaking jacuzzi.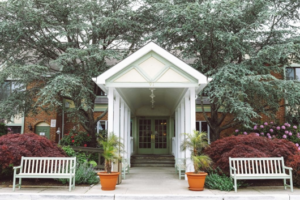 The Hamptons are just as magical in the wintertime at the Southampton Inn (91 Hill St., Southampton), with luxe shopping, top dining, and more affordable stays. Located on five acres in the heart of Southampton Village, guests can spend the day visiting the numerous clothing and retail stores, art galleries, and museums. The wintertime also brings around The Hamptons Arts Weekend Festival (THAW), offering visitors three days of exhibitions, theater performances, film, music, garden tours, and family-focused events. Afterward, guests can head back to warm up with a delightful dinner at the Inn's Claude's Restaurant or snuggle up beside the fireplace.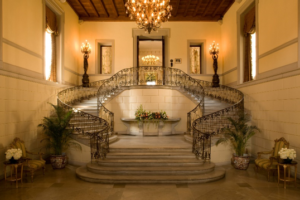 For a grand getaway, OHEKA Castle (135 W Gate Dr., Huntington) offers a one-of-a-kind winter experience fit for Gatsby himself. Built in 1919 and just celebrated its 100th anniversary, this Gold Coast estate is rich in history and has been the backdrop to many famous music, television, film, and photo productions. Visitors can enjoy a royal stay in the castle, with luxurious amenities, delicious dining experiences, and beautiful views of the formal gardens, and potentially a pristine snow-covered great lawn.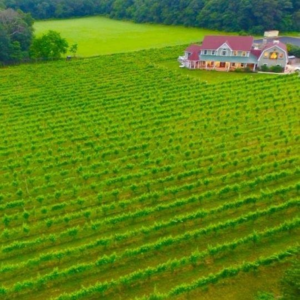 Long Island's Wine Country is open year-round, making the North Fork a popular winter destination for visitors wanting the tasting experiences without the summer crowds. Sannino Vineyard's Bed & Breakfast (15975 County Rd. 48, Cutchogue) offers guests the chance to stay in Tuscan-styled Suites or Villas with stunning views of the main estate and sustainable vineyards. Guests can enjoy a complimentary wine tasting, a private balcony overlooking the vineyard, and a Chef's Choice full hot breakfast delivered each morning—perfect for the crisp winter mornings. Long Island Winterfest takes place on the North Fork throughout the months of February and March, where visitors can experience everything the East End has to offer with five weeks of events, food, music, wine, and entertainment.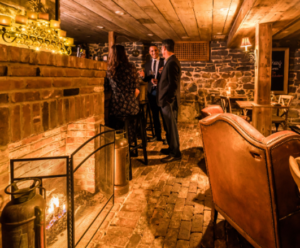 Imagine a room with a fireplace, views of snow-covered fields, Frette sheets, and the smell of freshly baked bread in the morning. That is exactly what guests experience when staying at Jedediah Hawkins Inn (400 S Jamesport Ave., Jamesport) on the North Fork. Surrounded by 22 acres of gardens and farmland, the inn provides guests with a complimentary multi-course gourmet breakfast, complimentary wine tasting vouchers, and an on-sight restaurant featuring locally grown food and beverages. For a unique spot to spend chilly winter nights, The Speakeasy is a sanctuary with flagstone walls and old brick—perfect for enjoying the Inn's keg wine while snuggling up to watch a movie or playing a game of backgammon.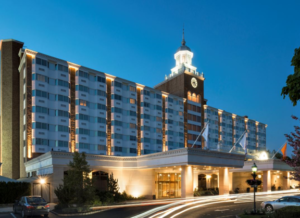 For nearly 150 years, the Garden City Hotel (45 7th St., Garden City) has been an iconic retreat beloved for its timeless elegance and modern-day comfort with spacious and luxurious accommodations. The landmark hotel has no shortage of activities during the winter, such as taking a swim in the heated indoor pool, relaxing and unwinding at the newly opened Mynd Spa & Salon, or taking a stroll down 7th Street, visiting the local boutiques, restaurants, and history that Garden City has to offer. To finish the day off, guests are offered an array of dining experiences, including dinner at Red Salt Room featuring signature dishes from New York City celebrity chef, David Burke.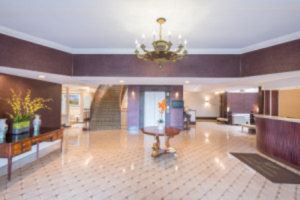 Travel moguls and music lovers alike will enjoy a getaway at The Roslyn Hotel (1221 Old Northern Blvd., Roslyn) this winter. In addition to stylish and spacious accommodations, the hotel is also the home to My Father's Place, a supper club that holds weekly performances featuring various musical genres. After catching a show, guests can hang out by the fireplace in the library lounge, explore fun and exciting attractions in nearby downtown Roslyn, or enjoy a meal at the hotel's 1221 at MFP, which gives a 'Roaring 20s' underground speakeasy vibe and serves up an eclectic New-Age American menu and seasonally crafted cocktails.
For more winter getaways and trip planning tools, click here.