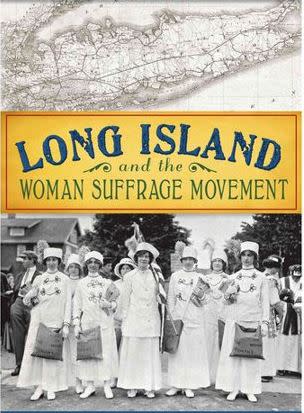 August 26, 2020 marks the 100th anniversary of the ratification of the 19th Amendment and women from Long Island played a big part in getting the right to vote passed for women in the United States.
Edna Buckman Kearns from Rockville Centre, Rosalie Gardiner Jones from Oyster Bay and Ida Bunce Sammis from Huntington were part of a new generation of women that played instrumental roles in reviving the suffrage movement in New York, eventually leading to the passing of the 19th Amendment.
Kearns transformed a Revolutionary War wagon with Suffragette movement paraphernalia and walked it through the towns and villages of Long Island to drum up support. This lead to the "Spirit of 1776 Wagon" which became an icon of the movement and is now in the collection of the New York State Museum.
Today we can pay homage to this radical group of leaders that paved the way for so many. Join us in celebrating this milestone with the following celebrations and must-stop historic spots you can visit on Long Island today.
Virtual Program: Join The Holocaust Memorial & Tolerance Center of Nassau County virtual talk on Women's Suffrage on Long Island: Honoring the 100th Anniversary of the 19th Amendment. Antonia Petrash will present a talk based on her 2013 book, "Long Island and the Women's Suffrage Movement." Tune in Thursday, August 27, 2020 from 6:00 p.m. - 7:00 p.m. Register here.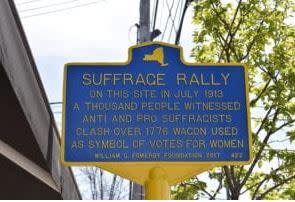 Historic Marker Commemorates 193 Rally in The Town of Huntington
1913 Historic Rally Marker: Head to the town of Huntington (Corner of Wall and Main Street) and stand in the spot of the historic 1913 Women's Suffrage Rally where activists Rosalie Jones and Edna Buckman Kearns lead  a fight for women's voting rights with more than 1,000 people in attendance.
May Groot Mansion: Home of Long Island suffragist who was the leader of both the Woman Suffrage League of East Hampton and the Women's Political Union of Suffolk County.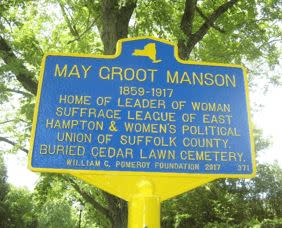 May Groot Mansion located at 117 Main Street, East Hampton