Summer on Long Island is a treasured time of year, and while Labor Day may mark the unofficial end of the cherished beach season, the exciting list of things to do, both in and outdoors, remains lengthy through the fall! As the weather begins to turn cooler, the region's trees become painted with magnificent reds, yellows, and oranges, inviting you to get out and explore all of Long Island's fall sights, tastes, and activities that you won't find anywhere else. With so many itinerary options to choose from this September, we gathered the top 11 things to do to help you create your perfect fall day with friends and family.
1.  Apple picking on the North Fork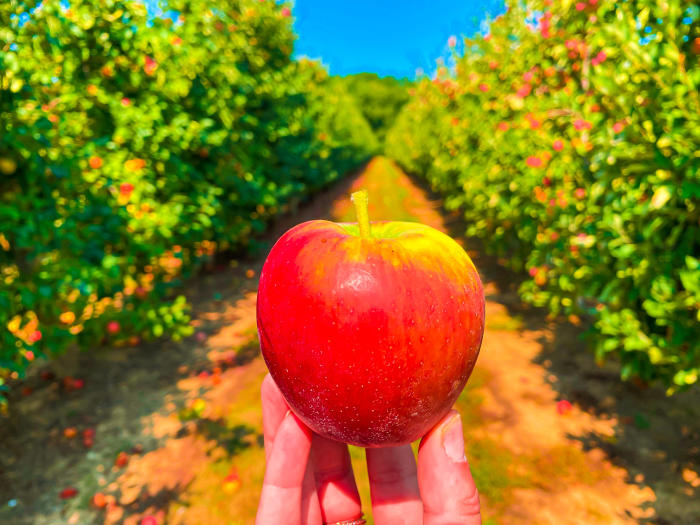 The North Fork is best known for its rich vineyards and wineries in the summer, but grapes aren't the only fruit visitors can taste during their visit. September is the prime time for apples to begin growing at North Fork farm stands, and several of them offer pick-your-own options for you to take home. Beginning on September 2, Harbes Family Farm is opening their North Fork locations to visitors looking to enjoy a taste of Long Island apples. Explore 78 acres filled with 27 different types of apples at their Riverhead Orchard as well as apple treats such as cider and donuts. Their Jamesport location is home to fresh Honeycrisp apples as well as a sunflower maze to weave through.
2.  Check out the Fire Island Lighthouse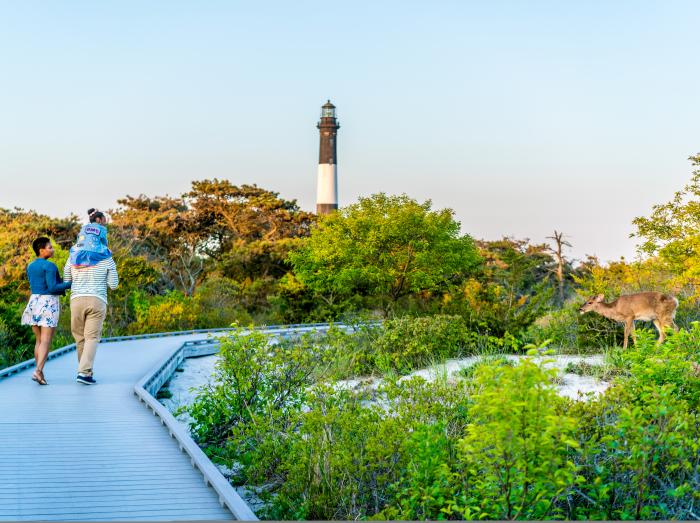 The Fire Island Lighthouse is one of Long Island's most well-known symbols. First lit in 1858, it served as a beacon for incoming ships and continues to stand as an important landmark for all who visit. Visitors who want to learn more about Long Island's history have the opportunity to visit the Lighthouse this September and experience its legacy up close. While the main tower is closed for repairs, you can still take a tour of the main museum attached as well as the lens building to see the original light that shone for sailors arriving to Long Island.
3.  Take your trip to new heights at Long Island's adventure courses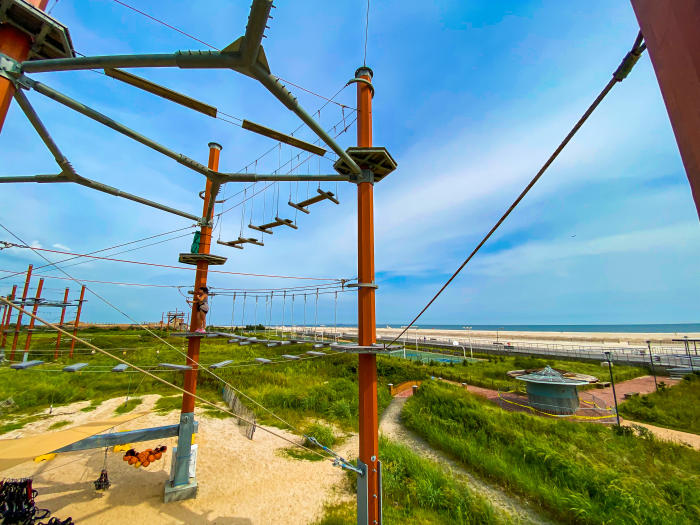 You may be able to see the fall foliage from the ground this September, but Long Island allows visitors to head to the treetops on their various adventure courses. Each course provides its own level of thrills high above for all ages, and they're one of the best ways to experience the region outdoors. Take a weekend trip to WildPlay Jones Beach and see Long Island from above by sliding down a 700ft zipline, jumping from a 40ft drop or climbing across three levels of obstacle courses filled with tightropes and platforms. For a true forest adventure, head to one of 14 different courses in The Adventure Park at Long Island in Wheatley Heights. A different kind of thrill can be found at iFly.Trapeze in Eisenhower Park, where visitors can join the circus and learn trapeze, aerial and other circus skills.
4.  Set sail to fish on the Long Island Sound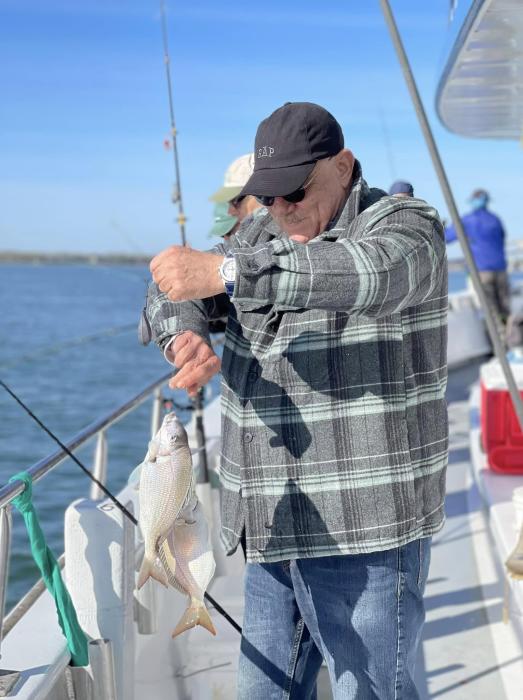 With over 400 miles of coastline, Long Island is a prime fishing region on the East Coast. September is a popular time for visitors and residents alike to grab their fishing poles and head out on the water for the catch of the day. Long Island attracts several different kinds of fish throughout the fall with Spanish mackerel being the most coveted. You might also find blackfish and fluke on your next fishing trip. There are multiple locations where you can set up your pole and fish such as state park beaches, fishing marinas or on a private charter like Peconic Star Fishing.
Insider's Tip: Some state park beaches may require a permit for fishing, so be sure to check which ones require them before heading out to sea.
5. Enjoy the fall foliage at Long Island parks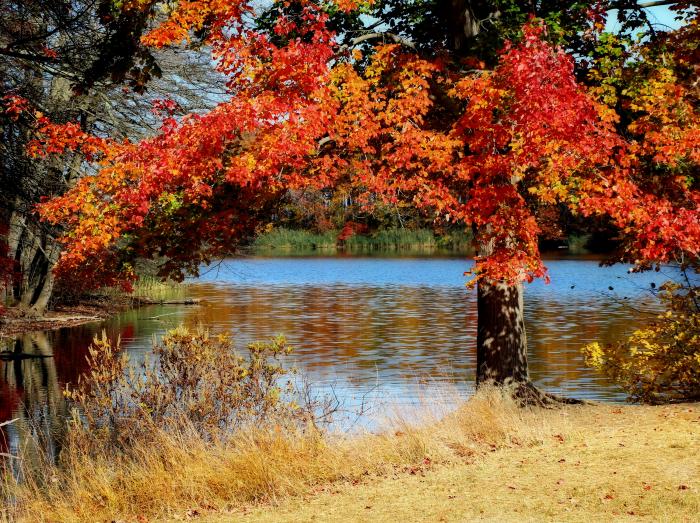 Credit: Bridgette Kistenger
The best way to see fall come alive on Long Island is by experiencing the fall foliage across the region. There are a number of state parks in both Nassau and Suffolk Counties, allowing visitors to be in the middle of the action once the leaves begin changing color. Alongside the orange and yellow leaves, you may even spot some natural wildlife on your foliage hike. Caumsett State Park, Caleb Smith State Park and Connetquot River State Park are popular places to watch the leaves, but arboretums such as Planting Fields in Oyster Bay give visitors the perfect combination of fall trees and flowers blooming side by side.
6. Learn about the Gold Coast on a mansion tour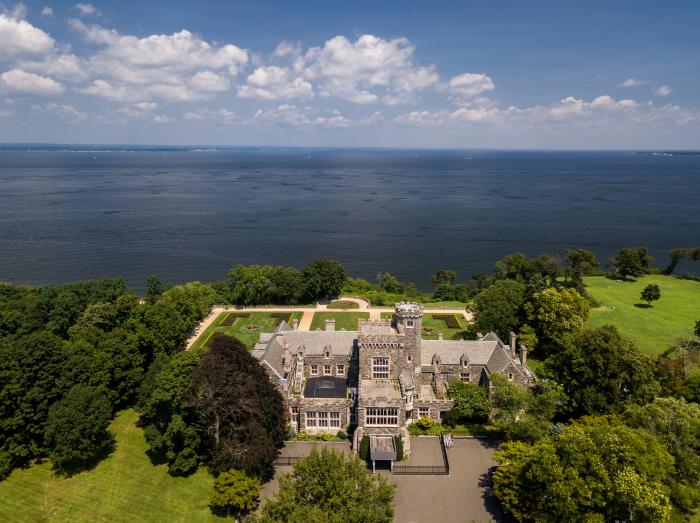 One thing Long Island is best known for is the Gold Coast, a region on the North Shore the rich and famous once called home. Today, visitors can experience this luxury themselves by taking a tour of the fabulous mansions that are still standing today. Each one can enhance your fall foliage tour thanks to the walking tours of the grounds held throughout the season. Bayard Cutting Arboretum in Great River offers tours of both the grounds and the Manor House, and you can make the day an afternoon visit by grabbing a bite at the Hidden Oak Café. Sands Point Preserve hosts three mansions on its grounds with Falaise offering weekend tours to visitors. You can also take self-guided tours of the garden and spend a day in the sun by joining one of the numerous events offered throughout the season.
7. Practice your swing at legendary golf courses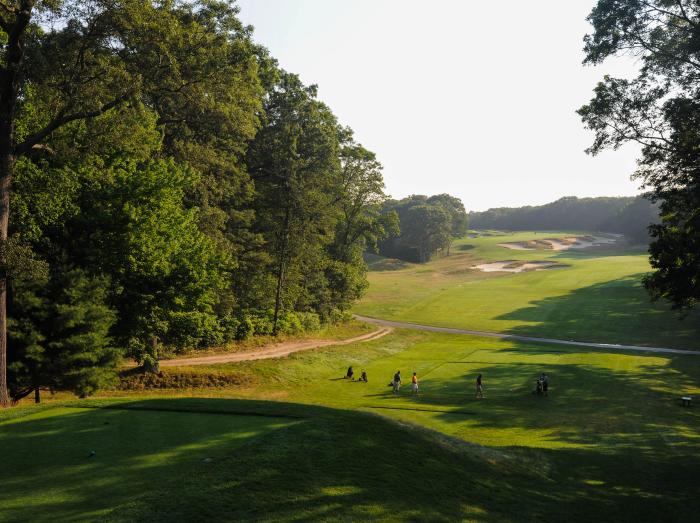 Credit: Long Island State Parks
Long Island is a prime golfing location thanks to its rolling landscapes, waterfront location and beautiful greenery. It's home to America's first incorporated golf club as well as several prime golf tournaments, one being the upcoming Ryder Cup in 2025. Many state parks on Long Island are also home to golf courses with each one consistently being named one of the best in the United States. Enjoy the crisp fall weather by practicing your swing at Bethpage State Park, home to five different courses with one being the Ryder Cup's location. If you want to golf on the waterfront with an ocean breeze, head to Montauk Downs for their year-round courses on the South Fork.
8.  Discover Long Island's downtown areas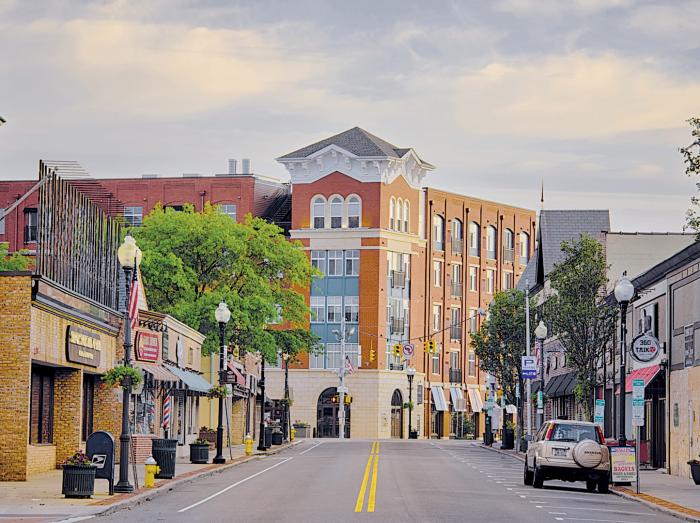 The East End may be a prime hotspot for visitors to enjoy, but Long Island's downtown areas along the North and South Shores offer something for everyone. All ages can find a part of downtown to enjoy, and there's always something happening in the area thanks to their local restaurants, shops and entertainment you won't find anywhere else. Downtown Patchogue is the perfect place to grab a bite to eat with local restaurants such as Village Idiot Pub and Chops Steakhouse calling its streets home. Downtown Huntington is filled with boutique shops alongside restaurants such as Besito and The Farm Italy. If you want to add dinner and a show to your day, be sure to check out who's performing at the Patchogue Theatre for the Performing Arts or The Paramount in Huntington.
9.  Take a sip of local craft brews and wines
Long Island summers are defined by a trip to Wine Country on the North Fork, and the fun doesn't stop in September. Many wineries are still open for visitors to take a sip of their local wines and step into the vines before the cold weather comes. It's also the perfect time of year to try some brews at one of the region's many craft breweries. Visit Six Harbors Brewing Company, the only microbrewery in Huntington, on the weekends to try their delicious beers as well as oysters on Fridays and food truck bites on Saturdays. Kontokosta Winery in Greenport will provide visitors with fall foliage along with their glass and a view of the Long Island Sound beside the vines.
10.  Test your skills in a corn maze
Nothing says fall like the corn stalks beginning to grow or the maze that lives inside them! September is when Long Island's corn mazes open to the public, and there are plenty of mazes to be found inside the various farms throughout the season. One of the most iconic is the corn maze at Lewin Farms in Calverton, where no two mazes are the same. The farm designs a different maze each year, allowing guests to explore approximately four-and-a-half acres of corn with various twists and turns. Once you escape the maze, be sure to pick some fresh fruits and vegetables at the farm's U-pick fields filled with tomatoes, apples and more.
11.  Visit a local pumpkin patch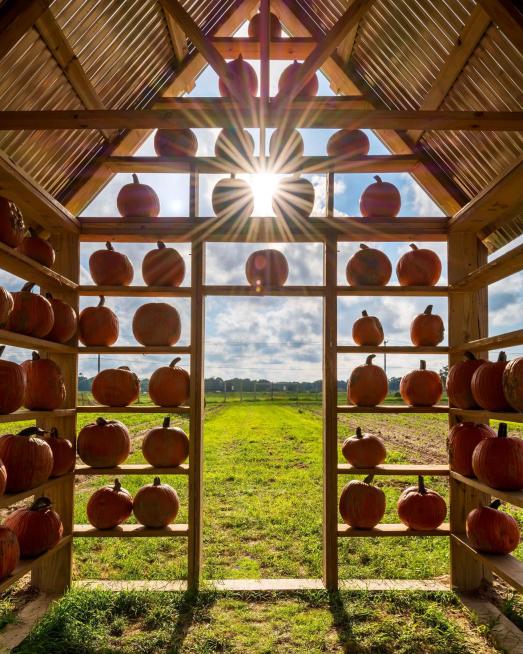 Credit: FB @Waterdrinkerlongisland
Pumpkin picking is another fall staple Long Island takes part in, and the various pumpkin patches throughout the region have their own spin on this favorite activity. September is when pumpkins are ready for picking, and visitors can spend the afternoon in the various patches thanks to the activities around them. Waterdrinker Family Farm & Garden in Manorville has a Fall Festival surrounding their pumpkin patch with pumpkins free to pick from beginning in September. The festival includes other farm activities as well, allowing visitors of all ages to enjoy a true farm experience including a corn maze, hay rides on the weekends, and barnyard animals to meet up close.