Edible Long Island, a media company telling the story of how the Island eats and drinks, is a great source whether you're looking for a great breakfast spot, the best lobster roll and everything in between. This week, we highlight glamping in the Hamptons.

This style of camping pairs well with Rosé, Instagram, and all of your best Girlfriends.
It doesn't get more 'glam' than summer in the Hamptons, so it's only fitting that luxury camping—popularly (and somewhat hilariously) known as 'glamping'—has officially arrived on the East End.
Starting Memorial Day weekend, Terra Glamping, a Brooklyn-based full-service glamping and event production company, is launching an expansive 'glamp site' overlooking Gardiners Bay in East Hampton's Cedar Point County Park.
The Suffolk County Parks Department has wanted to attract more campers to Cedar Point for years, and finally issued a public request for proposals in November 2018. Along with many other companies, Terra Glamping submitted a proposal—and the rest is Hamptons history.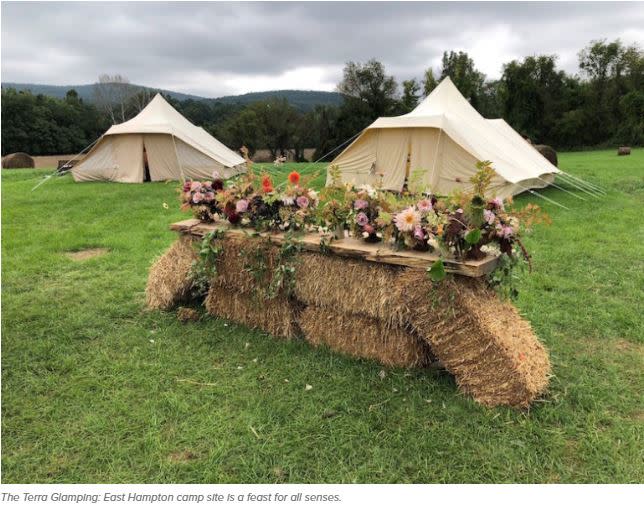 Reservations to "glamp" with Terra Glamping can now be made online, with available dates ranging from Friday, May 24 through the last weekend of October. Prices range from $300 to $525 per night for each water front tent, with 30 tents available.
So what can guests expect? Each tent is equipped with either one or two memory foam mattresses (depending on their preference) in a fully furnished tent on a platform with a six-foot deck. Also available to guests are two beautiful and well-appointed lounge tents, a grilling area, hammocks, restrooms and showers. Additionally, each stay includes continental breakfast each morning, and a campfire with s'mores each night. During the day, guests are invited to make use of complimentary kayaks and Stand Up paddle boards.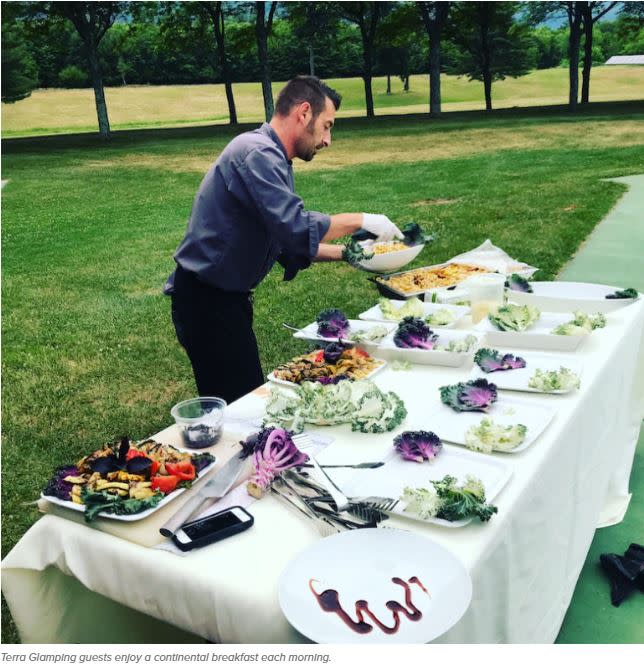 Ahead of Terra Glamping's opening on the East End, we spoke with the company's co-founder and CEO, Rebecca Martin, about how she and her team decided to expand to the Hamptons, what first-time 'glampers' can expect, and more.
Edible Long Island: Before submitting your proposal to Suffolk County, had you spent much time on the East End of Long Island? If so, what were your impressions of the area before submitting? Why did you want to expand here?
Rebecca Martin: I've spent quite a bit of time on the East End, vacationing in the Hamptons for about 20 years. I love going to East Hampton, I find it so beautiful and peaceful. It's the perfect match for me personally, and it's a natural fit for the brand. The location is right on Gardiners Bay overlooking Shelter Island and Sag Harbor – we always try to find waterfront locations if we can, so this was immediately a huge draw. We're beyond excited to be the first glamping site out east!
ELI: Terra Glamping seems like a match made in heaven for the Hamptons. What do you think about how your brand fits in the region?
RM: We couldn't agree with you more! The outdoor adventure meets modern luxury aesthetic of glamping really is an ideal fit for the Hamptons. Most people head out east on the weekends to escape the hustle and bustle of NYC. It's an opportunity to be with nature, away from the noisy streets, near the water – but all while still enjoying a hint of luxury. Terra Glamping offers just that. Friends and family will have the chance to unplug while lounging comfortably in beautifully furnished tents, it's the best of both worlds.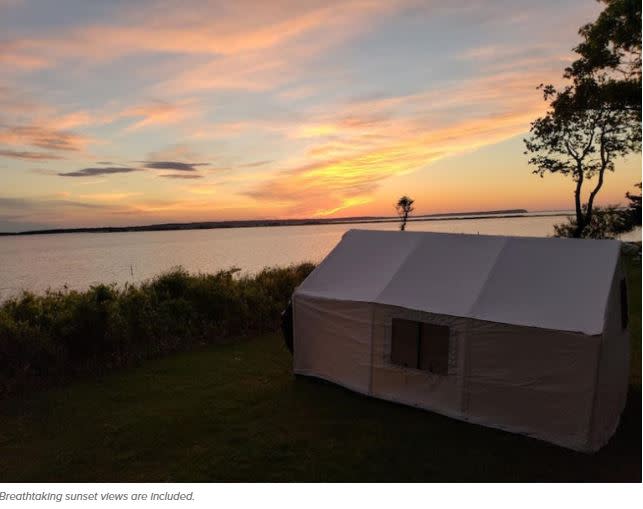 ELI: Since Terra Glamping now calls East Hampton home, we have to ask: What are some of your favorite places in and around East Hampton?
RM: My favorite places in East Hampton and the surrounding area include:
A new discovery: I'm totally charmed by the Cedar Island lighthouse which can be found just a short walk from Terra Glamping: East Hampton's site. The mile-and-a-half walk out to the lighthouse is a perfect afternoon nature escape.
I LOVE Round Swamp Farm for their incredible fresh produce, prepared foods, pies and flowers.
I'm an admitted coffee addict, and my go to place is Jack's Stir Brew. When my son was born, Jack opened his first Manhattan location in the Seaport just downstairs from my apartment and it became my haven for caffeine. I love being able to go to the Amagansett location when I'm in the Hamptons.
ELI: What are you most excited about, as Terra Glamping gets ready for its first summer on the East End?
RM: A lot of people visit the Hamptons year after year so it's really exciting to be able to offer them a truly unique experience that they haven't had access to out east before. We always love introducing guests to the glamping lifestyle, and we think it will be particularly fun to show our Hampton glampers that they don't have to lose the comfort of being in a hotel room or beach house with beautiful furnishings in order to enjoy their outdoor surroundings and connect with nature.
ELI: What can first-time glamping guests expect from their stay?
RM: First-time glamping guests are in for a treat! They will find all of the accommodations of a fine hotel while still taking in the great outdoors. In addition to our beautifully furnished sleeping tents, we have two lounge tents with couches, books and board games; a dining tent; bathroom and shower facilities; a fully stocked grilling area; a fire pit; and hammocks. Each morning will begin with a continental breakfast featuring local pastries. By night, we'll host campfires with a s'mores bar, all complimentary for guests. There will also be kayaks and stand-up paddle boards available for guests to take out on Gardiners Bay so they can fill their time by the water or head to town center, just 10 minutes away. We also offer plenty of summer activities like sunrise yoga, movie nights and more. They will see there are a lot of options to choose their own adventure!
This piece originally appeared on Edible Long Island.