In celebration of Black History Month and his recent honors, Discover Long Island spoke with Phil Andrews, President of the Long Island African American Chamber of Commerce. In our Q&A, Andrews highlights the important work the Chamber is doing on behalf of Long Islanders, and shares a few of his favorite spots for soaking up all that Long Island has to offer.  Continue reading for the full transcript as well as a list of additional resources for Black-Owned Businesses here on Long Island.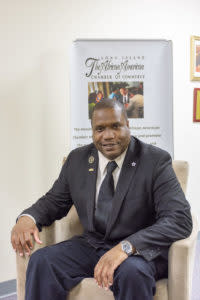 Photo credit: Judy Walker
Q: Tell me a little bit about yourself outside of your professional accomplishments.
A: I lived on Long Island many years in the Village of Hempstead. I first came to Long Island at the age of ten, my first cousin who is now in her eighties lives in Hempstead, and after my visit I fell in love with Long Island.  I also used to visit Westbury Long Island as kid, another first cousin lived in the Village of Westbury.  I currently reside in Fresh Meadow Queens, but I am currently working on relocating back to Long Island. In my downtime, I like to try to relax by reading across many genres of books, watching documentaries, biographies, and travel shows. I also love to spend time at parks and love to view nature's settings such as waterfronts and beaches.  Long Island has some lovely outdoor spaces - that is one of the reasons I love it!
Q: What's your favorite thing about living on Long Island?
A: I love Long Island and have been active on Long Island for quite a few decades. I love the villages and towns, and the fact that you are likely to see your local Mayor, Assemblyman, Assemblywoman, Trustee or County Executive walking down the street on any given day!  The suburbs are not as crowded as New York City and some areas have walkable downtowns. I am grateful for being introduced to Long Island at an early age, as Long Island is one of my favorite places on the planet.
Q: Where do you like to stay-cation or plan daytrips to?
A: I love to visit the Crest Hollow Country Club and will be taking a membership to the club. I am also very fond of Long Beach, Jones Beach, and the Hamptons.  I plan to take a trip to the OHEKA Castle, too.  If you have seen the castle, then you know why it is on the top of my list to plan a visit!
Q: Can you describe your professional background for me? 
A: In my twenties I was in partnership with a corporation that built a franchise from the ground up on Long Island. The name of the franchise was the Haircut Hut Barber Shop Franchise with locations in Hempstead, Roosevelt, Uniondale, and Glen Cove.  The franchise locations on Long Island were my early start to success.
During my twenties I was elected to the Board of Directors of one of the most prestigious organizations on Long Island, a local chapter of 100 Black Men of America, Inc.  In 2009, I was elected as President of the local chapter of the 100 Black Men on Long Island.  In 2013, I was term-limited much like President Barack Obama, and shortly thereafter I was called to become the President of the Long Island African American Chamber of Commerce.  Fast forward years later the Long Island African American Chamber of Commerce (LIAACC) - our chamber is known as the largest African American Chamber.
Q: What is your proudest moment?
A: In 2019 I was named the 2019 Small Business Champion for Downstate, New York by the New York District Office of the United States Small Business Administration. The SBA's Presidential Appointment to the region, Steve Bulger, came out to Freeport to salute me on the occasion of this prestigious award.
Q: How did you first get involved with the Chamber? 
A: The founder of the chamber, Mr. John L. Scott, gave me a call right around the time my term was over at the 100 Black Men of America. Mr. Scott was one of my mentors as a young man on Long Island, so I gladly accepted the invitation to lead.  We had been friends many years and I had served with him in two prior organizations (the Roosevelt Kiwanis and the Roosevelt Chamber of Commerce).
Q: What is something you think the public should know about the work the Chamber does?
A: The chamber, its Officers, Board of Directors, and Members are passionate about our work.  The chamber's roots are embedded in everything we do, in fact in our founding documents we have reconstructed the original geographic description to be defined as the counties of Kings, Queens, Nassau and Suffolk.  And much of our work in the region is looked upon as "pioneering!"
Q: How can businesses get involved with the Chamber?
A: Businesses can get involved in the chamber by becoming a member.  Once they become a member, they can join one of our committees to contribute their area of expertise. 
A small business owner or professional service provider can start their initial involvement into the chamber by logging onto our website at www.liaacc.org and inquiring about membership or being placed on our email list.
Q: Is there anything you think I should know that I didn't touch upon about either yourself or the Chamber?
A: In 2021, I was named to the Top List of Powerful Long Islanders by Long Island Business News and inducted into the Long Island Business News 2021 Class of Hall of Fame. As an Inductee my work on Long Island was immortalized with a permanent plaque being placed at the Zarb School of Business located at Hofstra University.
Resources for Black-Owned Businesses
Long Island has a variety of initiatives that support businesses founded by entrepreneurs of color, women, and veterans. Brief details and links to learn more about each of the programs can be found below.
Resources continued: Organization and Government Agency Links