November is National Native American Heritage Month. Since its commemoration by President George H.W. Bush in August of 1990, Americans have used this month to reflect on the diverse cultures, traditions, and complex history of those indigenous to this land.
Long Island's Indigenous Population
Here on Long Island, our region is home to a multifarious population of indigenous peoples. Most notably are the Shinnecock Nation, which is made up of 12 Algonquian-speaking tribes and has a reservation located within the town of Southampton, and the Unkechaug Nation whose Poospatuck Reservation can be found within the town of Brookhaven.
If you want to learn more about local indigenous tribes and their historical Long Island ties, please visit one of the region's cultural museums mentioned below.
100 Montauk Hwy, Southampton
This museum was established in 2001 as the only nongovernmental, not-for-profit, Native American-owned and operated organization on Long Island. The museum is dedicated to honoring the Nation's ancestors and living history as Algonquin descendants. Here, you'll find a detailed history of the Shinnecock Nation as the museum has collected and preserved material items from the 10,000 years that the tribes have inhabited this region.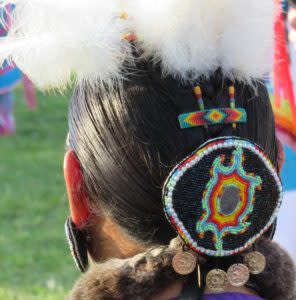 Indigenous woman's headdress at the Shinnecock Powwow.
12-24 2nd House Rd., Montauk
Here, you'll find the four main segments of Native American life (the Paleo, Archaic, Woodland, and Contact Periods) on display for museum guests. Visitors will be able to view large murals depicting scenes from each period of life as well as locally found and reproduced artifacts that offer a visual representation of the Native population's evolution of tools and materials used for survival.
50 Barry Dr., Glen Cove
Visit Garvies Point for an in-depth analysis of Native American Archaeology on Long Island as well as the Long Island Museum of American Art, History & Carriages and the Southold Indian Museum for more information and a closer look at native artifacts.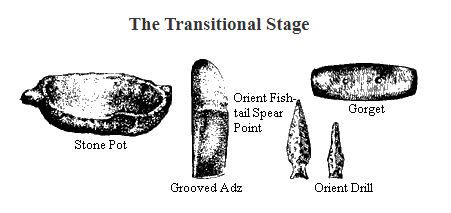 Illustration of Native tools courtesy of Garvies Point.
Local Indigenous-Owned Businesses
One of the best ways Long Islanders can show support of Native American Heritage is by shopping local Native-owned businesses throughout the year. For your convenience, we've assembled a small directory of Indigenous-owned enterprises for your consideration.
50 Hill St. #323, Southampton
For handmade earrings, pendants, beadwork, and other artisan-made accessories check out Thunderbird Designs in Southampton or online. Here, you'll find play objects, jewelry, and other custom items that have been crafted by the Indigenous people of Southampton using natural and local materials like shells, seeds, vines, and saplings.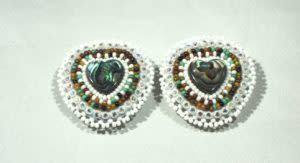 40 Montauk Hwy., Southampton
This is more than just a farm-to-table restaurant, it's a beloved neighborhood space that doubles as an event venue for community gatherings and public forums. Owned by the Shinnecock Nation's current tribal leader, Bryan Polite, Raindrop's Café serves up culturally inspired dishes with a modern twist. Take its Poppin' Patties for example, this trademarked and branded dish starts with one farm-fresh egg and two additional fillings. It may look like an average beef patty, but trust us, it's much more than that!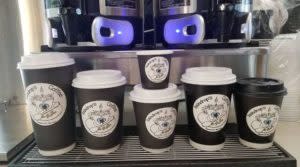 40 Montauk Hwy., Southampton
Serving up indigenous soul food, Hampton's Tasty Bites offers a wide selection of items that have been seasoned with a unique blend of spices that stand out from the rest of the crowd. From stews to burgers, collard greens, and even fried seafood, this food truck has something that is sure to elate every tastebud on its menu.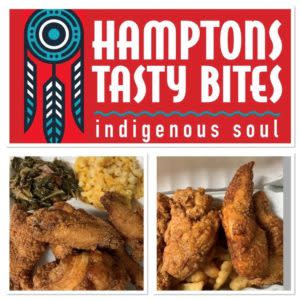 42 Montauk Hwy., Southampton
The Hampton's number one restaurant for seafood take-out and catering won't be found in the village. Instead, you'll have to travel to the Shinnecock Reservation in Southampton (42 Montauk Hwy. Southampton, NY) for a chance to dine at the Shinnecock Lobster Factory. Here, guests will find some of the best local seafood available within the entire region. The menu includes staples like Classic Lobster Rolls, Jumbo Crab Cakes, Lobster Mac & Cheese, and locally sourced sweet corn. But it also has something for the epicurean looking to try something new—like the Shinnecock Lobster Rolls which are served cold with extra virgin olive oil and fresh lemon.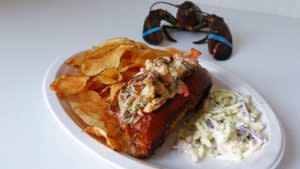 For a full list of native-owned businesses that you can support on Long Island, please visit the Native America Today website or www.supportnativebusiness.com