Did you know that Long Island is home to incredibly rare plant species and even globally endangered wildlife?
Our region's diverse landscapes and terrain have created an oasis for reptiles and amphibians, birds, marine animals, and plants that struggle to survive elsewhere. Take the Piping Plover as one example - this federally listed (as being both threatened and endangered) bird species is known to nest within the shores of Long Island and across Fire Island. Due to several collaborative efforts to protect this endangered species, biologists at the Fire Island National Seashore reported a Piping Plover "baby boom" last fall.
Across the region, wildlife refuges and conservation organizations have taken the pledge to teach nearby communities about the diversity of local wildlife and the simple measures we can take as their neighbors to ensure the health of these populations. And this National Wildlife Week (April 4th through 8th), we recommend paying a visit to one of the many small businesses making a big impact in Long Island's conservation efforts.
For a closer look at some of Long Island's native wildlife species and to learn how our lifestyles can impact them, be sure to visit one of these Long Island animal farms and education centers for your next date or family adventure. Less interested in wildlife and want to flex your green thumb? Check out our guide to Long Island's botanical gardens or most beautiful parks.
Hempstead Lake Nature Center (West Hempstead)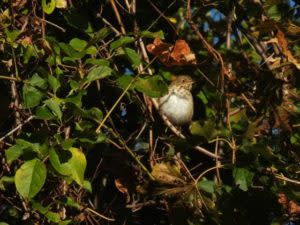 Credit: Hempstead Lake State Park/Facebook
Located on the largest lake in Nassau County, Hempstead Lake State Park offers dog-friendly trails alongside three ponds that are also accessible for fishing and ideal for birdwatching. Shaded picnic areas and a historic hand carved carousel adorns this tranquil state park that is now home to the brand-new Environmental Education & Resiliency Center. The Environmental Education and Resiliency Center is a unique, hands-on learning center focused on environmental management and storm resiliency. The goal is to connect the community with the natural environment by providing outreach and educational programming. The Center will also be used for storm response purposes, monitoring data from The Hempstead Lake Dam to assist in storm preparation and response. The park currently offers educational programming for scouts, schools, and the public. To register for public programs you can visit the Eventbrite page. If you would like to book a school or scout program, email the park at HempsteadLakeEE@parks.ny.gov
Spring Hours: The park as well as its Environmental Education and Resiliency Center are open 7-days per week from 9 a.m.-5 p.m.
Tanglewood Preserve and Science Center (Rockville Centre)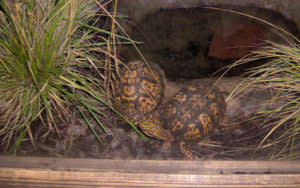 This 17-acre preserve serves as the headquarters for the Center for Science Teaching and Learning, an interactive museum with over 3,000 square feet of live animal exhibits. Exotic species, native reptiles, birds, mammals, and amphibians are presented in realistic indoor and outdoor environments. In addition to the hands-on, educational activities offered by the museum, Tanglewood preserve features nature trails that swoop around ponds and other natural landscapes, ideal for families of all ages.
Spring Hours: Museum is open daily from 10 a.m. to 4 p.m., closed Wednesday
Norman J. Levy Park & Preserve (Merrick) 
Photo credit: Marisa Losciale/@mynameismaris
One of the best-kept secrets in southern Nassau is Norman J. Levy Overlook Park and Preserve. It is home to a land conservation project, gravel walking paths surrounded by trees and shrubbery, turkeys, peacocks, goats, and one-of-a-kind views of Long Island's autumn season! While the animals sure make for some cute photos, they also serve a purpose on the grounds. The goats are used in place of lawnmowers, so if you see them or any of the other wild animals roaming around, please keep your distance–they are hard at work!
Spring Hours: Open 7-days per week from 7 a.m. to 6:30 p.m. 
Jones Beach Energy & Nature Center (Wantagh)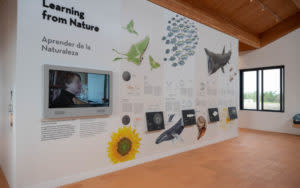 The Jones Beach Energy & Nature Center is a pioneering facility exploring how energy consumption shapes the natural environment. Located on the West End of Long Island's iconic Jones Beach State Park, the Center explores the coastal landscape as a living example of these relationships. The net-zero building models how architecture, design, and technology can adapt to a changing environment to meet our energy needs. The Center offers interactive programs for schools, youth organizations, clubs and the public that showcase the interconnectedness of energy use and environmental stewardship, as well as educate students on Long Island's vast variety of indigenous species, from marine life to avian species. For a full list of educational events happening here, visit www.jonesbeachenc.org/programs.
Spring Hours: Open 7-days per week from 9 a.m. to 4:30 p.m.
Tackapausha Museum and Preserve (Seaford)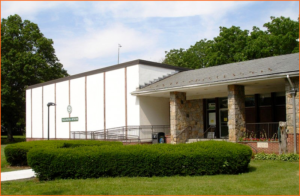 Credit: Tackapausha Museum/Nassau County
Tackapausha Preserve is a historic and beautiful 84-acre sanctuary of oak forests, ponds, streams, small mammals, and scores of bird species, all of which can viewed via five miles of clearly marked trails. As the first tract of preserve land acquired by Nassau County in 1938, it is one of the most popular preserves on the South Shore. Birdwatchers often hike the trails, with lawn chairs in tow, seeking out species commonly found at the preserve, such as the ruby-throated hummingbird. In all, more than 170 bird species have been identified within the preserve, along with raccoon, muskrat, gray squirrel, and opossum. The preserve also incorporates a 3,000-square-foot museum with displays about the ecology of Long Island, as well as animal exhibits and shows and interactive activities for children.
Spring Hours: Museum is open Thursday to Sunday from 11 a.m. to 4 p.m., preserve is open daily from dawn to dusk
Quogue Wildlife Refuge (Quogue)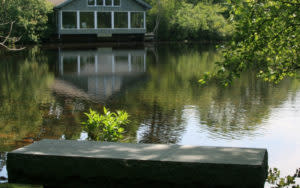 Since 1934, the Quogue Wildlife Refuge has been home to diverse wildlife, including some that are permanently injured and require human care to survive. This preserve turned refuge is open year-round and visitors can enjoy walking seven miles of hiking trails that wind through a variety of habitats from forests to ponds, including the ecologically rare Dwarf Pines in the Pine Barrens. Bobcats, owls, falcons, eagles, and other native New York mammals that have permanent injuries can be found in the outdoor Distressed Wildlife Complex. Inside of the Nature Center, huge picture windows offer spectacular views of Old Ice Pond and is prime for birdwatching. Comfy chairs, wildlife exhibits, live animals, a nature library, and gift shop can also be found inside of the Nature Center. There is no charge to visit the Refuge. Donations are appreciated.
Spring Hours: The Refuge trails and Distressed Wildlife Complex are open every day from sunrise to sunset. Nature Center Building is open: Tuesdays and Thursdays, Saturdays, and Sundays from 11 a.m. – 4 p.m.
Long Island Game Farm (Manorville)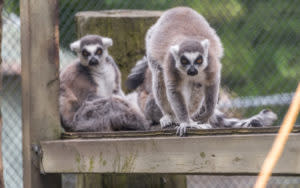 As a wildlife park and children's zoo on Long Island, the Long Island Game Farm offer families a natural environment where they can learn about wildlife and animals through observation, education, and entertainment. Get up close and personal petting and feeding our animals including our baby goats, sheep, deer, and more. Or snap pictures of Red Foxes, Wallabies, Zebras, Emus, African Serval Cat, Llamas, Alpacas, Tortoises, and other wildlife on the farm. Admission rates vary based on the guests' desires and activities, but standard tickets (which include a "Walk with a Wallaby") start at $18.95.
Spring Hours: Open weekends from 11 a.m. to 3 p.m. 
Animal Farm Petting Zoo (Manorville)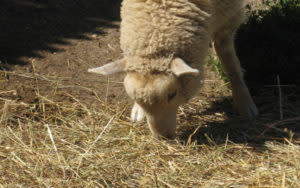 Also located in Manorville, Animal Farm Petting Zoo is the perfect place to introduce your kids' to animals. Run by the Long Island Zoological Society, a non-profit organization, more than 75% of the animals in the park have come here through a Zoo Rescue program. Habitats and exhibits were built for them, creating this beautiful park. This has been through donations, volunteers, exhibit sponsors, corporate donations, and material donations. At the 10-acre park, guests can get an exclusive look at exotics, reptiles, local wildlife, farm animals and their babies. Unlike many of the other animal farms in the region, this one in Manorville is home to a wide selection of rare and unusual birds, monkeys, llamas, reptiles and other exotic animals. Animal Farm Petting Zoo also offers pony rides, train rides, musical puppet shows, farm tours, & creature encounters for those interested in getting up-close-and-personal with the animals. See, feed, and pet the animals.
Spring Hours: Open 7-days per week from 11 a.m. to 5 p.m. through October
Waterdrinker Family Farm (Manorville)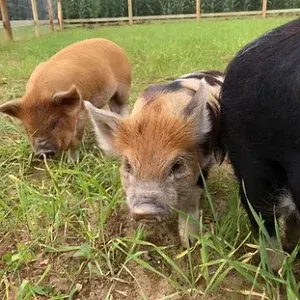 To learn more about Long Island's farm animals, head to Waterdrinker's Family Farm & Garden in eastern Suffolk County. Known for its seasonal festivals, like the annual Tulip Festival, the property is also home to a variety of barnyard animals and a working farm, Waterdrinker hosts a variety of educational opportunities and family-oriented activities. Here, guests can enjoy a round of mini golf, obstacle courses, wooden playland, and pedal tractors, before ending the day at one of the many photographable spots perfect for capturing the memory of your stay. Entrance fees are $15 per person, tickets are waived for children 2 and under.
Spring Hours: 9 a.m. to 5 p.m. Monday through Wednesday and Friday through Sunday, property is closed on Thursdays. 
Holtsville Ecology Site & Park (Holtsville)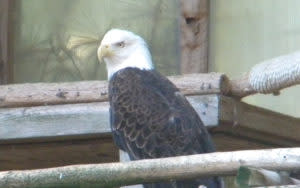 Open year-round, Holtsville Park includes a triple pool complex, exercise-trail fitness course, and most importantly, a nature preserve and ecology center that features Buffalo, Bobcats, Eagles, ecology exhibits, greenhouses, and more. Home to over 100 injured (or non-releasable) wild animals and farm animals, guests can view, learn about, and feed many of the wildlife species housed here. Feed machines for the goats are available for 25 cents per handful, and if you're camera is ready, it also doubles as a fun family photo opp.
Spring Hours: Open 7-days per week from 10 a.m. to 3 p.m. 
White Post Farms (Melville)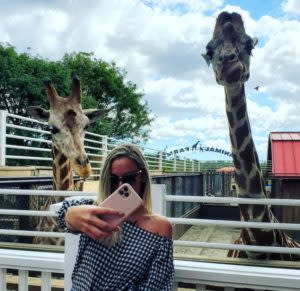 White Post Farms is a family owned and operated animal farm, farm market and nursery. Visit the animal farm for a great day of outdoor family fun. Meet Long Island's only two resident Giraffes, Patches & Ollie. Feed colorful birds in two bird aviaries. Give a treat to the playful marmosets, squirrel monkeys and lemurs in the monkey barn. Feed and visit with farm animals and exotic animals from all over the world including camels, zebra, antelope, alpacas, goats, sheep, cows, and more. Kids can enjoy a pony ride or a trip on the Farmland Express Train. Animal encounters (like shown in the picture above) are weather permitting.
Spring Hours: Open weekends from 10 a.m. to 5 p.m. 
Harbes Family Farm (Mattituck)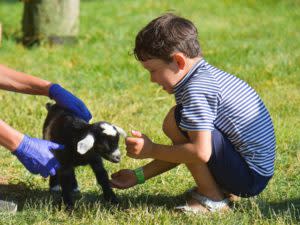 Harbes Farm & Vineyard is a 100-acre farm located in Mattituck in the heart of Long Island's North Fork. Harbes began as a small farm stand over 30 years ago and has evolved into a North Fork destination where families can enjoy anything from fresh picked corn to pig races to award-winning wines. As well as the original farm stand, the farm includes the Barnyard Adventure, an 8-acre family-friendly attraction that includes farm animals, Jumbo Jumpers bounce pillows, a trike track, sports zone, Gnome themed hedge maze, and many more activities. On weekends, holidays and summer Fridays, the Barnyard offers pig races, musical hayride tours, and hosts a whole lot of kids' fun and games. The farm also includes Harbes Wine Barn, a wine tasting room renovated from a 100-year-old potato barn. Stop by for fresh produce, wine, and cider donuts or to say hello to the farm animals!
Spring Hours: Opens for the season Mother's Day weekend, May 7 & 8. Open daily from May-Oct.
Spirits Promise Equine Rescue (Riverhead)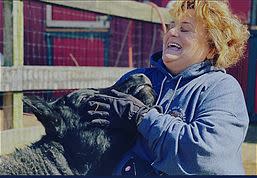 Spirit's Promise Equine Rescue rehabilitates horses and invites families to the farm to educate them about these majestic creatures. The organization runs seasonal events throughout the year, like tours, square-dancing, farm festivals, barn dances, and kids activities with the horses, all of which sell out regularly. To be the first to know about these exciting opportunities or  for more information on Spirits Promise, be sure to check the calendar of events or visit the site linked here.
Spring Hours: Open for tours on weekends