With Pride Month underway, there's never been a better time to support our region's local LGBTQ+ businesses. From spectacular hotel accommodations to custom jewelry designs, cheese pairing classes, shellfish shucking lessons, and even exotic plant shops, Long Island's community of LGBTQ+ owned businesses has a little something for everyone. Whether you're looking to book a getaway on the North Fork, plan to explore the southern shoreline of Nassau County, or have a trip booked to the East Coast's most iconic LGBTQ+ destination—Fire Island—pride can be found in each and every one of our communities.
For a list of our favorite LGBTQ-owned businesses, continue reading.
LGBTQ+ owned businesses on Long Island
Jonah's Garden (Bellmore)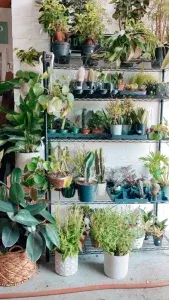 Got a passion for plants? Head to Jonah's Garden in Bellmore. It's the perfect place to find beautiful and unusual plants for your home. Shop hand-selected exotic indoor plants that will turn your home into your own personal greenhouse. Owned by Jonah Rangel, Jonah's Garden has a decade of experience in the plant world to share with its customers, so you can consider him your own plant doctor. Stop by to learn more about the ways plants can influence your space, how to protect your garden from pests, or to grab a unique new addition to your plant collection.  Jonah's Garden regularly hits the road for pop-ups, farmers' markets, and more—so be sure to follow them on Instagram or Facebook to stay in-the-know.
Hitch (Babylon)
Hitch is a lifestyle boutique that sources a wide variety of gift items, accessories, and home goods from hundreds of local vendors—including LGBTQ+ artists and craft makers. The store is located right on Main Street in Babylon and is full of LGBTQ+ and Long Island pride. Be sure to stop by during the Babylon Pride Parade or make an appointment to get permanent jewelry with its 'forever fused' services.
American Beech Hotel & Boutique (Greenport)
American Beech is a boutique and luxury hotel brand brought to you by queer icon, Alex Vinash. Located in the heart of downtown Greenport, American Beech Hotel, Lounge, & Boutique allows guests to shop, eat, drink, and spend the night in one of the region's most vibrant waterfront communities. Vinash, who is a creative fashion and interior designer, has created a legendary getaway on Long Island's North Fork with his use of eclectic patterns, bright colors, and one-of-a-kind art. Vinash also recently opened a new hotel in Aquebogue, Aqua.
NuBar (Farmingdale)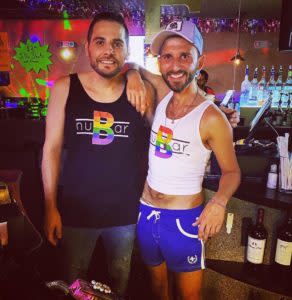 Credit: @linubar/Instagram
For the past five years, NuBar has been serving up pub-style eats and wild events for Long Island's LGBTQ+ community. The Farmingdale-favorite is known for its year-round patio, drag shows, live DJ sets, karaoke, and bingo nights. The gay-owned and operated bar will also be hosting the after party for this year's Long Island Pride Festival. To stay up to date on all the upcoming dazzling events, follow NuBar on Instagram.
Little Ram Oyster Co. (Southold)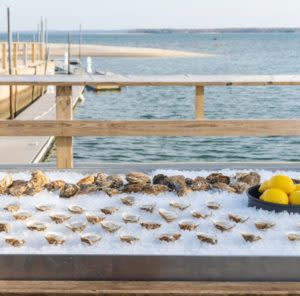 Credit: @littleramoysters/Instagram
Owned by couple (and moms) Elizabeth Peeples and Stefanie Bassett, Little Ram Oyster Co. is a female-owned and operated oyster supplying business located in Southold. The new location (inside the brand-new Shoals 'Boatel') offers more than just fresh, local shellfish, but educational tastings, special seaside events, fun-filled shucking classes and so much more!
Kate's Cheese (Greenport)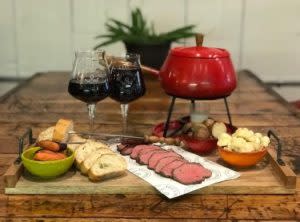 Credit: @katescheeseco/Instagram
Kate's Cheese Co. is "more than just a cheese shop" located in Greenport. The shop-meets-gastropub captures the fun, friendly, laid-back vibes of the North Fork area in a perfectly cheesy way. Kate's Cheese Co. not only offers a wide assortment of delicious cheeses to purchase, but a hefty amount of ways to enjoy them as a gourmet meal paired with an exquisite drink menu and a welcoming atmosphere that encourages guests to take their time and enjoy the present moment.
Common Ground Jewelry (Greenport)
Fused by the morals of healthy and ethical consumption, Common Ground Jewelry in Greenport offers ethical and fair-trade custom creations and unique jewelry pieces designed by the shop owners, Susan Pridham and Alexa Suess. A portion of the profits from each sale support organizations that continue to move transparency and accountability forward in the industry. The store stocks the owners' custom designs, from crystal statues to rings, necklaces, and bracelets; as well as a variety of accessories made by local Indigenous artists.
The Cherry Grove Community House and Theater (Fire Island)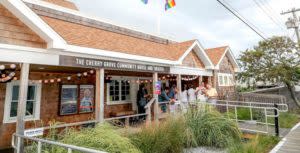 At the heart of Cherry Grove stands the Cherry Grove Community House and Theater, one of two sites on Fire Island listed on the National Register of Historic Places because of the role it played in queer history. As the original and current home to the Arts Project of Cherry Grove, the theater has been credited with shaping Cherry Grove into America's First Gay and Lesbian town. And today, visitors can still support the theater and the historic Arts Project by purchasing tickets to any one of the numerous live performances taking place this summer. From enamored renditions of Judy Garland to an archived film festival, the legends of the Cherry Grove Community House Theater live on.