Whether you're a dog person, a certified cat lady, or a Steve Irwin wannabe, today is your day. Well, technically, it's your pet's day, but who's to stop you from getting in on the celebration?
Here on Long Island, we especially love our pets. So much so, that our local breweries, wineries, and downtowns have gone so far as to enhance their establishments to be pet friendly. Not only that, but our local entrepreneurs have stocked some unique, quality products for pets that you won't find anywhere else. So, if you're looking to celebrate National Pet Day with a few treats, a new toy, or an epic weekend adventure, check out one of the small businesses listed below.
A preview of the memories you can make memories with your best bud:
Best pet-friendly dining experiences on Long Island
Hudson's on the Mile (Freeport)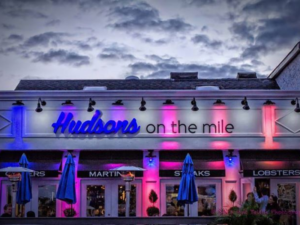 For the ultimate dinner with a view, head to Hudson's on the Mile located on the Nautical Mile in Freeport. The dog-friendly outdoor patio offers picturesque views of harbor front sunsets, a highly applauded menu of fresh sushi, seafood, and steak, and live entertainment.
Local Burger Co. (multiple locations)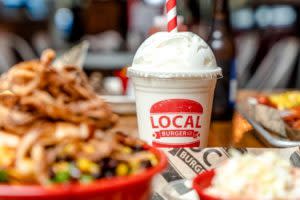 Credit: @LocalBurgerCo/Instagram
The classic burger-joint has been reinvented. Local Burger Co. brings fresh, hand-pressed burgers, Long Island craft beer, house-made sides and smoked BBQ to Bay Shore, Patchogue, and Southampton. Pets are welcome to join the outdoor patio.
The Lenz Winery (Peconic)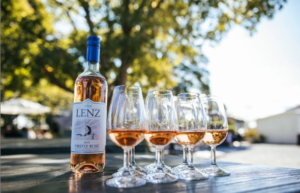 Hidden behind the vines, Lenz Winery is where you can sip and relax with your furry friend beside you whether it's in the outdoor courtyard or inside the tasting room.
LaMotta's Dockside Restaurant (Port Washington)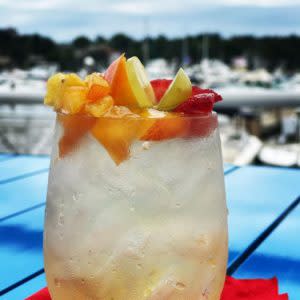 Credit: @lamottas/Instagram
A waterfront tradition since 1994, LaMotta's Dockside serves only the finest modern American cuisine with global influences. Come enjoy delicious dishes and beautiful views of Manhasset Bay in Port Washington alongside your furry friend. Open from mid-May through Labor Day, LaMotta's has gained the reputation of being one of Long Island's top waterfront destinations that just so happens to have a dog-friendly patio.
Greenport Harbor Brewing Co. (Greenport & Peconic)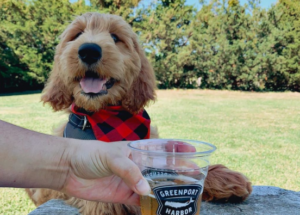 Inspired by the beauty of the North Fork region and the Long Island Sound, Greenport Harbor Brewing Company creates each beer and can designs to reflect the vibrant life and values of the locals on the North Fork. The immense yard at the Peconic location is perfect to enjoy live music with your pup in the summer. You can find all the best seasonal beers at one of their two brewery locations in both Peconic & Greenport.
Macari Vineyards (Cutchogue)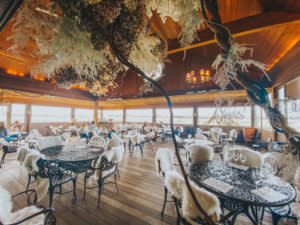 Wine down with your furry friend at Macari Vineyards, take your glass of wine to the outdoor seating and soak in the sun with your beloved pup. While you're there, be sure to check out the lovely wine and snack shop located near the front entrance for local provisions, fresh wine, and other delights.
Hampton Coffee Company (multiple locations)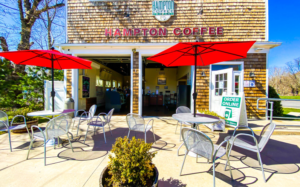 Hampton Coffee Company in Aquebogue, Montauk, Southampton, Water Mill and Westhampton Beach all feature pet-friendly patios. They even provide free dog treats at the counter!
Bright Eye Beer Co. (Long Beach)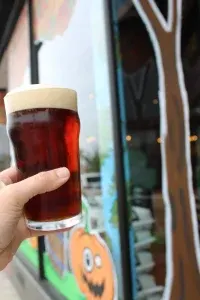 Photo courtesy of Bright Eye Beer Co.
Bright Eye Beer Co. is Long Beach's first craft brewery. This pet-friendly pub offers a large variety of brews, from IPAs to fruit beers, porters, and everything in between! Bright Eye Beer Co. is licensed as both a microbrewery and a farm brewery, meaning it crafts small batch brews using local ingredients. Dogs are welcome but must be leashed at all times. Loud dogs and their owners will be asked to sit outside.
RGNY (Riverhead)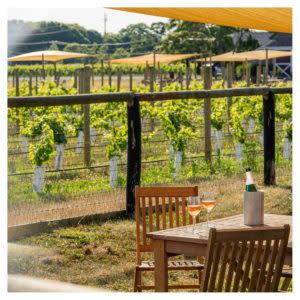 Giving you more than just flavorful wine, RGNY has the perfect outdoor games for you and your best bud. From cornhole to Jenga and Uno, there's fun for the whole family!
Blue Point Brewing Co. (Patchogue)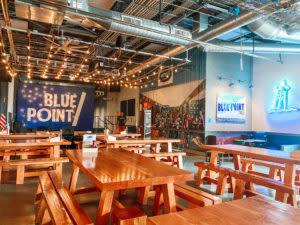 One of Long Island's most famous, delicious beers is the Toasted Lager from Blue Point Brewing Company, so if you have not had it yet, you are missing out on a craft beer staple. Blue Point also is well known for capturing the flavor of all four seasons and turning them each into their own ales, so they have your happy hour beer craving covered all year round. Your pup will love the newly renovated outdoor beer garden.
Claudio's (Greenport)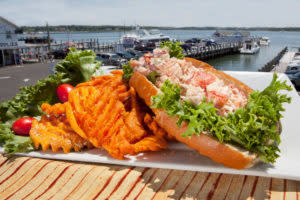 This local staple is serving up legendary seafood in three different dog-friendly atmospheres in harborside Greenport. Enjoy waterfront dining at Claudio's Restaurant, Crabby Jerry's, and Claudio's Waterfront.
Peconic County Brewing (Riverhead)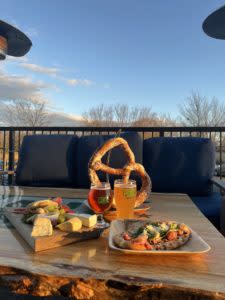 For deliciously fresh beer and entrees to match, Peconic County Brewing has really made a name for itself out in Riverhead. To make things even more enticing, the brewery's waterfront patio is dog-friendly (with a leash).
The Preston House Restaurant (Riverhead)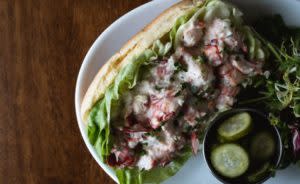 Indulge in fresh, Long Island-sourced ingredients flavored to perfection and served in an inventive New American menu at The Preston House Restaurant. Serving brunch, lunch, and dinner in industrial chic dining rooms or the beautiful, pet-friendly outdoor patio. The restaurant also offers beautiful spaces for private dining, including a wine cellar and lounge that houses more than 800 bottles from around the world.
Six Harbors Brewing Company (Huntington)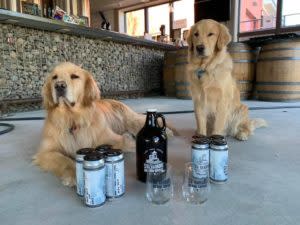 Six Harbors Brewing Co. loves pups (and their beer-drinking owners) which is why leashed, well-behaved dogs are welcome inside and offered water and sometimes even treats (when in stock).
North Fork Brewing Company (Riverhead)
North Fork Brewing Company prides itself on being a family-oriented establishment, which is why board games and non-alcoholic homemade ginger ale is offered to kids and leashed dogs are welcome to hangout as well.
Best pet-friendly farms, parks, & preserves on Long Island
Waterdrinker Family Farm & Garden (Manorville)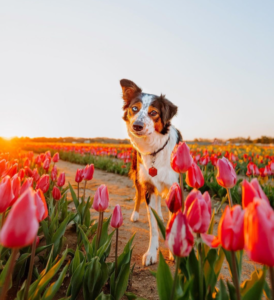 Don't miss this year's annual tulip festival at Waterdrinker Family Farm & Garden, Farmer Nik planted over 1 MILLION tulips!! Tip toe through the tulip fields and don't forget your camera because this is one of the most Instagrammable spots on Long Island. This year, the farm has tons of new picture spots including bicycles in the field, giant Dutch shoes, and vintage cars! Also on site are a ton of activities for kids and a farm-to-beer brewery. The farm and its gardens are dog-friendly (please just keep them on a leash).
Bay Park (East Rockaway)
Alright dog lovers, this park is for you. Bay Park in East Rockaway offers two waterfront dog runs. Yes, you heard that right. Head to the east side of this park and please adhere to the size requirements of each run (one is for strictly for dogs under 25lbs).
Sands Point Preserve (Sands Point)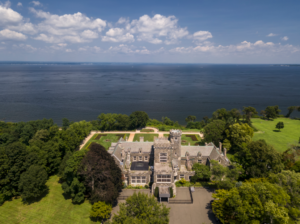 Home to three spectacular mansions (Falaise, Hempstead House, and CastleGould) Sands Point Preserve was originally the residence of the Guggenheim family and has inspired the likes of F. Scott Fitzgerald and Charles Lindbergh. Now, it's open to the public daily for tours of the mansions and surrounding estate. Dogs are welcome to explore the preserve, but they must be kept on a leash. There are two dog runs (one is exclusively for dogs under 25lbs) that are accessible for your use as well.
Eisenhower Park (East Meadow)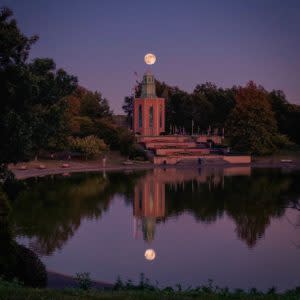 Photo credit: @elektric.eye/Instagram
Get your best fur buddy and head for a stroll through one of Long Island's largest state parks, Eisenhower Park! Coined "Nassau County's Central Park," this public space is elaborate enough to host a whole 1.5-acre section for dogs. Let your puppy can interact with other pups, drink from the water stations, and catch some shade under the trees before playing fetch on one of the great lawns.
Cedar Creek Park (Seaford)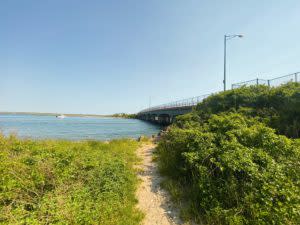 Credit: @mynameismaris/Instagram
Seaford's Cedar Creek Park is a great place to hang out with your furry friend and maybe even some of their furry friends. This 259-acre park offers dog-friendly paved paths and two dog runs (one reserved for pups under 25lbs). It also serves as the entry point for a six-mile paved path to Jones Beach for dogwalkers, joggers, hikers, cyclists, and rollerblade enthusiasts looking to make some serious strides.
Gardiner County Park (Bay Shore)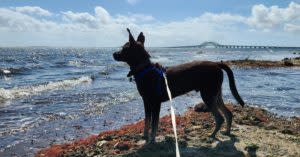 Credit: @mr.ghost_st.patrick/Instagram
Your pup will make so many friends at this 231-acre nature-oriented public park on the Great South Bay in West Bay Shore. Gardiner County Park features a dog run, fitness trail, hiking, picnicking, bird watching, and nature trails leading to views of the iconic Robert Moses Bridge.
Sagamore Hill National Historic Site (Oyster Bay)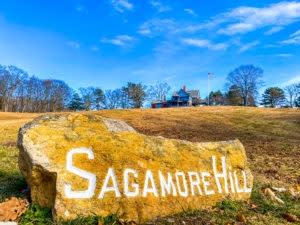 Visitors and their dogs may enjoy more than 80 acres of Sagamore Hill's natural landscape any day of the week from dawn to dusk. Be sure to explore the half-mile wooded loop trail that goes from the Old Orchard Museum to the Eel Creek saltmarsh and the beach at Cold Spring Harbor. Dogs must be kept on a leash at all times.
Bailey Arboretum (Lattingtown)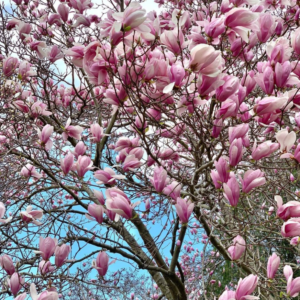 This 42-acre preserve on the North Shore of Nassau County is in the running for the most beautiful dog-friendly park on Long Island. In addition to numerous wooded trails, the arboretum features seven acres of beautifully manicured gardens.
Heckscher Park (Huntington)
Take a scenic walk past Heckscher Museum of Art into Heckscher Park, frequently known as the "Central Park" of Huntington village. You and your pup can walk along the large pond and enjoy the views of the stone bridges, creeks, blossoming trees, and sculpture gardens.
Town of Oyster Bay Dog Park at Centre Island Beach
For an afternoon puppy-play date, head on up to Bayville's newest dog park at the Town of Oyster Bay Dog Park at Centre Island Beach.  This park was opened in 2019 and offers a beautiful place for people and pets alike to gather and socialize in the town's efforts to make our parks more dog friendly.
Blydenburgh County Park (Smithtown)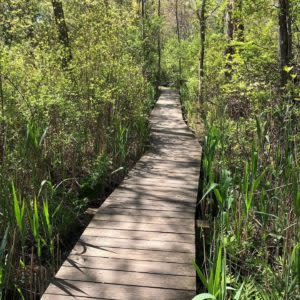 Credit: @one.fly.life/Instagram
Open year-round, this 627-acre county park has enough activities to leave you and your pet wanting to come back again for more. Hiking, picnicking, camping, freshwater fishing, rowboat rentals, bridle paths, playground, dog run, dog park, and horseback riding are only the top of the list. Our favorite time of year to visit Blydenburgh is when all the flowers bloom in the spring and during the fall for peak foliage.
Best pet-oriented shops
Harbor Pet (Greenport)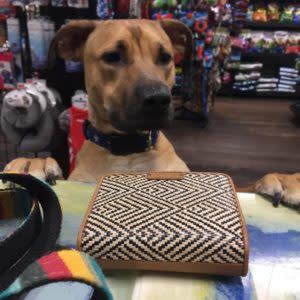 Credit: @HarborPet/Instagram
Treat your puppy to some shopping in the heart of Greenport with a trip to Harbor Pet.  This shop is the ultimate boutique for pets, shop stylish collars, leashes, and other accessories, or stock up on some specialty healthy treats. The world is your oyster at Harbor Pet.
Bond Vet (Garden City)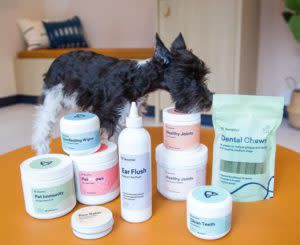 Take your pet on over to the new Bond Vet in Garden City for a spa day. Once groomed, you can have your pet pick from some treats in the chic lobby for being such a good girl (or boy).  The best part of Bond Vet is that they are also a walk-on clinic, so if your pet is having any skin issues or allergies this shed season, the professionals here can stop the problem in its tracks.
Lolamina (St. James)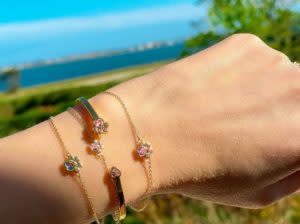 Want a piece of jewelry that represents your love for your favorite dog and helps other puppies in need at the same time?  Check out Lolamina Designs online for the cutest puppy-inspired jewelry pieces!  From rings to necklaces to matching hair accessories, each purchase gives back to a different charity helping dogs in need.
Good Westhampton (Westhampton)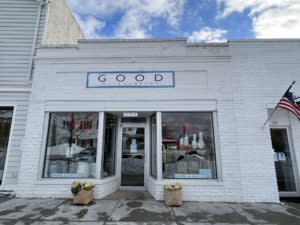 For home decor and locally curated gifts for everyone in the family (including pets!), stop at Good Westhampton located in the heart of Westhampton Beach.
Best pet-friendly hotels & overnight stays on Long Island
Garden City Hotel (Garden City)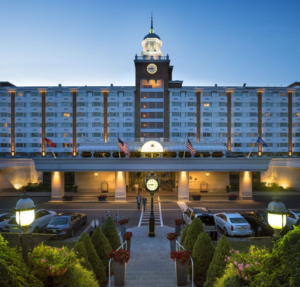 Give yourself and your pup the 5-star hotel treatment when you take them with you on your stay at the Garden City Hotel, Long Island's only 4-Diamond property which also happens to be pet friendly! Make a reservation at Chef Burke's Red Salt Room or outdoor patio bar for a savory meal you won't forget.
Baron's Cove (Sag Harbor)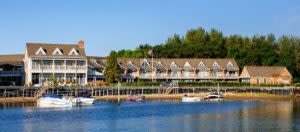 Bring your four-legged family member with you on your Baron's Cove getaway and enjoy deluxe dog-friendly accommodations, a Dog Welcome Kit, a copy of Travels with Charley by John Steinbeck and more.
Bellport Inn (Bellport)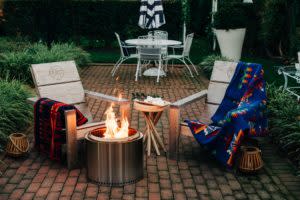 The Bellport Inn invites you to experience a relaxed and curated setting in a historic property dating back to 1889, just steps to restaurants, boutiques, and the Bellport Marina on the Great South Bay.  Each suite offers elegant, yet understated accommodations, each with its own unique look thanks to a collection of vintage and modern pieces as well as works by local artists. The Bellport Inn is pet-friendly, but pet accommodations must be discussed at the time of booking.
Hither House (Montauk)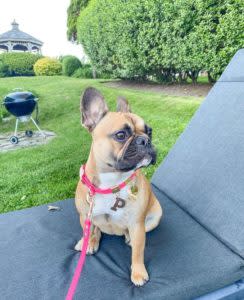 Hither House offers a picturesque landscape with full amenity cottages and studios perfect for families, friends, couples, reunions and even pets! This tranquil location will delight you with the essence of Montauk in a quiet and rustic location.
Preston House (Riverhead)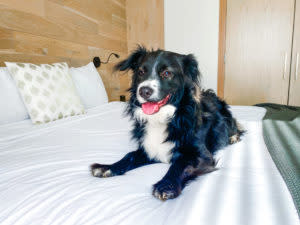 This turn-of-the-century 1905 historical home on Long Island has been restored and transformed into a modern, chic 20-room boutique hotel and 88-seat American restaurant. Located in downtown Riverhead across from the Long Island Aquarium, The Preston House Hotel is so elegant and industrial chic, you wouldn't even believe that your pup gets to enjoy this luxurious stay with you.
Home2 Suites by Hilton Long Island (Yaphank)
Home2 Suites by Hilton Long Island wants its guests to take off their jackets and stay awhile. It's why they built this pet-friendly location within five miles of the Smith Point County Park, Baseball Heaven, Wertheim National Wildlife Refuge, and Brookhaven National Labs. The hotel is just 19 miles from Stony Brook University and 20 miles from the Hamptons, it's the perfect place for college parents to stay for a visit that they can then turn into a vacation. Included with your stay is access to the heated indoor pool and complimentary hot breakfast.
See the Perfect Dog-friendly Staycation on the North Fork
[embedyt] https://www.youtube.com/watch?v=gHweiW4-y58[/embedyt]
Click here for more Long Island TV episodes!