If you're looking for a picturesque daytrip with your significant other or glamorous weekend getaway with the girls, you need to check out these winter vineyard experiences offered by a few of Long Island's top-rated wineries. In an effort to really round out the trip, many of these seasonal offerings also include exclusive tasting menus and decadent bites. But if you want to really take advantage of the off-season on the North Fork, be sure to check out our guide to winter getaways and winter dining experiences.
Instagram-friendly winter vineyard experiences on Long Island
Macari (Mattituck)
Macari Vineyards is now accepting reservations for exclusive use of its beautiful Bergen Road Bungalows. The bungalows feature chic furnishings and décor, a private and heated setting, top-rated wines to sample, as well as gourmet cheese and charcuterie to compliment. They are available for groups of all sizes every day except Tuesday, and reservations are required in advance. About the vineyard: Owned and operated by three generations of the Macari Family, the waterfront farm hosts sweeping views of the Long Island Sound, hosts a herd of cattle, and grows its grapes without the use of pesticides. Since the first vines were planted in 1995, Macari Vineyards has been recognized as an industry leader in regenerative agriculture, with a focus on organic and biodynamic farming principles.
RGNY (Riverhead)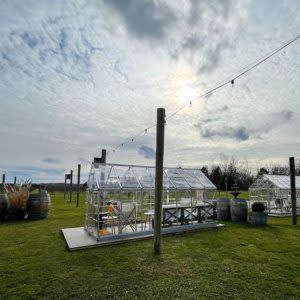 Plant parents and green thumbs will want to run, not walk, to RGNY Wine in Riverhead for a chance to wine and dine in a greenhouse. A unique reservation for up to 6 guests, you will be set up on the lawn outside of the main tasting room in one of four Mexican-inspired greenhouses overlooking the vineyard. Each greenhouse comes equipped with an adjustable heater to keep you and your friends cozy, and a speaker to set the tone with your favorite tunes. Curl up on our couches, choose your wines, and enjoy a delicious lunch and dessert combo in your own private, picturesque greenhouse. Reservations are necessary and can be made using the link below. About the vineyard: RGNY is a family-owned vineyard with a deep appreciation for winemaking and unique perspective from the owner's Mexican roots. RGNY is known as a vineyard that is dedicated to crafting high-quality, innovative, and sustainable wines.
Del Vino (Northport)
For the ultimate winter wine experience, Del Vino Vineyards' seasonal igloos are back for your booking pleasure. Warm, vibrant, and cheery, these private and heated igloos are the perfect setting for an intimate date night or chic afternoon out with friends. Reservations are needed and can be made online or by phone. About the vineyard: Located on the rolling hills of Long Island's Gold Coast, Del Vino Vineyards is family owned and operated. The vineyard offers extraordinary scenery, a sense of serenity and seclusion, and a providential climate for wine. Del Vino's commitment to absolute quality extends to the relationships the vineyard builds with its guests.