March 30th is National Take a Walk in the Park Day and with Long Island's abundance of pristine parks and preserves, this is an opportune time to head out on an outdoor adventure. From playground amusements to lush landscapes, here are some of our top places to take a casual afternoon stroll or burn off pent-up energy.
Best Nassau County Parks 
Sunset Park & Blumenfeld Family Park (Port Washington)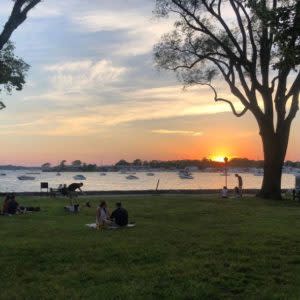 Credit: @theofficialportwashington/Instagram
You've heard of Sunset Park in Brooklyn, but what about the one in Port Washington? This hidden gem is located on the Manhasset Bay and offers unparalleled views of the New York City skyline. Take a walk with your dog down by the water or grab takeout from one of the nearby restaurants like LaMotta's or IKEDO Ramen and have the most delightful picnic with a view. Want to make a day out of it? Check out nearby Long Island Boat Rentals for private tours of New York State icons or Blumenfeld Family Park for top-notch children's recreational facilities.
Cedarmere Park (Roslyn Harbor)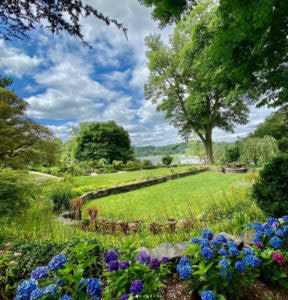 Credit: @hiddengemslens/Instagram
For classic views overlooking Hempstead Harbor, take a walk through the well-kept grounds of the former Cedarmere Estate. Dedicated to preserving the legacy of William Cullen Bryant and his beloved estate, Cedarmere. Friends of Cedarmere (a volunteer-run non-profit organization that aims to promote, encourage, and assist in the preservation and restoration of Cedarmere's historic gardens, the main house, and outbuildings) has maintained the grounds for public benefit. The estate is on the National Register of Historic Places and the New York State Underground Heritage Trail and is home to a variety of gorgeous gardens, unique landscapes, and immense history. For post-workout facials and rejuvenation or to upgrade your skincare routine, stop by Sugared Beauty Bar in downtown Roslyn. Or if you're looking for late night plans—like dinner and a show—My Father's Place at The Roslyn Hotel provides top-notch live performances, delicious bites, and buzz-worthy cocktails.
John P. Humes Japanese Stroll Garden (Mill Neck)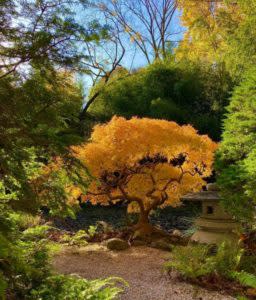 Credit: @LukeKingMA/Instagram
This unique and historic 7-acre gem of landscape design and woodland boasts an impressive collection of North American and Asian plants that constitute a beautiful Japanese landscape and impart a meditative experience. The landscape was inspired by a mountain setting by the sea. A stunning stepping stone path is one of the defining features found on this property and was inspired by the intimacy of a mountain path. A gentle climb through the woodland part of the garden will lead you to a "mountain peak". There you will meet the gravel path representing a stream that will guide you to an authentic pondside tea house.
Editor's note: The garden officially opens to the public on weekends starting April 30th
Mill Neck Manor (Mill Neck)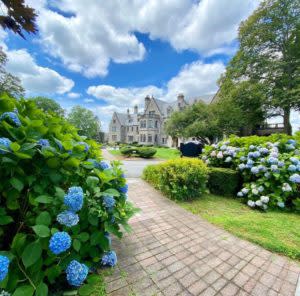 Credit: @millneckmanor/Instagram
If a walk through lusciously landscaped vistas and bountiful Cherry Blossoms aren't enticing enough for you, the historic charm and educational opportunities available at Mill Neck Manor surely will be. Visitors of Mill Neck Manor can sign up for a docent-guided tour learning about Lillian Sefton Dodge and the architecture of the house including the 500-year-old doors, gorgeous stained glass depicting Shakespearean plays and beautiful ceilings and woodwork. The grounds of Mill Neck Manor are so gorgeous, it's become a popular spot for wedding photography, so if you haven't visited yet, mark your calendar this spring! Additionally sites for history buffs to stop at nearby include Planting Fields Arboretum, Raynham Hall Museum, and the Sagamore Hill National Historic Site.
Hempstead Lake State Park (West Hempstead)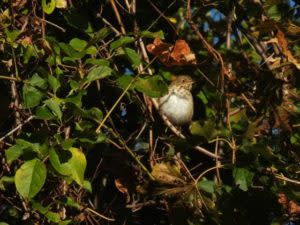 Credit: Hempstead Lake State Park/Facebook
Located on the largest lake in Nassau County, Hempstead Lake State Park offers dog-friendly trails alongside three ponds that are also accessible for fishing and ideal for birdwatching. Shaded picnic areas and a historic hand carved carousel adorns this tranquil state park. Recreate that famous Instagram-worthy pic with the carousel along your stroll while basking in the sun and enjoying a moment or two of serenity. Afterwards, you can brush up on your history at the African American Museum of Nassau County.
Norman J Levy Overlook Park (Merrick)
Credit: @mynameismaris/Instagram
One of the best-kept secrets in southern Nassau is Norman J. Levy Overlook Park and Preserve. It's home to a land conservation project, gravel walking paths surrounded by trees and shrubbery, turkeys, peacocks, goats, and one-of-a-kind views of Long Island's autumn season! While the animals sure make for some cute photos, they also serve a purpose on the grounds. The goats are used in place of lawnmowers, so if you see them or any of the other wild animals roaming around, please keep your distance–they are hard at work! When you're done here, pay a visit to George Martin's Grillfire for delicious American style eats with a twist.
Eisenhower Park (East Meadow)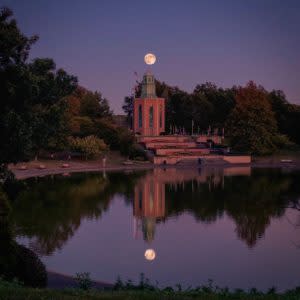 Credit: @elektric.eye/Instagram
Eisenhower Park is considered Nassau County's own "Central Park" and with good reason! This 930-acre park is a mecca for sports and leisure fun for all. Guests will find paved loop trails perfect for walkers, cyclists, skaters, and joggers, as well as a massive playground area, a roller rink, and a pond ideal for RC boating. It's also home to I.FLY Trapeze School—a soaring attraction for people of all ages. If you're interested in taking a trapeze lesson, be sure to reserve your space in a class before checking it out. Bringing your four-legged friend? All cool! Just be sure to keep Fido on a leash and stick to the East side of the park.
Wantagh Park (Wantagh)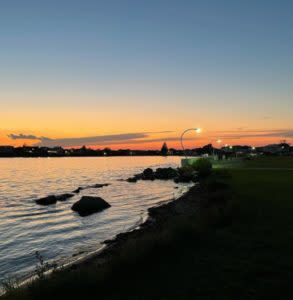 Credit: @sr.sargram78/Instagram
Hosting 111 acres of waterfront walking trails and recreation facilities, Wantagh Park is a must visit in the warmer months. Here, visitors will find a paved walking trail, sport complexes, a seasonal waterpark, picnic tables overlooking the channel, and a marina. Pup parents will be pleased to know that this public park also features a dog run and is completely pet-friendly (just be sure to keep them on a leash and on designated walkways). Want a snack after your stroll? Head to Mulcahy's for primo pub-style fare and even better cocktails.
Cedar Creek Park (Seaford)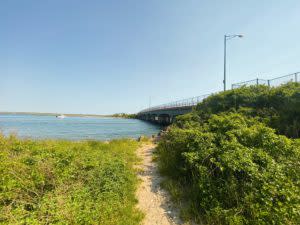 Credit: @mynameismaris/Instagram
Seaford's Cedar Creek Park is a great place to be active while taking in the views. This 259-acre park offers jogging paths, an aerodrome field, playgrounds, an archery field, and a dog run area. It also serves as the entry point for a six-mile paved path to Jones Beach for joggers, hikers, cyclists, and rollerblade enthusiasts. If you need a little motivation to help get yourself moving, call the team at Dynamic Fitness. They'll send a professional trainer to the park (or your home) to assist you in workout strategies and routines.
Bethpage State Park (Farmingdale)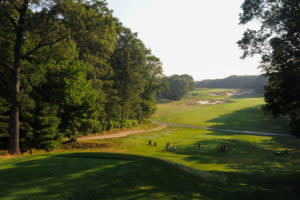 Bethpage State Park is best known for its five world-class golf courses, but the public can also utilize its picnic facilities, bridle paths, hiking and biking trails, playing fields, tennis courts, and playgrounds. It's a one-stop-shop for outdoor activities throughout all seasons. And if you're looking to spend the day in the area with your kids, Adventureland and RPM Raceway should be on your to-do list! In honor of its 60th Anniversary, Adventureland is getting all new rides, games and even a liquor license. Be sure to check out our FREE Downtown Deals Travel Pass for discounts at these locations and more across the island.
Best Suffolk County parks 
Cold Spring Harbor State Park (Cold Spring Harbor)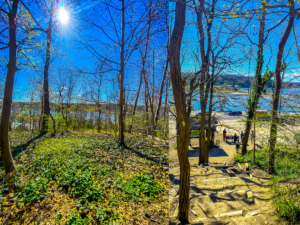 Cold Spring Harbor State Park is comprised of 40 acres of hilly terrain that offer scenic vistas of the Cold Spring Harbor. It features a mixed hardwood forest with notable large oak specimens that measure three feet in diameter, as well as thickets of wild mountain laurel. The area is ideal for birding; observing spring and fall migrations of a variety of songbirds and is home to great horned owls and red-tailed hawks. The trail is short but does include steep inclines, so it's imperative that you watch your step and take it slow. Dogs are also allowed on the trail, but they must be on a leash. Looking to go for more than a short stroll? Cold Spring Harbor State Park serves as the northern trailhead of the Nassau Suffolk Greenbelt Trail that extends to Bethpage State Park and eventually the south shore of Nassau County—follow the trail markers and you'll get a few miles in at minimum.
Caumsett State Historic Park Preserve (Lloyd Neck)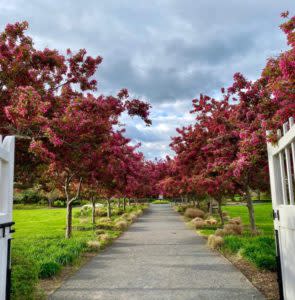 Credit: @hinkkd/Instagram
Caumsett State Historic Park, the former estate of Marshall Field III, is situated on a scenic peninsula extending into Long Island Sound and remains essentially undeveloped. The park offers miles of bridle paths, hiking, biking, cross-country skiing, and nature trails over acres of woodland, meadows, rocky shoreline and salt marshes. The park has excellent surf fishing as well and if you're licensed, offers ideal scuba diving conditions for undersea explorers (including a sunken ship offshore). For convenient dining, head to The Fox Hollow's Volpe Ristorante for authentic Italian cuisine with a steakhouse twist. And should you decide you're in need for a little R&R after your stroll, PH7 in Woodbury offers eco-friendly and nontoxic massages, manicures, pedicures, and more.
Blydenburgh County Park (Smithtown)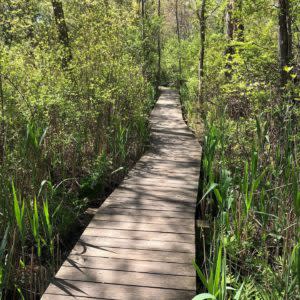 Credit: @one.fly.life/Instagram
For those who want a bit of a story with their stroll, head to Blydenburgh County Park in Smithtown. This 627-acre park is open year-round and features quite the view, especially for people who can't get enough of Long Island's rich history. Here, visitors can climb forested hills and valleys at the headwaters of the Nissequogue River, fish on Stump Pond, and casually stroll through the Blydenburgh Farm and New Mill Historic District where a grist mill and historic houses still stand. Not far from here is Sweetbriar Nature Center which offers 54 acres of varied gardens, woodland, field, and wetland habitats that you can explore. They also offer natural science education services for all ages. Looking to grab a bite to eat after your walk? Insignia is serving up salacious steaks paired perfectly with wine and your choice of sides.
Sunken Meadow State Park (Kings Park)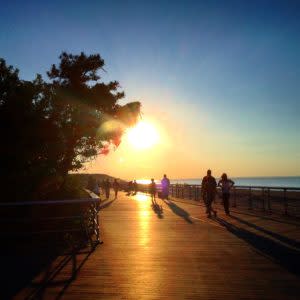 Credit: Cindy Stieflein
With varying topography, Sunken Meadow State Park offers incredible views as you stroll from the interior of the park to tidal flats at the mouth of the Nissequogue river. The park is also known for its undeveloped and heavily wooded rolling hills, making it the perfect spot to get in a challenging run and bike ride. Afterwards, treat yourself to fine wine at Del Vino Vineyards or enjoy a professional theatrical production at John W. Engeman Theater.
Heckscher Park (Huntington)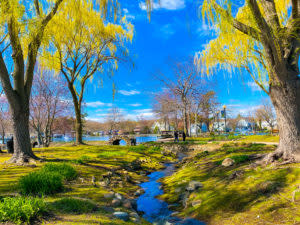 Heckscher Park in Huntington (not to be confused with the state park in Islip) is home to a tranquil walking path set between a quiet pond and the Heckscher Museum of Art which showcases an ever-changing exhibition of American and European artwork from the 16th to 20th Centuries. Looking to wet your palette after a day of appreciating art and nature in all its forms? Six Harbors Brewing Company has you covered on fresh brews while Harbor Club at Prime provides world-class entrees accompanied with waterfront views.  While you're in town, be sure to check out Revive Health Studio for all your holistic health and wellness needs and The Paramount for celebrity-studded live entertainment.
Hoyt Farm Park & Preserve (Commack)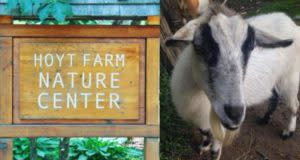 Hoyt Farm Park & Preserve features 133 acres of open space outfitted with recreational fields, ball fields, a playground, a picnic area, and a nature center that's home to a variety of farm animals. The park is also a preserve that's the site of hundreds of dogwood, oak and hickory trees, a Restoration Apple Orchard, a vernal pond, and open fields. It's a prime destination for birdwatching and the common species spotted here include Eastern Kingbird, House Wren, Cedar Waxwing, American Goldfinch, Blue-winged, Yellow Warbler, Gray Catbirds, Downy and Red-bellied Woodpecker, Carolina Wren, Red-eyed Vireo, and Eastern Towhee. Visitors should also be on the lookout for migrant birds in the spring. Before heading home, stop by Tanger Outlets in Deer Park for lunch or a day of deal hunting!
Belmont Lake State Park (West Babylon)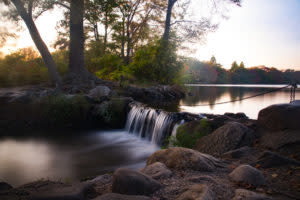 Established in 1926 as the former site of German-American financier, diplomat, and horse-breeder, August Belmont's farm, Belmont Lake State Park is now primarily visited by families seeking outdoor spaces for gatherings, picnics, and informal sport activities. Here, patrons can enjoy a scenic walk, have a splash with pedal boats, enjoy a day at the playground, and so much more. The park's significant natural features include the 26-acre, spring-fed Belmont Lake, and a significant wetland complex. Looking to get a little more fresh air? Don't ignore the wonderful walkability of downtown Babylon. Here, visitors will find a host of unique small businesses, like Hitch Handmade Market which sources all its stock locally and specializes in luxury vintage resale and repurposing. Nearby eateries, (The Villager, The Local, Lily Flanagan's and Mary Carroll's) are all great spots to stop for lunch or dinner.
Argyle Park (Babylon)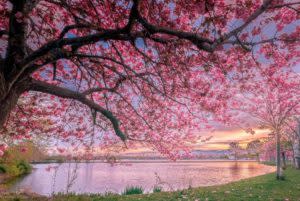 Credit: @josephcolozzo/Instagram
Argyle Park in Babylon is named after the perch-filled lake in the heart of Babylon Village and is known for its beauty and serenity year-round, but it truly peaks in the spring when all the flowers are in bloom. Aside from the allurement of its vibrant landscaping, Argyle Park is conveniently located walking distance from the strip of quaint shops and restaurants that line Babylon's Main Street. While you're in town, be sure to check out our FREE Downtown Deals Travel Pass for exclusive discounts and offers available at a variety of small businesses in this downtown and more throughout the region.
Gardiner County Park (Bay Shore)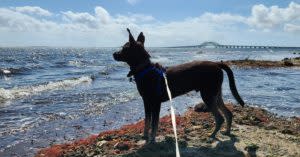 Credit: @mr.ghost_st.patrick/Instagram
This dog-friendly park offers picturesque views of the Robert Moses Bridge, multiple walking paths, and beautifully manicured landscapes. Visitors with a keen eye may choose to walk along the wooded path for prime birdwatching conditions, while photo-happy travelers head to the shores of the Great South Bay to grab the perfect shot from Gardiner County Park. Afterwards, be sure to stop at North Fork Doughnut Co. for delectable treats and coffee on tap.
Heckscher State Park (East Islip)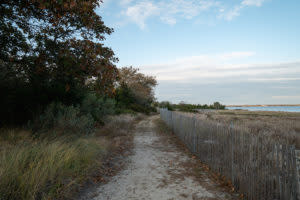 Heckscher State Park was once home to the 19th century estates of George C. Taylor and J. Neal Plum. William Nicoll, founder of the Town of Islip, also originally built his estate on this property. It was then purchased by the State of New York in the 1920s and transformed into 1,600 acres of public land. Heckscher State Park receives more than one million visitors per year, and there's no guessing why. With over 20 miles of trails and paved walkways, Heckscher State Park offers the ultimate centralized outdoor space for hikers, bikers, families, and even overnight visitors. In addition to the many paved walkways that loop through the property, the park also features access to the Great South Bay beaches, playgrounds, grills, a pool complex, and campgrounds. Stop by Tellers or Pizza Parm for an energizing post-walk entrée.
Connetquot River State Park (Oakdale)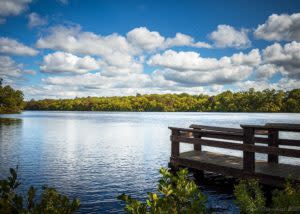 Credit: @paul.demichael.images/Instagram
The South Shore of Long Island is most popular for its white-sand beaches in the summer, but there are some go-to places to experience the beauty of spring. Connetquot River State Park is one of them, it maintains 3,473 acres of land and water for the protection and propagation of game birds, fish, and animals. The preserve also has 50 miles of hiking, horseback riding, and nature trails, as well as fishing on the Connetquot River. The nearby Snapper Inn is open for lunch and dinner and offers the perfect waterfront dining experience to turn your great day outdoors into one to remember!