This summer marks 50 years since the first grape vines were planted in the vast farmlands of Long Island's "North Fork." Today, the region is home to 57 vineyards and rated one of the 'Top 10 Wine Regions' in the WORLD by the experts at Wine Enthusiast magazine, and the region's winemakers are celebrating with a slate of can't-miss events.
Sip high-quality wines among the vines with waterfront views or in tasting rooms that range from historic barns to glamorous chandelier adorned mansions. With so many vineyards and events to choose from, we rounded up a few top spots for toasting 50 years of Long Island Wines this season.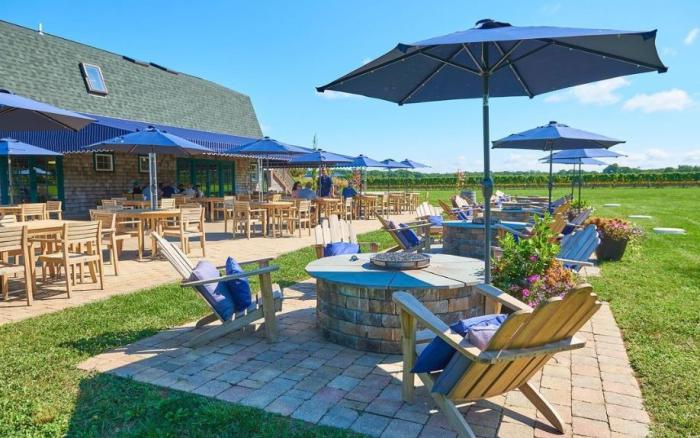 Credit: Peconic Bay Vineyards
Saturday, August 19th, 2023 | 5:00 PM
Mark this year's anniversary at the height of the popular summer season in Long Island Wine Country with the Grand Celebration at Peconic Bay Vineyards, one of the oldest operating vineyards in the region. This grand tasting event will celebrate pioneers of the industry, many of whom will be in attendance, responsible for creating some of your favorite wines over the years. Top culinary talents from the region will also offer tasty food options from locally sourced farm products, paired perfectly with wines that celebrate the diversity of wine styles produced on both the North and South Forks.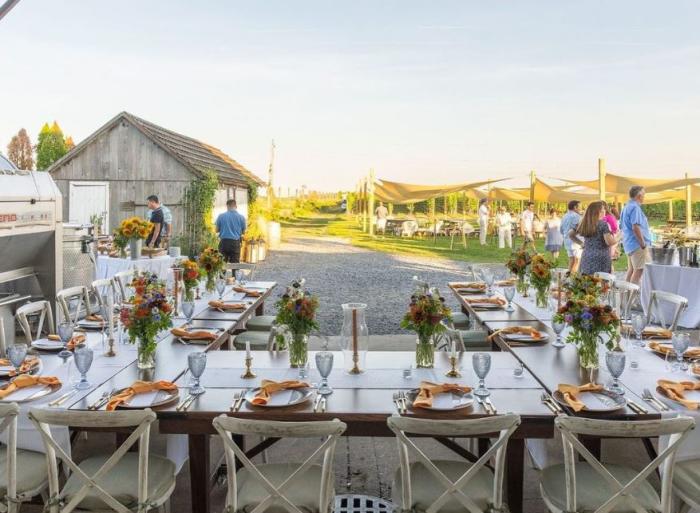 Credit: Rose Hill Vineyards
Thursday, August 3rd, 2023 | 6:00 PM
Enjoy an evening of wine, food, and fun while soaking up the perfect sunset ambiance among the vines of Rose Hill Vineyards. Enjoy a taste of the ocean created by Lombardi Caterers showcasing everything from clams, to grilled shrimp, to delicious mussels and more! The event's entire wine list will be available for purchase by the glass or bottle.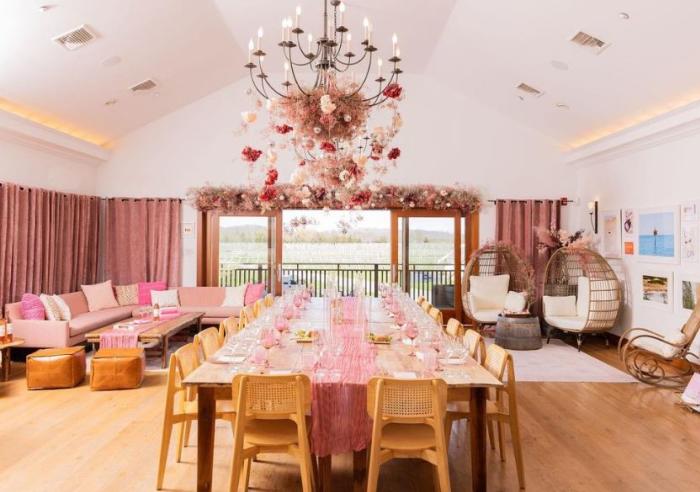 Credit: Macari Vineyards
Bookable through August
Check out this beautiful rosé-themed suite and live out your wildest Barbie dreams in this pink paradise. Perfect to celebrate any occasion with friends or family, your two-hour experience includes a sparkling rosé toast, a brief history of Macari Vineyards, a flight of top-rated Macari wines, a gourmet charcuterie, and an exquisite lunch. Celebrating a special occasion? You can further enhance your visit by adding-on items like a specialty cake or rosé tower.
Please note that a minimum of 10 guests is required for Friday - Sunday.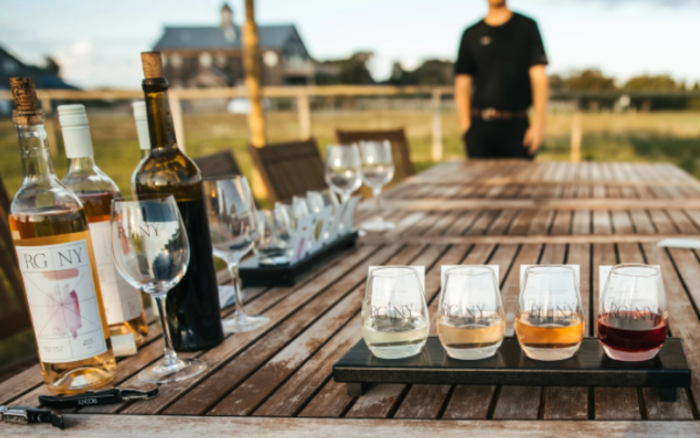 Credit: RGNY
Multiple events August - October
Immerse yourself in all things wine, from the grape to the glass, with this year's Harvest Series at RGNY. The series begins in August with an intimate Dinner in the Vines event, sure to be the perfect experience for you and that special someone. Visit RGNY again in September for a fun-filled, lunch-time Stomp Party to get hands, or should we say feet-on, with the process of grape stomping. Round out the series in October with the Help Us Harvest interactive event where you will learn the ins and outs of harvesting by picking and sorting grapes yourself, followed by lunch and complimentary wine, of course.
Credit: Sannino Vineyard
Sunday, July 30th, 2023 | 6:00 PM
Think you are an expert wine connoisseur? Come try your knowledge at Sannino Vineyard's Blind Wine Tasting event! Compare, contrast and learn all about the different wines available and what makes them taste the way they do. Who knows, you may even find yourself a new favorite to sip on!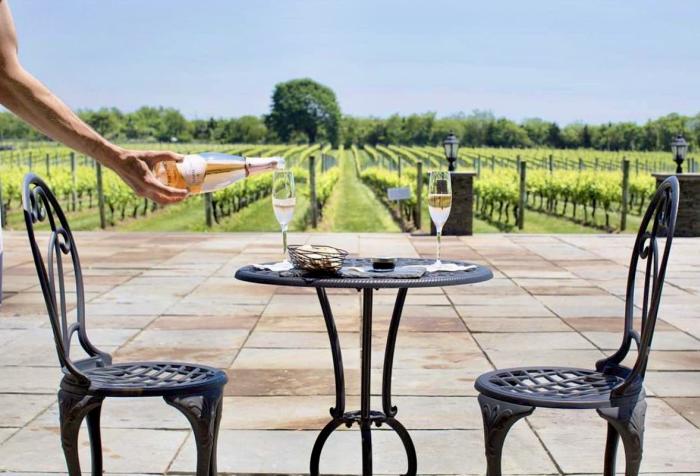 Credit: Sparkling Pointe
Sunday, August 27th, 2023 | 12:00 PM
Join Sparkling Pointe for a taste of Long Island's quintessential summer food favorite, the lobster roll, paired with a glass of the winery's most popular Topaz Impérial Brut Rosé. That's not it though – attendees will also enjoy a flight of three Sparkling Pointe wines paired with a trio of local potato chips. This event sold out last year; be sure to secure your ticket soon!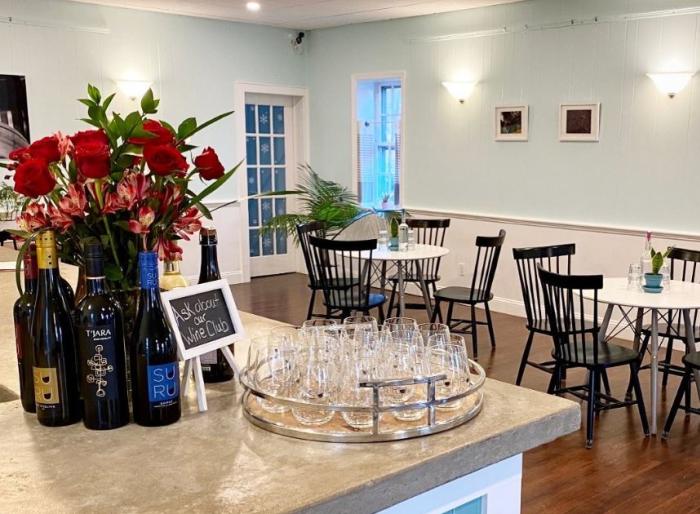 Credit: Suhru Wines
Sunday, September 3rd, 2023 | 12:00 - 4:00 PM
Looking for Labor Day weekend plans? Stop by Suhru Wines Tasting House on Sunday, September 3rd for an afternoon filled with Long Island's finest Southold Shindig Oysters served on the half shell, and a glass of wine. Freshly shucked oysters and the full Suhru Wines menu will be available at the Tasting House from noon to 4pm.