Edible Long Island, a media company telling the story of how the Island eats and drinks, is a great source whether you're looking for a great breakfast spot, the best lobster roll and everything in between. This week, we highlight restaurant week on Long Island.
Long Island Restaurant Week will return on Sunday, January 27.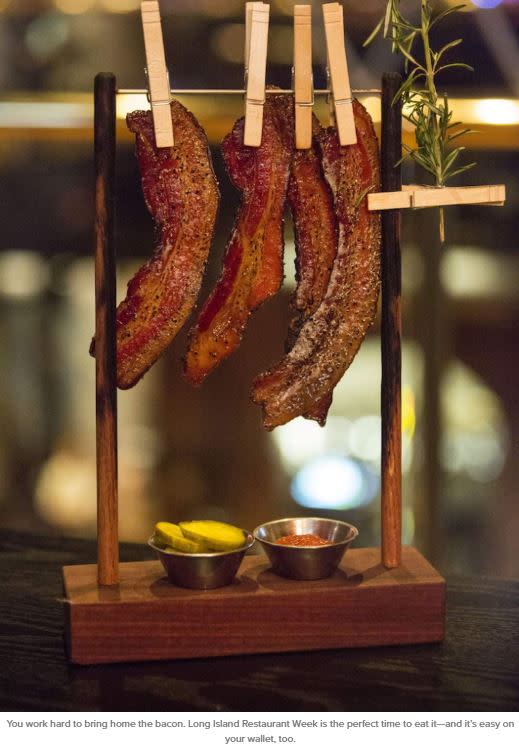 Ah, winter. The season of brussels sprouts, slow cookers, and under-the-blanket Netflix binges. Long Island Restaurant Week returns on Sunday, January 27. And if that isn't a great reason to leave the house, we don't what is!
From Sunday, January 27 to Sunday, February 3, participating restaurants—from the most westerly edges of Nassau all the way out to the East End—will offer a $29.95 three-course prix fixe all night every night they are open (except Saturday, when they only have to offer their Restaurant Week menu until 7:00 p.m.).
Over 80 restaurants are participating in total, with cuisine ranging from Italian to Mexican, steakhouse fare to seafood and beyond.
Here are 5 restaurants we plan on visiting this Long Island Restaurant Week.
https://www.instagram.com/p/BqGaCCtnI89/
We first visited David Burke's Red Salt Room at the Garden City Hotel back in the fall, and we're happy to revisit it this Restaurant Week. The restaurant is beloved for its whimsical, characteristically Burkean touches, and all-around excellent steakhouse fare.
Ideal for: Couples looking to enjoy a Restaurant Week-inspired date night
https://www.instagram.com/p/BsJTPxcFwpH/?utm_source=ig_embed
This Roslyn-based restaurant specializes in well-prepared, all-American comfort food served in a warm and cozy setting. What more could you want in the dead of winter? Go for the French Onion Soup and stay for the Mac & Cheese.
Ideal for: Families looking to enjoy a delicious, affordable meal together
https://www.instagram.com/p/BohSsqiHJkF/?utm_source=ig_embed
Monsoon has been bringing a taste of Asia to Babylon for years. If you haven't tried it yet, let Restaurant Week be the catalyst to change that. Not only does Monsoon do a lot of good for our community, but they consistently serve excellent Pan-Asian cuisine and inventive cocktails in a trendy setting, as well.
Ideal for: Anyone looking to enjoy a girls' or guys' night out in a cool, Instagram-friendly setting
https://www.instagram.com/p/BrSpz5FFs0n/?utm_source=ig_embed
Hate the winter? Treat your palate to a taste of warmer climes at Cafe Havana in Smithtown. This restaurant serves excellent Cuban cuisine in a warm and friendly setting. (Case in point: Guests are greeted by neon-bright palm trees before they even step inside.)
Ideal for: Families and groups of friends in desperate need of a vacation someplace warm
https://www.instagram.com/p/BqQQ_xsgoH6/?utm_source=ig_embed
This Miller Place-based restaurant frequently appears on "Best Of Long Island" lists and round-ups—and for good reason. Orto serves rustic Italian cuisine made with local, high quality ingredients. Restaurant Week is the perfect chance to enjoy some of their most beloved menu items for just $29.95 per person!
Ideal for: Foodies and couples in search of critically acclaimed Italian cuisine
This piece originally appeared on Edible Long Island.