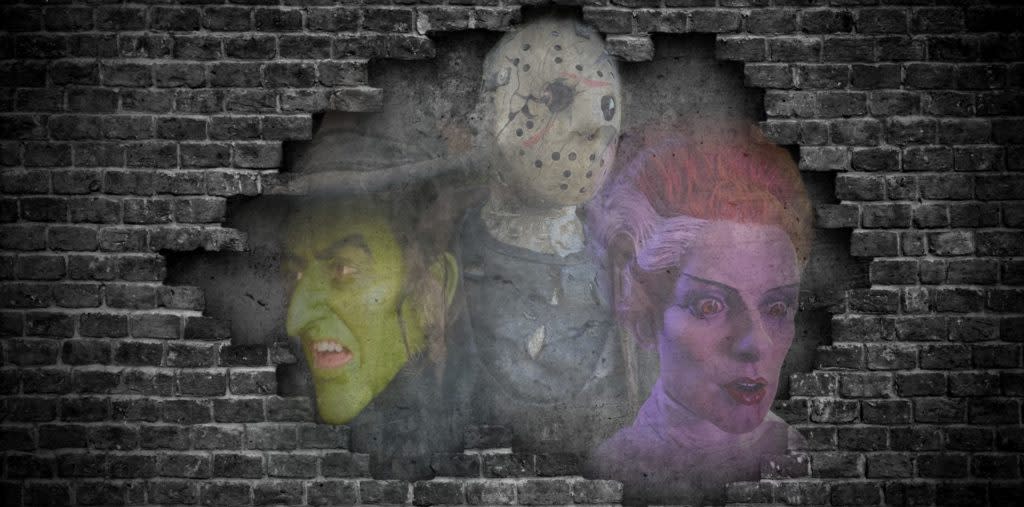 October on Long Island brings a chill to the air - and down your spine with haunted houses, creepy attractions, and extravagant Halloween events all month. Check them out in our Insider's Guide blog, "Haunted Long Island: Paranormal Experiences & Spooky Historic Sites."
But if you're looking for spectacular but not-so-spooky ways to celebrate the season with the family, fear not!  There are plenty of Halloween happenings full of fun for little ones and adults alike across Long Island.
See larger than life jack-o-lantern sculptures that attract thousands of visitors every year or a live performance of Hocus Pocus. Cast your vote at an annual scarecrow competition or a dog costume content. Make Halloween crafts, carve pumpkins, go apple bobbing, march in a parade and more at small town festivals. Take a peek at our list below of not-so-spooky Long Island Halloween celebrations for some inspiration of your own!
1.
The Great Jack O'Lantern Blaze (Old Bethpage)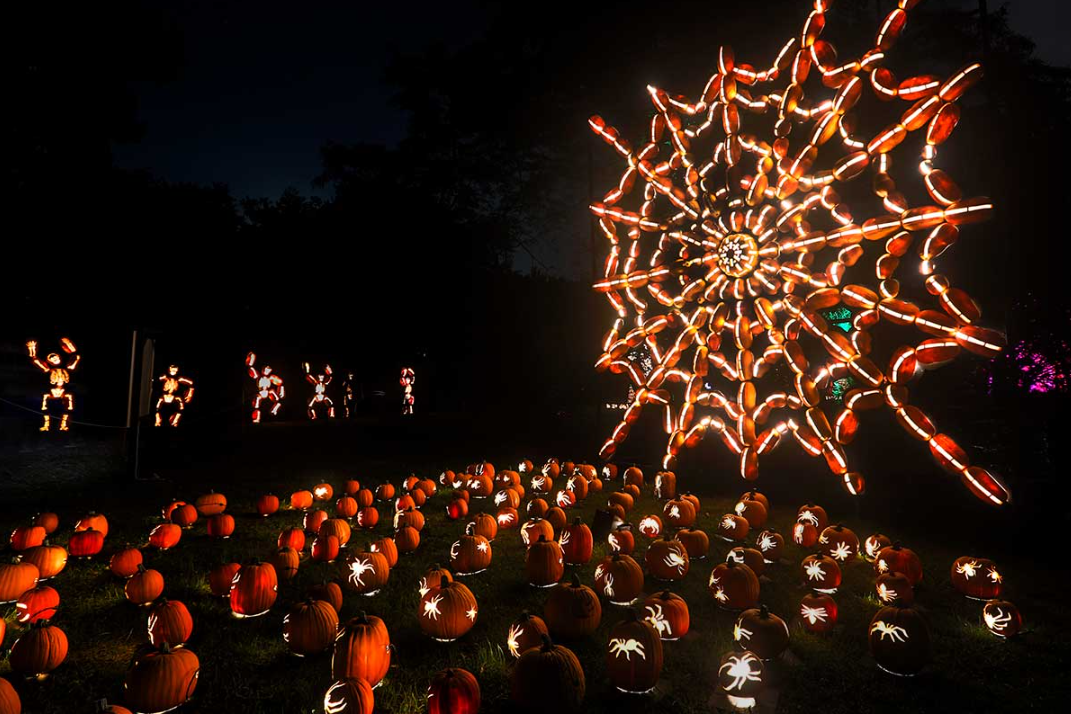 Credit: Pumpkin Blaze/Website
Bethpage's Great Jack O'Lantern Blaze is Long Island's most electrifying and unique seasonal event. Walk the immersive pumpkin trail on the grounds of a 19th century village with more than 7,000 hand-carved jack o'lanterns carved by a team of expert artisans. Find your favorite legendary local icon in the Hall of Fame, gaze in wonder at the Pumpkin Planetarium, see larger-than-life sea creatures and watch your head as an animated Headless Horseman rides into the night. Attracting tens of thousands of attendees every year, this event is the ultimate Long Island fall experience and it ends on November 6.
2. Riverhead Halloween Fest (Downtown Riverhead)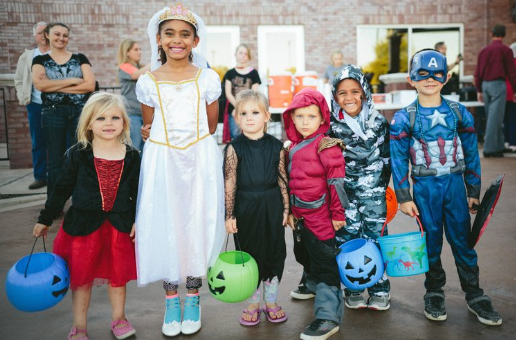 Credit: Downtown Riverhead/Website
Downtown Riverhead's Halloween Fest is taking place this October 22 with coffin races, trick or treating along Main Street, a costume and float parade, and on-stage performances with an award ceremony. With plenty of activities for all, the streets will be lined with goblins, ghouls, and businesses handing out tricks and treats! Dress the whole family in costume and come downtown for a weekend of shopping, dining, and activities.
3. The Cradle of Aviation's Spooky Science Night (Uniondale)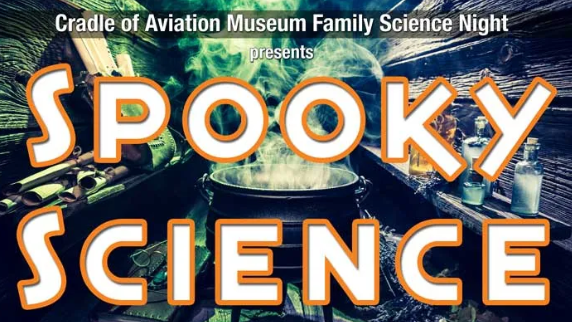 Credit: Cradle of Aviation/Website
A fan favorite, the Cradle of Aviation's Spooky Science Night returns on October 28 with stimulating STEM activities and a whole lot of Halloween fun. Activities include trick or treat planetarium, black light gremlin hunt, ghost rockets, and angry gourds. A fun and safe way to celebrate Halloween, costumes are encouraged, and the entire family is invited to attend!
4. The Long Island Aquarium's Bats, Barnacles & Broomsticks Halloween Celebration (Riverhead)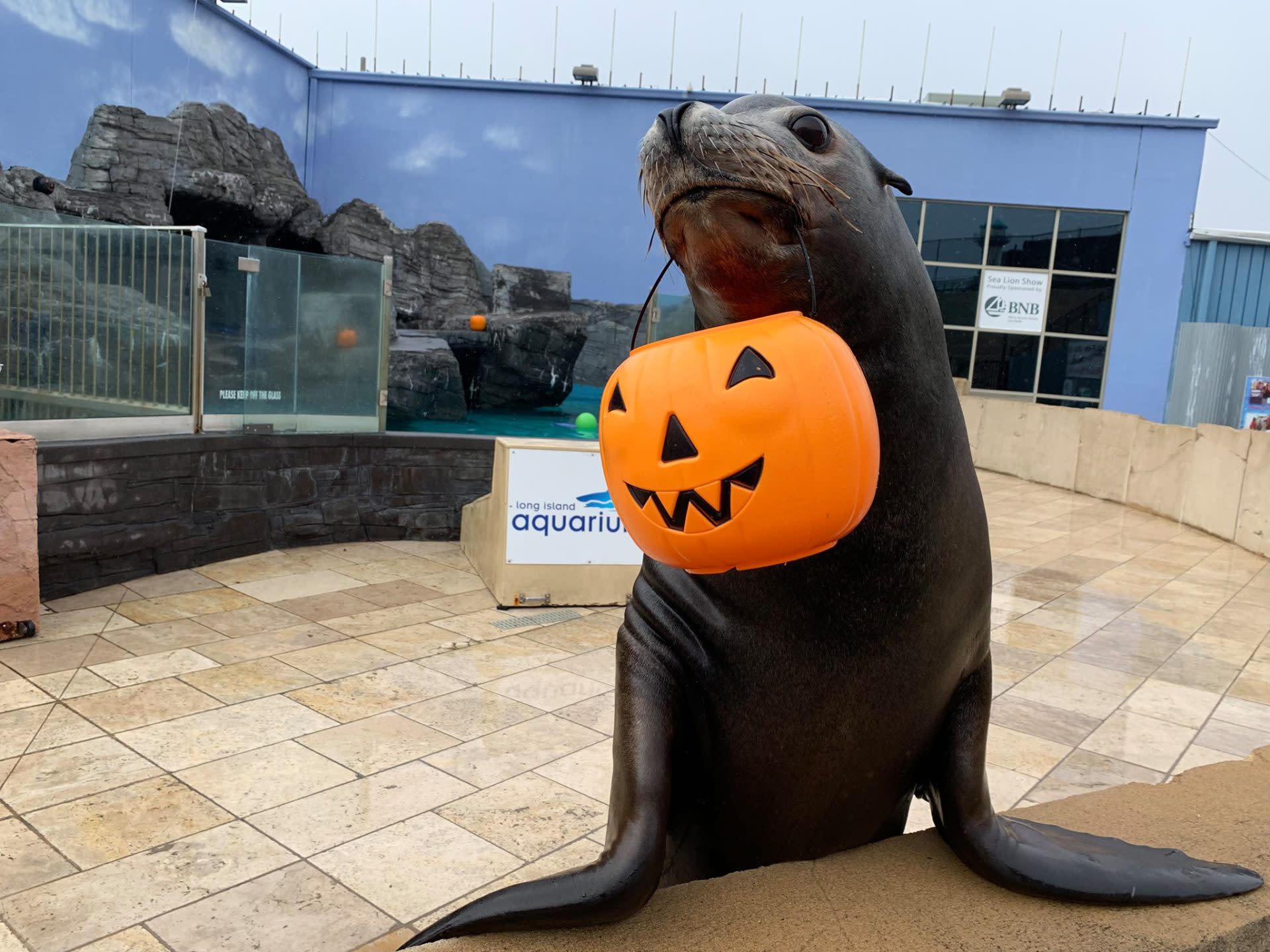 Credit: Long Island Aquarium/Facebook
The Long Island Aquarium in Riverhead presents an aquarium style Halloween party with raffle prizes, crafts, game stations and more on October 29. Children should come dressed in their costumes for half-price tickets and enjoy gathering sweets and treats with the Aquarium's safe trick or treating celebration, "Bats, Barnacles & Broomsticks."
5. Spooky STEM Weekends at the Long Island Explorium (Port Jefferson)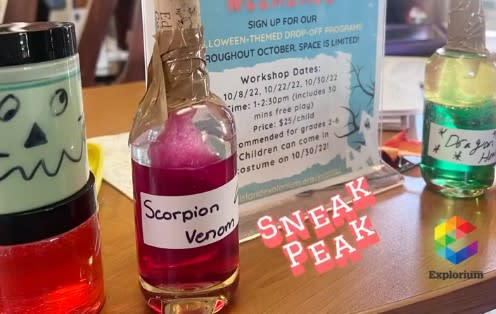 Credit: @LIExplorium/Twitter
The Long Island Explorium is a Children's Museum of Science & Engineering and during the month of October they are hosting spooky STEM workshops where guests can enjoy hands-on, Halloween-themed science activities. On October 8, participants can explore the chemistry behind potion making and make the bubble potion, aeronautics potion, and fireworks potion. On October 22, participants can make their own "troll repellent" and learn about viscosity. And on October 30, the theme is mummification where participants will learn about the science behind the process of mummification by mummifying a hot dog.
6. Great Jack-O-Lantern Spectacular Sail at Belmont Lake State Park (North Babylon)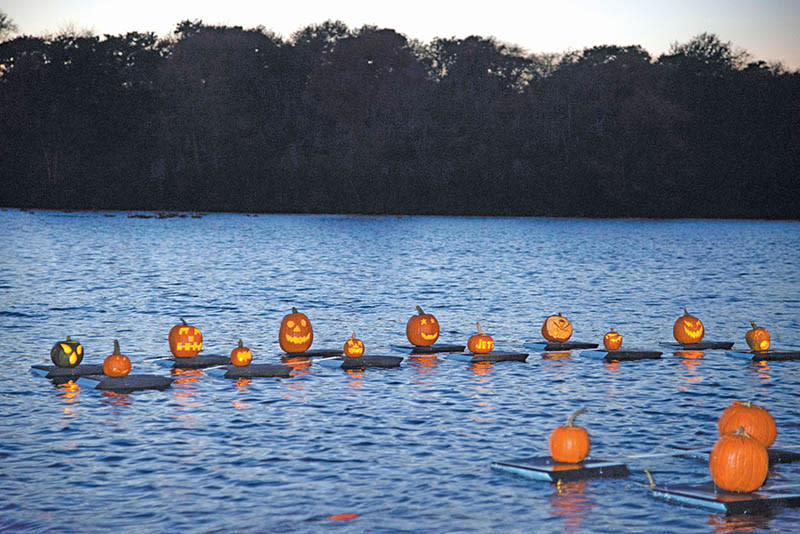 Credit: NY Metro Parents/Website
Taking place at Belmont Lake State Park in North Babylon on October 29, the Great Jack-O-Lantern Spectacular Sail features 50 carved pumpkins which are lit with battery-operated votives, placed on floatation devices, and sailed around Belmont Lake at sunset. Other activities include games, balloon twisting, a children's spooky den, trick or treating, and funny photos.
7. Haunted BOO-seum & Festival at the Whaling Museum & Education Center (Cold Spring Harbor)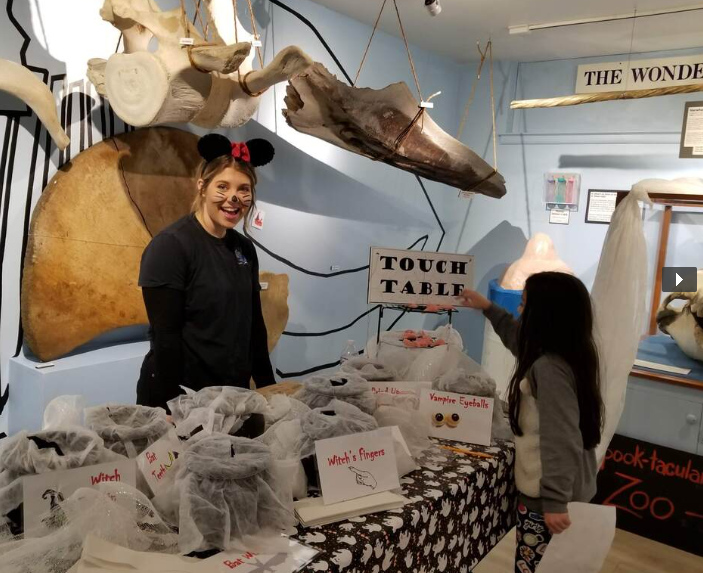 Credit: The Whaling Museum/Website
The Cold Spring Harbor Whaling Museum and Education Center is hosting their annual Haunted BOO-seum & Festival with hands-on activities, a spooky animal zoo, and tons of Halloween crafts and ghost stories on October 30. Enjoy a walk through spooky-not-scary museum exhibits coming to life, visit Dr. Gellerman's Spooktacular Zoo with live critters, or roll up your sleeves and see what's sticky and gooey at the spooky touch table.
8. 32nd Annual Halloween Festival & Scarecrow Competition at Stony Brook Village (Stony Brook)
Credit: Stony Brook Village/Website
The Ward Melville Heritage Organization's Annual Stony Brook Village Halloween Festival returns on October 31 with music, trick or treating throughout Stony Brook Village Center and the shops on Main Street, dancing and games for children, a Halloween parade led by Monster Merlin, and the 32nd Annual Scarecrow Competition winners announcement! Don't forget to vote for your favorite scarecrow before the Halloween Festival – the deadline to vote is October 26 and ballots can be found in all shops and eateries in Stony Brook Village.
9. The Monster Gallery (Mineola)
Credit: @monstergallery/Instagram
Long Island's first gallery dedicated to horror and Halloween cinema comes to life again from October 7 to November 5 for a fall season of monsters, madmen, and mysterious creatures. Featuring two floors, the Monster Gallery showcases over 30 life-size movie monsters accompanied by theatrical sets, lighting, and soundtracks. Each monster has been meticulously hand-crafted by artists from around the globe. Since it's not a guided haunted house, visitors can explore the gallery at their own pace. Note: While the immersive elements of the gallery are considered "spooky" there are no scare factors and is still appropriate for brave little ones. Check out the scene on our Instagram.
10. Long Island Maritime Museum Boat Burning (West Sayville)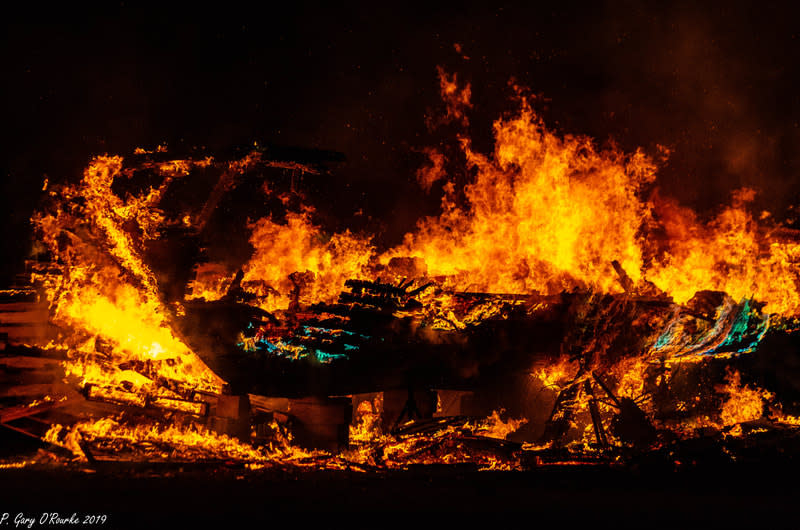 Credit: P. Gary O'Rourke
The Long Island Maritime Museum's 32nd Annual Halloween Boat Burning is happening on October 28 with entertainment, light refreshments, and a raffle boat drawing. This year's raffle boat is a 12' Wood Duck Strip Deck Kayak built by the Long Island Maritime Museum Moonbeam Shop Volunteers. The annual boat burning is a community tradition that celebrates their own version of an autumn bonfire by burning a boat whose time has come.
11. CM Performing Art Center's Special Halloween-Themed Cabaret (Oakdale)
Credit: CM Performing Arts/Website
Starring Long Island's best, CM Performing Arts Center is putting on a special Broadway-caliber Halloween-themed cabaret, "We Put a Spell on You." Coming this month for two nights only on October 28 and 29, come dressed in costume and see your favorite witches, villains, and phantoms perform.
12. Spooky Fest at The Center for Science Teaching and Learning (Rockville Centre)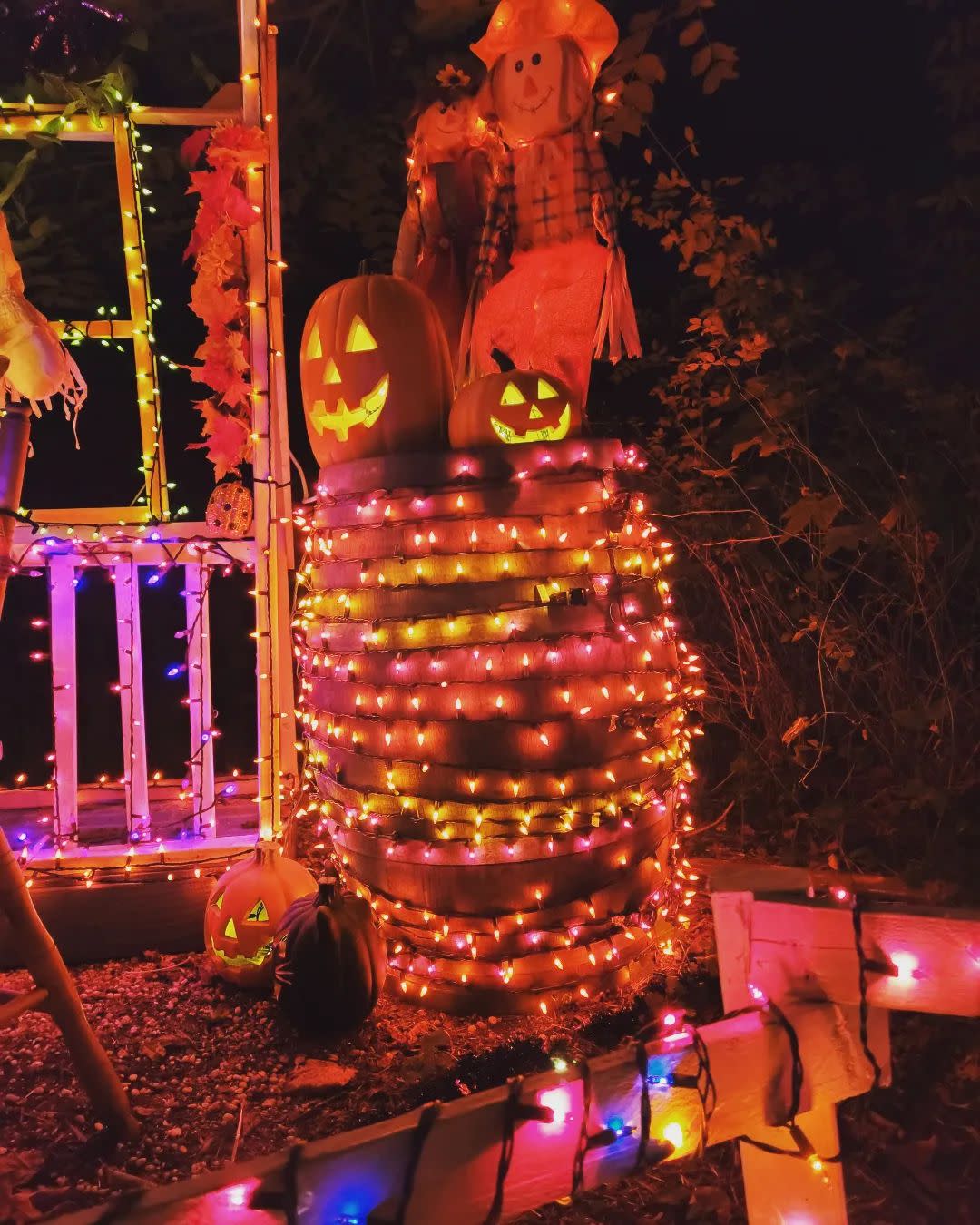 Credit: CSTL/Facebook
The Center for Science Teaching and Learning (CSTL) is celebrating Halloween with their Spooky Fest taking place at the Tanglewood Preserve in Rockville Centre. On Fridays to Sundays throughout the entire month of October, the grounds will be transformed into a family-friendly Halloween event with wooded paths with eerie lighting, special effects, and characters along the way. The non-spooky attraction includes an enchanted forest walk with friendly displays, a new zombie dinosaur attraction, and a children's arts/crafts area.
13. Old Westbury Gardens Fall Dog Parade & Costume Contest (Old Westbury)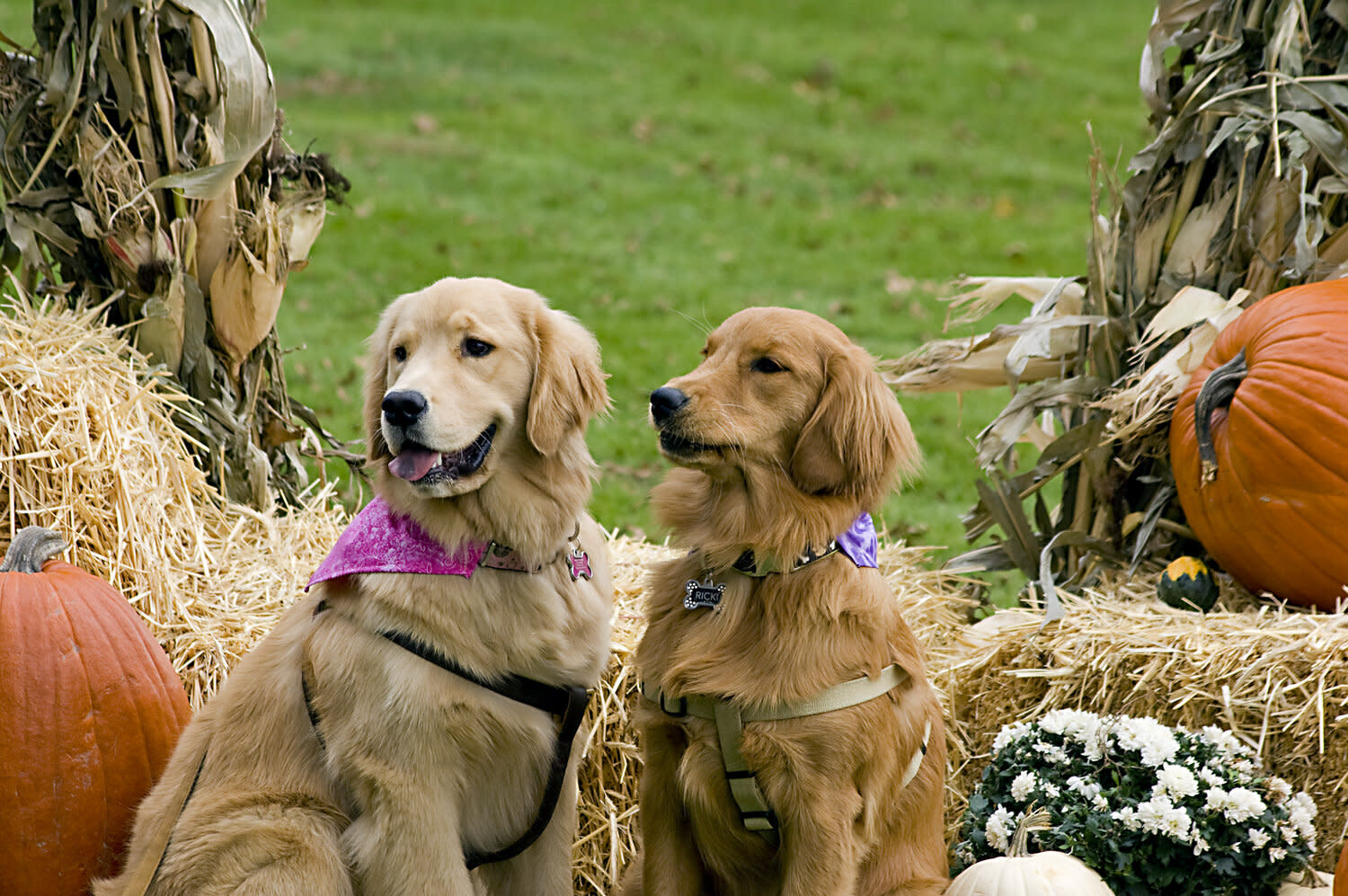 Credit: Old Westbury Gardens/Website
Love dressing up your dog? Now is your chance to shine then! Old Westbury Gardens is having a Fall Dog Parade & Costume contest on October 30. Leashed dogs are welcome to stroll around the garden (except in the Walled Garden) and the costume parade and contest begins at 3:00 p.m.
14. Harbor Haunts & Skull Scavenger Hunt at the Whaling Museum & Education Center (Cold Spring Harbor)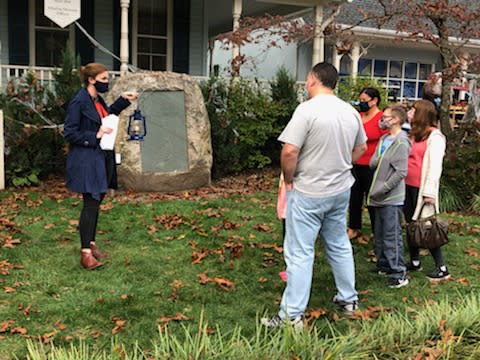 Credit: Whaling Museum/Website
Explore Cold Spring Harbor's ghostly side with fascinating tales of mishaps and historic hauntings on Main Street. The Whaling Museum & Education Center at Cold Spring Harbor is hosting Harbor Haunts walking tours on Fridays and Saturdays starting October 14 as well as an additional date on Sunday, October 23. The Whaling Museum is also hosting a Skull Scavenger Hunt during gallery hours until October 23. Hunt for papier-mache skulls around the museum and win candy!
15. Halloween Glow in the Park at The Adventure Park at Long Island (Wheatley Heights)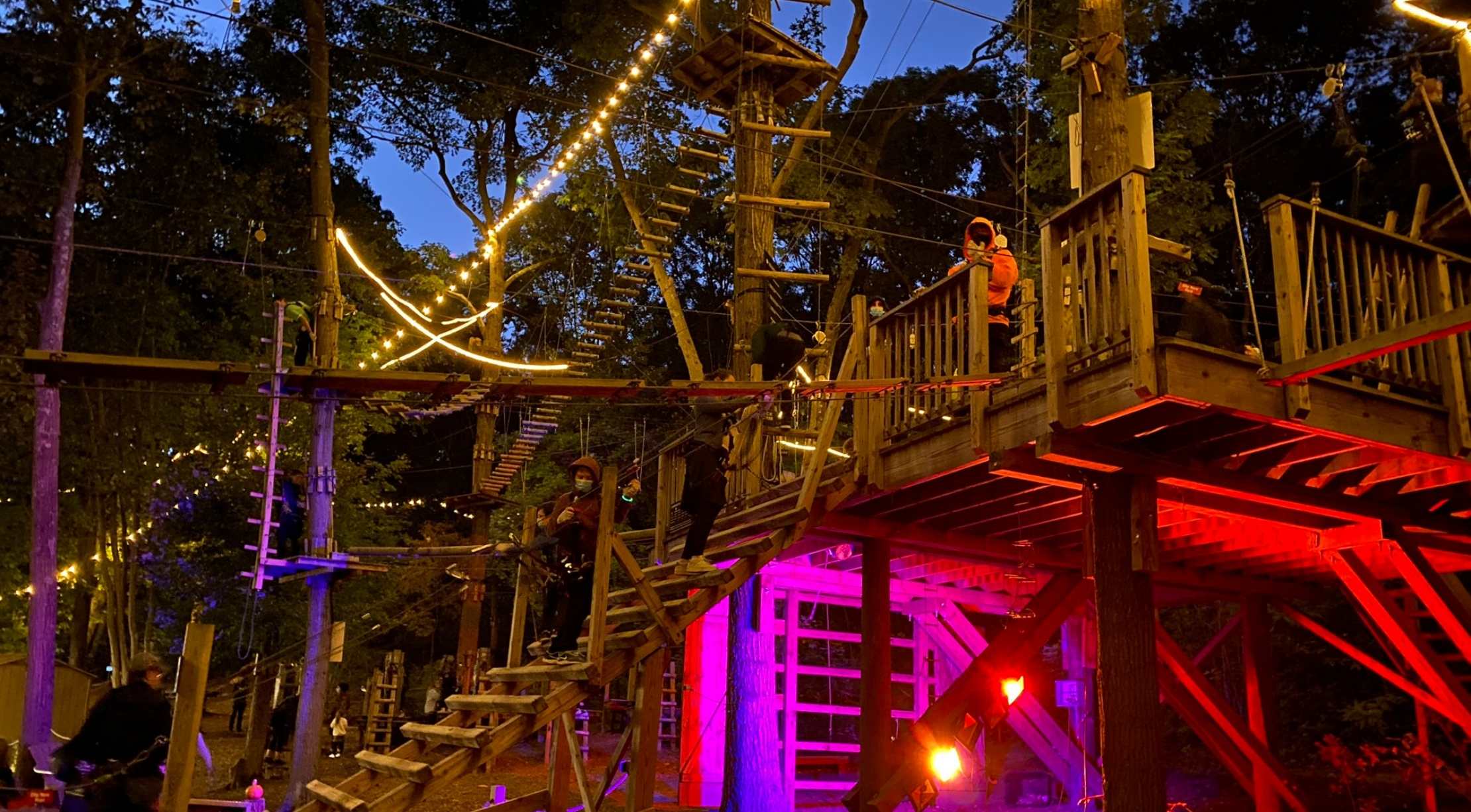 Credit: The Adventure Park/Website
Glow in the Park at the Adventure Park is getting a Halloween theme. A nighttime event where the outdoor adventure park glows in the dark with multi-colored LED lights and pumping music, this event is taking place on Fridays and Saturdays throughout the rest of October. Allow your senses to come alive as the lights guide you while you zipline, work the ropes, and traverse through the treetops.
16. Quogue Wildlife Refuge's Enchanted Forest Trail (Quogue)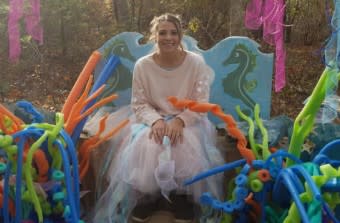 Credit: Quogue Wildlife Refuge/Website
Follow your guide on the Enchanted Forest Trail to meet whimsical, fun, and educational characters. Wear your Halloween costume while learning about animals and nature! Activities, crafts, and games will be available in the main activity area for before and after your walk. Dates include October 22, 23, and 29 at the Quogue Wildlife Refuge.
17. Haunted House of Hamburgers (Farmingdale)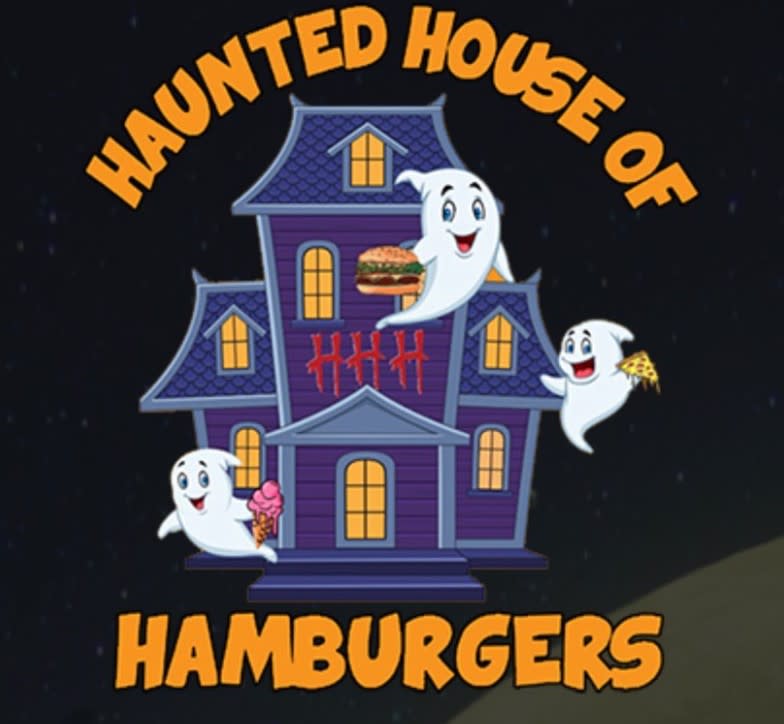 Credit: @hauntedhouseofhamburgers/Instagram
Opening this fall in Farmingdale, the Haunted House of Hamburgers is a spooky eatery that will feature classic American dishes including beef burgers, turkey burgers, signature, and make-your-own options. Everyone is invited to come down and eat in costume, even after the Halloween season.
18. The Addams Family Music at Studio Theatre's Bayway Arts Center (East Islip)
Credit: Studio Theatre Long Island/Website
A not-so-spooky new musical comedy, the Addams Family musical is coming to life at the Studio Theatre's Bayway Arts Center from November 3 to November 20. The musical centers around the story of Gomez, Morticia, Uncle Fester and the clan dealing with a grown-up Wednesday Addams who has fallen in love with a "normal" man.